This post was most recently updated
Moscato Peach Cobbler is a simple peach desserts recipe that has sweet Moscato wine in. The two flavors of Moscato wine and peach cobbler is a marriage made in heaven. This Moscato wine recipe will seduce your taste buds with this simple, elegant peach cobbler recipe dessert!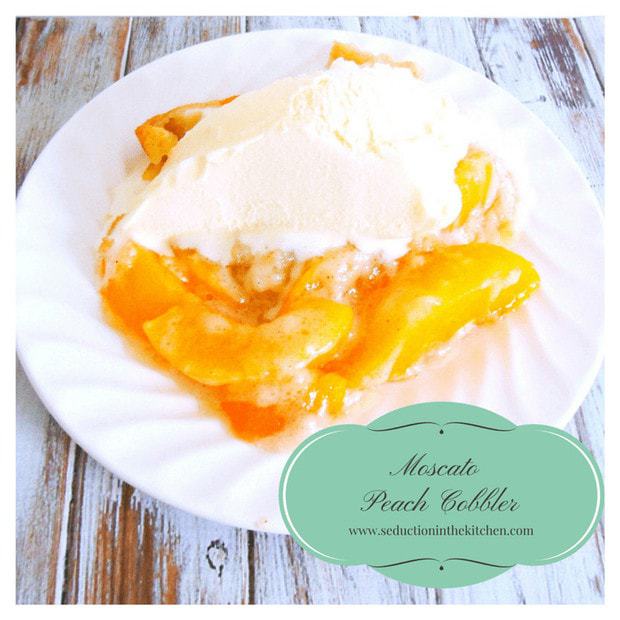 New Changes
I told you guys I been doing some changes here on Seduction in the Kitchen. I have a feeling I may have a few more changes in regards to my site I am not looking forward to. There is a huge issue with my RSS Feed.
It stopped working in February. That is why no one has gotten my posts in their email. Plus anyone follows me on Bloglovin, hasn't been getting my posts either.
Both the newsletter and Bloglovin work off the RSS. Since the feed is not working, no one is getting anything. It is frustrating. It is not a plugin, it is something actually interfering with my code in the template is what I am being told.
So look for changes with how I do things with the RSS. Big change will be my newsletter. It time to go old fashion and do it by hand!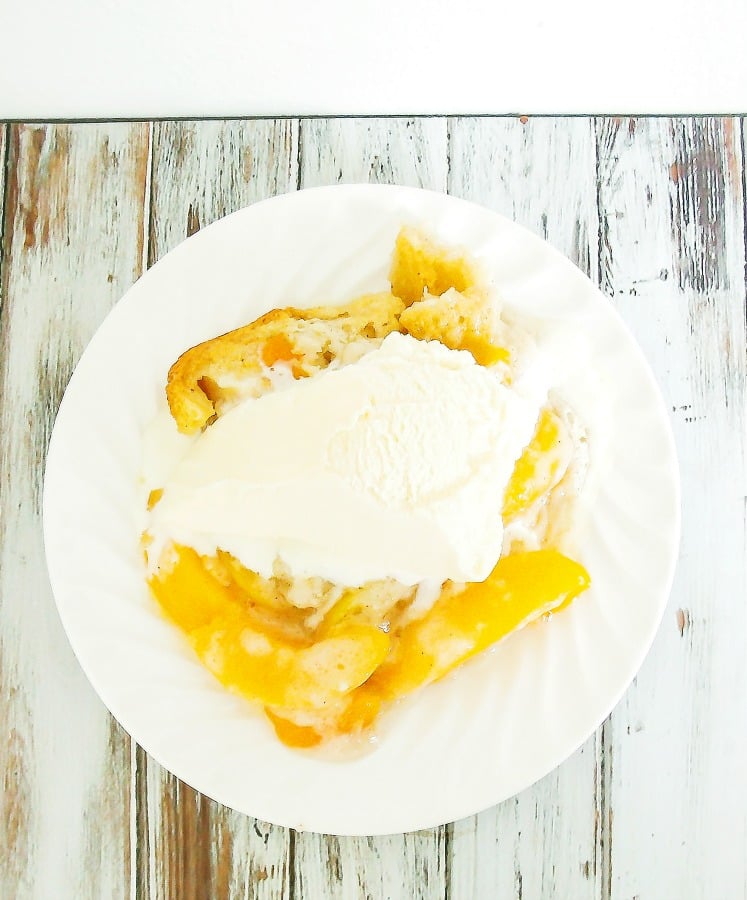 How To Make A Peach Cobbler
Making a peach cobbler recipe is not that hard. In fact, I have one a Simple Peach Cobbler that is super easy to make. All cobbler is sweet batter with peaches that baked up.
Moscato Wine Recipes
Why Moscato wine? Well, it is my wine of choice, I love sweet wine.
Another reason I like making Moscato wine recipes is that I feel the Moscato wine enhances a recipe.
I made this Moscato Peach Cobbler a month or two ago after my huge winery tour of Southern Ohio. and been waiting for the perfect time to showcase this simple peach desserts recipe.
Moscato Peach Cobbler
One of the first recipe posts I had here on Seduction in the Kitchen, that did very well was Peach Cobbler. Now that I am better understanding how to take photos, I wanted to do something to that first viral peach cobbler recipe.
The more I thought about updating that peach cobbler recipe, I realized I had new ideas for peach dessert recipes.  I had just got a ton of wine from my wine tour. I decided I wanted to play with a Moscato wine recipe instead.
Simple Peach Desserts Recipes
Plus a little secret, I really want to work with a winery to develop recipes with. So I am hoping a winery will see these Moscato recipes and contacts me. I worked with several alcohol companies in the past and I had fun doing recipes for them, both drinks and food.
The Moscato in this recipe actually enhances the peaches. It just takes this simple peach dessert recipe to the next level. It gives a sophistication to the peach cobbler recipe. Plus with some vanilla ice cream, this Moscato Peach Cobbler is divine.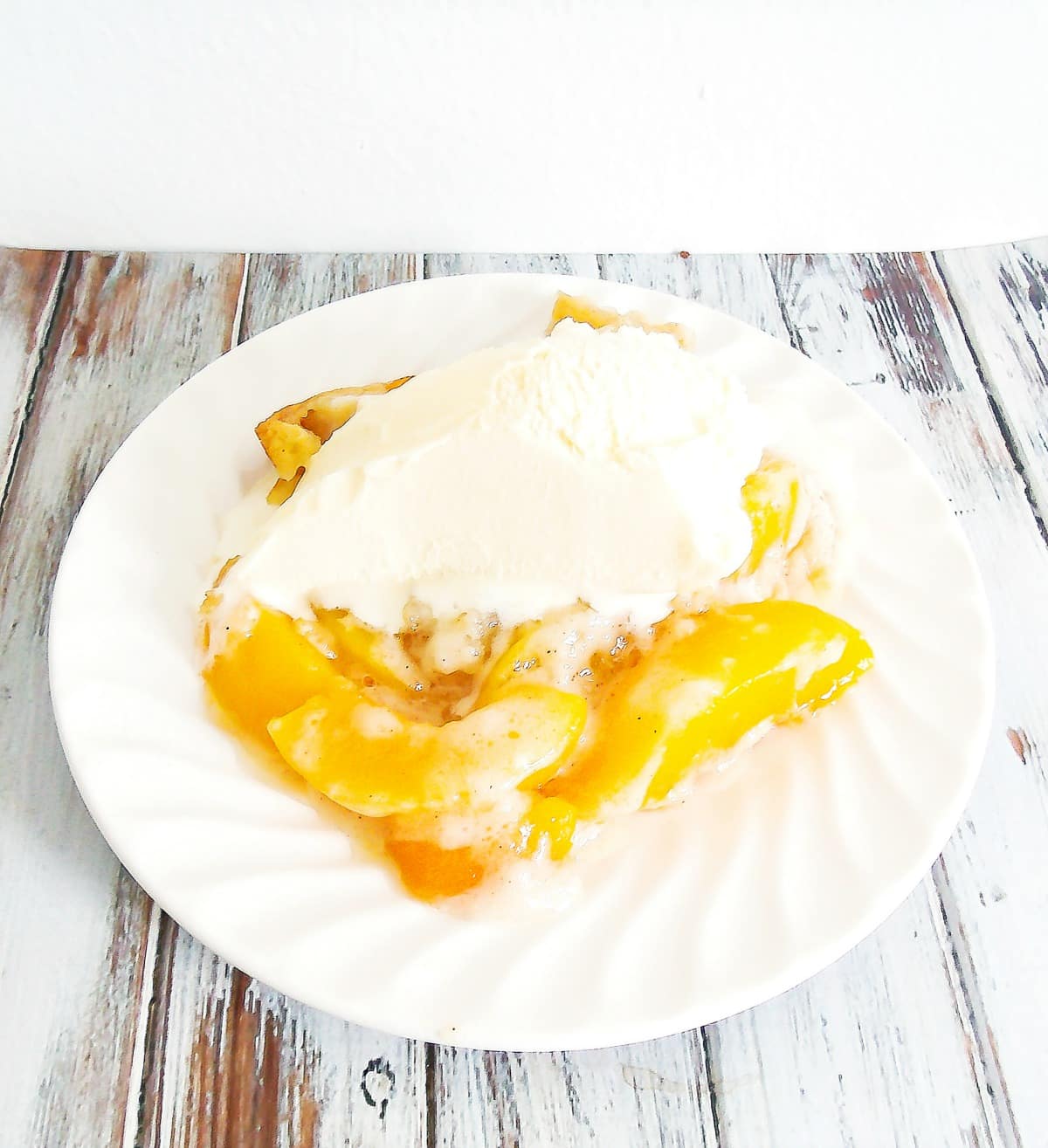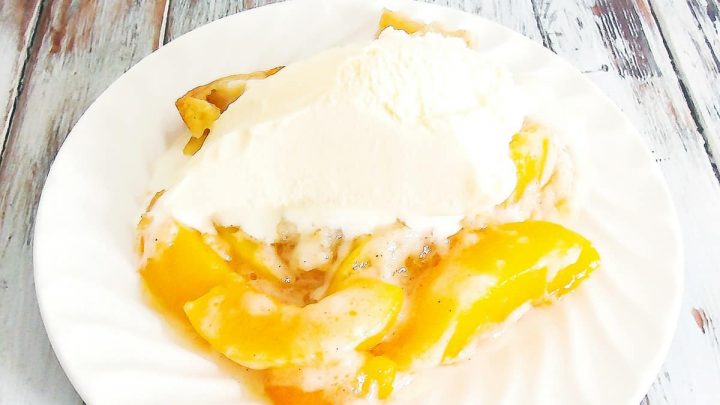 Yield:

6 servings
Moscato Peach Cobbler
Moscato Peach Cobbler has sweet Moscato wine in a simple peach cobbler. The two flavors will seduce your taste buds with this simple, elegant dessert!
Ingredients
1/2 cup butter
1 cup sugar
1 cup self-rising flour
1 teaspoon cinnamon
1/2 cup milk
1/2 cup heavy cream
1/4 cup Moscato wine
1 can sliced peaches, light syrup (drained, 15¼ oz)
Instructions
Combine in a bowl the flour, sugar,cinnamon, milk, Moscato wine, and cream
Blend everything till it is smooth.
Turn your oven on to 350, and put the butter in the pan you are going to use to bake the cobbler. Let the oven to melt the butte ,as the oven is warming up, this is usually takes about 5 minutes or so.
Once the butter is melted, pour on the batter on top of it. DO NOT mix the butter and batter together. Do not worry if the batter isn't covering the entire bottom of the pan.
Next dump the peaches on top the batter.
Bake at 350F for about 30 minutes till it is a nice golden brown.
Serve it up warm with a little bit of vanilla ice cream or whipped cream and ENJOY!
Nutrition Information:
Amount Per Serving:
Calories:

0
Like this Recipe? Pin it!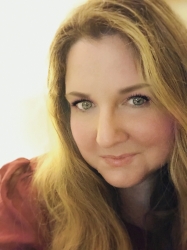 Latest posts by Deanna Samaan
(see all)