Disclosure: This post may contain affiliate links.
You are here:
Home » Dessert » Moscato Peach Cobbler
Moscato Peach Cobbler has sweet Moscato wine in a simple peach cobbler. The two flavors will seduce your taste buds with this simple, elegant dessert!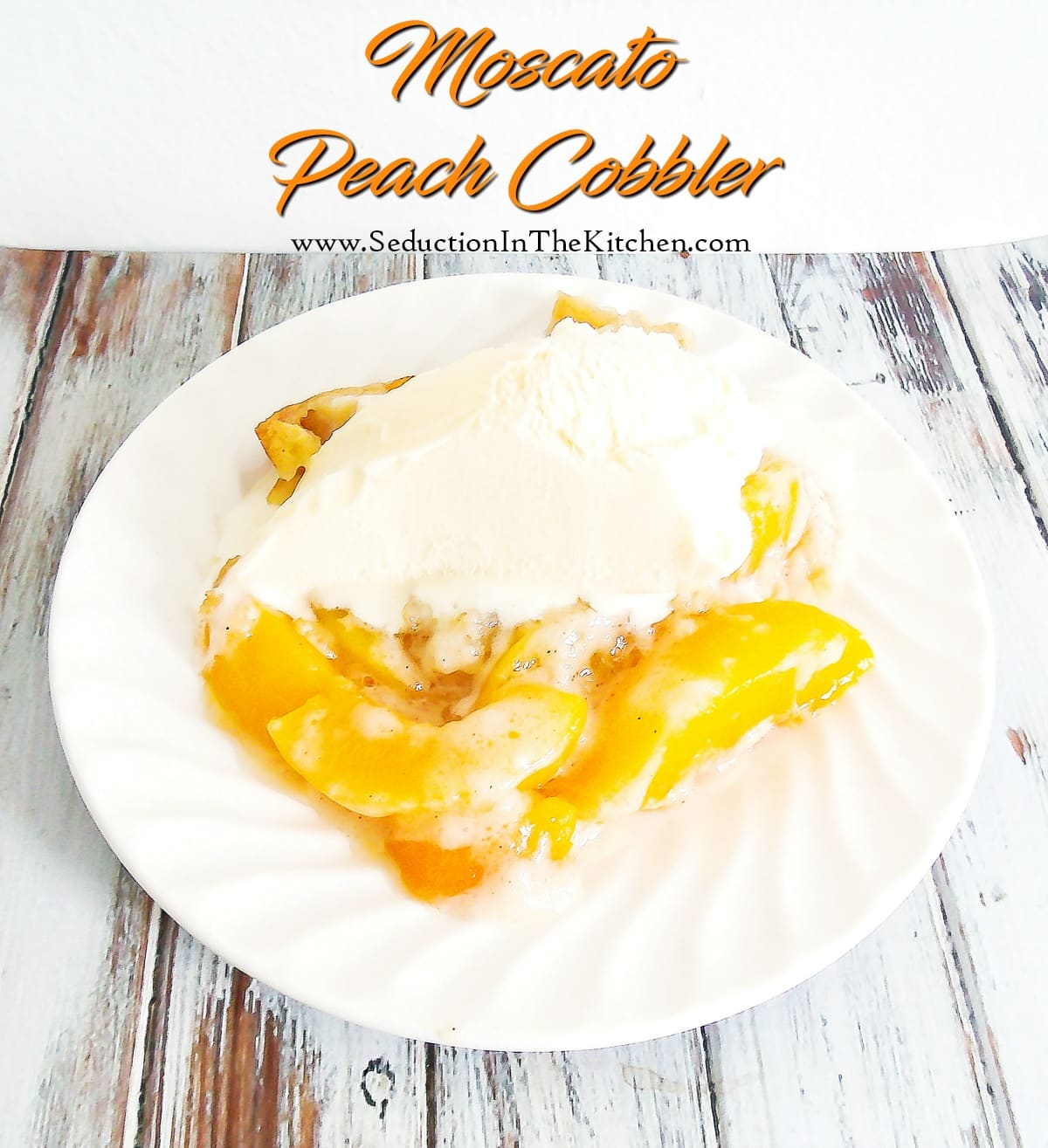 I told you guys I been doing some changes here on Seduction in the Kitchen. I have a feeling I may have a few more changes in regards to my site I am not looking forward to. There is a huge issue with my RSS Feed.
It stopped working in February. That is why no one has gotten my posts in their email. Plus anyone follows me on Bloglovin, hasn't been getting my posts either.
They both work off the RSS. Since the feed is not working, no one is getting anything. It is frustrating. It is not a plugin, it something actually interfering in my code in the template is what I am being told.
I do not know what to do. When I was on blogger, I knew how to fix this. Now that I am on WordPress, I have to rely on a developer and he is backed up.
This is one of those times I wish I knew how to code on WordPress, but I do not know how. I am working on it. I tried today to at least let the readers who get the posts by email.  I did the last post by hand in MailChimp and seem to have worked.  So got a semi-solution to that part of this RSS issue. Hopefully, will not have to do that too much longer.
As I have mentioned in earlier posts, I am a contributor with Parade's Community Table. With this stress of these issues on the blog, it has helped me doing these curated recipe posts for Parade. I love coming up with a recipe theme and looking at other food blogs and seeing which recipes I want to be put in the slide show. So far I have done 4 of these recipe posts, and as right now I am working on the 5th one which by the way will be all about Moscato Wine.
Why Moscato wine? Well, it is my wine of choice, I love sweet wine. Another reason, I made this peach cobbler a month or two ago after my huge winery tour I did of Southern Ohio and been waiting for the perfect time to showcase it. So this post and that curated collection for Parade just felt like it is the perfect time to put this recipe up.
One of my first recipe posts I had here on Seduction in the Kitchen, that did very well was Peach Cobbler. Now that I am better understanding how to take photos, well I should say if you look at that old post, I talk about how good I was doing with photos. Yeah, at that time I thought they were good. You can really see how far I have come in the world of food photos.
Anyway, I was going to just update the post with a new photo and maybe a new post like I did with the Roasted Salmon and Summer Squash with Mustard Dill Sauce, recently. The more I thought about it, plus I had just got a ton of wine from my wine tour, I decided I wanted to play with the recipe a bit and incorporate the Moscato wine in the recipe.
Plus a little secret, I really want to work with a winery to develop recipes with. So I am hoping one sees this recipe and contacts me. I worked with several alcohol companies in the past and I had fun doing recipes for them, both drinks and food.
Moscato in this recipe actually enhances the peaches. It just takes the cobbler to the next level. It gives a sophistication to a simple dessert, plus with some vanilla ice cream, it simply is divine.
Moscato Peach Cobbler has sweet Moscato wine in a simple peach cobbler. The two flavors will seduce your taste buds with this simple, elegant dessert!
Ingredients
Directions
Blend everything till it is smooth.
Turn your oven on to 350, and put the butter in the pan you are going to use to bake the cobbler. Let the oven to melt the butter, as the oven is warming up, this usually takes about 5 minutes or so.
Once the butter is melted, pour the batter on top of it. DO NOT mix the butter and batter together. Do not worry if the batter isn't covering the entire bottom of the pan.
Next, dump the peaches on top the batter.
Bake at 350F for about 30 minutes till it is a nice golden brown.
Serve it up warm with a little bit of vanilla ice cream or whipped cream and ENJOY!
Recipe Notes

Is this something you would love to whip up in your kitchen? Share it and inspire others with this recipe! 
Moscato Peach Cobbler has sweet #Moscato #wine in a simple #peach cobbler. https://goo.gl/OA8JPk #recipe #yum
Click To Tweet
Like cobbler? Check this out on AMAZON:
[easyazon_link identifier="B00ARNKE7O" locale="US" nw="y" tag="despl-20″]Best Ever Fruit Cobbler & Crisp Recipes (Best Ever Recipes Series Book 2)[/easyazon_link] [easyazon_image align="center" height="500″ identifier="B00ARNKE7O" locale="US" src="https://www.seductioninthekitchen.com/wp-content/uploads/2017/07/510JHxbcvqL.jpg" tag="despl-20″ width="375″] [easyazon_cta align="center" identifier="B00ARNKE7O" key="small-light" locale="US" tag="despl-20″]
XOXO