M&M Cupcakes is an easy chocolate decadent m&m cupcake recipe. If you are looking for fun cupcake recipes, then these m&m cupcakes are it!. This easy cupcake recipe has m&ms on top makes these cupcakes even better and fun!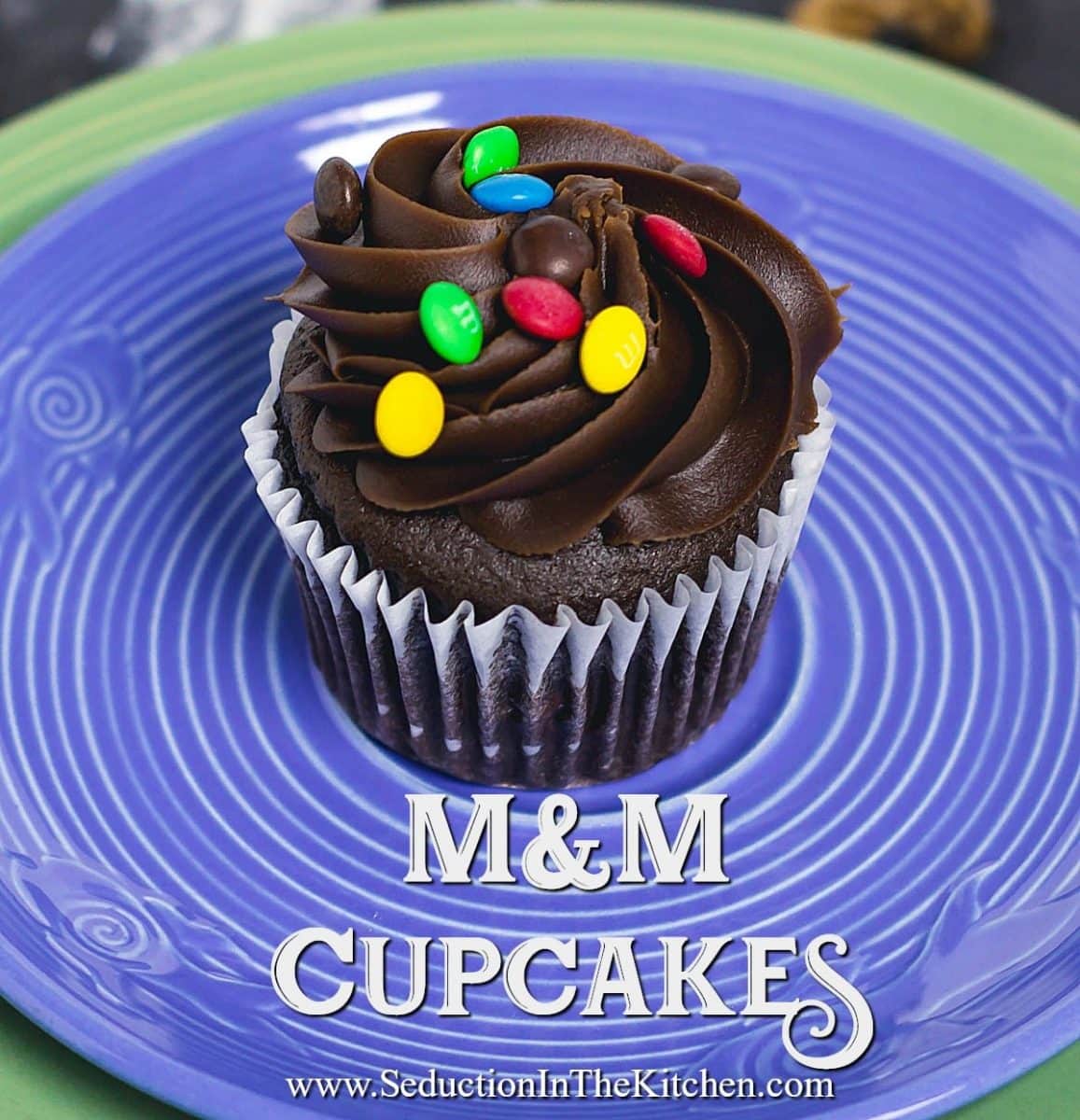 Cake Mix Dessert Recipes
I love easy dessert recipes. One way to make an easy dessert recipe is by using cake mix. Cake mix dessert recipes really are the easiest way to make a yummy dessert.
Easy Cupcake
One easy dessert recipes you can make is cupcakes. To make an easy cupcake, cake mix is also needed. Some of the best fun cupcake recipes use cake mix.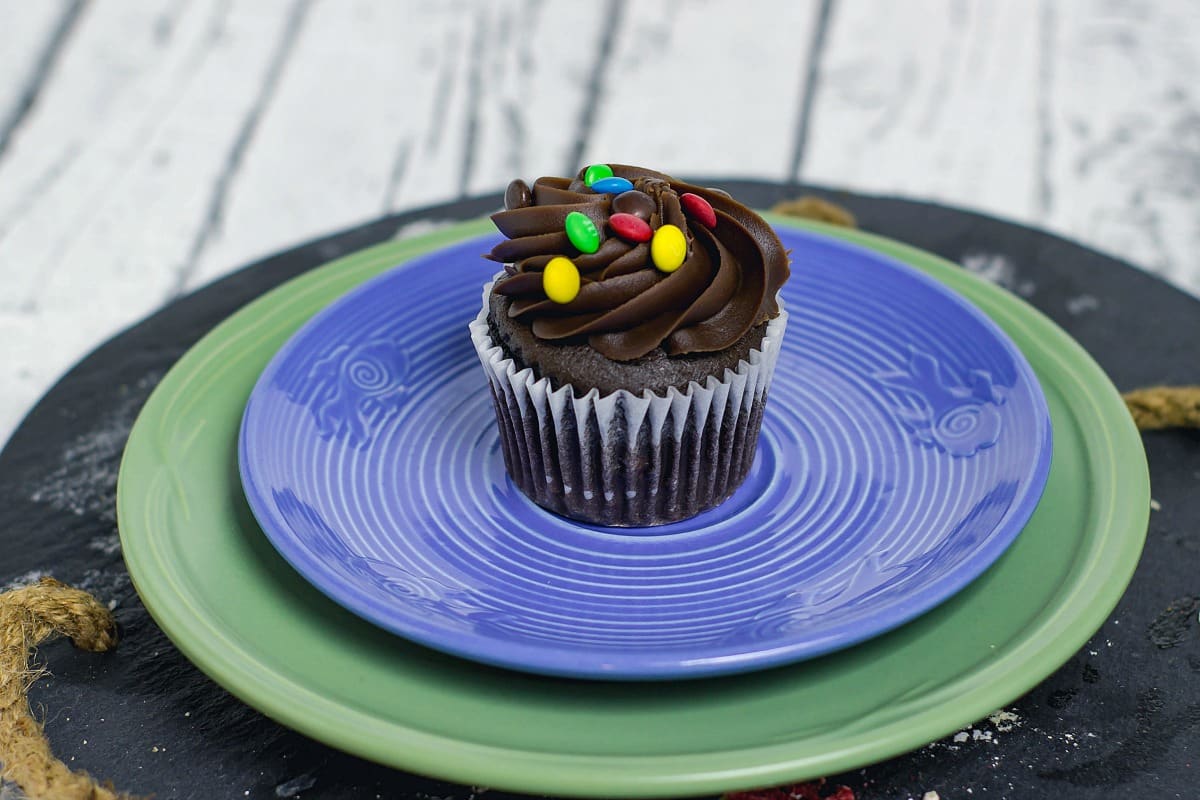 Baking
I really love to bake. For a while, I was heavy into cake making. Used to love learning these techniques from a website called Cake Central.
That was how I learned some secrets to some pretty good baked goods like cupcakes. The best secret to moist cake is, wait for it, yogurt and pudding, yep I learned that there.
Cupcake Recipe
Using that yogurt secret, I incorporate it into cake mix. To have the best cupcake recipe, all you need to do is doctor up some cake mix. Once you do that you see how easy cupcake recipes can be.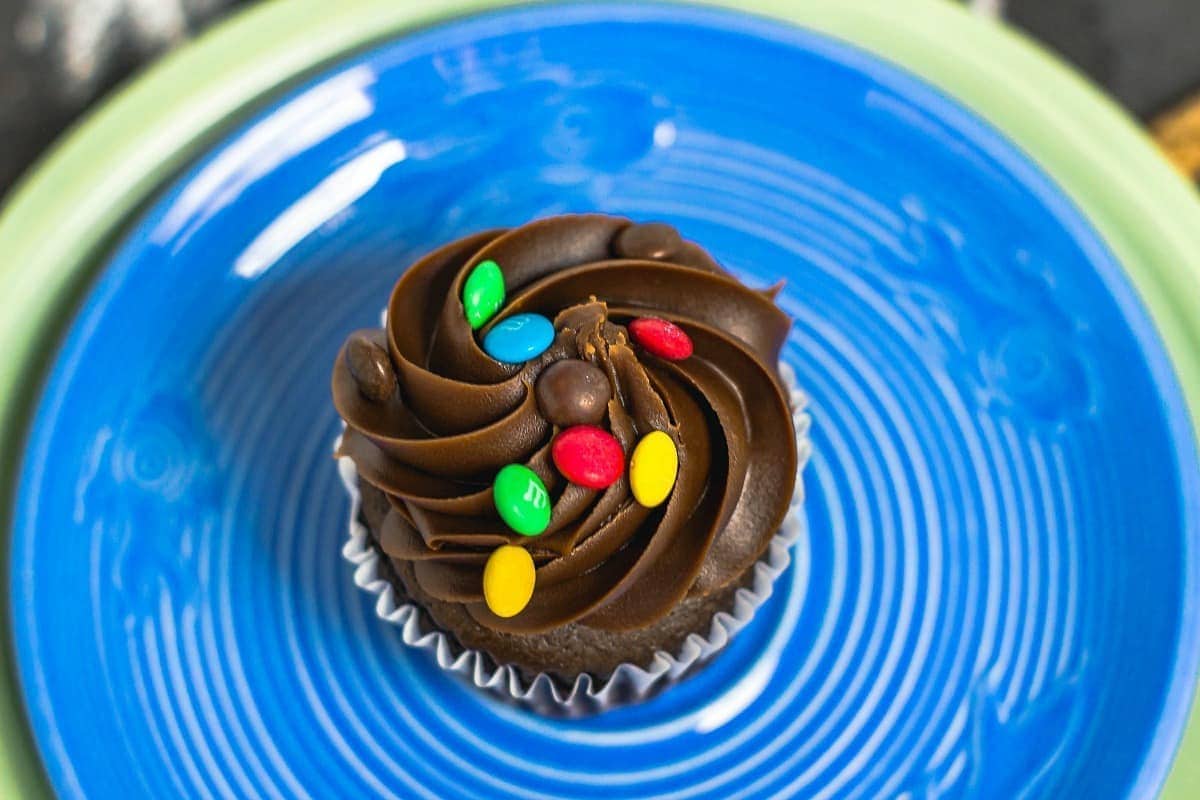 Making M&M Cupcakes
Recently someone asked me about an old cupcake recipe on here, the red wine cupcake. When I went to look it up on here to see what they were referring to I realized wow that photo on it is horrible!
I love that decadent chocolate cupcake so that post needs TLC. So I baked up a batch of chocolate cupcakes. Then I realized I had a lot of chocolate cupcakes.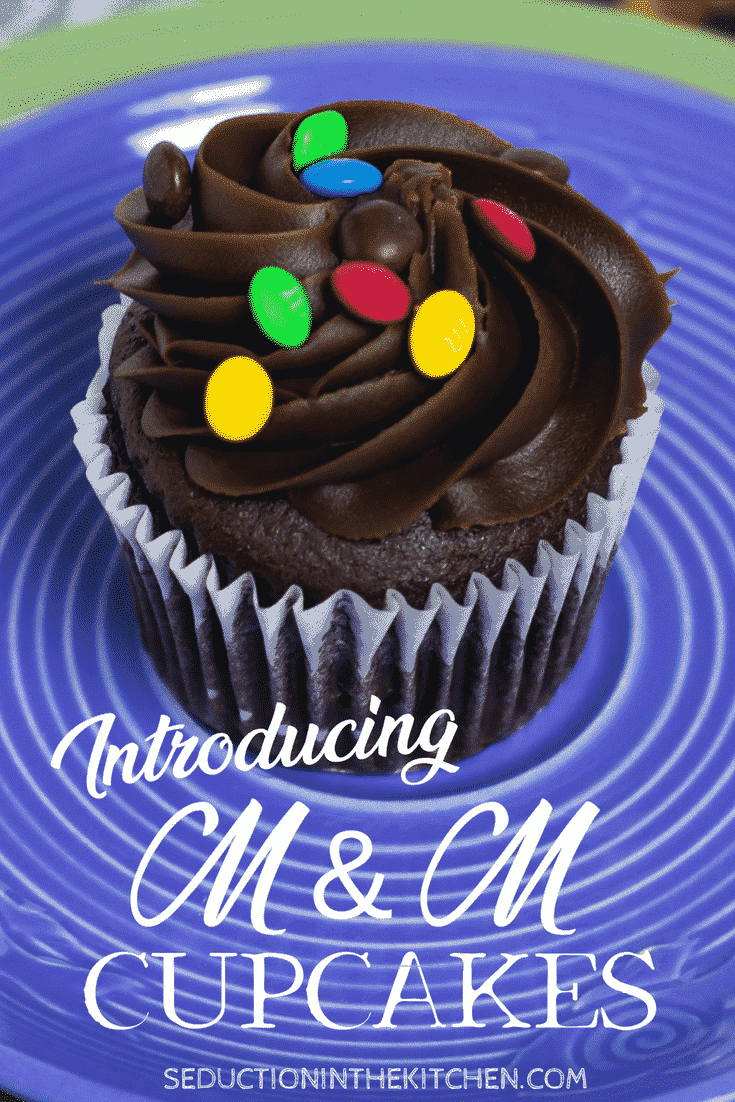 M&M Cupcakes Recipe
So what to do? Can't take red wine cupcakes to work since the drizzle is alcohol on them. So the idea of decorating the chocolate cupcakes into different cupcakes was genius.
Fun Cupcake Recipes
All I had to do was make different fillings and icings to create different fun cupcake recipes. On this m&m cupcakes recipe, of course, decorate it with some mini M&M's. After all who would not want one of these M&M cupcakes?
Because these m&m cupcakes is chocolate on top of chocolate, the M&M's make it pop with bursts of color. That is part the fun in these m&m cupcakes.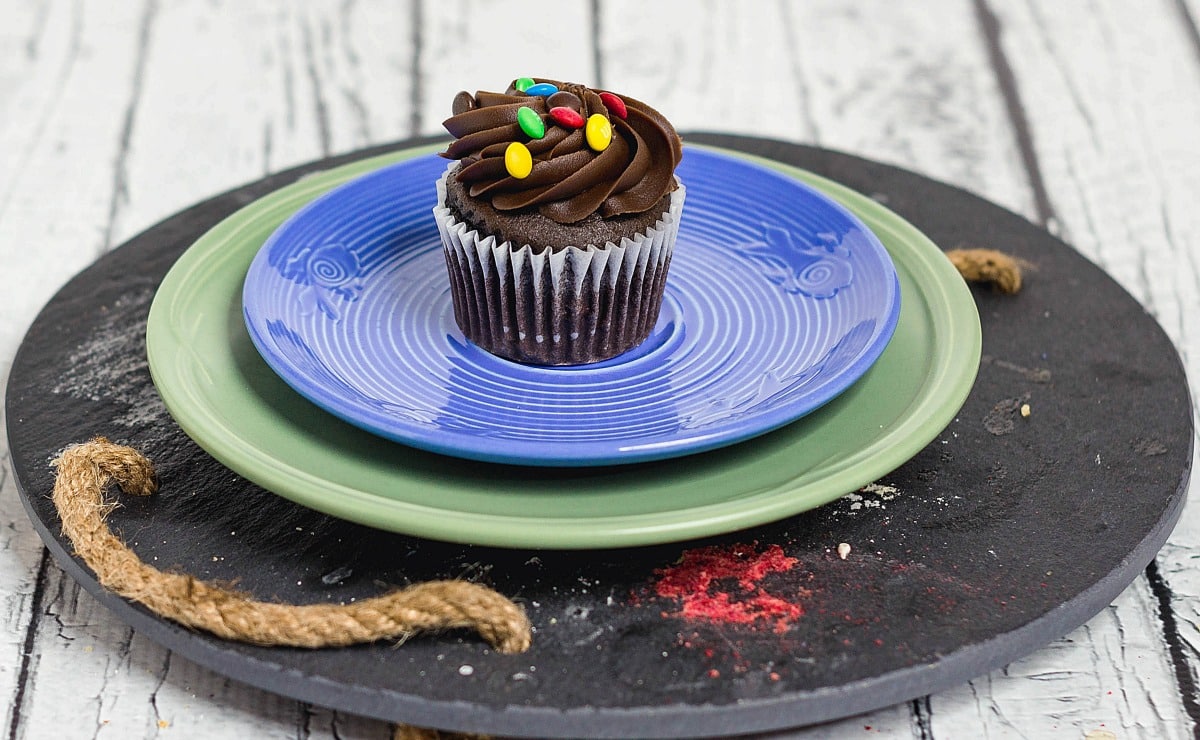 Disney Cupcakes
I got inspired by Disney for this m&m cupcake creation. They have a bakery in Walt Disney World Resorts that makes these amazing over the top cupcake goodies. I just downsized these fun cupcakes from Disney's very large Cupcake version of the m&m cupcake recipe.
This is not first Disney inspired cupcake I made. I have done 3 easy cupcakes recipes on Seduction in the Kitchen that was inspired by this bakery in a way. Sadly, like red wine cupcake, 2 of the 3 cupcake recipes have very bad photos and need TLC.
I will link those cupcake recipes up in the check out these recipes section for you. So let's dive into these decadent, fun chocolate M&M cupcakes. You are going to love it!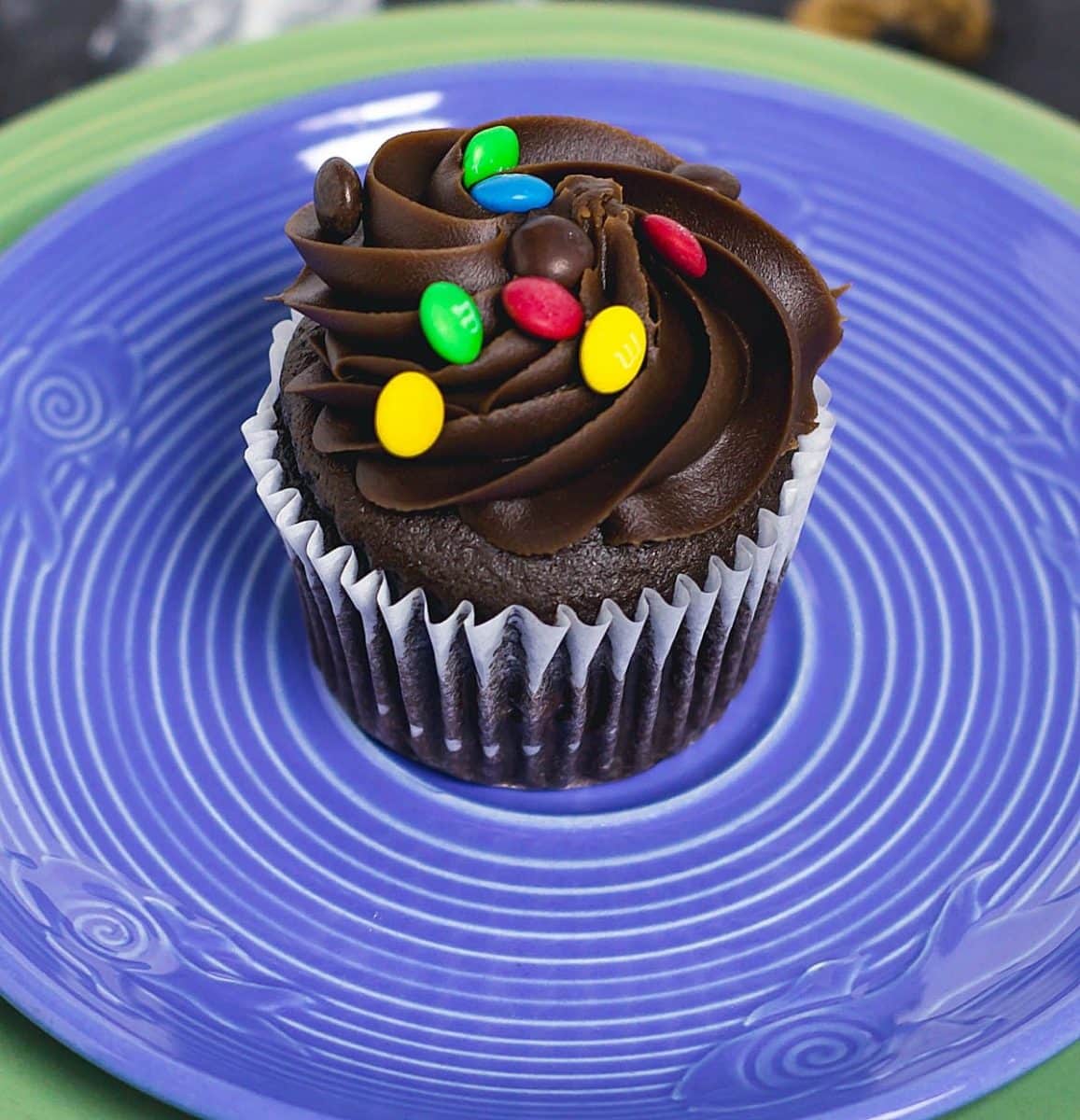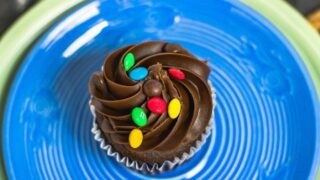 Yield:

12
M&M Cupcakes Recipe
M&M Cupcakes is an easy chocolate decadent cupcake that your family will love. Adding the candy M&M's to the cupcakes makes these cupcakes even better!
Ingredients
1 box of chocolate fudge cake mix
1 small box of instant chocolate pudding
2 eggs
1/4 cup vegetable oil
1 (3 oz) container of vanilla yogurt
1 tablespoon heavy cream
1 cup butter, softened
Instructions
Cupcakes
In a bowl, add the cake mix, pudding mix, yogurt, eggs, oil, and heavy cream.
Mix till everything till well blended.
Bake the cupcakes according to the box directions.
Take out the oven and let them cool.
Fudge Frosting
Beat butter, sugar, cocoa powder, vanilla, and heavy cream until smooth.
Assembly
Using a knife, on top of the cupcakes, in the middle take a little bit of the cupcake out of the center, but save the cake circles.
You only want to cut a circle out about 1/2 inch deep.
Then put in a little bit of the M&M's into the cupcakes.
Place the cake circles back on top of the cupcakes.
Put the frosting into a decorator's bag with a tip.
Pipe on the frosting on the top.
Sprinkle a few the M&M's on the top for decoration.
Serve them up and ENJOY!
This post was most recently updated
I want to hear what you have to say about this recipe that is on
SEDUCTION IN THE KITCHEN!
Let's get this conversation started! What do you think of this recipe?