This post was most recently updated
Chocolate Covered Strawberry Cupcakes is a decadent cupcake that is chocolate, strawberries, and a whipped cream frosting. One bite and you will be in love with them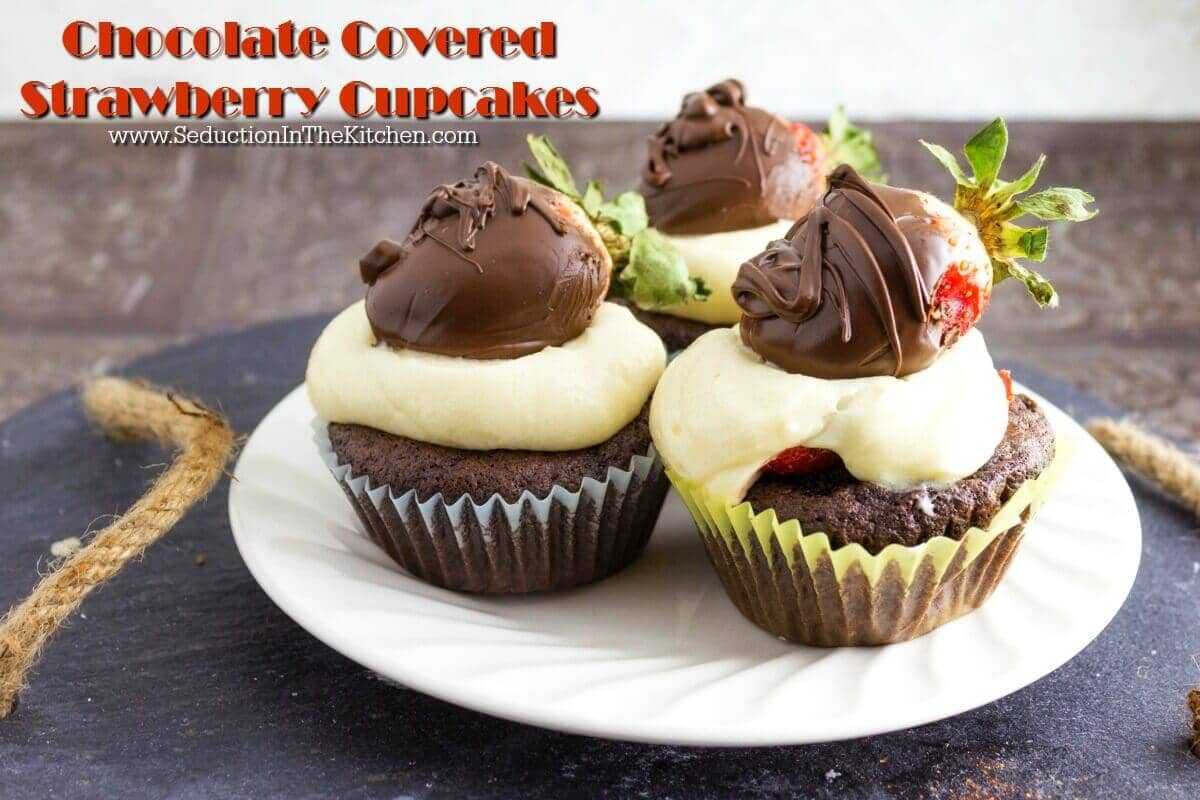 Final Week
This is my last week at the circus atmosphere of my day job. It is strange. I think because my supervisors came to me about starting this new lab. It came by so fast. I didn't plan this move to open this lab. It came to me. Maybe that is why I feel so weird. I didn't plan this.
Everything Happens For A Reason
I truly believe that everything happens for a reason. I was the head phlebotomist in Pittsburgh. I left that position because I got married and had to move to Cleveland for my ex-husband. I have wanted to get back into a position that is similar to what I was in Pittsburgh. Finally, I got that chance to show my work what I really can do. It is humbling in a way, how I had to endure what I have to get to this point.
Maybe why it was done sooner was because it wasn't my time to shine. I shine right now at my current location. It is with my patients. I am a painless stick, I get them on the first try and I am good with bad veins. That is why I get the most requests. With the new location, I am in charge, I can run the lab I feel that is best. I get to show my employer my other strengths other than my phlebotomy skills.
I said that 2016 would be the year of Dee. It was the start of it. Now it looking like it is 2017 that it time for Dee to shine. That is what I plan to do. So much weight has been lifted off of me. I know I had a depression due to work, it affected me. As this week goes on, I feel that depression lifting. I feel myself breathing that I have not felt in a while. Everything happens for a reason.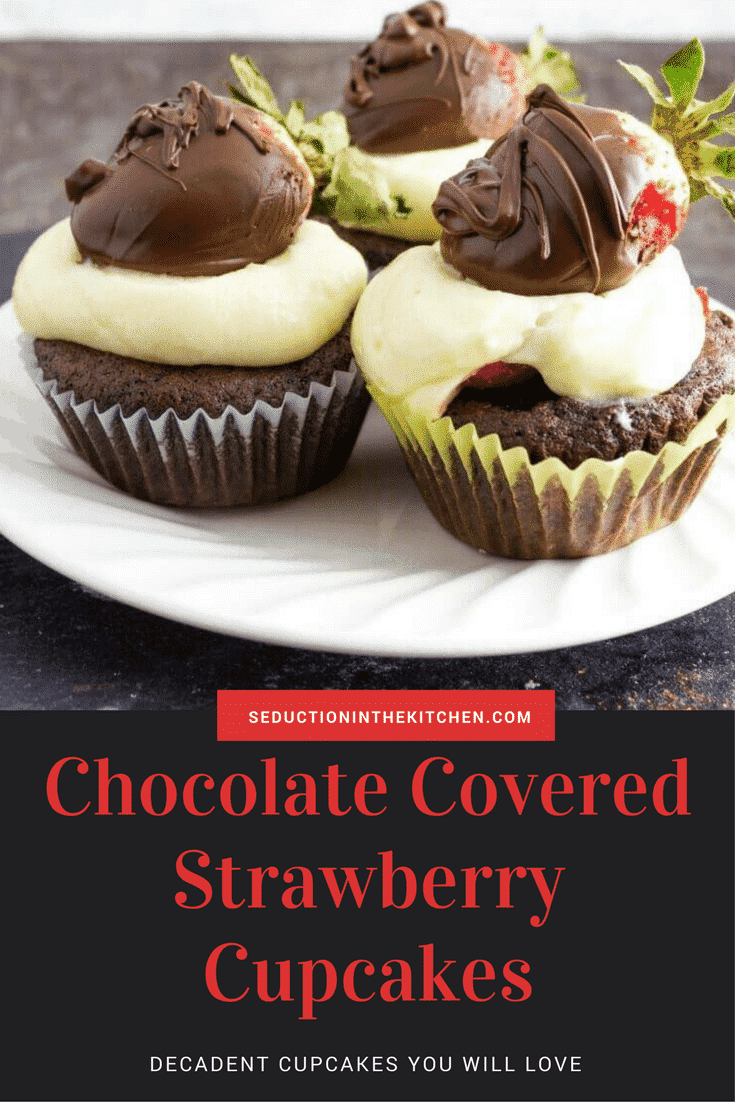 Chocolate Covered Strawberry Cupcakes
I created these cupcakes years ago. I went through a phase where I wanted to make cakes. I was heavy into watching those cake shows and thought, "Hey I can do that." I tried to do what they did. Some worked, some didn't. I had fun doing it.
I come up with crazy cake combos. I created my birthday cake with a combo of lemon and raspberry fillings with a vanilla bean cake. Sounds good right? Well, the cake was also about 12 layers. I made it into a mountain with a waterfall, a Hawaiian waterfall to be exact.
Yes, I really loved making cakes. During that time that I invented the Chocolate Covered Strawberry Cupcake. I actually created it for a friend whose birthday was in February. I was thinking chocolate covered strawberries was perfect for February because of Valentine's Day. So why not make them into cupcakes.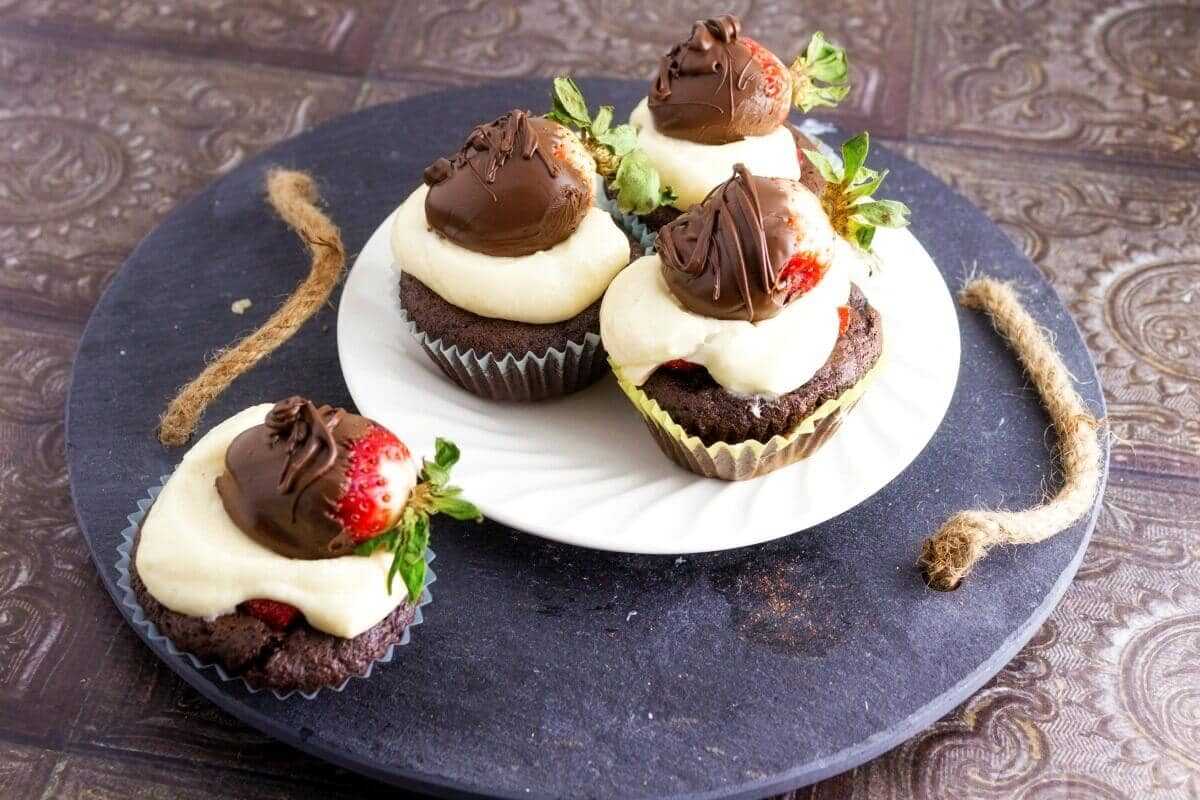 I have been debating about putting these beauties up on Seduction in the Kitchen. I admit I been pondering about that for the last few years around this time. Like I said, everything happens for a reason.
My photography skills have really improved over the years. Even on Facebook, I have had other food bloggers comment they noticed my photos recently and how they improved. If I did this recipe a few years ago, the photos I was doing then would not have done these Chocolate Covered Strawberry Cupcakes justice.
Also, these cupcakes are special to me. I decided to make them as my final goodbye treat for my co-workers since this is the last week I will be working with them. As I have said in my previous posts, I will miss some of my co-workers. I do have a friendship with a few that I will see them outside of work. That is a good relief. Plus there is always Facebook to keep up with them as well.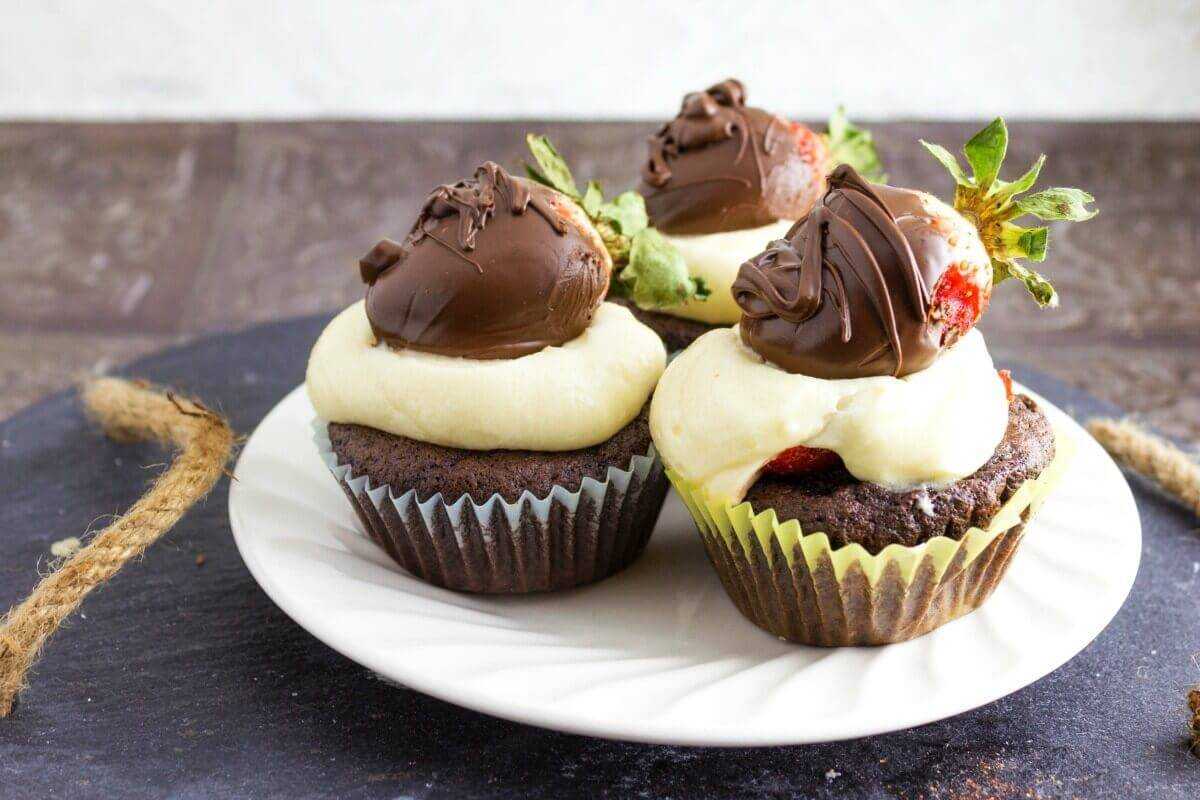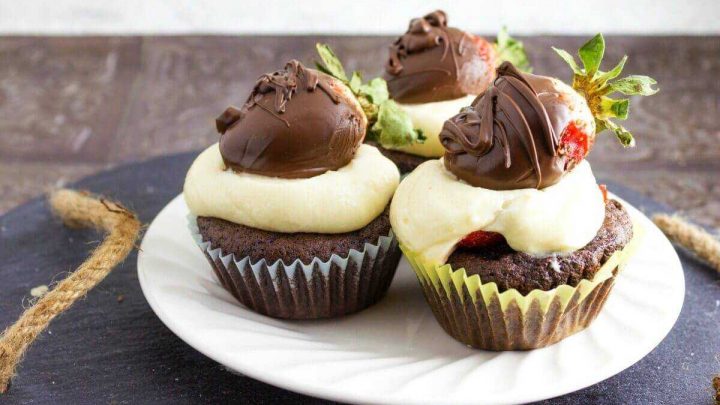 Yield:

12 servings
Chocolate Covered Strawberry Cupcakes
Chocolate Covered Strawberry Cupcakes is a decadent cupcake that is chocolate, strawberries, and a whipped cream frosting. One bite and you will be in love.
Ingredients
1 box of fudge cupcakes
2 eggs
1/2 cup of vegetable oil
1 pkg chocolate pudding
4 oz whipped chocolate yogurt
1 1/4 cup water
8 large strawberries (chopped)
1 tablespoon amaretto
2 tablespoons sugar
1 pint strawberries
12 oz chocolate chips
1 1/2 cups solid shortening
8 tablespoons butter
1 1/2 cups sugar
1 egg white
2 teaspoons vanilla extract
1/2 cup hot milk
Instructions
The first thing you should do is make the chocolate covered strawberries. Melt the chocolate chips. Then dip the strawberries into the chocolate and let them set up on wax paper lined cookie sheet in the fridge.
Mix everything together for the cupcakes and bake them according to box instructions. Which about 15 minutes. Take out the oven and let them cool.
As the cupcakes cool, make the strawberry filling. Chop up the strawberries, mix in the sugar and amaretto. Then let the strawberries sit for about 20 minutes so they juice up.
To make the frosting: Cream together shortening and butter. Add sugar and beat well. Add egg white and vanilla; beat thoroughly. Add hot milk, 1 tablespoon at a time, and beat until creamy.
Now it is time for assembly. The cupcakes should be cool to the touch.
Place onto the cupcakes a little of the strawberry filling.
Next, after you got the strawberry filling on top of the cupcakes. Pipe on the frosting.
Finally, garnish with the chocolate covered strawberry.
Serve these beauties up and ENJOY!
Nutrition Information:
Amount Per Serving:
Calories:

430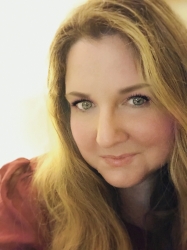 Latest posts by Deanna Samaan
(see all)