This post was most recently updated
Mango Coconut Sticky Rice is a simple sweet dessert that is popular in Thai restaurants. This dish is so is the perfect to have after a heavy meal. A recipe from Seduction in the Kitchen.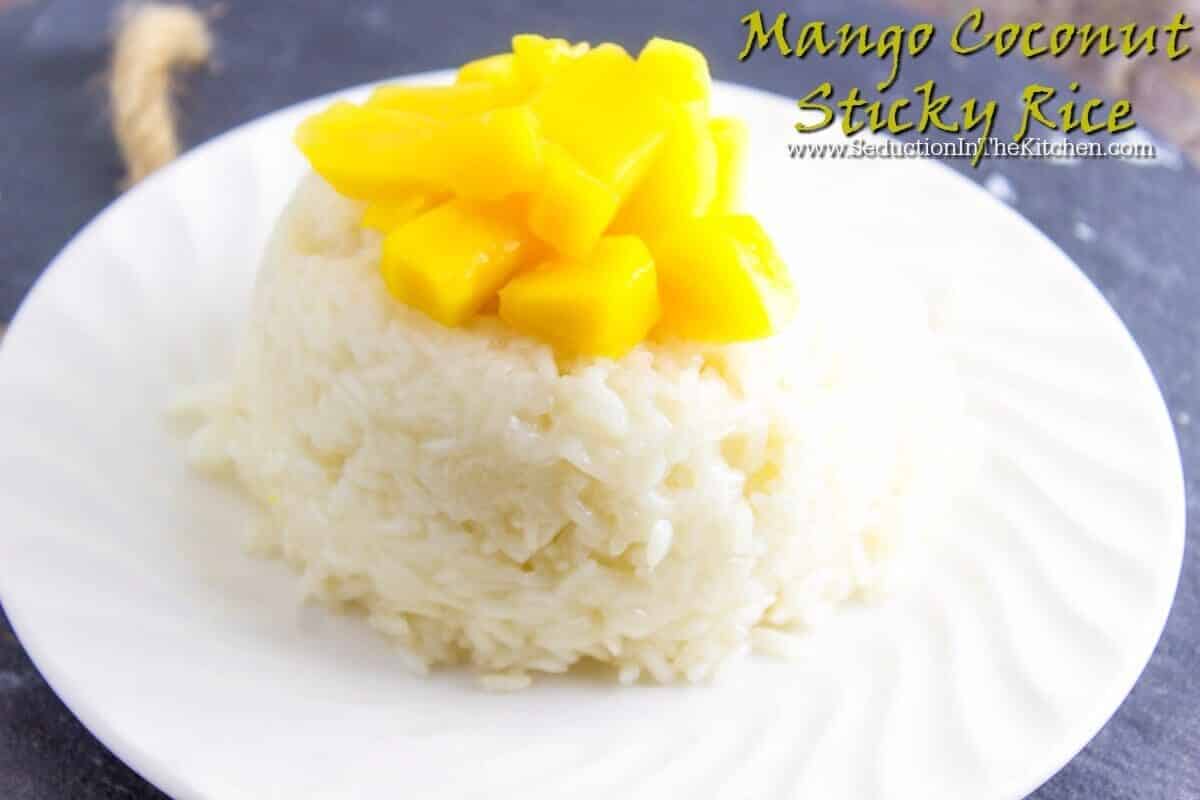 This Mango Coconut Sticky Rice is one of my makeover recipes. I originally published this recipe on June 7, 2013. It has always been one of my favorite recipes.
Like all the recipes I have been making over, this one I am doing a little different. Yes, I reshot the photos and made a video but I am also redoing the entire post as well. In the other redo's like Easy Brownies and Texas Slaw I simply just did the photos and video for it. I did not touch the text portion, except to add that I updated it. Everything on those posts is as I wrote them back then.
Why redo this whole post? Well honestly, I felt like it. This post was a little different for me. I really loved the original photo. I always felt like this post was my prized jewel for the longest time.
Now, as I been working on upping the SEO. I realized how much I could improve on the Mango Coconut Sticky Rice. This recipe was the first one that I learned I needed to edit photos. I think that was why it is special to me.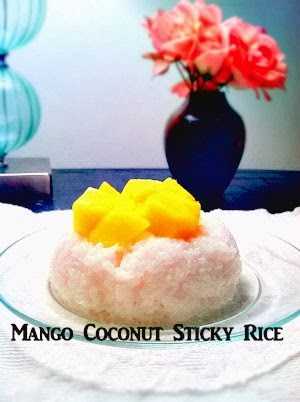 I was so proud of that photo. Boy, I do miss that blue lamp too you see in the background. Doodle Bug, my cat at that time knocked over it and broke it. I had 2, one for each table, but when I moved, I decided I wasn't taking it since I only had one left. Ok back to this rice now, memory lane is over.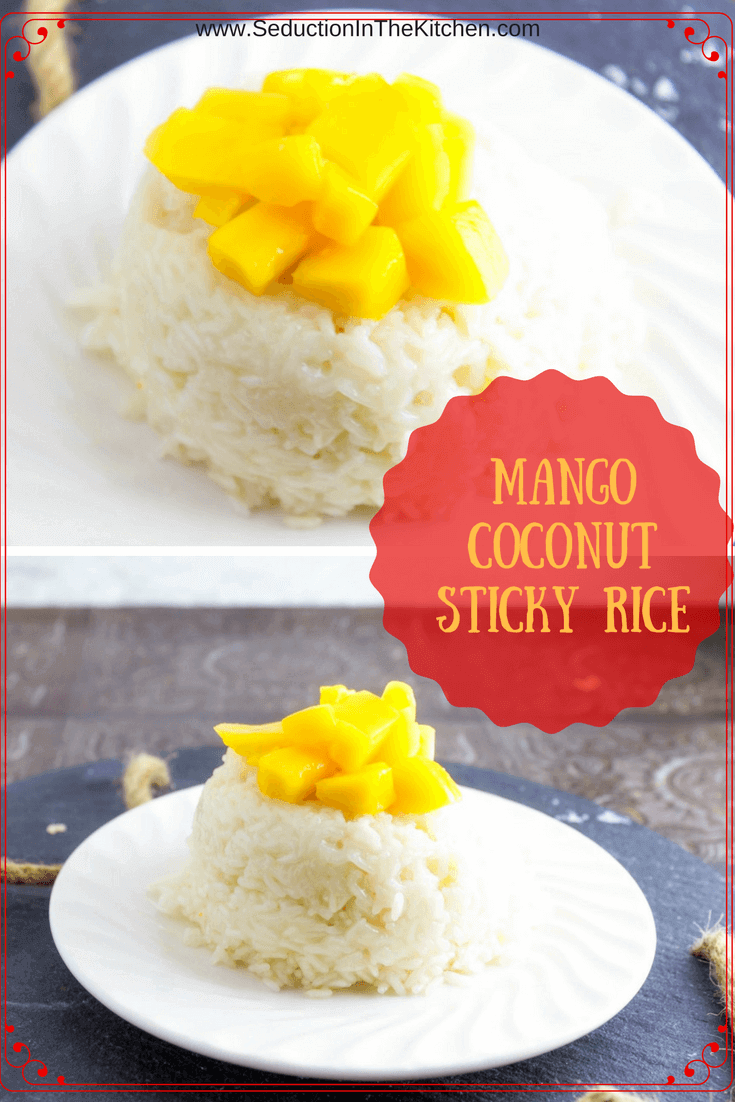 Another blogger asked me, why do I put the old photo into these recipe redo's? Because it shows how far I have come. It is good to show your progress. Plus I feel like it helps inspire. Everyone starts somewhere. No one got to the level they are at in food blogging by being perfect the first time around.
Is there room for improvement, absolutely! There is no one I can say is perfect in food blogging. There is always ways to improve yourself. With me, it was photography that I concentrated on. Doing posts like this reminds me how I have learned and improved. It motivates me as well to keep doing just that, improving myself in what I do.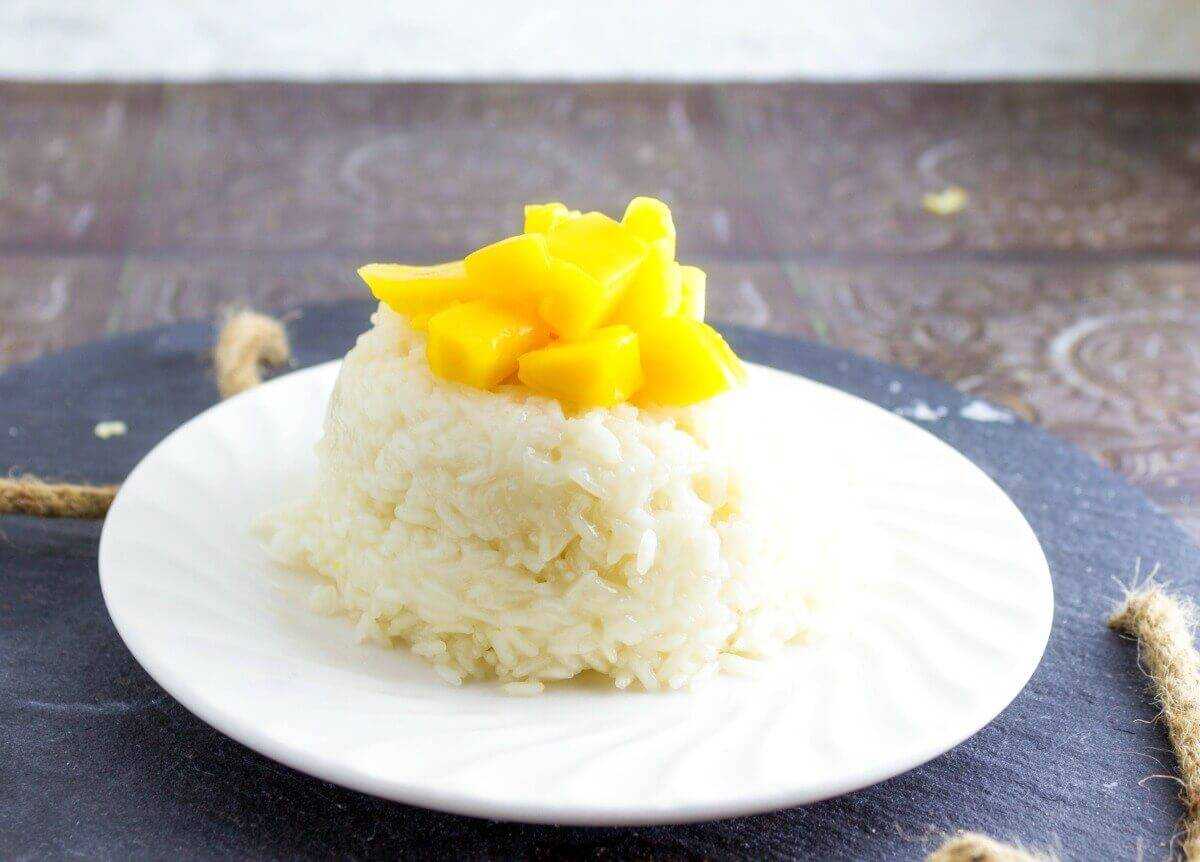 Mango Coconut Sticky Rice
I love simple desserts. My taste buds have changed throughout the years. Meaning, I have grown to taste various ethnic dishes. Growing up I told you the most exotic we might have was spaghetti and meatballs. Occasionally War Su Gai from the local Chinese restaurant. To try a Thai dish, no my family would not do that.
It wasn't until I was on my own that I got adventurous in food. Friends wanted Thai, I didn't want to say, I never had it I'm not going. I stepped out what I knew and went with them, ate Thai food and I liked it.
I don't remember what I ate that night, but I do remember the dessert, Mango Coconut Sticky Rice. It was simply amazing. Lightly sweet and was so good.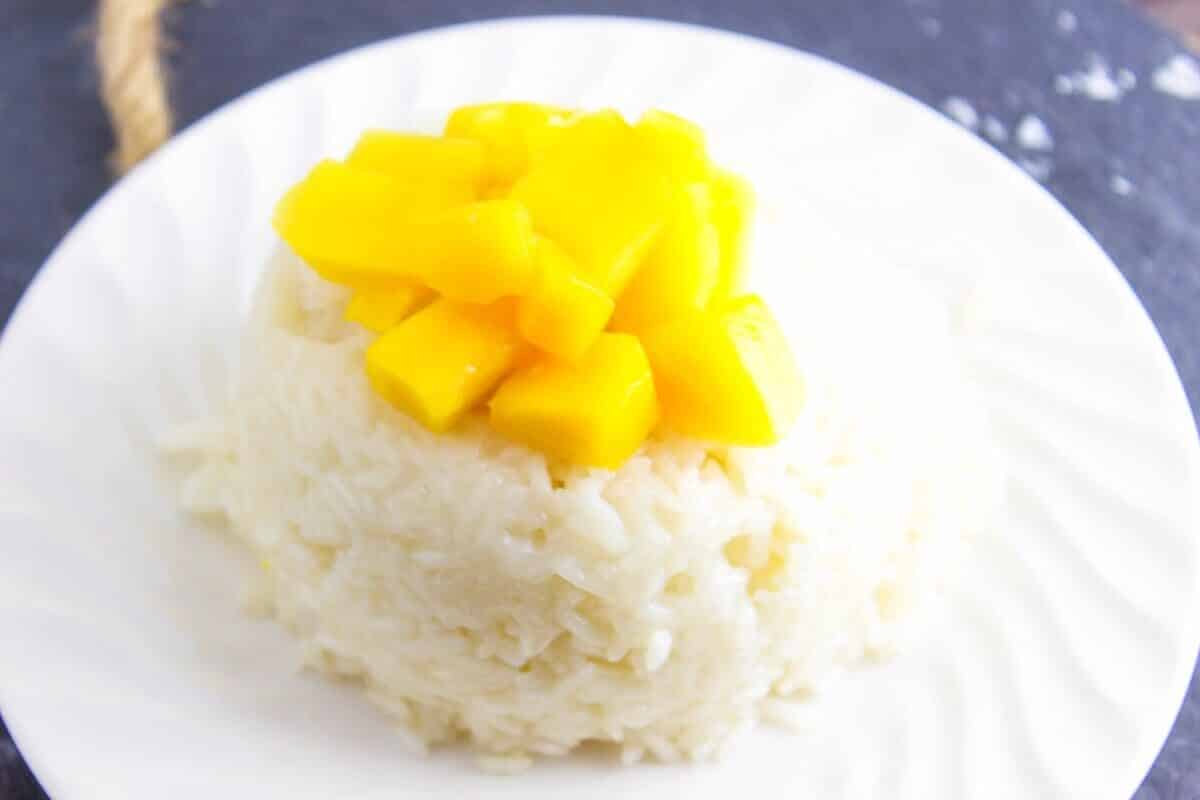 Like most the ethnic dish I tried and liked. I researched recipes for the Mango Coconut Sticky Rice. I made this on the stove like you see in the video. I also made it in a rice cooker. It always comes out good. I also made this with leftover rice as well, instead of using uncooked rice. It just a simple recipe that can be made different ways.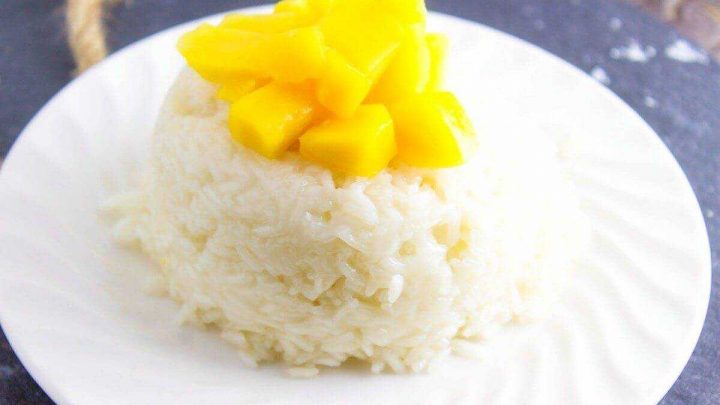 Yield:

4 servings
Mango Coconut Sticky Rice
Mango Coconut Sticky Rice is a simple sweet dessert that is popular in Thai restaurants. This dish is so is the perfect to have after a heavy meal. A recipe from Seduction in the Kitchen.
Ingredients
1/2 cup jasmine rice
1 can coconut milk (14 ounce)
1 cup water
1/2 cup sugar
1 mango (sliced)
Instructions
Mix the coconut milk, water, and sugar together. Bring to a boil.
Add the rice, reduce the heat and cook the rice till all the liquid get absorbed.
It should be fairly dry when you finish cooking it, without any liquid visible in the pot.
When it is done, let it cool slightly.
Spoon the rice into a small bowl to mold it.
Place the bowl on a plate, lift the bowl to show the molded rice.
Arrange the mango slices on top the rice.
Serve it up and ENJOY!
Nutrition Information:
Amount Per Serving:
Calories:

420
[clickToTweet tweet="Mango Coconut Sticky Rice is a #Thai #dessert that is a favorite #recipe #yum #foodies" quote="Mango Coconut Sticky Rice is a #Thai #dessert that is a favorite #recipe #yum #foodies" theme="style2″]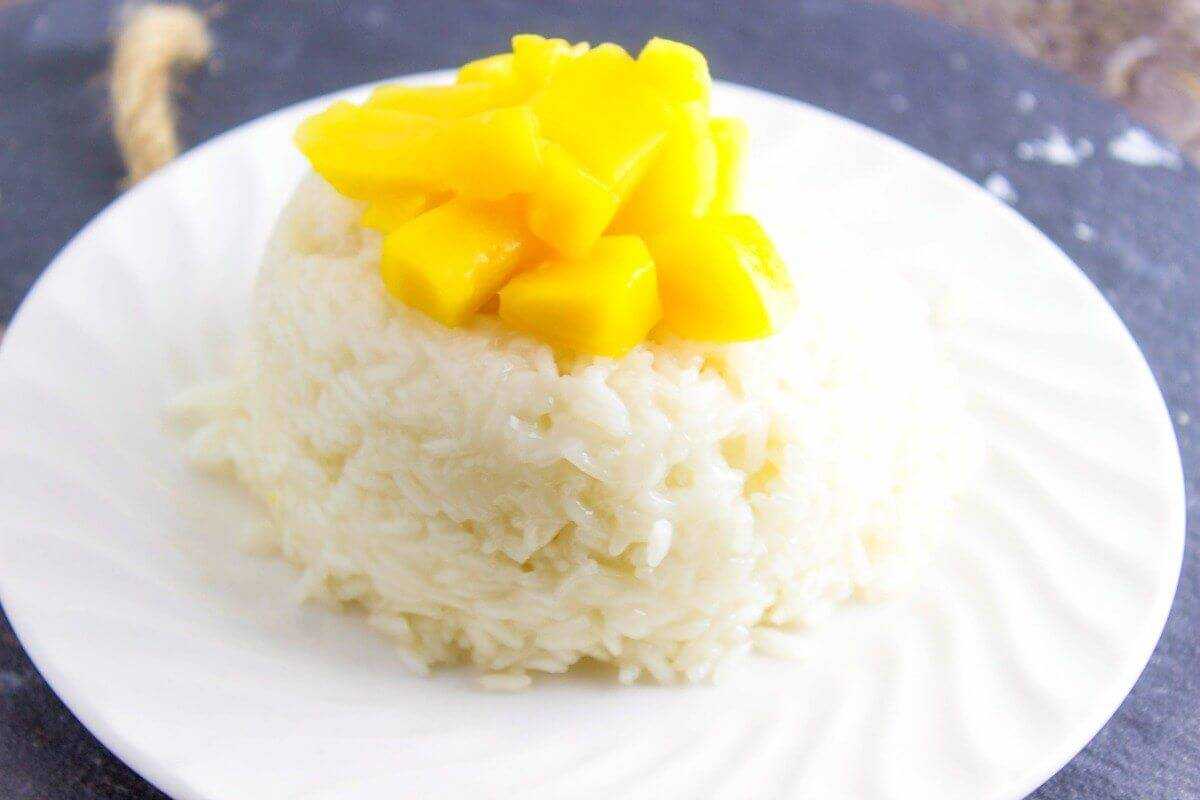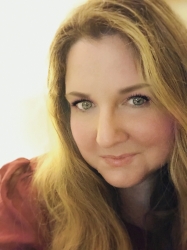 Latest posts by Deanna Samaan
(see all)