Koval Whiskey Cracker Jack Popcorn are snacks with whiskey. This is a copycat Cracker Jack recipe is alcohol infused caramel.  Looking for a fun cracker jack popcorn, look no further than this cracker jack popcorn recipe with koval whiskey. Serves 8
Girls Night In
Sometimes I just need a girls night. I'm broke all the time, so going out with friends just is not in the budget. A solution to that is Girl's Night In!
Snacks With Whiskey
Girl's Night in is a few friends come over we just enjoy appetizers, snacks, and wine. We just chat and well bitch about our lives. Sometimes I make snacks with whiskey, like this cracker jack recipe.
Copycat Cracker Jack Recipe
Girl's like sporting events just as much as guys do. So when comes to snack, yes a girl will love the "peanuts, popcorn, and Cracker Jack." Snack foods and women just go well together.
How can we update an old classic, like Cracker Jack with a Girl's night in with a twist? We make it a copycat cracker jack recipe with Koval whiskey!
Koval Whiskey
The answer, Koval Millet Whiskey. Koval whiskey is Aged in new American oak from Minnesota. Millet is a prized grain in Asia and Africa and the popular base for spirits in Nepal, though this is the first whiskey to be made out of millet.
Only the "heart cut" of the distillate, no "heads" or "tails." Grains sourced from a local organic farmer collective in the Midwest. Unfiltered 100% Millet. Heart Cut. Single Barrel. Organic and naturally gluten-free is Koval whiskey.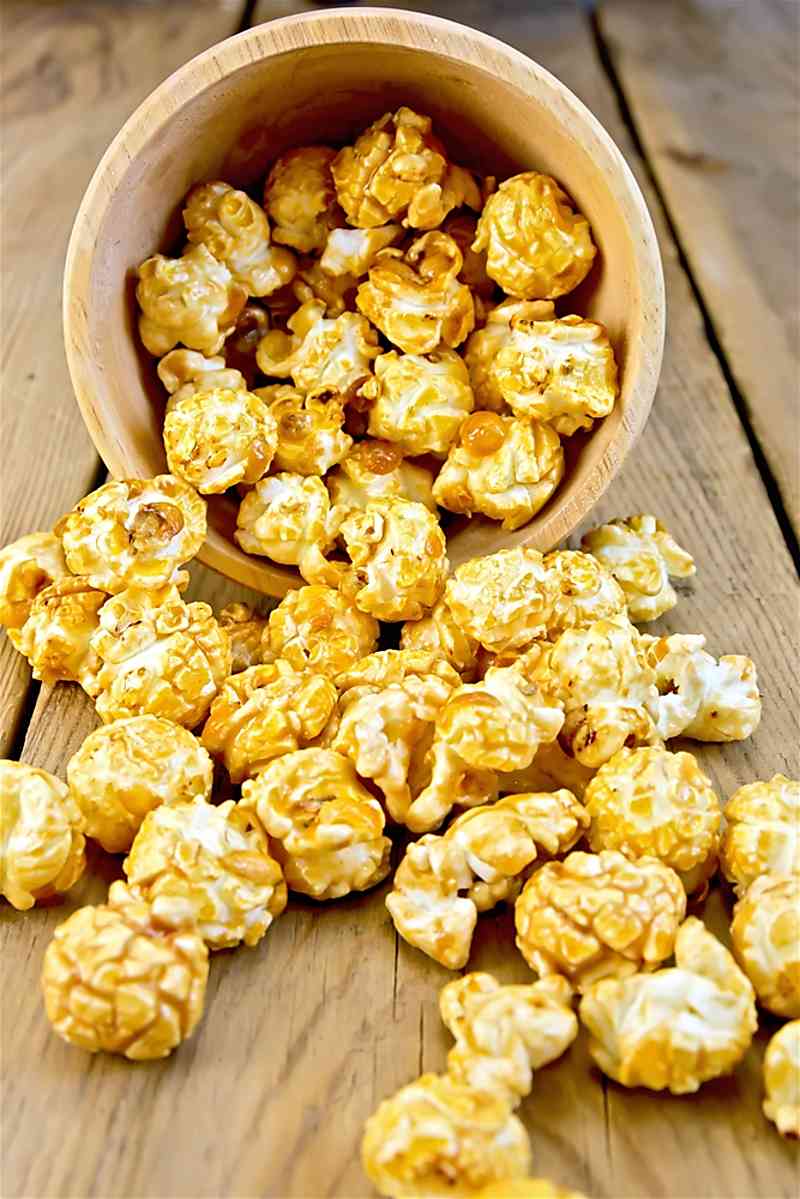 Whiskey Infused Caramel Glaze
Koval whiskey is perfect for a caramel glaze needed to make a Cracker Jack popcorn for a sports-themed girl's night in! This whiskey infused caramel glaze is a perfect twist on a cracker jack recipe!
I know you may be thinking whiskey caramel glaze? Yes, a whiskey caramel glaze. Whiskey has this nice smoothness to it that makes for a very nice sweet, flavor to caramel. Plus it gives a great twist to a Cracker Jack inspired snack, it just a great match made in heaven.

Koval Whiskey Cracker Jack Popcorn
This Koval Whiskey Cracker Jack Popcorn is an excellent copycat Cracker Jack recipe. I made a huge batch of this sweet caramel glazed popcorn and it was fabulous!
My friends loved it. They are up this buttery rich whiskey infused popcorn like it was the last bite of food on earth. Who would not love whiskey caramel?
For This Recipe You Will Need
Cracker Jack Popcorn
If you want ideas for serving up for a girls night in party, this Koval Whiskey Cracker Jack Popcorn is perfect for you to serve up! You will love this cracker jacks popcorn!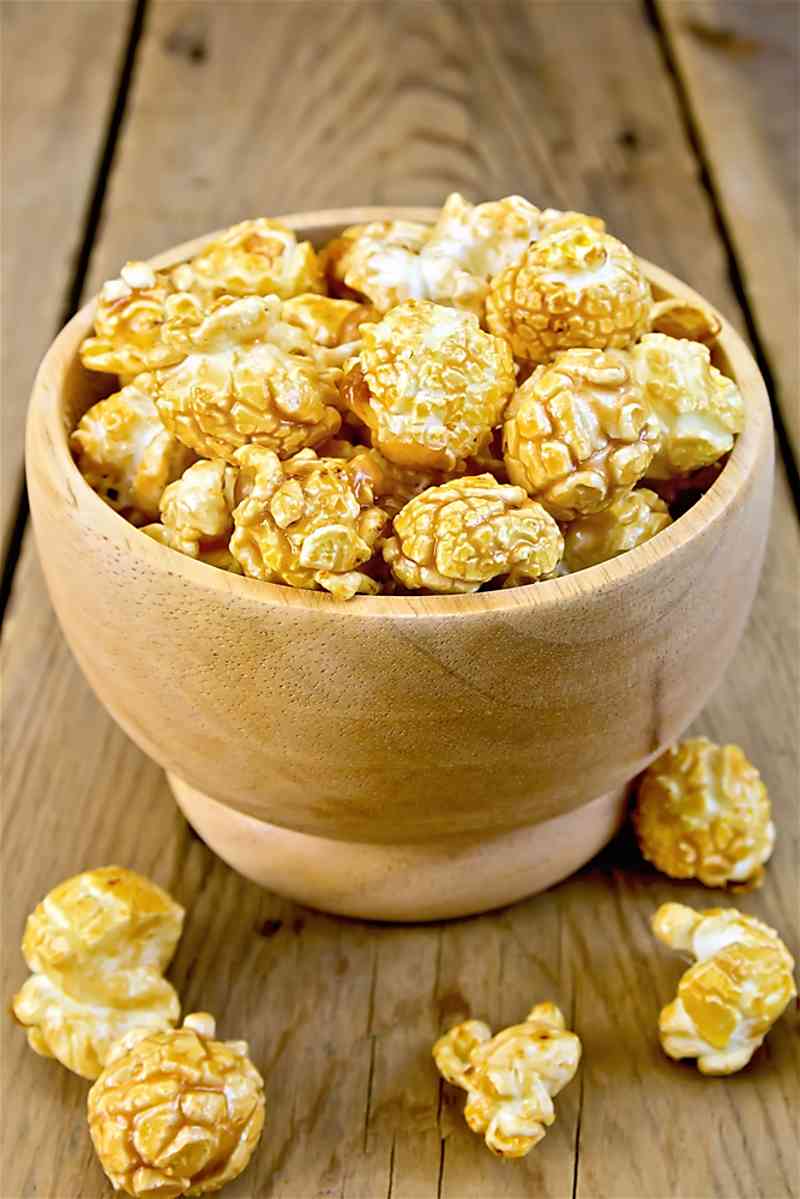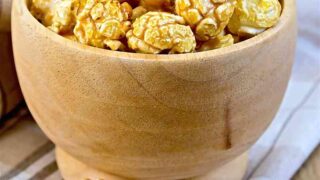 Yield:

8 servings
Koval Whiskey Cracker Jack Popcorn Recipe
Sweet, buttery, caramel Cracker Jack made with the sweet taste of Koval Millet Whiskey. A recipe from Seduction in the Kitchen.
Ingredients
10 cups popped popcorn
1 1/2 cups cocktail peanuts
1/4 teaspoon baking soda
1 cup firmly packed light brown sugar
1/4 cup dark corn syrup
1/2 cup butter
1/2 teaspoon salt
1/2 teaspoon vanilla
1 tablespoon Koval Millet Whiskey
Instructions
Melt the butter in a sauce pan.
Mix in the brown sugar, whiskey, and corn syrup. Bring to a boil, the take off the flame and mix in the vanilla and baking soda. Set aside.
Mix together the popcorn and peanuts in a bowl.
Then pour the caramel glaze over the popcorn mixture. Mix it up well so that it all covered with the caramel.
Spread the popcorn mixture onto a no stick cookie sheet, then bake in the oven at 250F for 45 minutes. stir the popcorn mixture every 10 minutes or so on the sheet as it bakes. You will notice the caramel on the popcorn will get darker as it bakes.
Finally, take it out the oven, let it cool a little and then ENJOY!
Nutrition Information:
Amount Per Serving:
Calories:

325
This post was most recently updated
I want to hear what you have to say about this recipe that is on
SEDUCTION IN THE KITCHEN!
Let's get this conversation started! What do you think of this recipe?