Italian Beef Patties with Balsamic Onion Mushroom Sauce on Texas Toast is a savory, melt in your mouth beef patty that is combined with a tangy sauce for a recipe that you will surely love.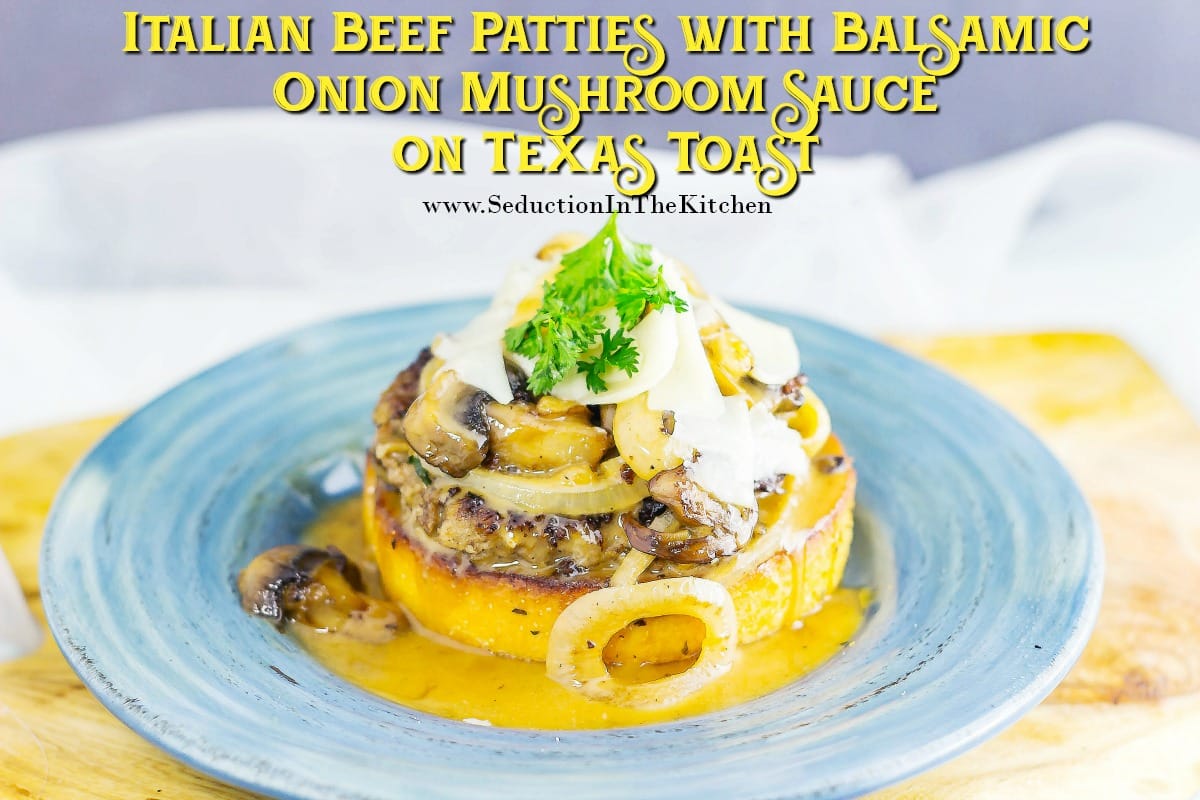 Stress
I admit I have had a lot of stress that came in overnight for me. Nothing I cant handle, but also wish stress would just leave me be for awhile. For me, my stress does have to do with finances.
I am independent, it is just me, yet every time I feel like I am starting to get ahead, something brings me down. I wish I was 18 years old again. Why? So I can tell that Dee do not get lazy and not pay your bills while you are in college. It going to hurt you when you turn 40.
I was a dumb 20 year old got herself into bad credit then. Then the divorce which put me back to being in red with my credit. It a vicious circle that I am trying to get out of.
That is why been working on SEO and optmizingSeduction in the Kitchen. I like to get this blog so I can have a second income. So I can finally get out the red that I been swimming upstream with for so long. My advice don't get bad credit, it the hardest thing to recover from.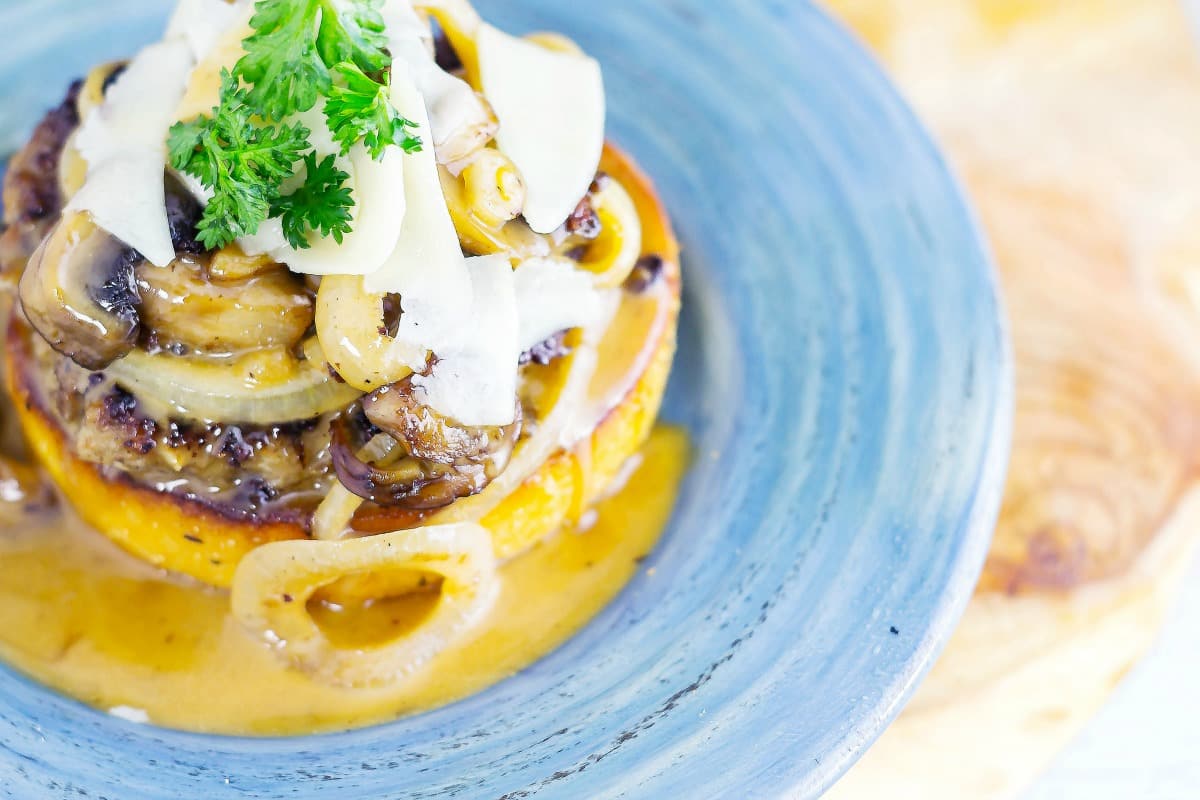 Italian Beef Patties with Balsamic Onion Mushroom Sauce on Texas Toast
So my pity moment is done. I wanted to explain a little bit about why I have been talking so much about SEO and making Seduction in the Kitchen better. So now let's talk about this Italian Beef Patties with Balsamic Onion Mushroom Sauce on Texas Toast.
This is one my redo recipe posts. Honestly, this post has been made over now 3 times. It is my absolute favorite recipe here on Seduction in the Kitchen.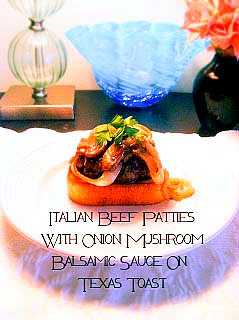 That is the original Italian Beef Patties photo from 6/10/2013. Yeah, I am amazed a how far I have come with photography. When I look at that photo, what I see is a woman who was determined to learn and improve herself.
Then a few years later, I felt that these Italian Beef Patties with Balsamic Onion Mushroom Sauce on Texas Toast recipe deserved new photos. It is a great recipe, but the photo did not show how mouth-watering it truly is. So By then, I had learned new photo techniques, and I stopped using an iPhone to take the photos too.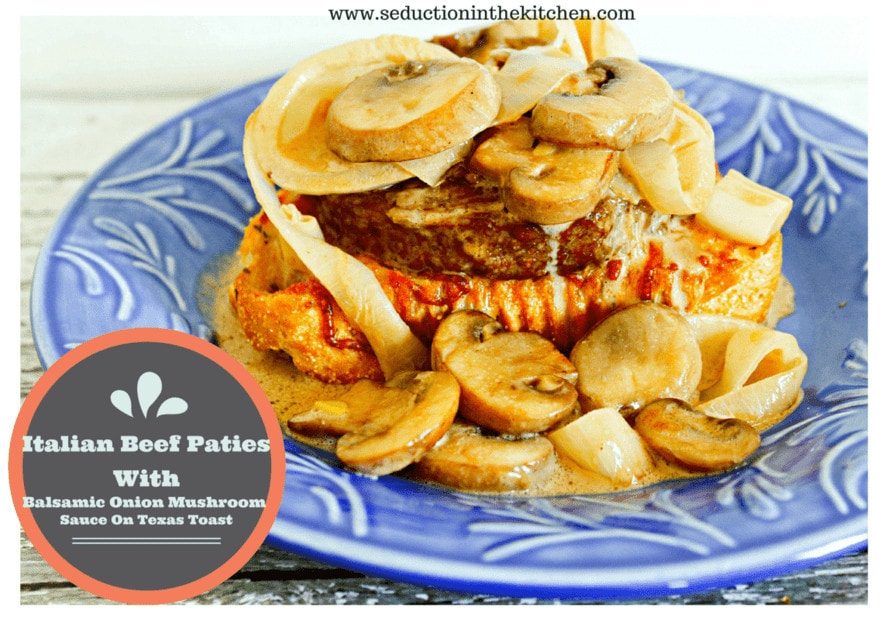 It was much better. Why change the photos up again? Well, I learned even more about photography and feel this Italian beef needs TLC. That I just realized I misspelled Patties in the photo.
I never noticed that till just now that it had a typo in the photo. How funny is that? Anyway, this open-face sandwich is special to me for many reasons.

The Italian Beef Patties with Balsamic Onion Mushroom Sauce on Texas Toast was the first recipe that I created where I went out of my comfort zone and tried mixing things up on. That is right, it the first of my epic recipe ideas I had.
I saw a recipe that was for Italian Beef. Then I saw a recipe for a cream balsamic onion sauce for pierogies. My mind started thinking, but it needed something to bring the two togther somehow.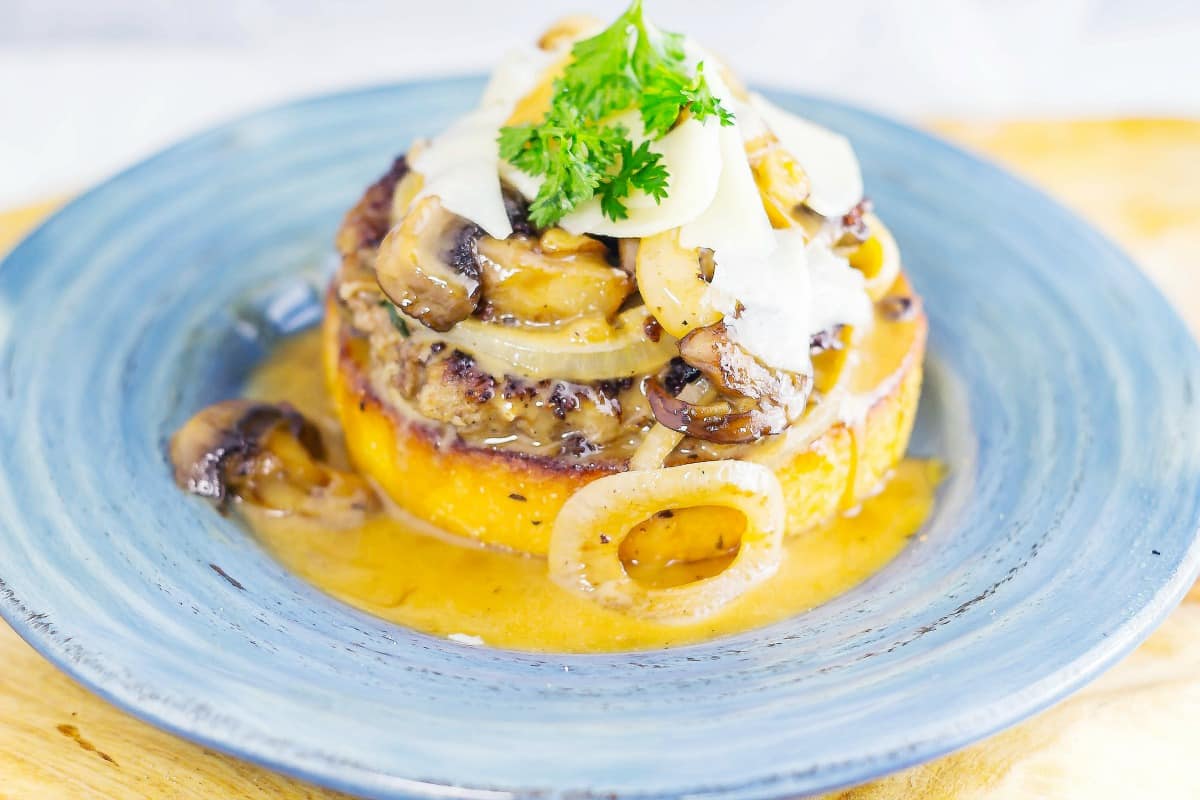 The answer was Texas Toast Garlic Bread. I saw the box of garlic bread in the store when it came to me on how to create this Italian hamburger creation. The combo of those threw elements: The toast, Italian beef, and mushroom balsamic just make this one savory open-faced sandwich.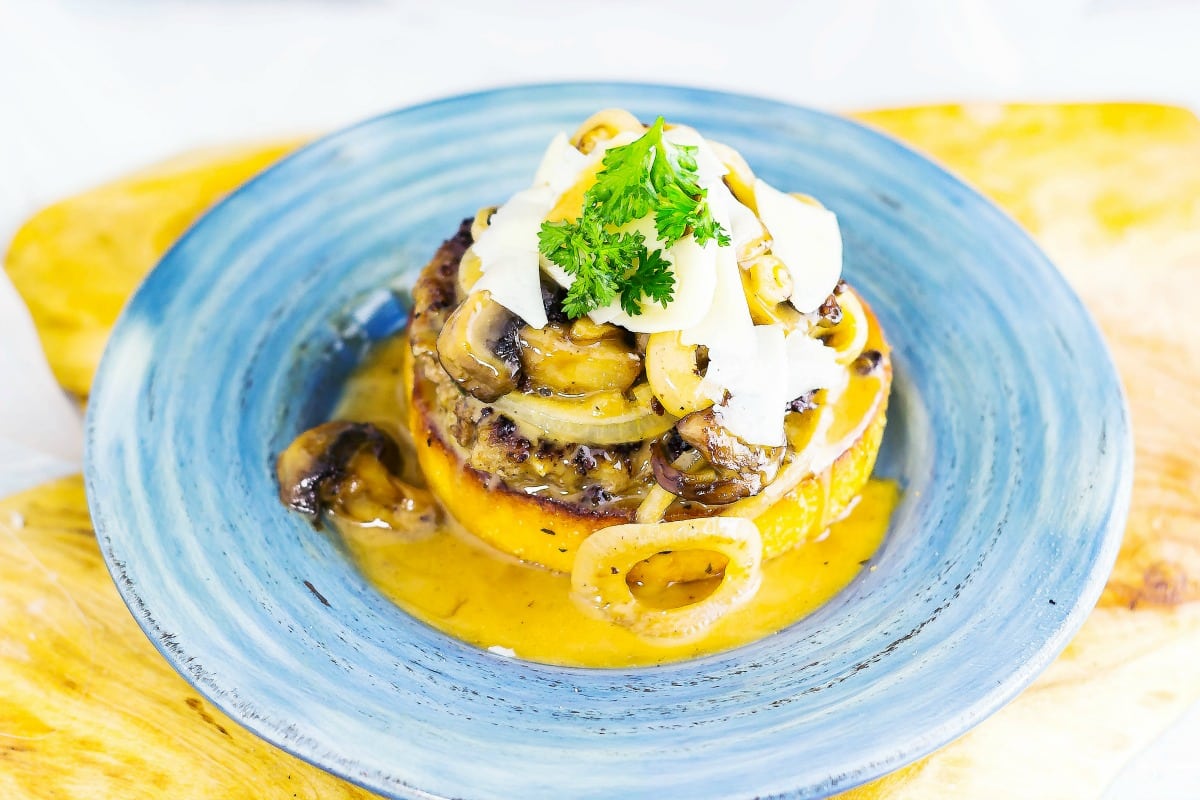 I can't explain the flavor explosion. It is simply so yummy that words can not describe it. Trust me, once you make this, you will understand why this post has been made over 3 times now. It is simply a superstar recipe.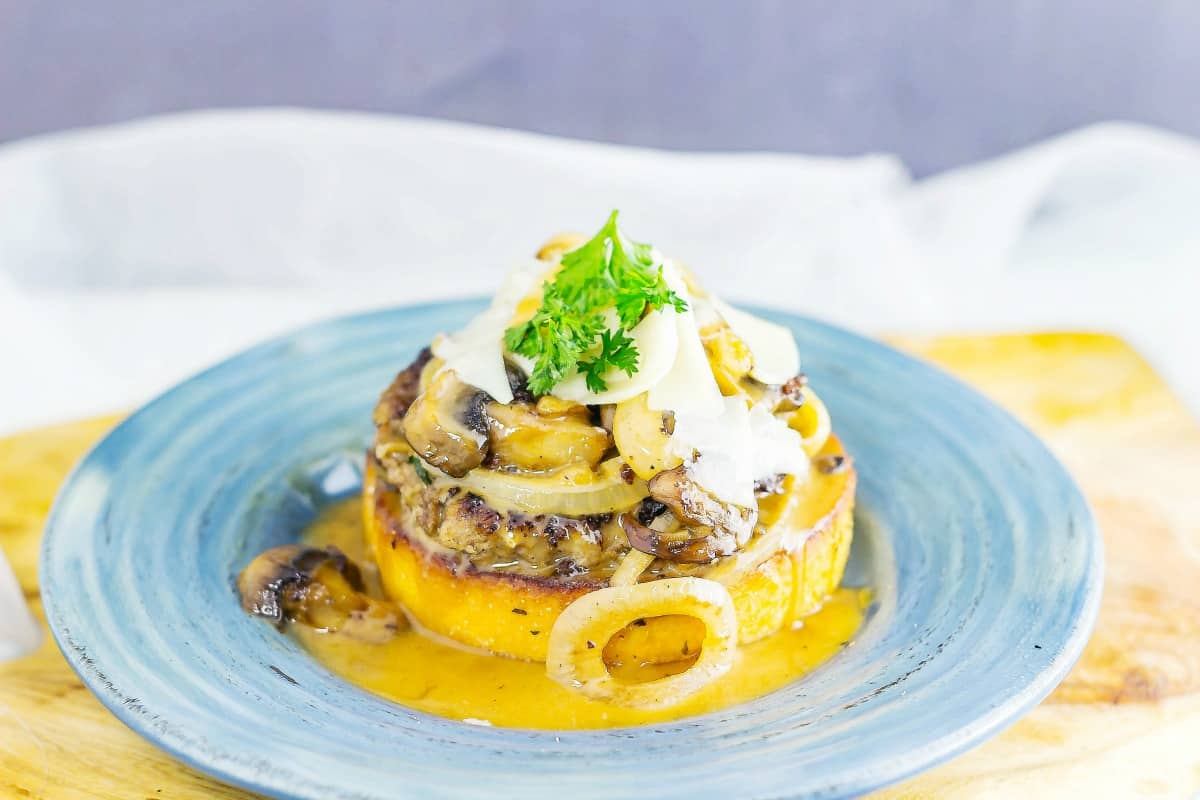 Yield:

4 Servings
Italian Beef Patties with Balsamic Onion Mushroom Sauce on Texas Toast
Savory, melt in your mouth beef patty recipe from Seduction in the Kitchen
Ingredients
1 lb ground round
1 cup Sargento's 6 cheese Italian
2 egg yolks
1 clove of garlic (minced)
1 1/2 teaspoon Italian seasoning
salt & fresh ground pepper
2 tablespoons butter
1/4 onion (thinly sliced)
4-5 mushrooms (sliced)
1 tablespoon olive oil
1 tablespoon butter
1/2 cup heavy cream
1 tablespoon balsamic vinegar
Texas Garlic Toast
Instructions
In a bowl combine the ground beef, cheese, eggs, garlic and seasonings. Mix up well.
After you have all mixed, form your patties.
Heat up the butter in a fry pan and fry your patties. Cook to the way you like them, I like them medium well to well done. After they are done, take them off the heat, place some foil over them so they stay warm while you make the sauce.
Drain off the fat from the patties, but do not clean the pan. Heat up the butter and oil and start to saute the mushrooms and onions in it. Cook them till the onions are translucent.
As the mushrooms and onions are cooking, you may want to start cooking the Texas toast. Just make it according to the directions on the box. The kind I had, they only take 5-6 minutes in the oven. Anyway, after the onions are translucent, time to add the vinegar and cream, to the pan. Give it a good stir and take the sauce off the heat.
Now the sauce is done, it time to serve this up. On a plate put down the Texas Toast, put the patty on top of that, then spoon the mushrooms and onions sauce on top.
Nutrition Information:
Amount Per Serving:
Calories:

540
This post was most recently updated
I want to hear what you have to say about this recipe that is on
SEDUCTION IN THE KITCHEN!
Let's get this conversation started! What do you think of this recipe?