This post was most recently updated
Pittsburgh Lent Fish Sandwich is a monster of a fish sandwich. It's done up in the Pittsburgh fish sandwich way.  It has piled on layers of toppings that you will devour.
If you need recipes for Lent, then this fish sandwich is perfect to have on Fridays during Lent. So add this fish sandwich to your collection of meals during Lent.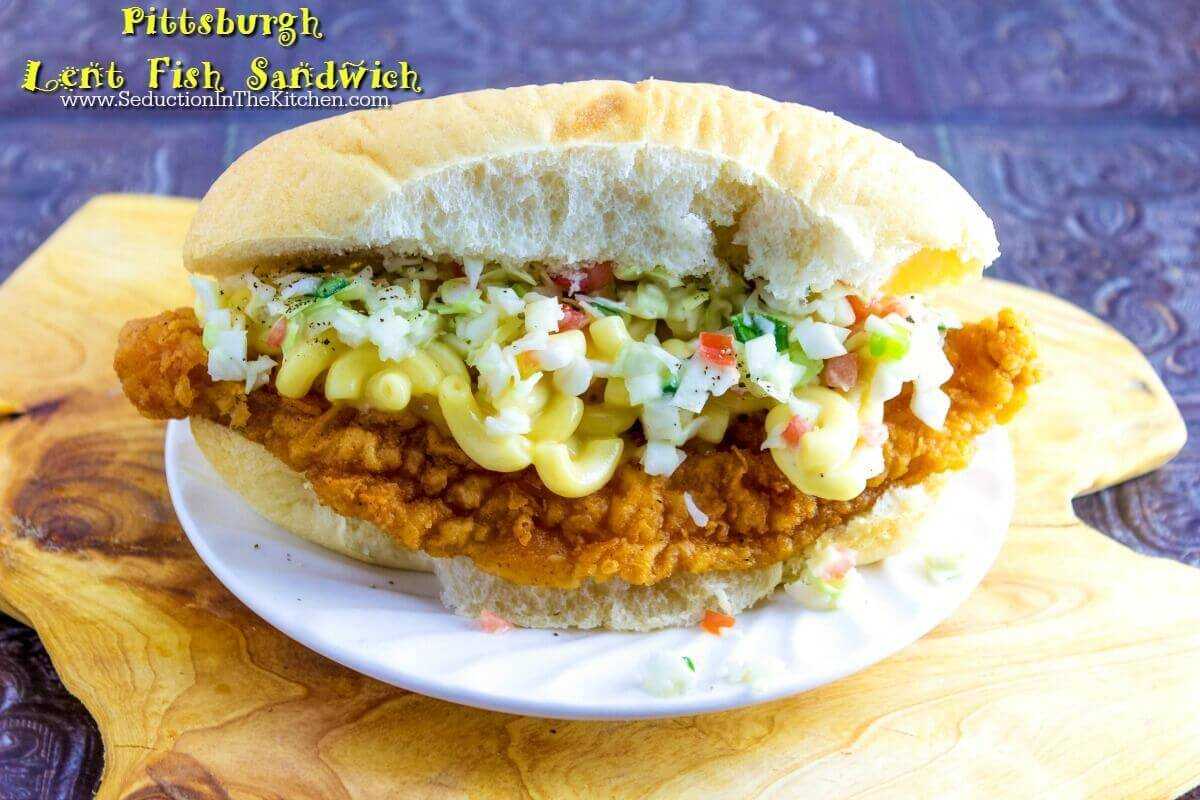 Pittsburgh
As you can tell by many of my recipes, I am proud to be from Pittsburgh. Do I miss it? Yes, I do, every day I do admit I wish I was back there.
Pittsburgh is so very different than Cleveland. Pittsburgh has that something special about it. I have said in a few of my Pittsburgh recipes that "The 'Burgh" has amazing culinary creations.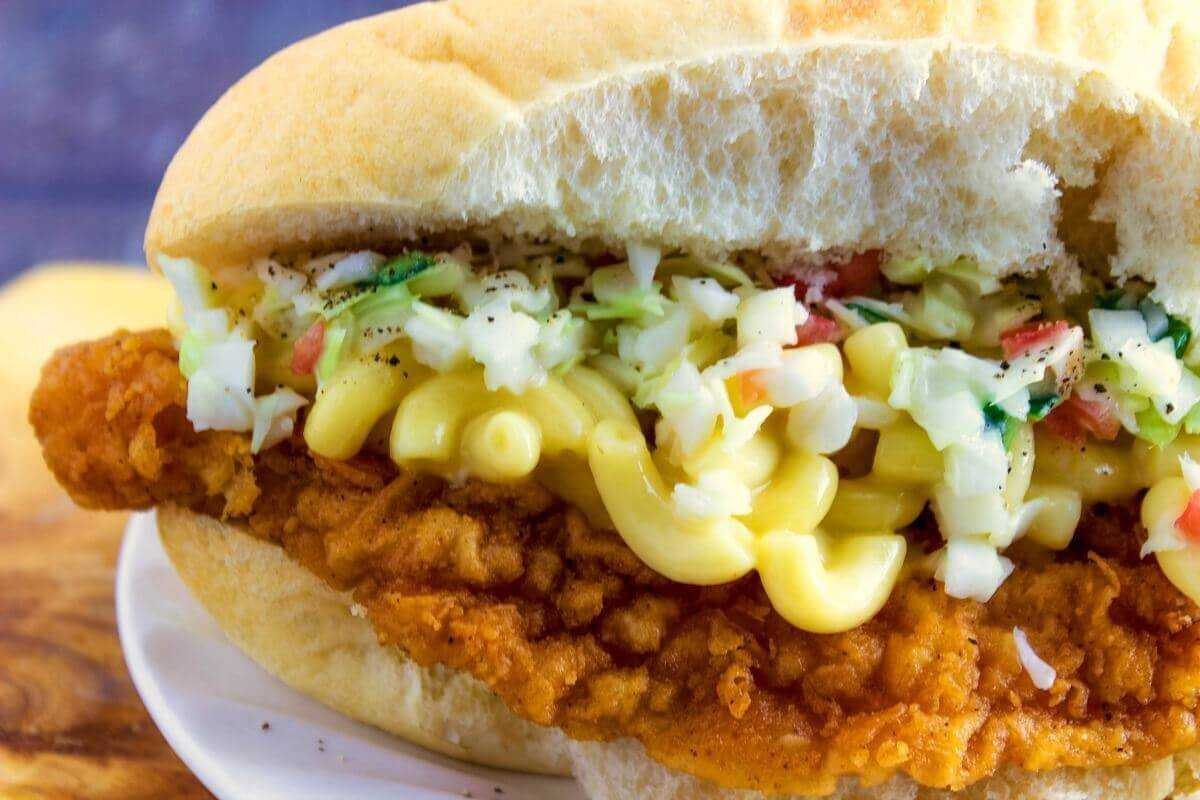 Pile It On
Everyone is familiar with the famous Pittsburgh sandwich from Primanti Brothers. The Pittsburgh way of food is big and piled on. That was my thought process in creating the best fish sandwich recipe.
Right now it is Lent, and the humungous fish sandwiches are ruling in the "Burgh. Actually, that did surprise me here in Cleveland that the fish sandwiches are so little. I assumed everyone had HUGE fish sandwiches on Fridays. That could be why every Friday is fish.
When I say huge, I mean huge. You could get a fish sandwich with so much fish on it, you could feed a family of 4 with that one sandwich. When I was a kid, there was a restaurant known for this very thing, a humongous fish sandwich.
Fatigati's Fish Sandwich
Fatigati's Restaurant was the place. That place would be jamming on Fridays to get this monster sandwich. It was popular, everyone went there. My mom and dad could walk to this place, we lived that close. Like most popular places, it closed down.
The building remained closed and vacant for many years. Someone else tried to reopen it and claimed to use Fatigati's recipes, but wasn't the same. Old man Fatigati had something special in his recipes.
That place is now nothing but a pure memory. One evening, the building caught fire and burnt to the ground. They tore down the rest of what remained and it sits as an empty lot now.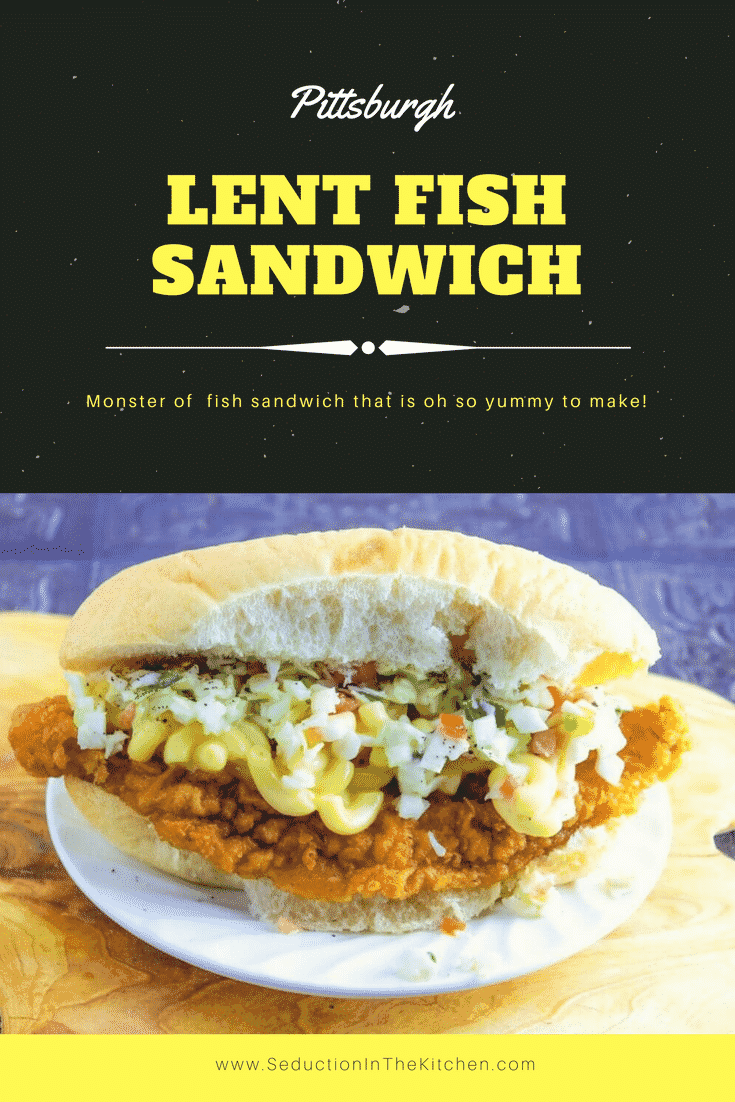 Pittsburgh Lent Fish Sandwich Recipe
That was the thing in Pittsburgh. It wasn't during Lent you can get a huge Fish sandwich. It was every Friday all year round you got these huge fish sandwiches.
Pittsburgh is one the largest Catholic cities. That could be why we love having a huge fish sandwich on Fridays. Still, I knew I wanted to create a fish masterpiece.
Since it is Lent recipe time, and I am Catholic, what better way than digging into my roots, my Pittsburgh roots and create a Lent meal. This will be the best fish sandwich recipe. Trust me on that.
Pittsburgh Way Fish Sandwich Recipe
Yes, the thought of doing the fries and slaw occurred to me, since that is what know about Pittsburgh food. It wasn't until I went to the grocery store and saw a platter of fried fish, mac n cheese, and coleslaw, that it came to came to me.
Why not pile that all on a bun Pittsburgh style. That was how this huge fish sandwich was born. Yes, the flavors were all so yummy! You are going to add this fish sandwich to your Lenten recipes collection.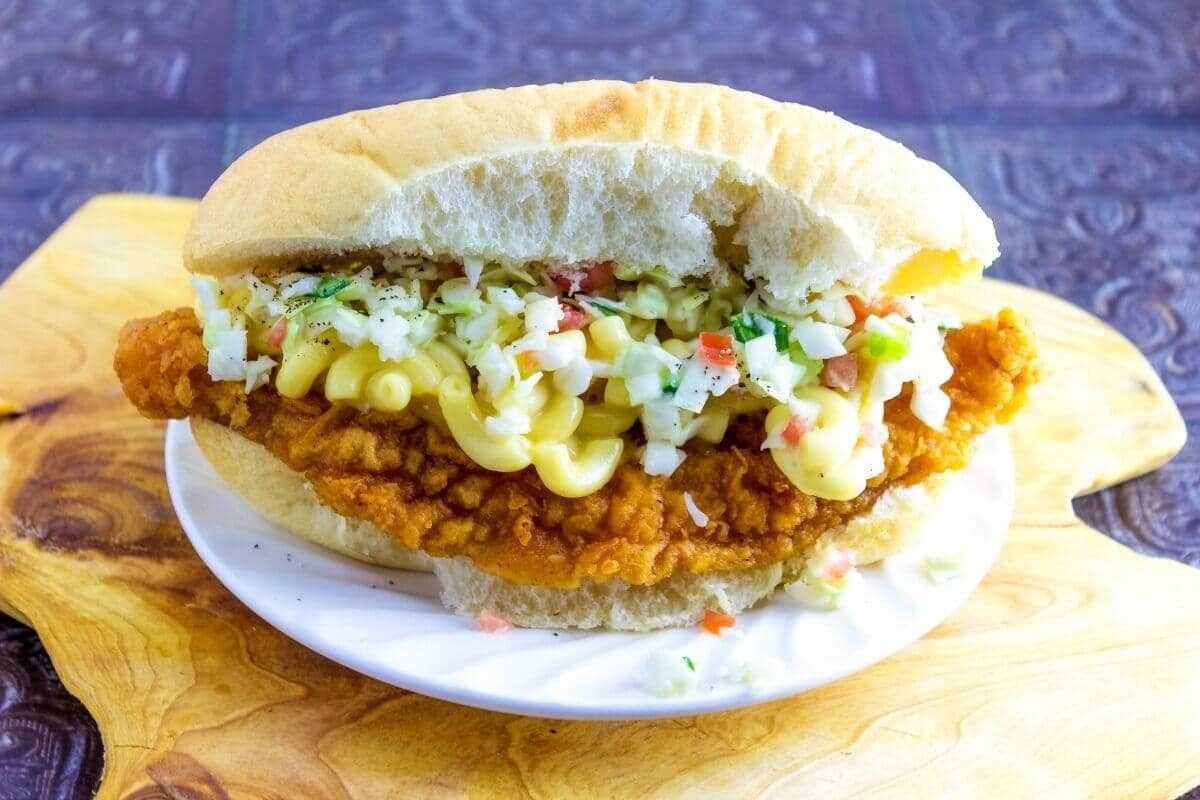 Yield:

4 servings
Pittsburgh Lent Fish Sandwich Recipe
Pittsburgh Lent Fish Sandwich is a monster fish sandwich done up in the Pittsburgh sandwich way. It is the perfect fish sandwich to have on Fridays during Lent.
Ingredients
4 Fried and Battered Fish fillets
1 cup mac n cheese, cooked
1 cup coleslaw, prepared
4 hoagie buns
pepper to taste
Instructions
Open up your hoagie rolls, and on the bottom portion of the roll, place one fish fillet.
Next, spoon a layer of the mac n cheese on top the fish.
Then add the layer of the coleslaw on top the mac n cheese.
Season with a little pepper.
Finally, top the sandwich off with the top part the hoagie bun.
Serve up the sandwiches and ENJOY!
Nutrition Information:
Amount Per Serving:
Calories:

356
Total Fat:

14g
Saturated Fat:

7g
Cholesterol:

89mg
Sodium:

467mg
Carbohydrates:

24g
Fiber:

2g
Sugar:

0g
Protein:

34g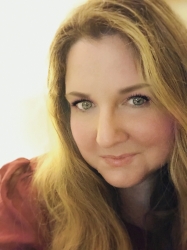 Latest posts by Deanna Samaan
(see all)