This post was most recently updated
Everyone is Irish on St Patrick's Day are we not? I am looking forward to this year's St Patty's Day. Why? Because it is a day of celebration. No, I am not a green beer drinker but I do adore some the foods we serve up on St Patty's day, corned beef.
I admit I took a small break from blogging, so I can just relax. After working such a crazy work schedule, I needed a break from everything and just relax. Sometimes we need that, we need to sit back and relax. I went on a winery tour, I didn't cook anything. I just relaxed.
So now that it is time to get our green on, It time to celebrate and get back into the world of blogging. So let's make up something that would be a good Irish casserole. Combining Swiss cheese, corned beef, and saur kraut is easy. The key to making into a casserole, well that takes a little thinking beyond the box.
Hash brown casserole are always something that is easy to make. One of my most popular ones is my Crock Pot Cheesy Bacon Potatoes. It is essentially a hashbown casserole made in a crock pot. People love simplicity of these casseroles, it why these recipes are searched so much on Google.
So, I decided, I want to make a simple Irish hash brown casserole. Let's do it in the reuben style, with corned beef, Swiss cheese, kraut, and of course, Thousand Island dressing.  This recipe post I decided to start doing something new, so that too is a reason to celebrate as well. I decided to make a quick step by step video:
So now let's get on to this little recipe shall we?
Yield:

6 servings
Irish Hash Bown Bake
A simple casserole inspired by the Reuben, perfect dish for St Patty's Day! A recipe from Seduction in the Kitchen
Ingredients
1 bag of frozen tator tots
1 package of Hillshire Farms (thinly sliced corned beef)
1 small can of saur kraut (drained)
1 package of shredded Kraft Swiss cheese
Thousand Island dressing
Instructions
Pre heat the oven to 375F and in a baking dish, place a single layer of the frozen tator tots.
Place a layer of saur kraut on top the tator tots.
Next a generous layer of the corned beef.
Drizzle some the thousand Island dressing on top of everything.
Next cover the hash brown bake with the shredded Swiss cheese.
Cover the dish with some foil and bake for about 45 minutes.
When done, serve it up and ENJOY!
Nutrition Information:
Amount Per Serving:
Calories:

425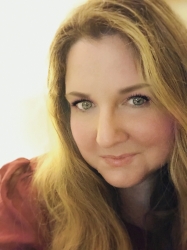 Latest posts by Deanna Samaan
(see all)