Last Updated on August 3, 2020 by Deanna Samaan
Slow Cooker Dorito Taco Casserole is an easy, fuss-free way to enjoy a taco casserole with Doritos! The best part of this taco casserole recipe is that it is a dump it in and forget about it slow cooker recipe! You will love this Doritos recipe. Serves 6
Taco Casserole Recipe
Did you ever get a craving for something? I was really craving a taco casserole recipe. It was a craving that would not go away.
I had an idea to that a taco casserole recipe and turn it into a Doritos recipe. I really did not have a ton of slow cooker casserole recipes, so Dorito casserole recipe would be perfect to create.
For This Recipe You Will Need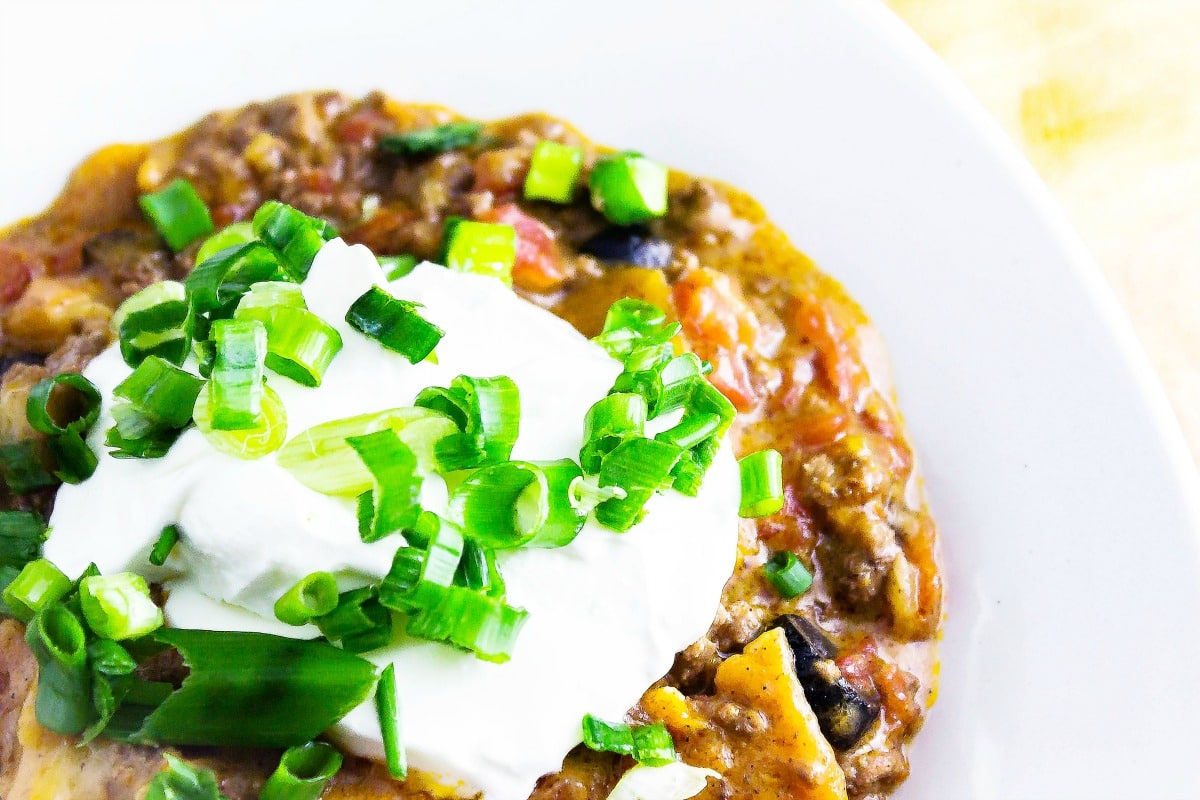 Doritos Casserole
In a way, this Slow Cooker Dorito Taco Casserole is the start of new things.  This Dorito casserole is me actually creating a recipe outside of my comfort zone.  A crockpot taco casserole is just what is needed to get me out of a recipe rut.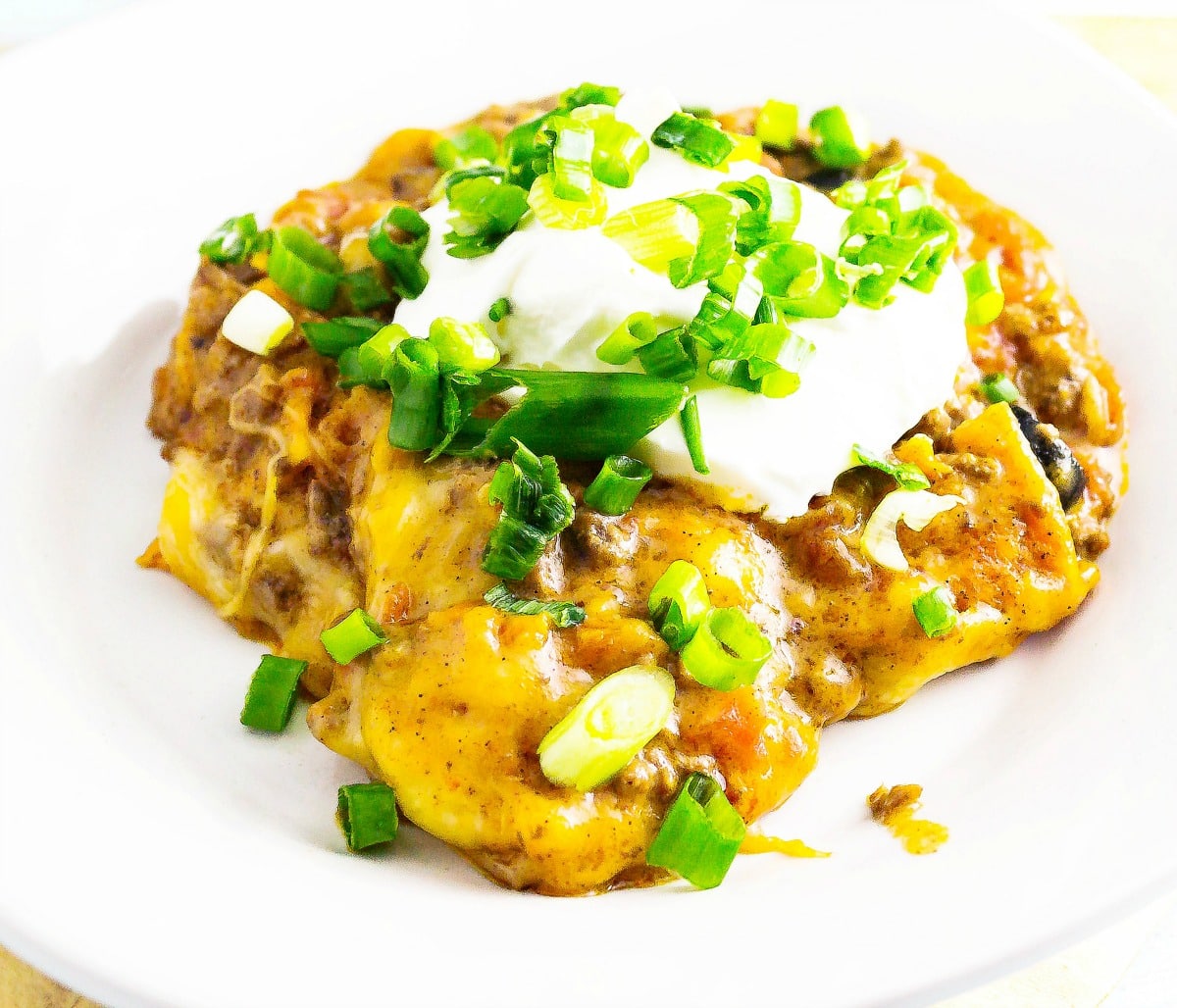 Slow Cooker Taco Casserole
When I saw this Betty Crocker slow cooker taco casserole recipe. It wasn't bad to use as a base for a beef Dorito casserole. that slow cooker casserole recipe was screaming to be a Doritos recipe.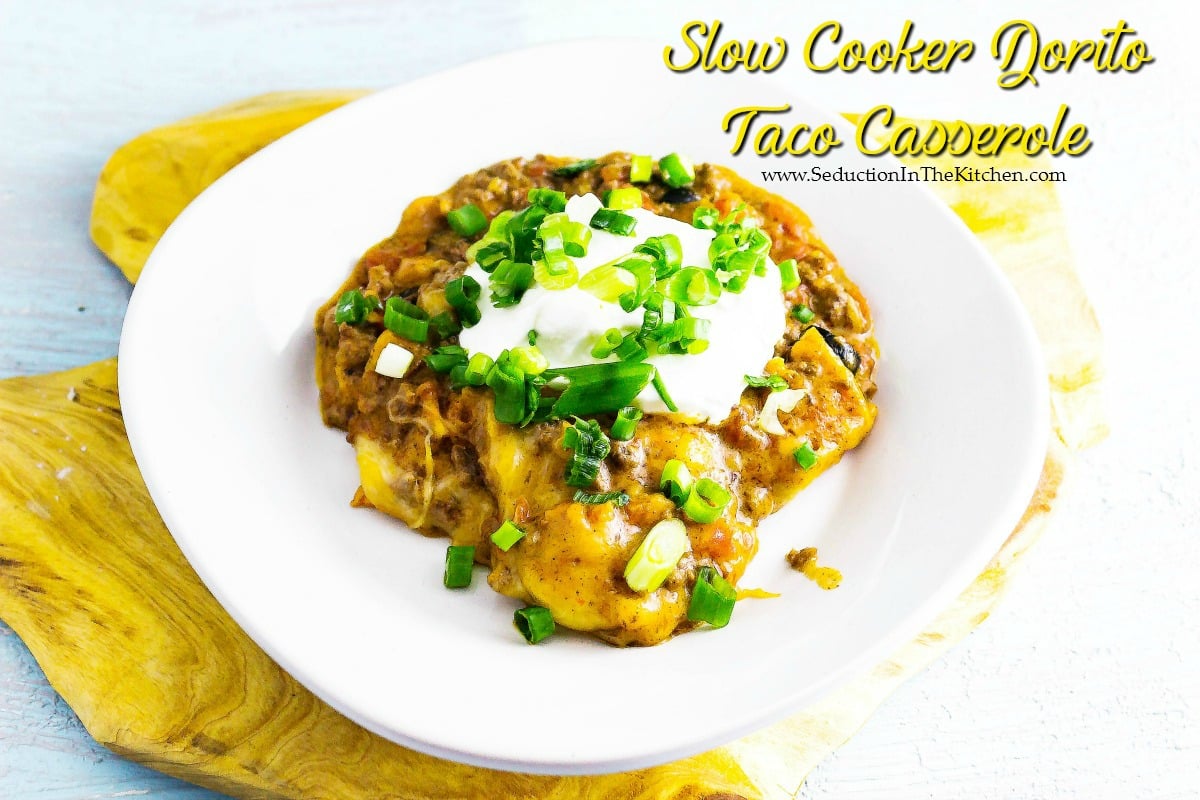 Taco Casserole With Doritos
So what to do for this taco casserole with Doritos idea? My first thought was to make it somewhat like my Catalina Layered Taco Salad. Use a bacon Catalina dressing in it.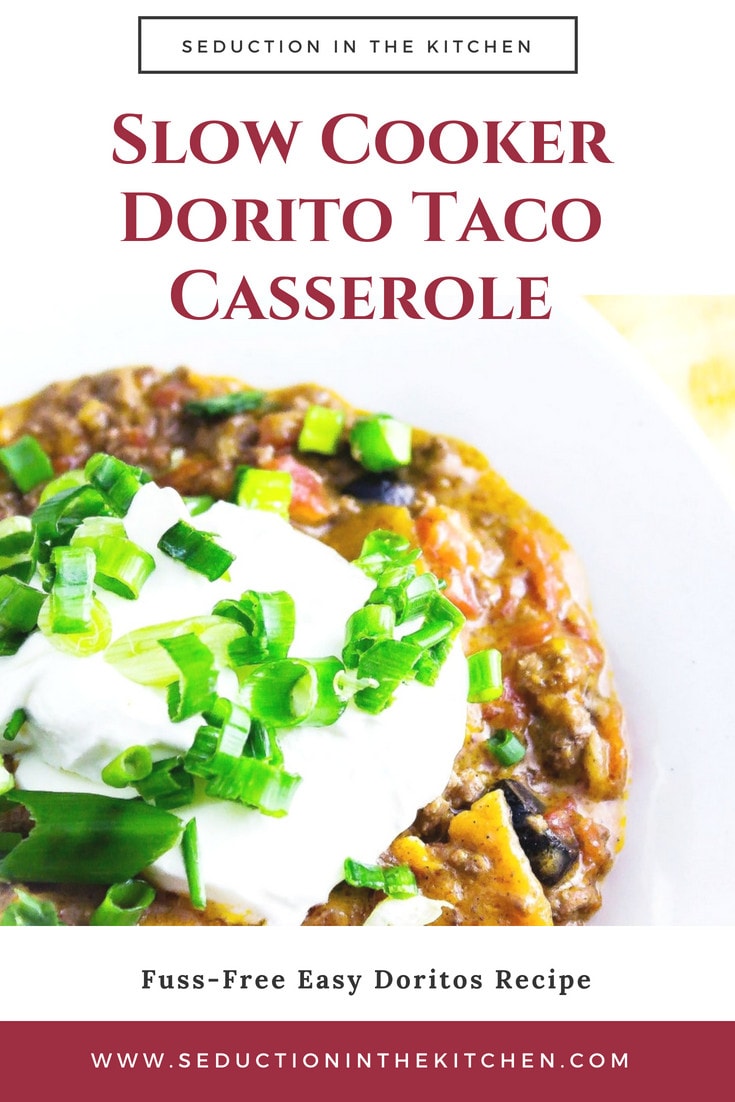 Crockpot Taco Casserole
The bacon Catalina dressing in this taco casserole recipe with Doritos boosted the flavor. The Doritos would be the crunch. Plus with Doritos, it would add some cheesiness to this beef crockpot taco casserole.
Slow Cooker Casserole Recipe
 I c
ooked up this slow cooker casserole recipe and WOW! It was fabulous.  I hate to admit this, but I ate the entire taco casserole with Doritos within 48 hours. I loved it that much!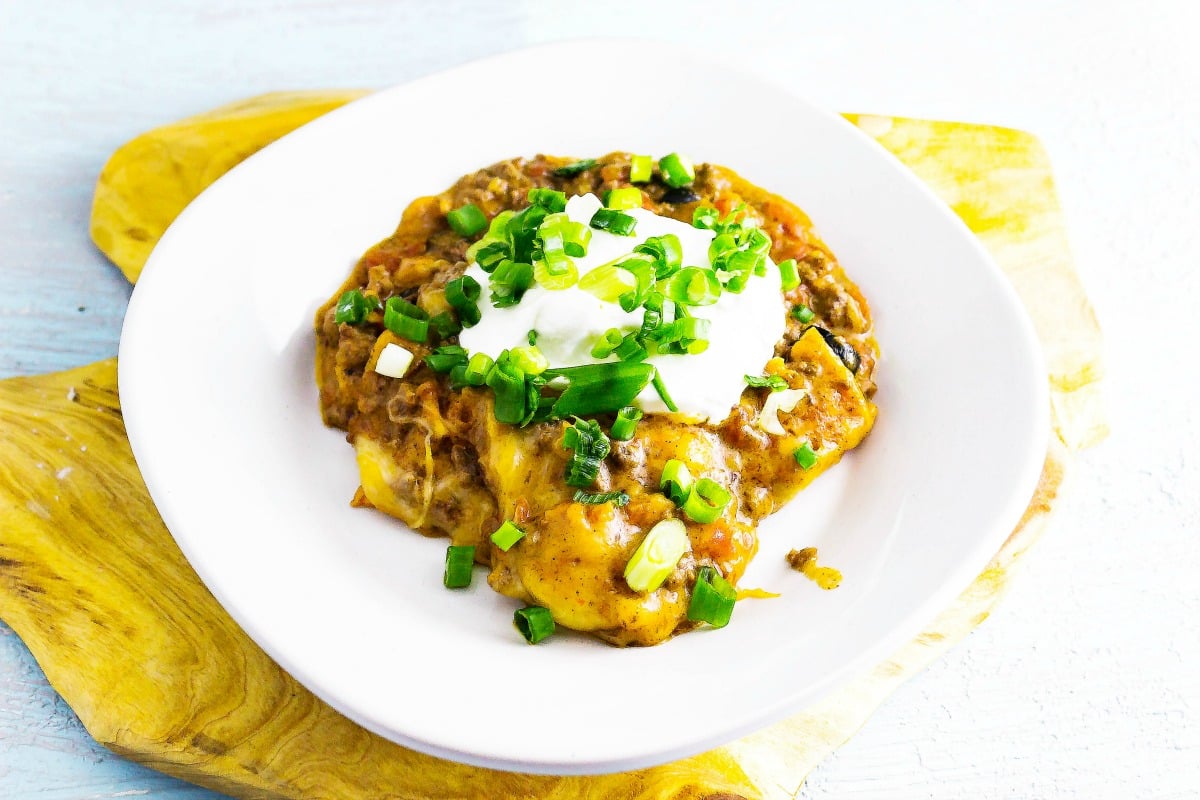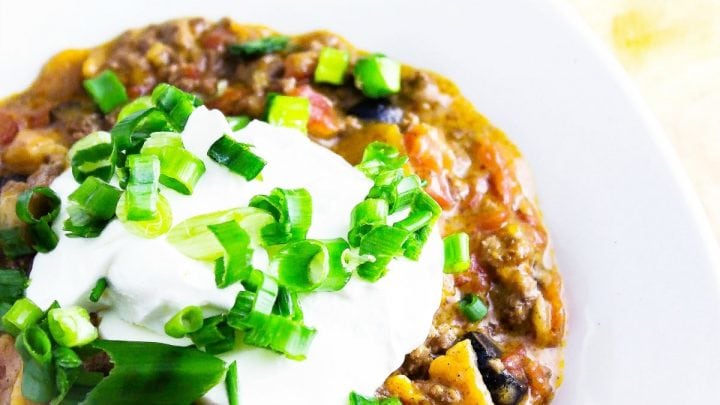 Yield:

6 Servings
Slow Cooker Dorito Taco Casserole Recipe
Total Time:
4 hours
25 minutes
Slow Cooker Dorito Taco Casserole is an easy, fuss free way to enjoy a tasty casserole with taco taste. The best part is it is simply a dump it in and forget about it slow cooker recipe!
Ingredients
1 1/2 pounds lean ground beef
1 can (14.5 ounces) diced tomatoes with green chilies, undrained
1 can (10.75 ounces) condensed cream of onion soup
1 envelope (1 oz) taco seasoning mix
1/2 cup Bacon Catalina dressing
1/2 cup water
1 1/2 cups crushed Doritos
1 cup shredded Mexican cheese
4 oz sliced black olives, drained
3 medium green onions, sliced
1/2 cup sour cream
Instructions
Cook beef over medium heat 8 to 10 minutes, stirring occasionally, until brown; drain. Mix beef, black olives, Bacon Catalina dressing, tomatoes, onion soup, seasoning mix (dry) and water in 3 1/2- to 5-quart slow cooker. Cover and cook on Low heat setting 4-6 hours. Stir in the Doritos. Sprinkle cheese over casserole; cover and Cook for about 10-15 minutes more or until cheese is melted. Serve it up and top with some the sour cream and sprinkle with onions and ENJOY!
Nutrition Information:
Amount Per Serving:
Calories:

425
Total Fat:

29g
Saturated Fat:

12g
Trans Fat:

1g
Cholesterol:

112mg
Sodium:

1021mg
Carbohydrates:

10g
Fiber:

3g
Sugar:

3g
Protein:

30g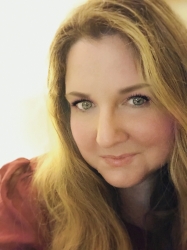 Latest posts by Deanna Samaan
(see all)