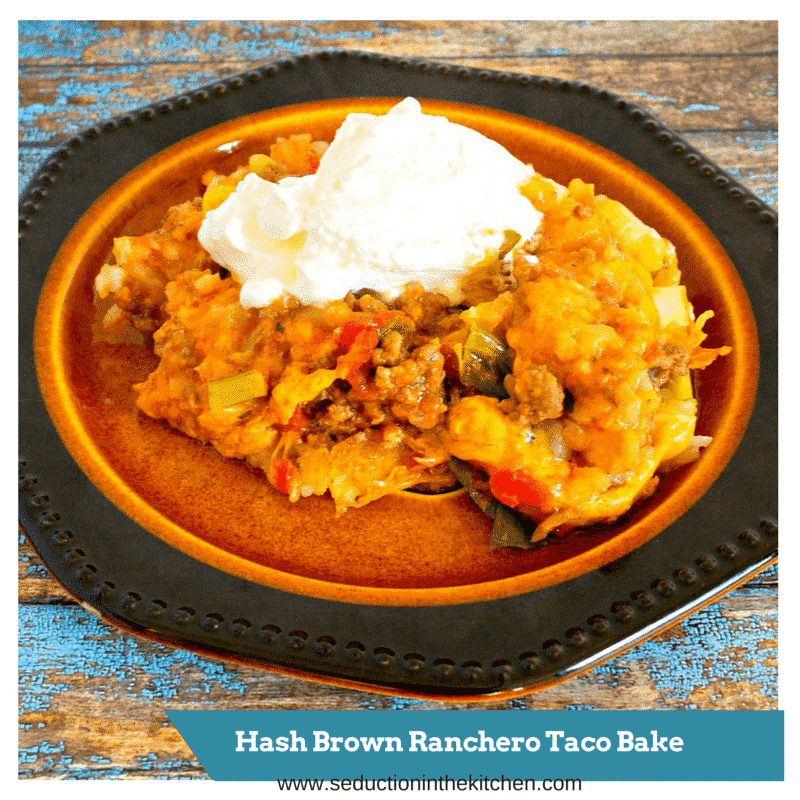 Disclosure: This post may contain affiliate links.
You are here:
Home » Casserole » Hash Brown Ranchero Taco Bake: Budget Friendly Casserole
Hash Brown Ranchero Taco Bake is an easy, budget-friendly Mexican-inspired casserole. It will become a new family favorite.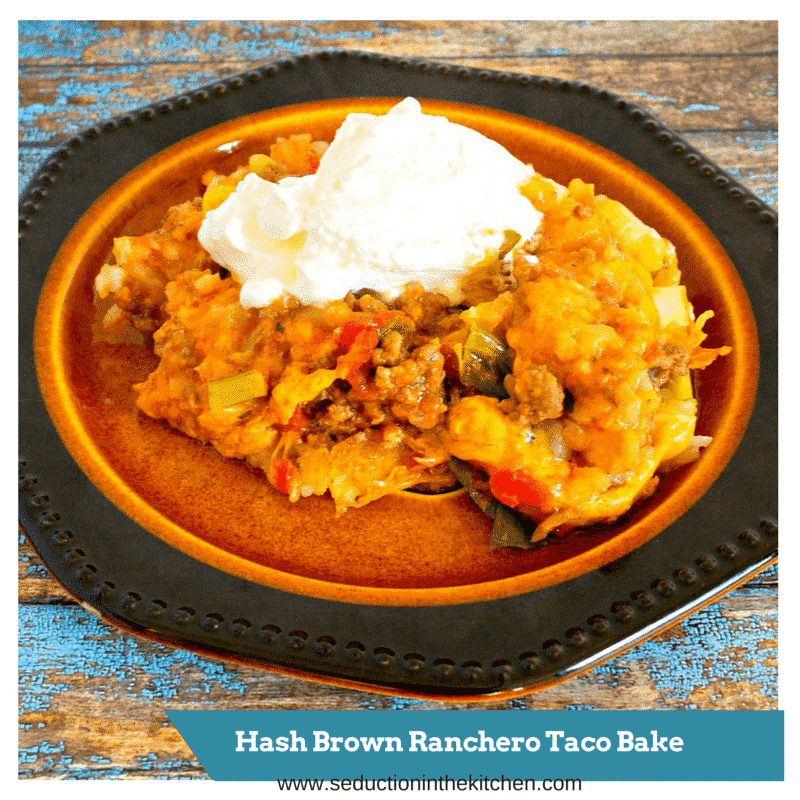 I'm No Angel
I
know I have mentioned many times on Seduction in the Kitchen. I am not a skinny girl. I have always my whole life been a curvy girl. I got a Kardashian ass and Dolly Parton breasts, well not as big as Dolly's but I do have an hour-glass figure. I tell everyone my weight goes up and down worse than a stripper on a pole.
For the most part, I am happy with my curves and I know I will always have them. In fact, I can honestly say I had these curves my whole life. I was the first in my class to develop, and I developed early. Let's just say I was 10 years old and I was in a 36B. When I was 10 I looked 13, when was 13 I looked 16, 16 it was 21. Now I look younger than 39 years old. I am doing a reverse than when was younger.
Anyway, I was teased in elementary school for having, well curves. I stood out, in fact, I recently met up with some people I went to high school with for like an impromptu 20-year high school reunion, and it was brought up how I was teased in school because I was a 10-year-old with boobs. My mom will tell you I pounded on my chest saying take them away, I was teased so much. They were kids and no one knew why I looked different back then.
As I got older, I learned to love my body, not hate it. I am normal, I do have body issues, and it is my weight. I love to be a size 4, I am not that, I am plus sized. When I was asked to do the Instagram #ImNoAngel I was thrilled. I do have this confidence in my curves. a confidence I have gotten as I have gotten older and learned to love my body.
It is a Lane Bryant campaign to have women pose in a bra and show their curves and confidence in their bodies. That not all women are a size zero unlike what another lingerie company likes to believe. I got so many positive remarks from that photo I did for it.
So why am I bringing this up? The truth is on Facebook a post about an article caught my attention: Woman Goes on a First Date with Man. What She Never Expects is the Note She Receives The Day After. The gist of this is a blogger went out on a first date and the date basically told her she great he liked her personality but didn't care for her body. I could relate big time to this article, I have had that happen many times, I talked about it on Seduction in the Kitchen.
I had guys tell me you're beautiful, we got a lot in common, great personality, fun to be with, but your body is not my type, your too fat, sorry bye. I had one man actually say to me once, you know you are more elegant if you were not fat. Another told me, I qualify for a free tummy tuck if I tell my doctor I have sleep apnea, that way the insurance will pay for it and I be thin. Yeah, he was a doctor that told me that too, by the way. Part my problem why I hear this from guys is I am attracted to Mediterranean men, and 90% of them love very thin girls with big breast and usually blond, you know a Playboy centerfold type of girl.  So in a way, I do set myself up for that rejection.
Truth is, we focus so much on the body. The term fat shaming, we never heard of that until recently. People tease people about their bodies and make them feel inadequate because they don't fit into this mold of a perfect body. You can be healthy and be overweight. In all honesty, I am a good example of that. I have awesome cholesterol level, people would love to have. I am not diabetic, I don't have high blood pressure. I do have a condition that unfortunately keeps me on the heavy side and hard to lose weight. It has to do with my hormones, it a woman thing called PCOS. I am healthy.
You can't wrap up a label on someone who is not in a shape you think they should be and say this person is unhealthy or unattractive. How many skinny people have high blood pressure and high cholesterol? To basically try to humiliate someone because they don't have what you consider a good body type shows how much a, well to use my Pittsburgese here, Jagoff, you really are. I think the blogger in the Woman Goes on a First Date with Man. What She Never Expects is the Note She Receives The Day After, the response was wonderful to this man who wrote a note to her.
People need to just stop judging people based on their bodies, you're in fact missing out on knowing a great person. Stop the fat shaming, be proud of your body. My whole life I have been made fun of my body because I didn't fit a "mold". I am unique and there is only one of me. It took a long time to realize this, but it is true. All those guys, they thought I was awesome and I was the girl until they saw I have hips and thighs. It was their loss for being too narrow-minded. You just have to take a chance on something and get to know someone and don't go just by looks.
Hash Brown Ranchero Taco Bake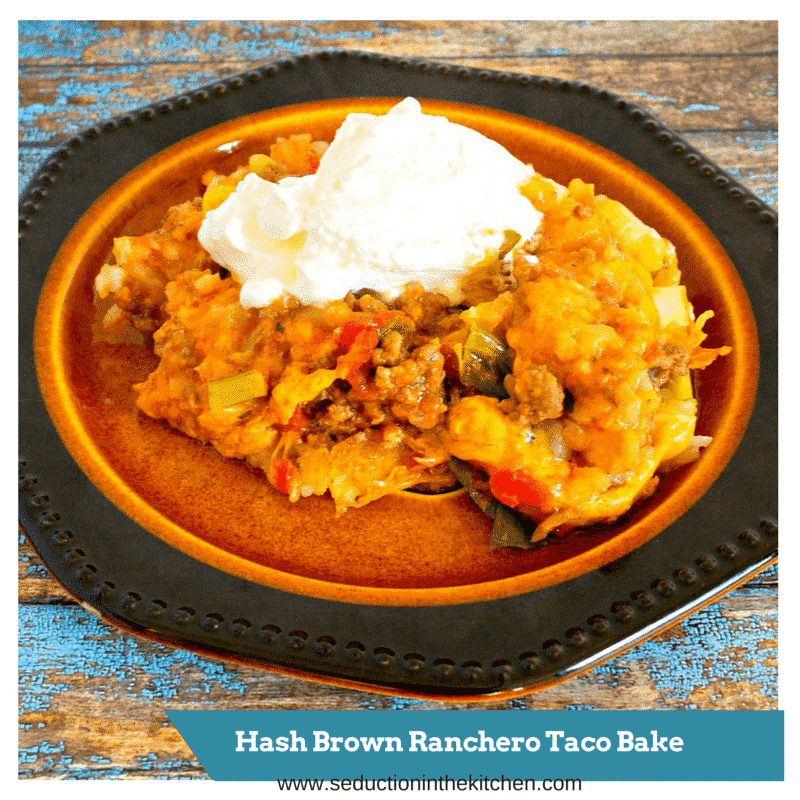 With all that, same goes for food. How many foods do not look pretty, but they taste amazing. For me, I think Mexican would fit in that category. Look at guacamole, for example, it this bright green, pasty looking substance. It isn't pretty, but it tastes great.
This Hash Brown Ranchero Taco Bake, it isn't pretty, yes it kind of sloppy, but the taste, it is pretty damn good. In fact, it is almost to me like a Mexican hash. The flavors in this Hash Brown Ranchero Taco Bake blend so well together. Plus this Hash Brown Ranchero Taco Bake is budget friendly, but very filling, which is a huge plus.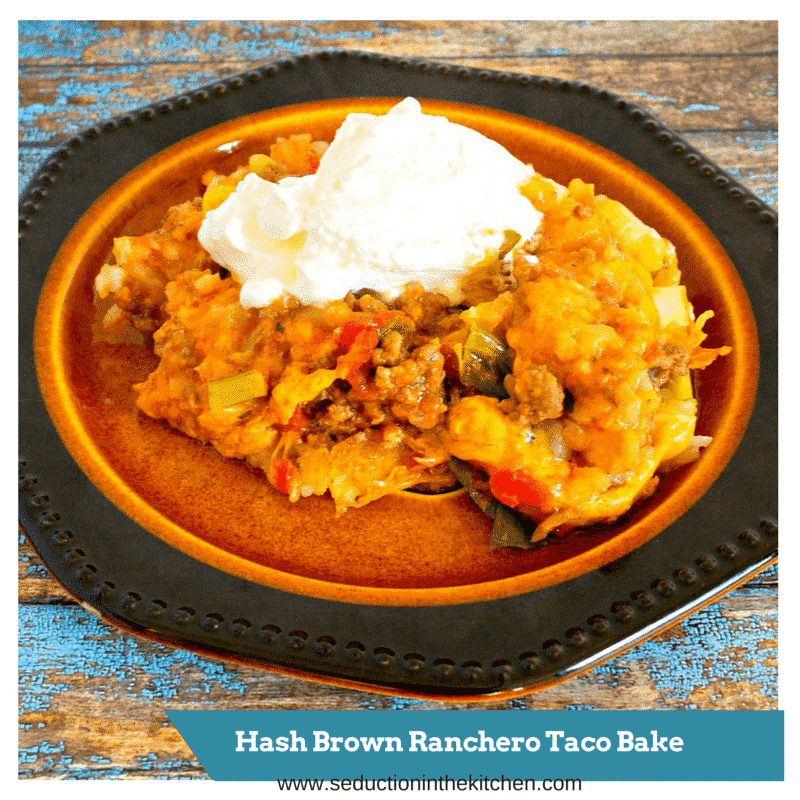 Check out these recipes:
Hash Brown Ranchero Taco Bake
An easy, budget friendly Mexican inspired casserole from Seduction in the Kitchen.
Ingredients
8 Frozen Hash Browns Patties
1 lb ground beef
1 envelop of taco seasoning
1 cup of fresh garden salsa
1/2 cup chopped green onions
2 cups Mexican shredded cheese
1/4 cup Taco Bell Ranchero Sauce
sour cream for garnish
Directions
Spray a baking dish with cooking spray and pre heat the oven to 350 degrees.
On the bottom the baking dish, place in a single layer the hash browns. I did cut a few so they fit nicely.
Fry up the ground meat and add the taco seasoning. Cook the meat according to the taco seasoning directions.
After the taco meat is done, place the meat on top the hash browns.
Put a layer of the garden fresh salsa on top the taco meat.
Sprinkle on the green onions
Top the whole thing with the shredded cheese.
Place dollops of the Ranchero sauce op top the cheese.
Cover with foil and bake in the oven for about 1 hour.
Take out the oven, let site for about 5 minutes, then serve it up and garnish with some sour cream and ENJOY!
Recipe Notes

Is this something you would love to whip up in your kitchen? Share it and inspire others with this recipe! 
XOXO