I am a participant in the Amazon Services LLC Associate Program, an affiliate advertising program designed to provide a means for me to earn fees to Amazon.com and affiliate sites.
[intro]Guinness Shrimp, Mushrooms, Onions, Asparagus is a skillet shrimp recipe that is made with a savory Guinness sauce is what makes this shrimp dish so good. Your taste buds will be in heaven.[/intro]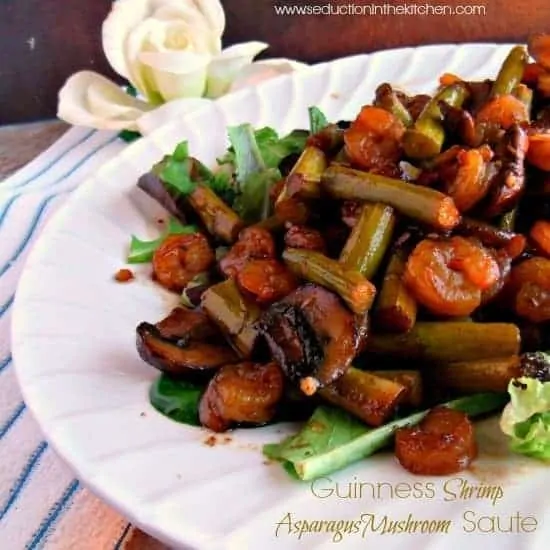 30 Days Fresh
[dropcap custom_class="normal"] A[/dropcap]s you know in June, I did 30 days of eating fresh foods. I admit I never felt better. It a good change I did and I am proud of the results. I have energy and I lost weight which was a great bonus. Even though it now July, I think I am going to stick with the fresh foods for the most part. I really do love how I am looking and feeling. It was a good I decided to do that challenge.
So you know I really do not like beer to drink. When I made the Gorgonzola Guinness Bacon Dip I had to buy a huge bottle of Guinness. Since I do not drink beer, I had to figure out how to use it up. I like cooking with it, just not drinking it. What can I say? I am a margarita type of gal.
Guinness Shrimp, Mushrooms, Onions, Asparagus Recipe
Anyway, I originally thought maybe a Guinness glaze on salmon, but changed my mind and thought of shrimp. I had some asparagus tips, onions, and mushrooms, and thought, this would make for a nice meal. It turned out so fabulous!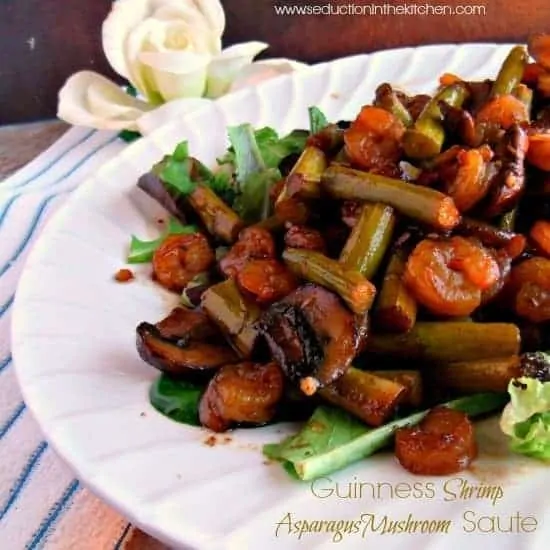 Yield: 4
Guinness Shrimp, Mushrooms, Onions, Asparagus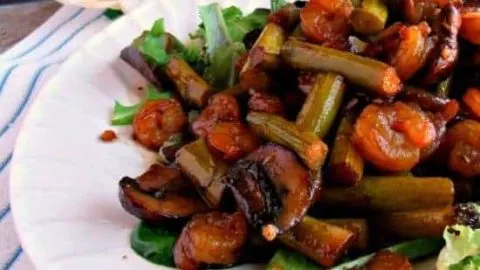 Savory Guinness sauce is what makes this shrimp dish so good. Add some onions, mushrooms, and asparagus and your taste buds will be in heaven
Ingredients
2 lbs large fresh shrimp
1 small onion (chopped)
1/2 cup sliced mushrooms
10 asparagus tips (chopped)
1/2 cup Guinness stout
2 tablespoons brown sugar
2 tablespoons olive oil
4 teaspoons Worcestershire sauce
1 -2 clove garlic (minced)
1/8 teaspoon salt
1/4 teaspoon pepper
1/8 teaspoon hot sauce
baby greens
Instructions
Mix together the Guinness, sugar, Worcestershire, garlic, salt, pepper and hot sauce. then set it aside.
In a large skillet, heat up the oil on medium high. Then add the onions and mushrooms to it.
Cook them until the onions start to get transparent, then add the asparagus and shrimp, stir constantly. When the shrimp start to turn pink, add the Guinness mixture to the skillet.
Turn the heat down to medium and continue to cook the shrimp for another 5 minutes. You see the sauce reducing as you cook. After 5 minutes, turn the heat off.
Put some baby greens on a plate, put the shrimp mixture on top of it and then ENJOY!
Nutrition Information:
Amount Per Serving:
Calories:

310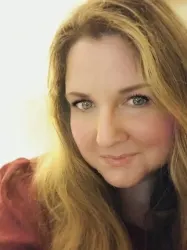 Latest posts by Deanna Samaan
(see all)