I am a participant in the Amazon Services LLC Associate Program, an affiliate advertising program designed to provide a means for me to earn fees to Amazon.com and affiliate sites.
Rocky Road Brownie Bars are the best brownie recipe. They are sinfully delicious gourmet brownie bars. This rocky road bars recipe is simple to make but taste like they are a million dollar recipe. Out all the brownie recipes, this rocky road recipe will seduce your taste buds.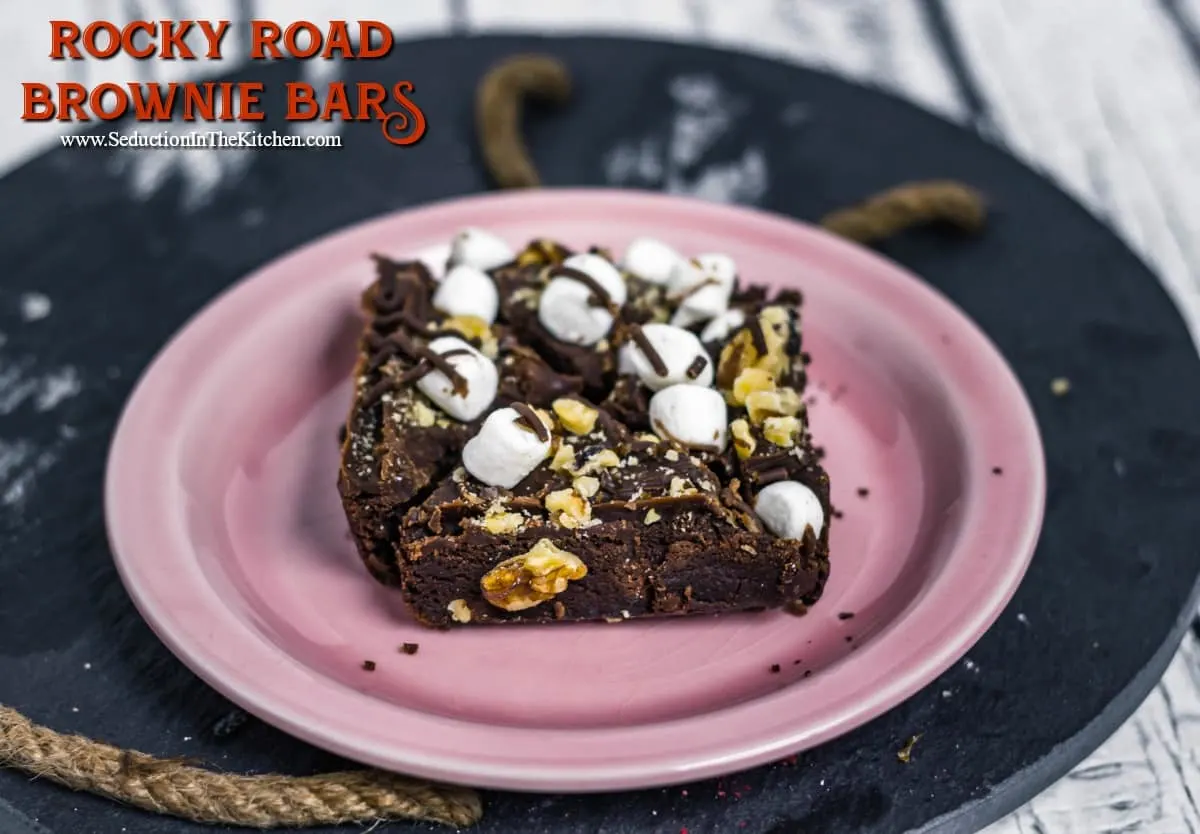 How Are You?
Looking through these posts, I admit it seems like I talked more about how I improving Seduction in the Kitchen. One of the things I have not talked about was just what is going on around me. I guess I have been so focused on making this blog better, that forgot maybe the personal part of it.
Nothing exciting
Truthfully, nothing exciting is going on in my life. I'm not having drama at work. I'm still single but admit me and the Persian man still talk. I have no idea why we can't stop, we both know it never going to be a relationship.
I guess he is like my addiction, and I am his? I don't know. I have no answer to that, but I do have a somewhat local guy interested in me. However, like all the guys that are interested in me, this guy is very busy and has no time.
The story of my love life! That is what has been going on with me. So how have you been?
Brownie Recipes
I really like making brownie recipes. Brownies can be this blank canvas that can be made into a sinfully delicious treat. One of my sweet indulgent variations is a Rocky Road Brownie Bars.
Rocky Road Brownie Bars Recipe
Rocky road recipes are popular because it has this combo of chocolate, marshmallow, and nuts. Plus using those toppings on a brownie is an easy way to create this decadent rocky road bars recipe. They simple are best brownie recipe.
If you look at the photos I have on this Rocky Road Brownie Bars recipe post, you notice I actually have a thin layer of frosting on these brownies. Then I piled on the mini marshmallows with walnuts. The final touch that makes this Rocky Road Brownie Bars the sinful aspect is a chocolate drizzle over this chocolate indulgence.
Rocky Road Bars Recipe
Hey, what can I say, this girl loves chocolate. Trust me these brownie bars are truly a girl's best friend. Why? Because simple to make but taste like they are a million dollar recipe.
Indulgent brownies, easy to make, and taste like a million dollar recipe? Yep, that is the secret to a really great brownie recipe. Trust me you are going to love these Rocky Road Brownie Bars.
Yield: 12 servings
Rocky Road Brownie Bars Recipe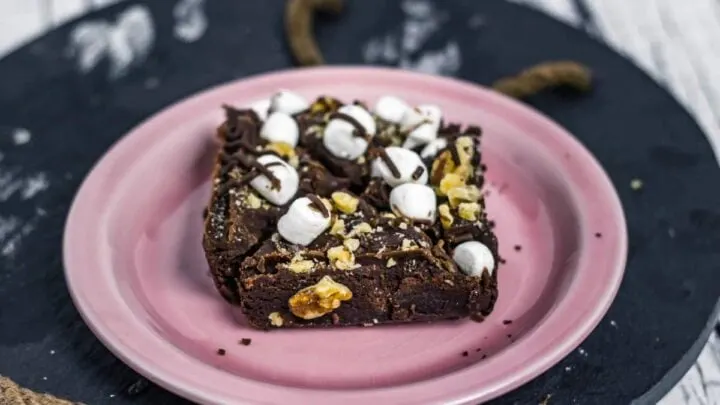 Rocky Road Brownie Bars are sinfully delicious gourmet brownie bars. They are simple to make but taste like they are a million dollar recipe.
Ingredients
Brownies:
1/2 cup vegetable oil
1 cup sugar
1 teaspoon vanilla
1/2 teaspoon butter extract
2 large eggs
1/3 cup cocoa powder
1/2 cup semi-sweet chocolate chips
1/2 cup self-rising flour
Toppings:
1/4 cup chocolate fudge frosting
1/4 cup dark chocolate chips
1/4 walnuts pieces
1/4 cup mini marshmallows
Instructions
Brownies:
Preheat the oven to 350F and grease a brownie/bar pan
In a bowl mix the oil and sugar together.
Next, add the extracts and eggs into the sugar mixture. Blend everything well.
Add the cocoa powder and blend it well with the sugar mixture.
Mix in the chocolate chips.
Finally, add the flour, and mix it in till the flour is just combined.
Pour the batter into the prepared pan and smooth it out till it is smooth.
Place the pan in the oven and bake for about 40 minutes.
Check for doneness with a toothpick, it comes out clean then the brownies are done, it comes out with batter continue to bake for another 5 minutes till the toothpick comes out clean.
Let the brownies cool.
Toppings:
When the brownies are cool but still a little warm to the touch, spread on a thin layer of the frosting on the top of them.
Next, sprinkle with the walnuts and marshmallows. Gently press them into the brownies.
In the microwave, melt the dark chocolate chips. Microwave them in 30-second intervals and stir with each one till they are melted and smooth.
Drizzle on the melted chocolate, and let the brownies finish cooling and the drizzle hardens.
Slice them up and ENJOY!
Recommended Products
As an Amazon Associate and member of other affiliate programs, I earn from qualifying purchases.
Nutrition Information:
Yield:
12
Serving Size:
1
Amount Per Serving:
Calories:

290
Total Fat:

17g
Saturated Fat:

4g
Trans Fat:

0g
Unsaturated Fat:

12g
Cholesterol:

34mg
Sodium:

86mg
Carbohydrates:

33g
Fiber:

2g
Sugar:

26g
Protein:

3g
Check out my the latest on my other blog: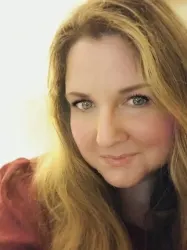 Latest posts by Deanna Samaan
(see all)