Guinness Gorgonzola Bacon Dip is a creamy blend of Guinness, bacon, and Gorgonzola in a yummy homemade dip!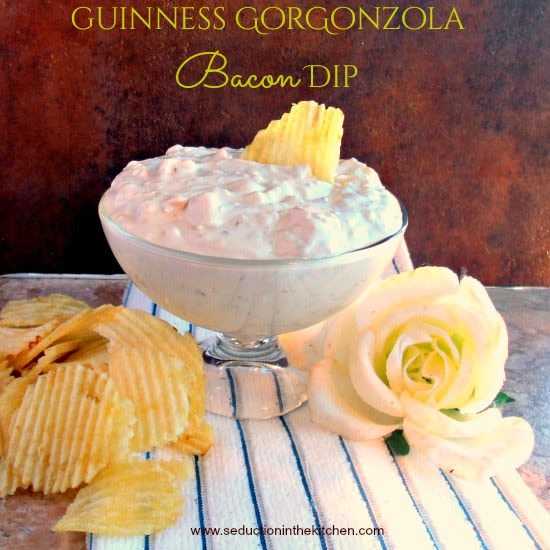 I think I either wore myself out or just really stressed or my sinuses are kicking my butt. I was sick all weekend. Very tired, my ears hurting, throat sore. I was told I have a sinus infection that causing an inner ear infection. Plus you add stress to that, yeah I hardly moved this weekend.
It figures, it was my first full weekend off and I had to stay inside because of this illness. I only get one weekend off a month from work, so yes I had plans I wanted to get out and enjoy some church rummage sales, there was a Wine and a Greek festival this weekend, I just could do any of it. Well I could, truth be told I was really dizzy and did not trust driving around.
Guinness Gorgonzola Bacon Dip
Yield:

8 servings
Gorgonzola Guinness Bacon Dip
Gorgonzola Guinness Bacon Dip is a blend of Guinness, bacon, and Gorgonzola in a yummy homemade dip! A recipe from Seduction in the Kitchen.
Ingredients
1 1/2 cups sour cream
2 cloves minced garlic
1/2 cup crumbled Gorgonzola
3 strips bacon (cooked and crumbled)
2 green onions (chopped,tops only)
1/2 cup Guinness beer
Instructions
In a small sauce pot, bring the beer to a simmer, then let simmer till it reduced in half. Take off the heat and allow it to cool.
Next, mix the sour cream, garlic, Gorgonzola, bacon, and green onions together.When the beer is cool, add to the dip mixture and mix it thoroughly.
Let the dip chill in the fridge for an hour then serve and ENJOY!
Nutrition Information:
Amount Per Serving:
Calories:

320
This post was most recently updated
I want to hear what you have to say about this recipe that is on
SEDUCTION IN THE KITCHEN!
Let's get this conversation started! What do you think of this recipe?