I am a participant in the Amazon Services LLC Associate Program, an affiliate advertising program designed to provide a means for me to earn fees to Amazon.com and affiliate sites.
[intro]Crock Pot Beef Tips and Mushrooms Over Noodles is an easy dish to make and all day while you're at work, then come home to a nice warm meal.[/intro]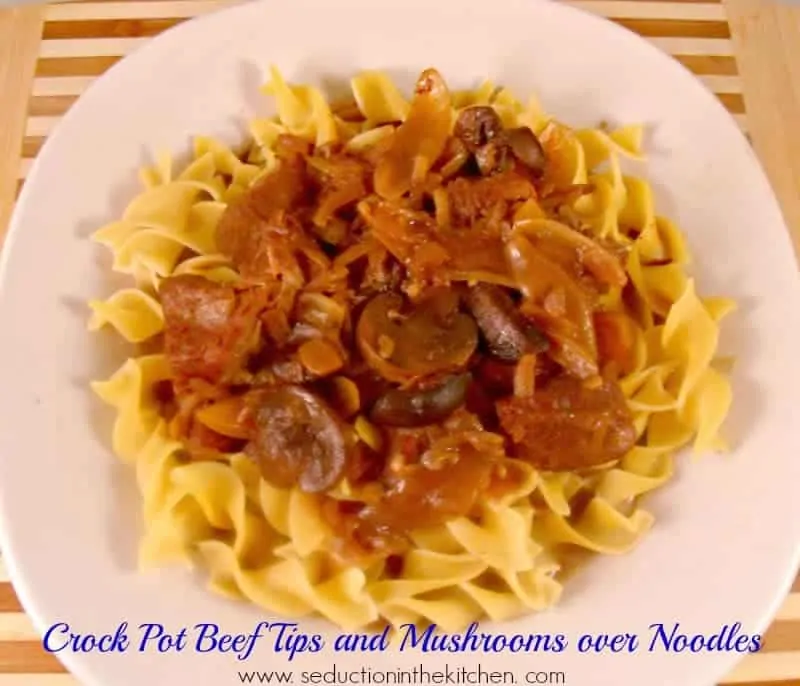 Winter
[dropcap custom_class="normal"] T [/dropcap]his has been some winter has it not? In Cleveland here, we got blasted with snow. I was doing a favor for work, and what would normally be a 20-minute drive took me over an hour to get to, then it was 45 minutes to drive home.
What was bad was The State did not plow. So it made it very bad on the roads to drive. Because I work in medical, I have to go to work.
So I have no choice sometimes as in "trying" to get to work. I can not wait till it is Spring, I am just so over this winter! How about you are you over this winter yet?
The only thing good about winter, in my opinion, is the hearty crockpot recipes. I love the thick hearty stews and soups, comfort foods so to say. It is nice coming home to the smell of a good meal, hot and ready for you when you are ice cold from the winter's storm that is happening outside.
Crock Pot Beef Tips and Mushrooms Over Noodles Recipe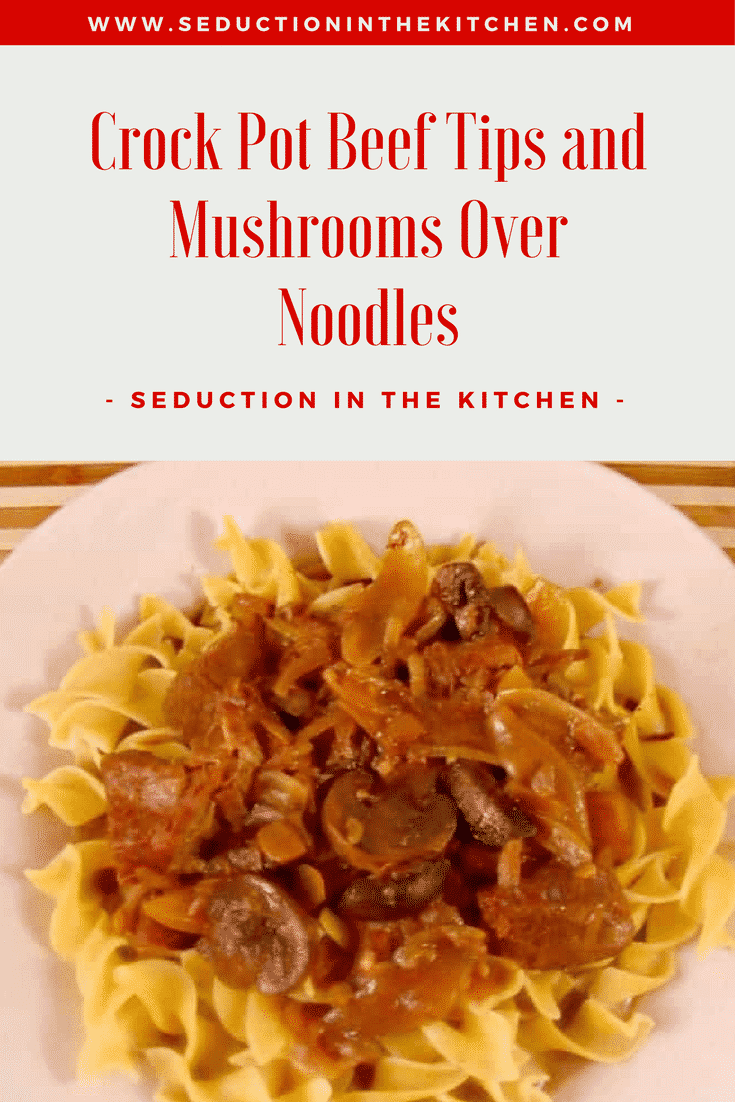 Well with temperatures hitting the negatives in Cleveland, I made something that as soon as I got home would warm me up. I wanted it to be hearty and in all honesty, filling as well. I was craving beef tips with mushrooms.
When was in my late teens, early twenties, Hoss's Steak House was a place my family would go to. They had this buffet that was very good. It was kind of like a Ponderosa or Bonanza if you remember that restaurant.
Yep, I am dating myself here, with those restaurants. Anyway, Hoss's had the best beef tips. I wanted them. This Crock Pot Beef Tips and Mushrooms Over Noodles is nothing like Hoss's, for one Hoss's Beef Tips and Mushrooms had a thick gravy, this is more liquidity, but none the less it is very good and very filling.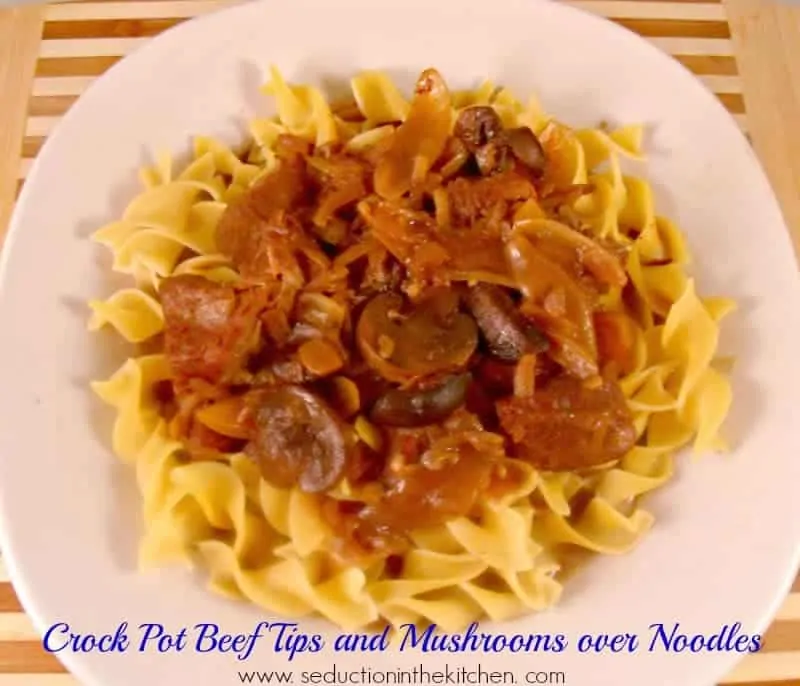 Yield: 6 servings
Crock Pot Beef Tips and Mushrooms Over Noodles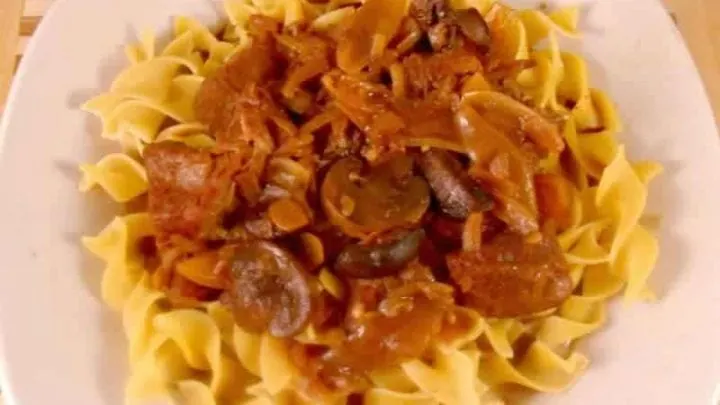 An easy dish to make in your crock pot, let it cook away all day while you're at work, then come home to a nice warm meal is what this Beef Tips recipe is all about. A recipe from Seduction in the Kitchen.
Cook Time
5 hours
20 minutes
Total Time
5 hours
30 minutes
Ingredients
2 lbs lean stewing beef (cubed)
1 (10 3/4ounce) can cream of mushroom soup
1 (1 1/4 ounces) envelope dry onion soup mix
1 (2 ounce) envelope beef gravy mix
3/4 cup beef broth
1/4 cup Burgundy wine
1 cup fresh mushrooms, sliced
1/2 medium onion, chopped
2 cloves garlic, minced
12 ounces wide egg noodles
Instructions
Place the beef, mushrooms and onions into your crock pot.
In a bowl, mix the beef broth, onion soup,wine, cream of mushroom soup, gravy, and garlic together till all smooth and the powders dissolved.
Pour the gravy mixture over the beef and mushrooms in the crock pot.
Cover the crock pot and put it on low for about 8 hours.
When done, cook the noodles, put the noodles on a plate and spoon the beef over it and ENJOY!
Nutrition Information:
Amount Per Serving:
Calories:

520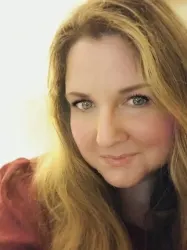 Latest posts by Deanna Samaan
(see all)