This post was most recently updated
Egyptian Feta Cucumber Salad is a cucumber recipe that is a refreshing salad. The combination of feta, lemon, and cucumber bursts with flavor in this Egyptian salad. You will love this easy cucumber recipe. Serves 4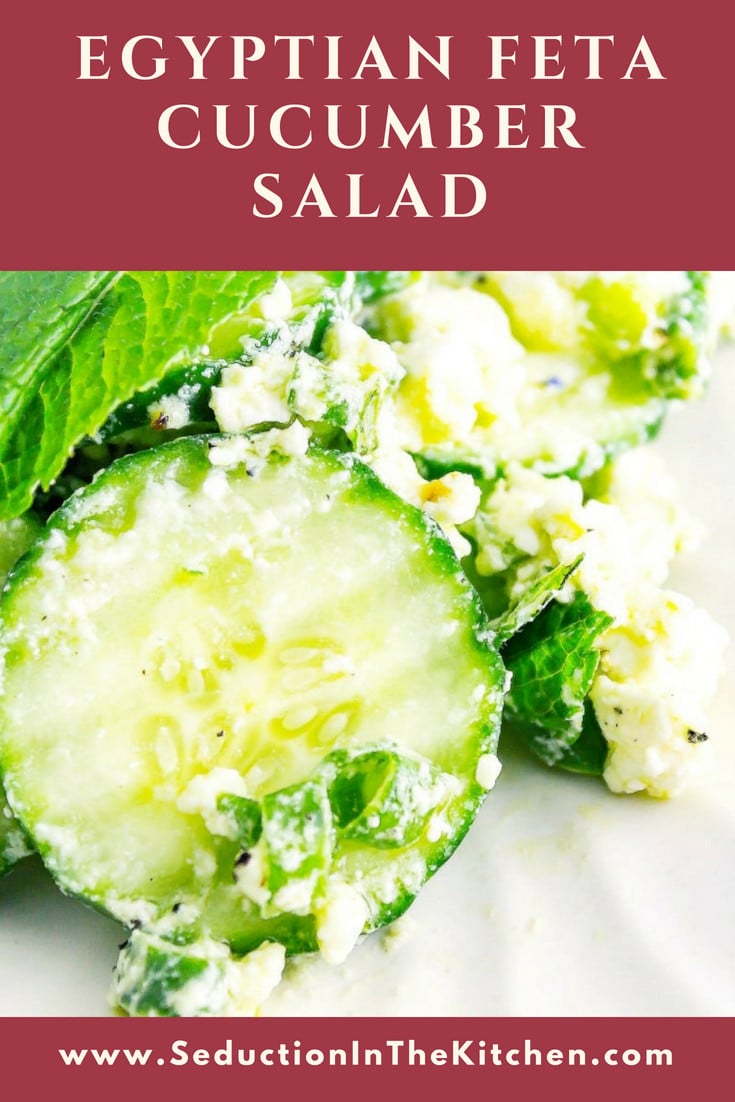 Refreshing Salads
I admit when the weather is hot, I like refreshing salads. The coolness of a salad just satisfies me in the hot summer sun. Sometimes refreshing salads are just enough for you.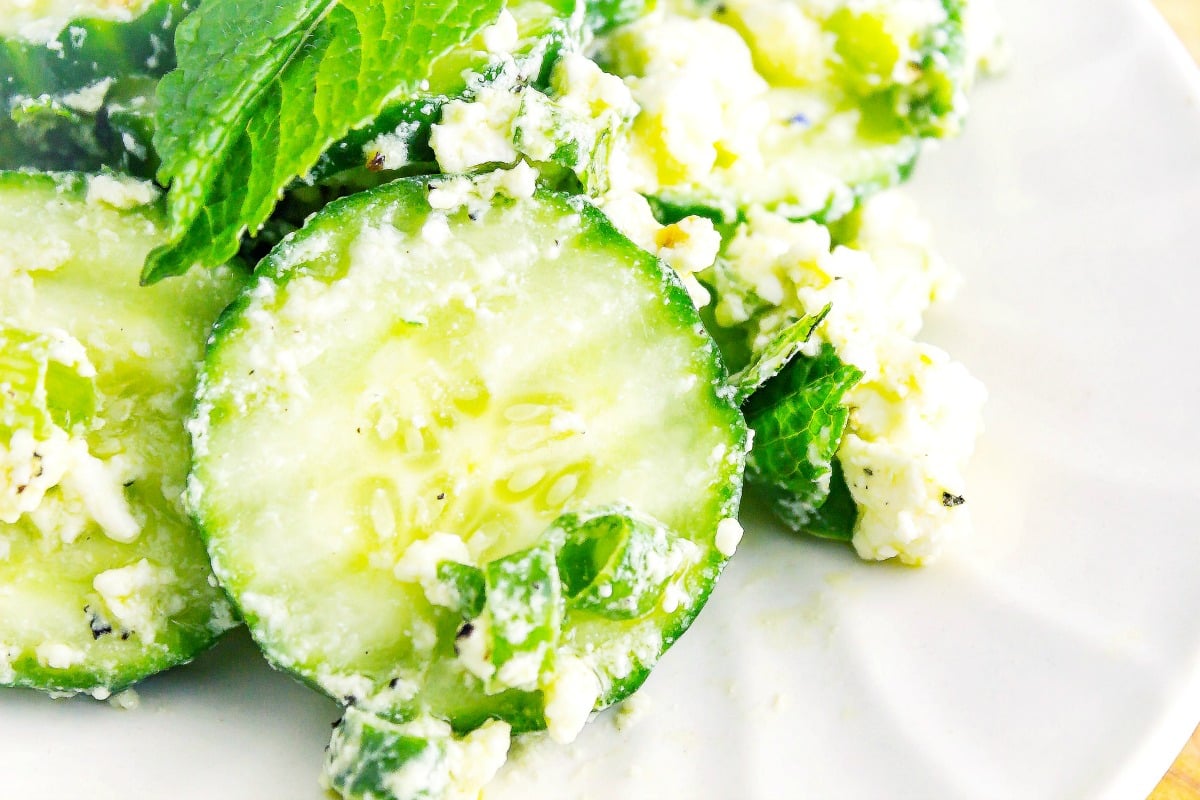 Easy Cucumber Recipes
In the summer, I get lots of cucumbers from patients. They bring them into the lab from their gardens. so easy cucumber recipes are essential for me.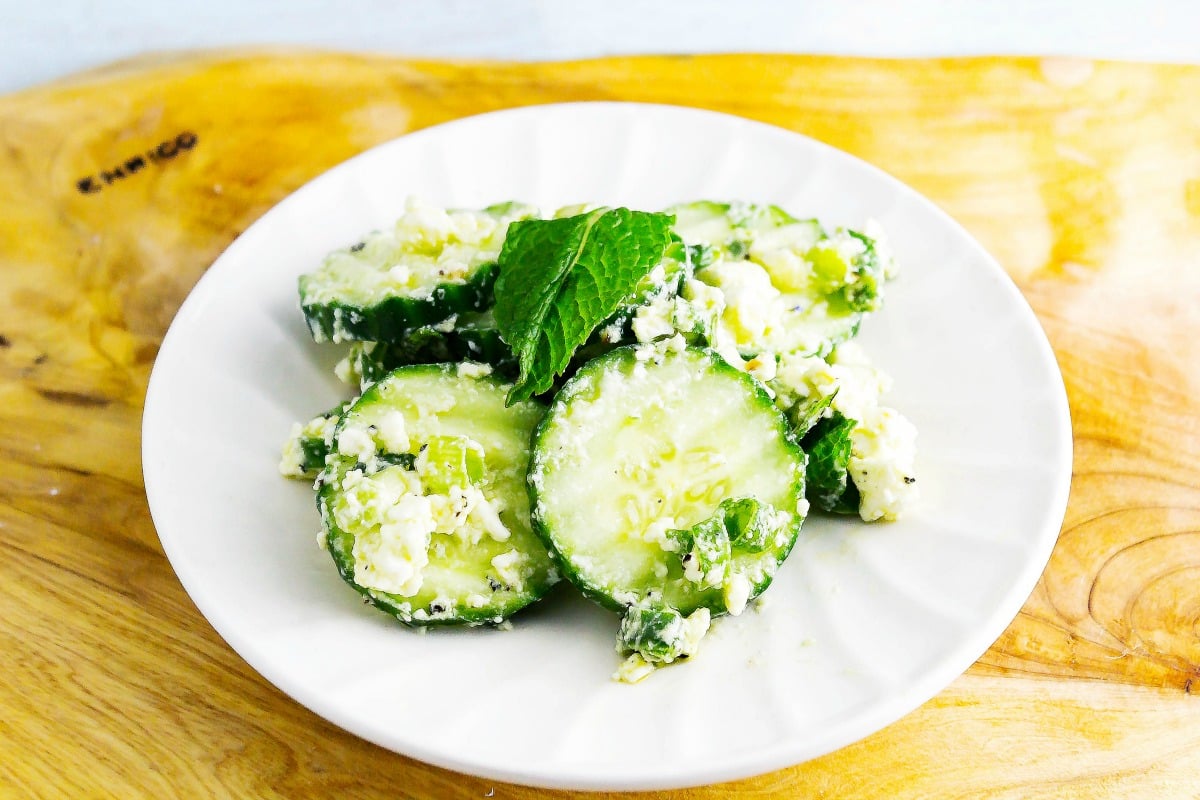 Egyptian Feta Cucumber Salad
So, let's get to this Egyptian Feta Cucumber Salad. Originally I posted it in 2014. I had just got a copy of Pinch of Yum's Photography eBook and was learning how to really take photos and styling.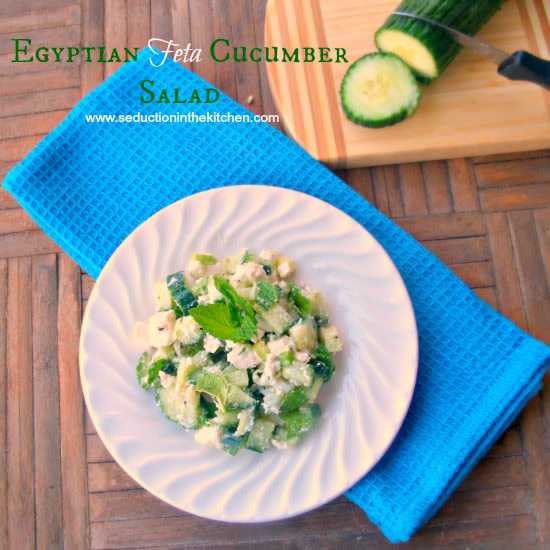 I sort of like the photo of this cucumber-feta salad. I surprised myself that I thought I did a decent job with the styling. However, you can not tell what is on that plate.
I took the photo of this cucumber salad with feta on the balcony of my old apartment.  I do miss that balcony and that patio furniture.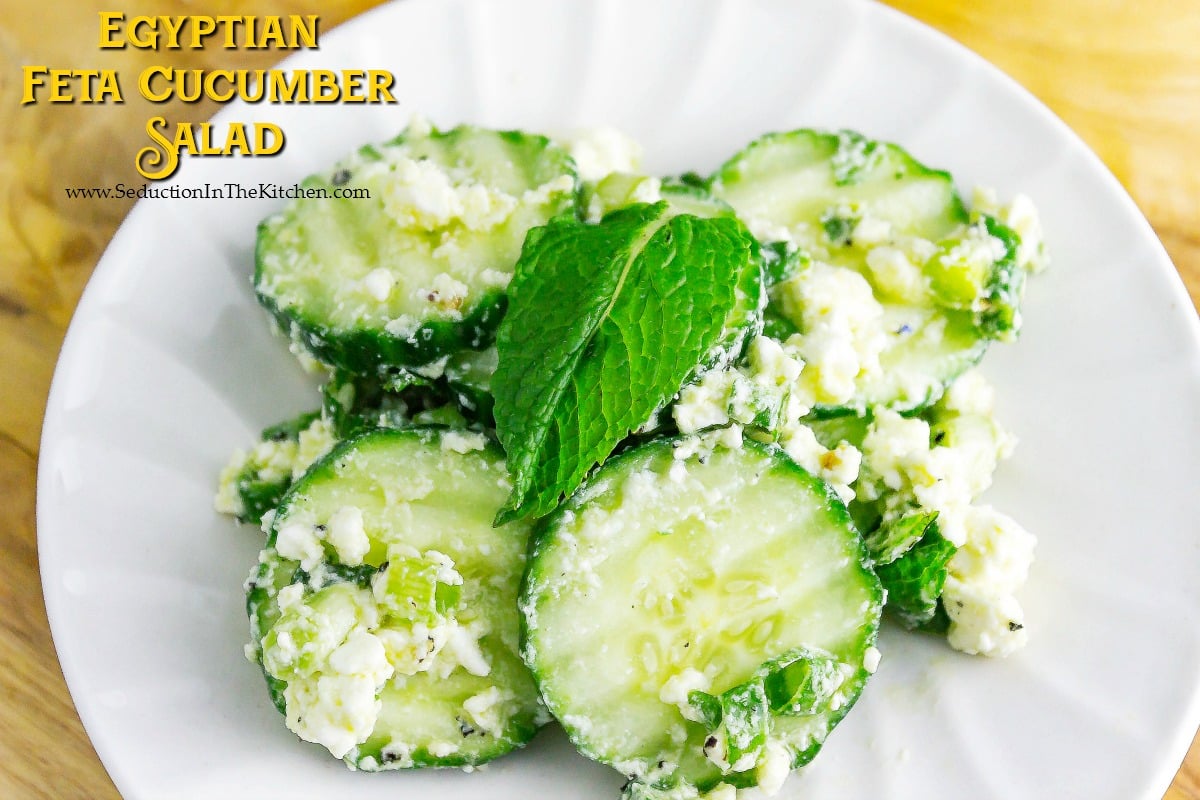 Egyptian Salad
I had a patient, who is Egyptian, and knows I love to cook. He gave me this Egyptian Feta Cucumber Salad recipe.  He also gave me the Gebna Makleyah Egyptian Oven Baked Cheese recipe as well.
He is one of my favorite patients. So him giving me this Egyptian salad is why he is one of my favorite patients.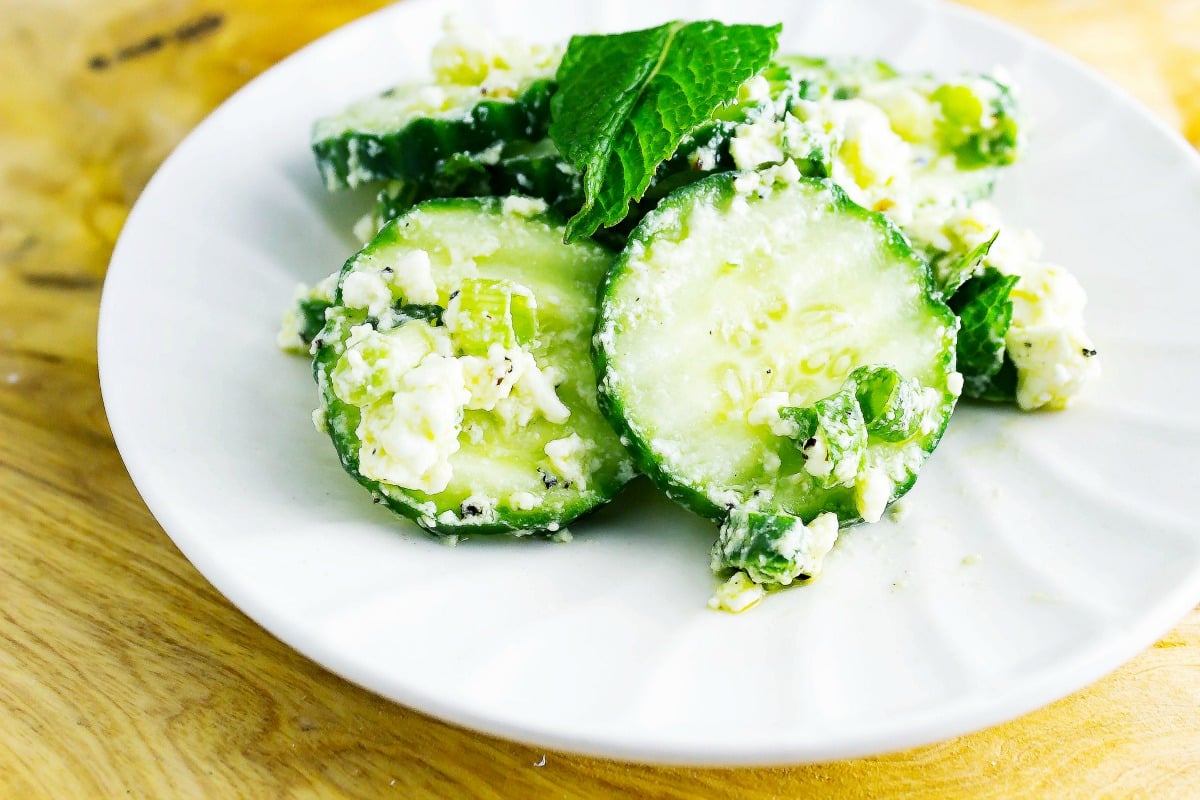 Cucumber Salad With Feta
This cucumber salad with feta is one of my favorites to eat when I want refreshing salads. I love the combo of the lemon with feta, then add the mint. This cucumber-feta salad is simply AMAZING.
For This Recipe You Will Need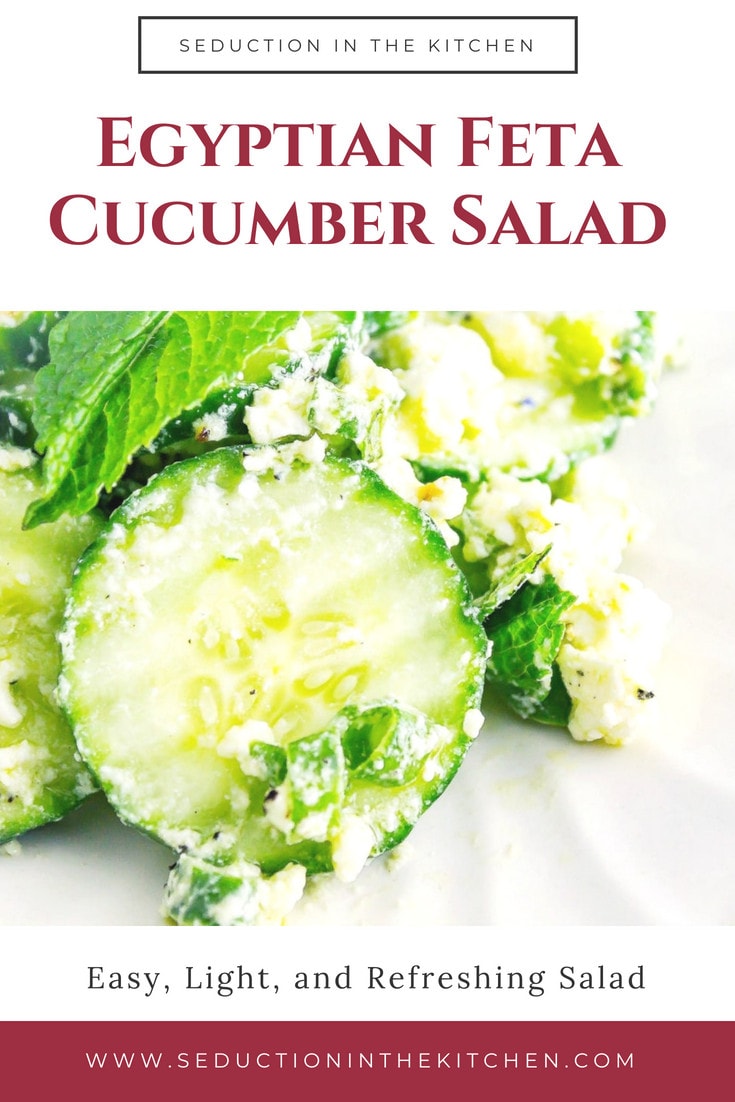 Cucumber-Feta Salad
I love salads, but  I do get tired of the green leafy ones. So changing it up to this cucumber-feta salad is a great change. After all, change is good, right?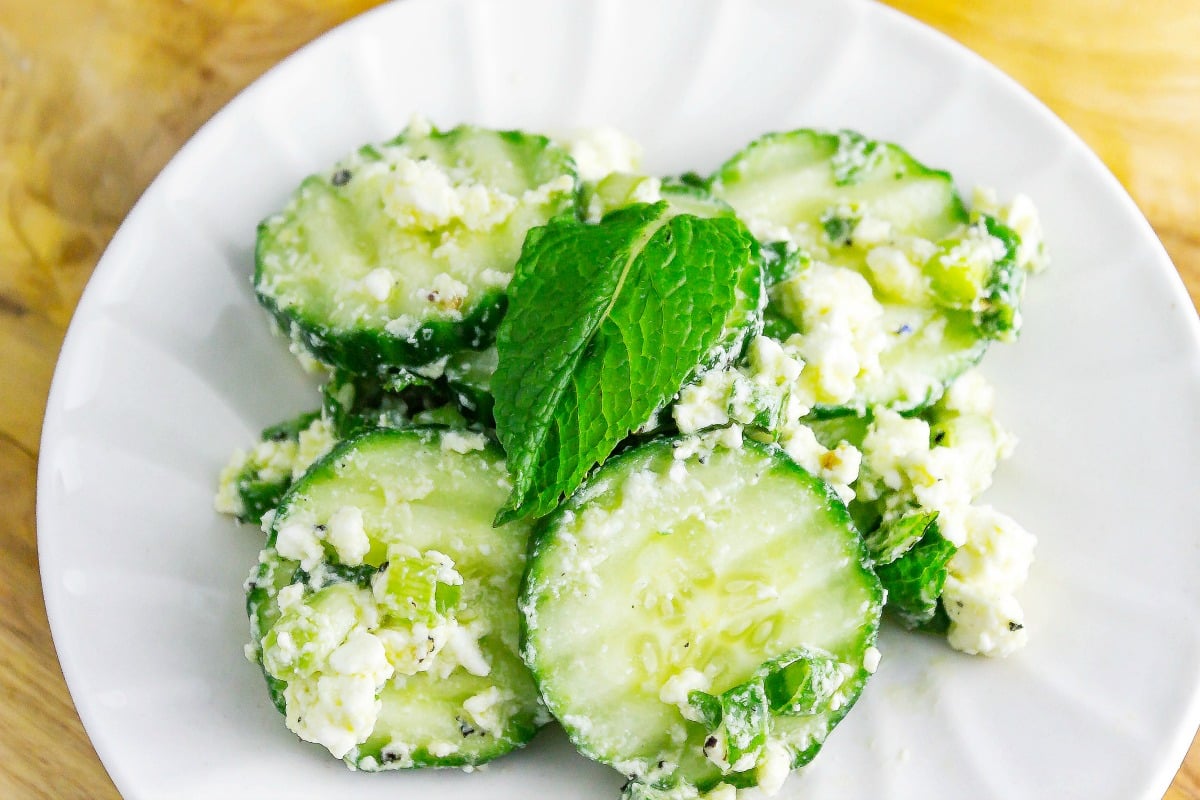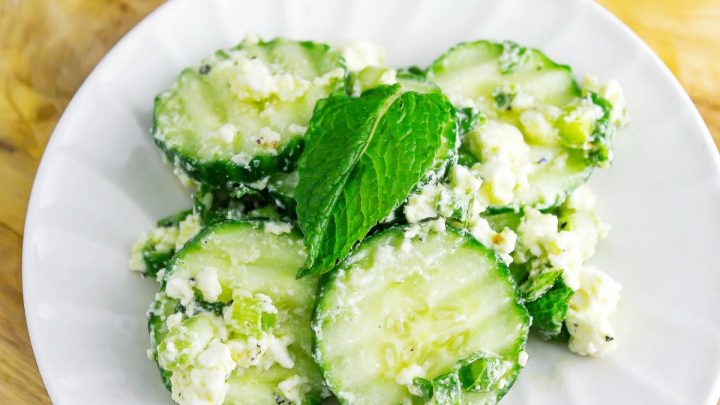 Yield:

4 servings
Egyptian Feta Cucumber Salad Recipe
Egyptian Feta Cucumber Salad is an easy, light, and refreshing salad. The combination of feta, lemon, and cucumber bust bursts with flavor.
Ingredients
2 cucumbers
1/4 cup scallions (thinly sliced)
4 oz feta cheese
2 tablespoons lemon juice
1 teaspoon olive oil
1 tablespoon fresh chopped mint
salt and pepper to taste
Instructions
Score the cucumber with a fork and then slice it. What this does, it makes the cucumber pretty, but also helps with getting the moisture out the cucumber when we salt it. Sprinkle a little salt on them and let sit for about an hour.
Meanwhile, put the feta in a bowl with the scallions and with a fork, you want to mash the feta to break into smaller pieces and also to blend it with the scallions. Then mix in the lemon and oil, set it aside.
After an hour that the cucumbers have set, blot them with a paper towel to remove the moisture. Then cut it up into smaller pieces. Add them to the feta mixture, along with the chopped mint, season with a little pepper and salt if you want. Personally I think it has enough salt. Mix it all well.
Put a little in a dish and simply ENJOY!
Nutrition Information:
Amount Per Serving:
Calories:

280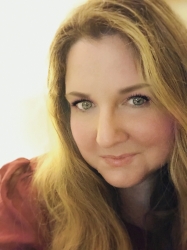 Latest posts by Deanna Samaan
(see all)