Tropical Lagoon Sangria is a fun summer drink. This tropical sangria recipe is great to drink by the poolside. So pour yourself a glass of this tropical blue drink! Serves 6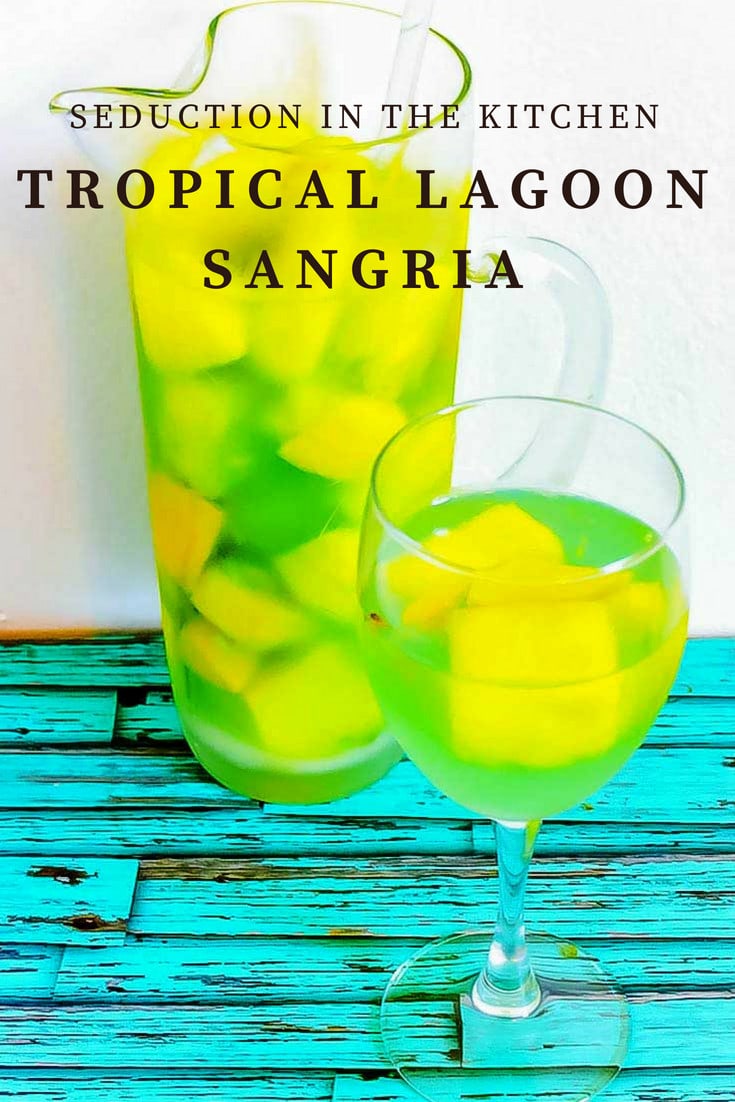 Fun Summer Drink
Summertime relaxing by the pool calls for a fun summer drink. That is what this sangria recipe is, fun summer drink. So let's escape to the tropics together!
Tropical Lagoon Sangria
This Tropical Lagoon Sangria came about by accident. I had to use up mango and pineapple I had for another recipe idea, I just didn't get to. So I decided let's make a sangria with it.
Tropical Blue Drink
Since I had mango and pineapple, I decided this sangria should be a beach cocktail. There was a bottle of Seagram's wine cooler, Pina Colada in my fridge and the pretty blue color of it was calling to me,"make me a sangria." That pretty blue color of the wine cooler made this sangria a tropical blue drink!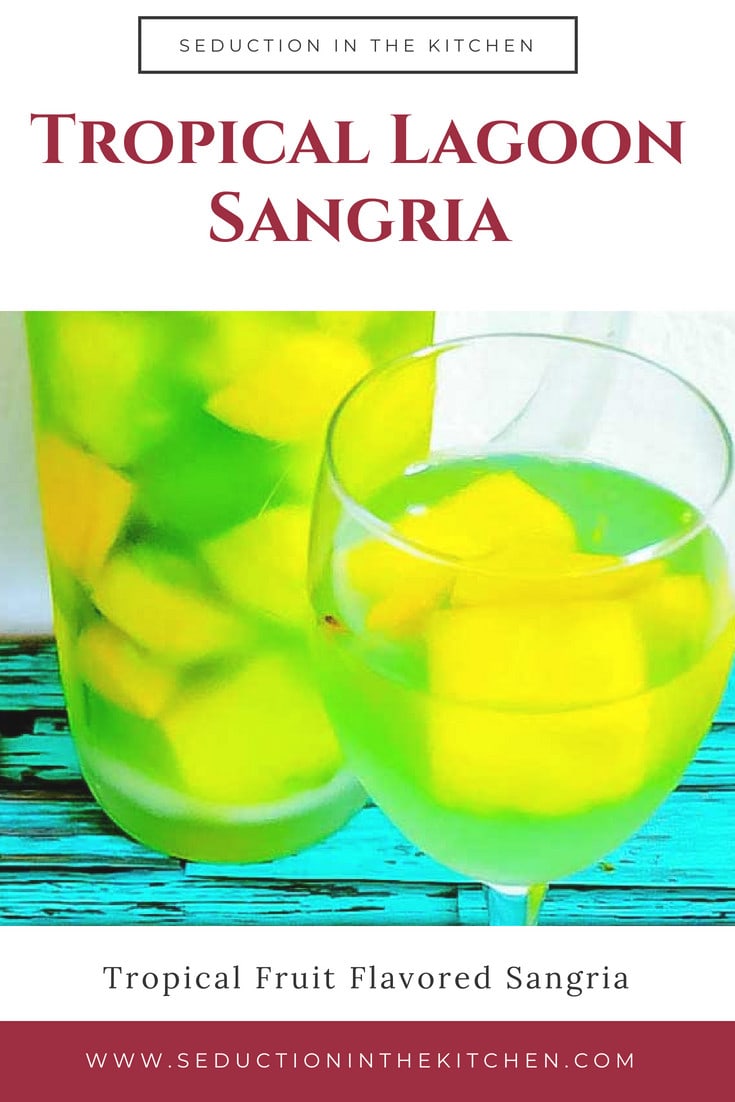 Tropical Lagoon
What to call this tropical sangria recipe? It was the tropical blue coloring of the sangria that reminded me of the blue lagoon. I could pretend by the pool I was in a tropical paradise with this fun summer drink.
Tropical Sangria Recipe
I love fruity drinks in the summer. This tropical sangria recipe is just that a nice, refreshing, fruity drink. So go relax by the poolside and pour yourself a glass of this tropical lagoon cocktail.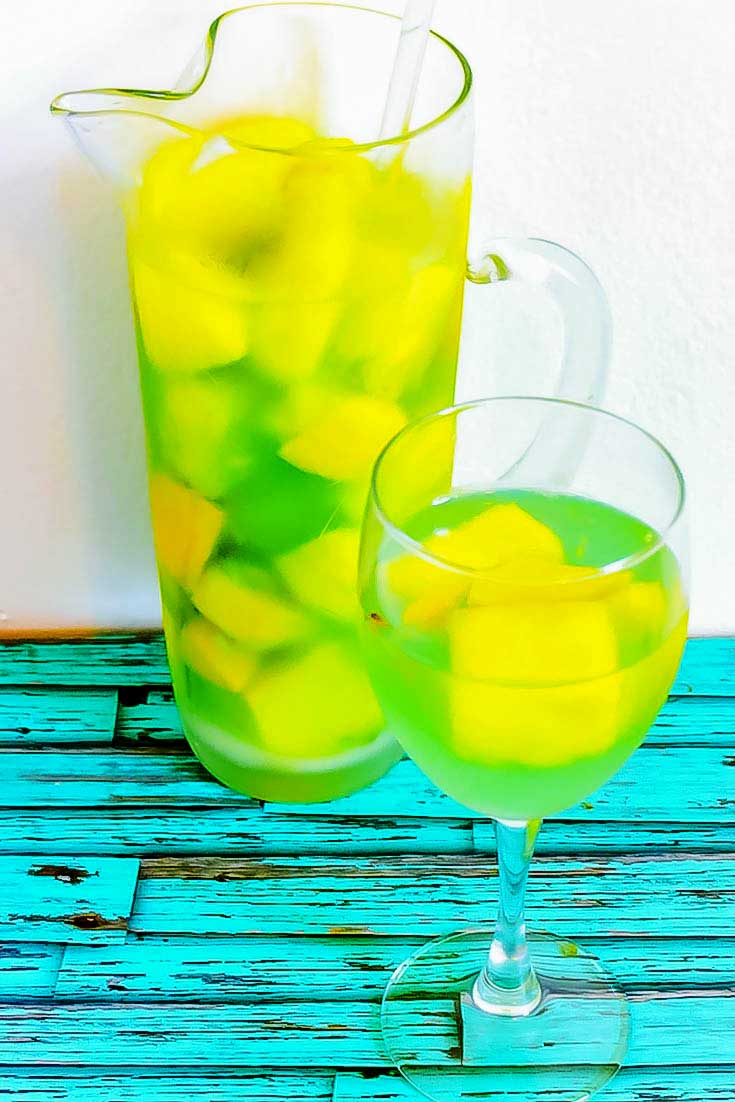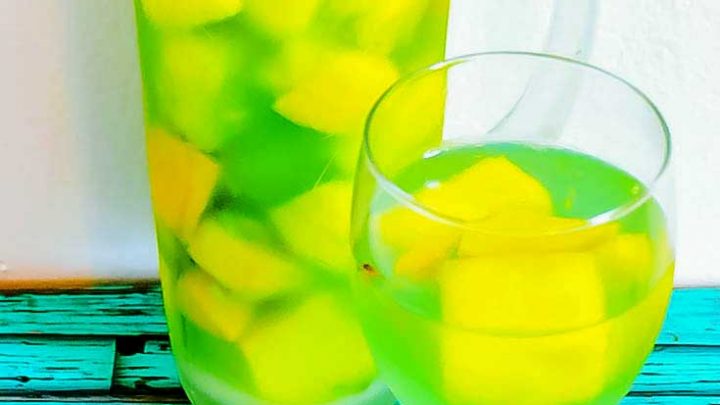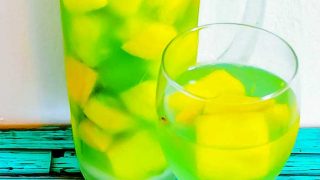 Yield:

6 Servings
Tropical Lagoon Sangria Recipe
A fun, refreshing adult drink that is perfect to drink by the poolside in the summertime. A recipe from Seduction in the Kitchen.
Ingredients
1 (750 ml) bottle sweet white wine
1 cup pineapple chunks
2 mangos cut into chunks
1/4 cup triple sec
1/2 cup sugar
1 (11.2 oz) bottle Seagram's Pina Colada wine cooler
Instructions
In a pitcher combine the sugar, triple sec, and 1/2 of the bottle of the Seagrams wine cooler. Mix to dissolve the sugar.
Next add the fruit to the pitcher
Add the wine over everything and give a stir. If you still have enough room, add the rest the wine cooler.
Place the pitcher in the fridge for a few hours.
Take it out and pour yourself a drink and ENJOY!
Nutrition Information:
Amount Per Serving:
Calories:

327
Total Fat:

0g
Saturated Fat:

0g
Trans Fat:

0g
Cholesterol:

0mg
Sodium:

11mg
Carbohydrates:

45g
Fiber:

2g
Sugar:

40g
Protein:

1g
Check out my the latest on my other blog:
I want to hear what you have to say about this recipe that is on
SEDUCTION IN THE KITCHEN!
Let's get this conversation started! What do you think of this recipe?