A Simple Chunky Salsa or also known as pico de gallo is a great way to enjoy fresh simple salsa. This basic salsa recipe is very easy to make. You will never buy bottled salsa again after making your own fresh chunky salsa recipe. Serves 8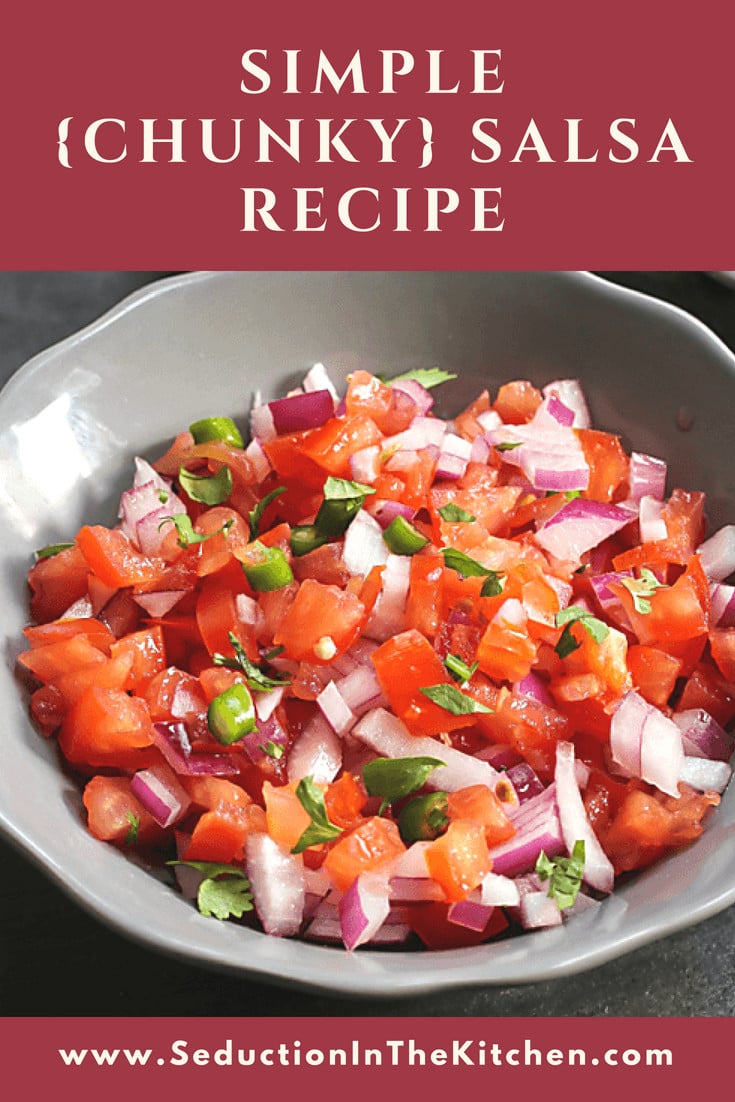 Simple Salsa
I like doing recipes that are a bit different. I also like simple recipes too. Sometimes a simple salsa is all I need to satisfy a craving I might have.
Mexican Recipes
I mentioned a few times on Seduction in the Kitchen about how I really embrace change. As I say change is good. Do you know why I always say that?
The change is good saying came because I realized I needed changes in my life or I would be miserable. So I made tiny changes like opening myself up to try different cuisines like Mexican. That was the first change I embraced, by doing that I realized I like Mexican Recipes.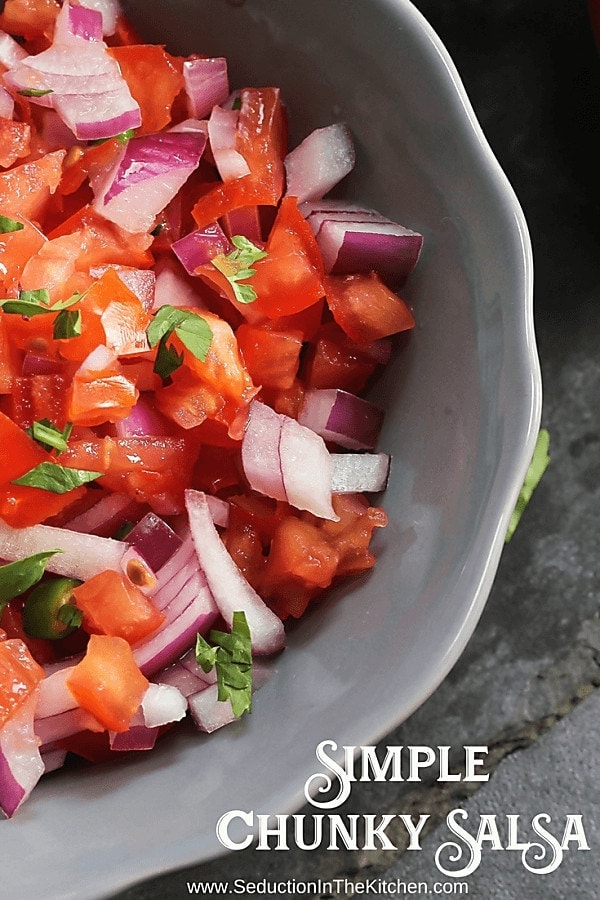 Simple Salsa Recipe
My friends taking me to try Mexican food is what started my love of simple salsa recipes. It started with the free salsa that served on the tables at the Mexican restaurant.
I found out that simple salsa wasn't bad. That's what made me realize you do need to embrace change. If you don't you may miss out on something very good. If I had not gone to the Mexican restaurant, I never would have know that salsa is very tasty.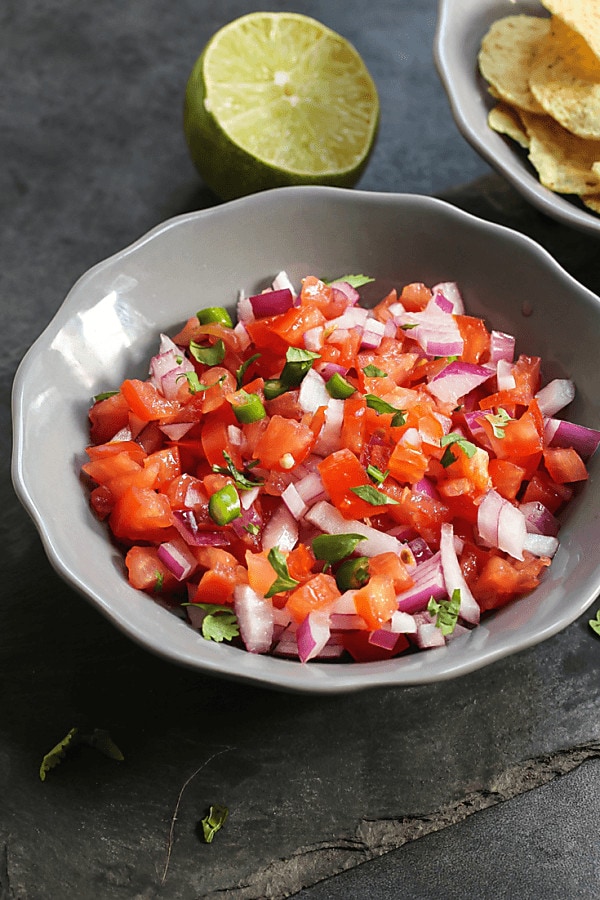 Basic Salsa Recipe
That tomato onion cilantro mixture we know as salsa is a basic salsa recipe. That combination of vegetable with jalapeño busts with flavor. It is such a simple salsa recipe, that anyone can make it!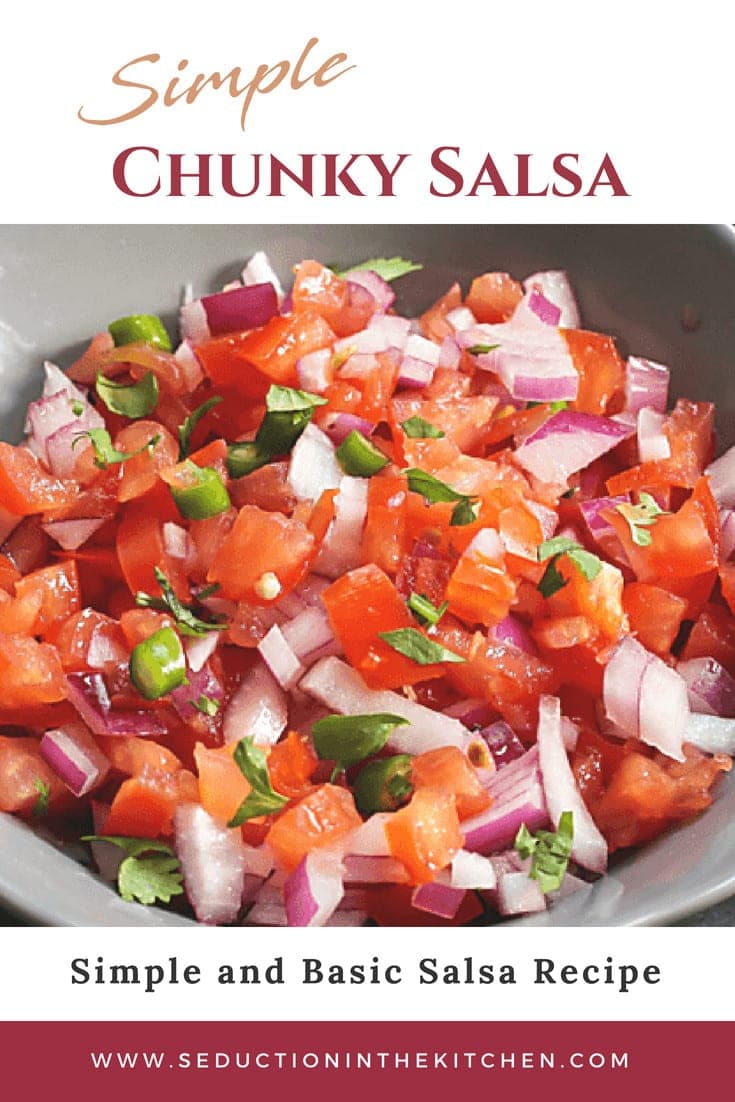 Pico de Gallo
You can make all blend a basic salsa recipe together for a smooth salsa that almost sauce-like. Or you can make it chunky like I did for this chunky salsa recipe. The chunky salsa is also known as a Pico de Gallo, that is the simple salsa I prefer.
Chunky Salsa Recipe
Personally, I like calling it chunky salsa recipe then pico de gallo. That is what this simple salsa recipe is, chunks of tomato, onion, cilantro, jalapeños all mixed together with some lime juice.
I love scooping up piles of fresh salsa on a tortilla chip. It a great snack to eat. No wonder Mexican restaurant serve it before the meal.
For This Recipe You Will Need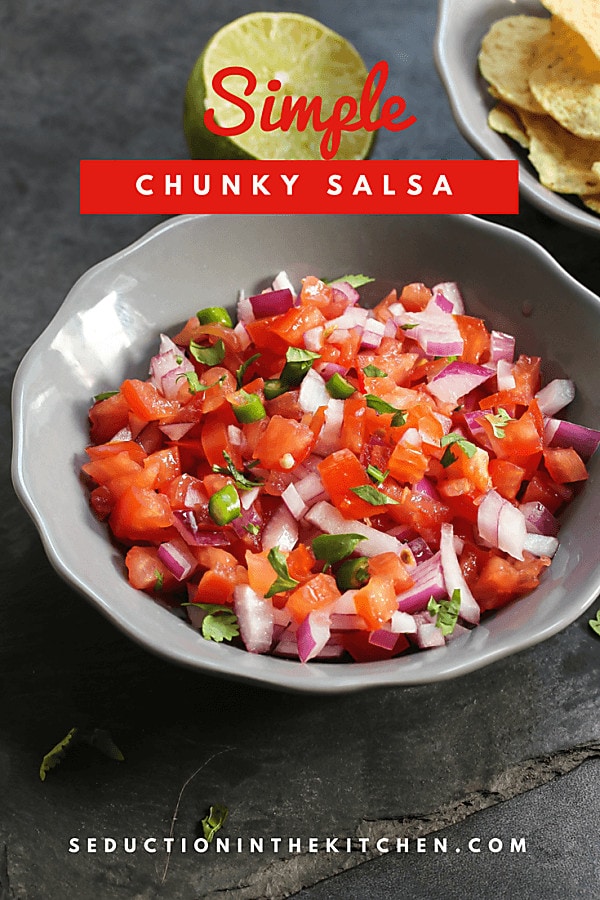 Simple Chunky Salsa
Why I like a chunky salsa is because it does help fill you up. Salsa is pretty simple to make in all honesty. There is really not much to it. A fresh salsa is a few basic ingredients.
The key to a good pico de gallo is to let sit for a bit so the flavors blend. The longer you let the flavors blend in a fresh salsa, the better it is.  Plus as an added bonus, simple fresh salsa is healthy too.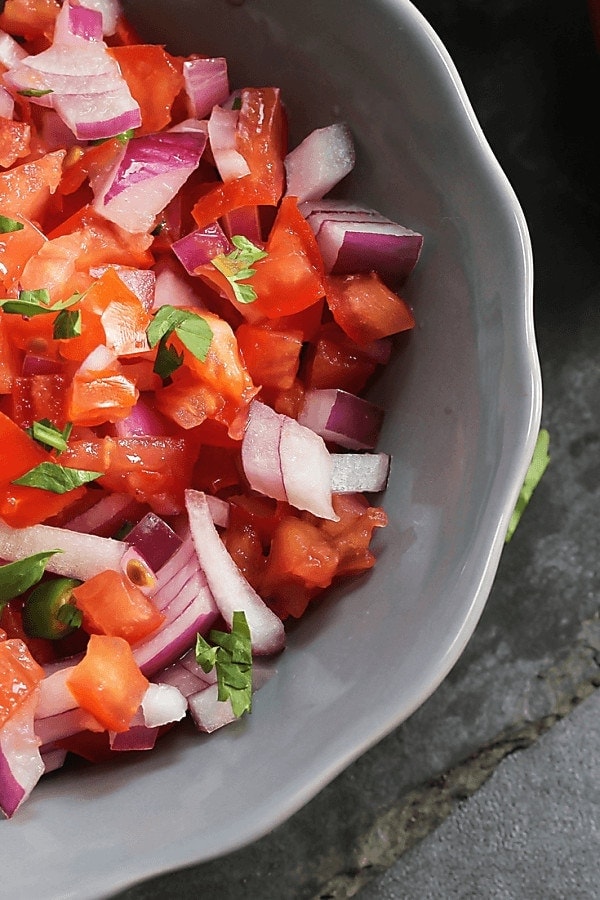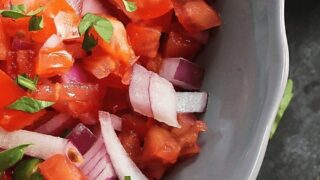 Yield:

8 servings
Simple Chunky Salsa Recipe
A Simple Chunky Salsa or also known as pico de gallo is a great way to enjoy fresh simple salsa. This basic salsa recipe is very easy to make.
Ingredients
4 medium very ripe tomatoes (peeled, seeded and diced)
1 fresh jalapeno pepper (seeded and minced)
2 tablespoon chopped fresh cilantro leaves
1 medium onion (diced)
1/2 teaspoon granulated sugar
1/2 teaspoon salt (or to taste)
1/2 teaspoon freshly ground black pepper (or to taste)
Juice of 2 Key limes or 1 small lime
Instructions
In a bowl mix together the tomatoes, jalapeno pepper, cilantro, onion, sugar and salt and pepper. Combine well.
Add the juice; cover and refrigerate for 4-5 hours before serving.
Serve with tortilla chips and ENJOY.
This post was most recently updated
I want to hear what you have to say about this recipe that is on
SEDUCTION IN THE KITCHEN!
Let's get this conversation started! What do you think of this recipe?