I am a participant in the Amazon Services LLC Associate Program, an affiliate advertising program designed to provide a means for me to earn fees to Amazon.com and affiliate sites.
[intro]
Chicken Wonton Soup
is an Asian soup recipe. This wonton soup recipe is made with chicken filled dumplings. Have you ever wondered how to make chicken wonton soup? This wonton soup recipe will show you how!

Serves 6
[/intro]
What Is Wonton Soup?
What is wonton soup? I thought everyone knew what chicken wonton soup was. Chicken wonton soup is on every Chinese food menu as the soup of choice. Surprisingly, there actually is quite a few people that do not know what wonton soup is.
The wonton soup recipe has these dumplings, called wontons in a broth that is usually chicken based. Wonton soup recipe is actually quite simple.
Broth For Wonton Soup
The wonton dumplings need a broth. What broth for wonton soup is needed. Mostly the broth is chicken, though I have been to a few Chinese food places that had beef broth. Chicken broth is always the best choice for the broth for wonton soup.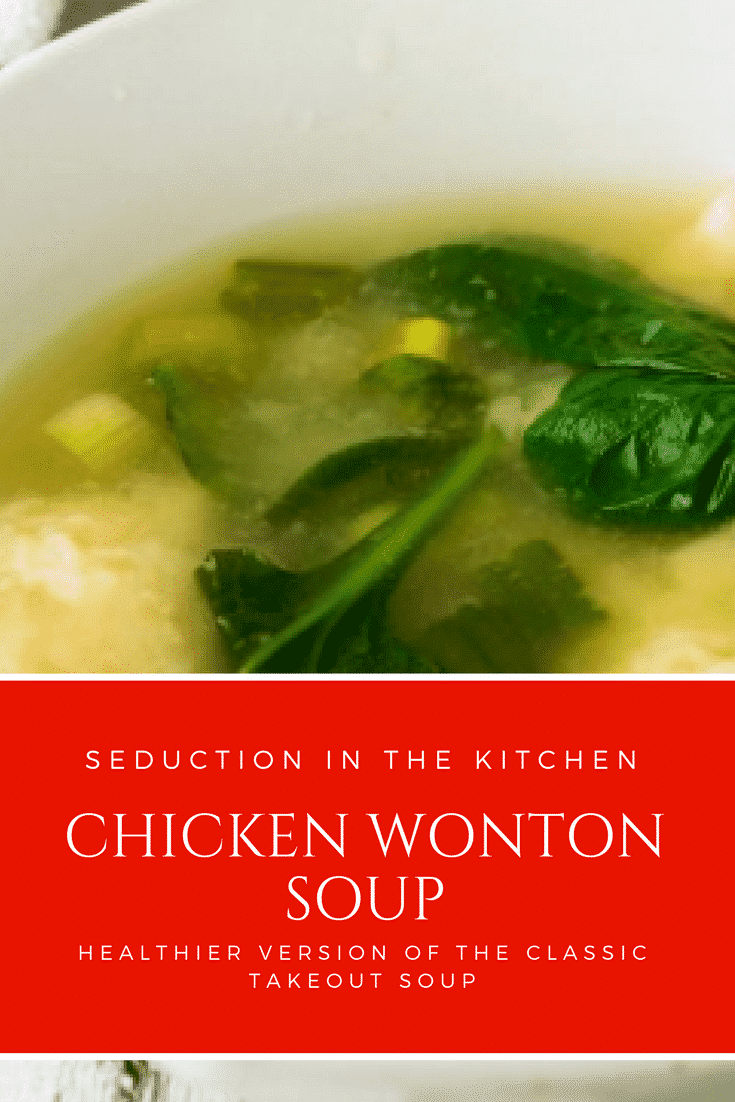 Asian Soup Recipes
I have been hitting the gym with my friend. I am happy to report I lost an inch off my hips, thighs, and butt! Part of me losing weight is eating healthier.
One of the places I will stop for dinner after the gym is Panera. Panera introduced Asian soup recipes. One of these Asian soup recipes they have is this Thai Chicken Wonton Broth Bowl, that is delish! Plus it is also healthy.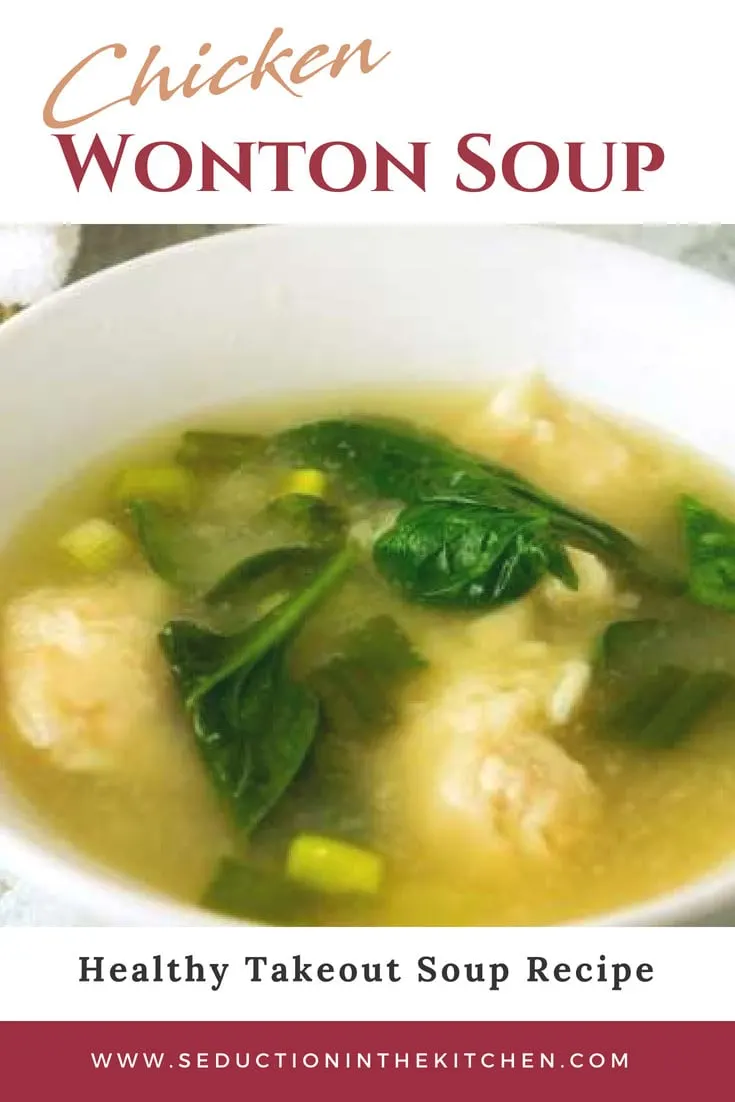 Chicken Filled Dumplings
What makes that broth bowl at Panera so good? The answer is the wonton filling recipe! Panera Bread uses ground chicken to make chicken filled dumplings. That wonton filling recipe would make a great chicken wonton soup recipe.
Chicken Wonton Soup Recipe
So I had to do a little research for Chicken Wonton Soup and how to make wonton. Asian soup recipes are not my specialty. I found out making wontons is actually easy.
How To Make Wonton
I used ground chicken to make the recipe for chicken wontons. I wanted the wonton filling recipe to be similar to Panera's Chicken Wonton Broth Bowl. To make the wonton:
Place a scoop the filling in the center the wonton wrapper
Moisten the edges of the wonton wrapper.
Fold the wonton over into a triangle
Moisten the edges of the triangle again and fold and seal it again
Viola! You have a wonton!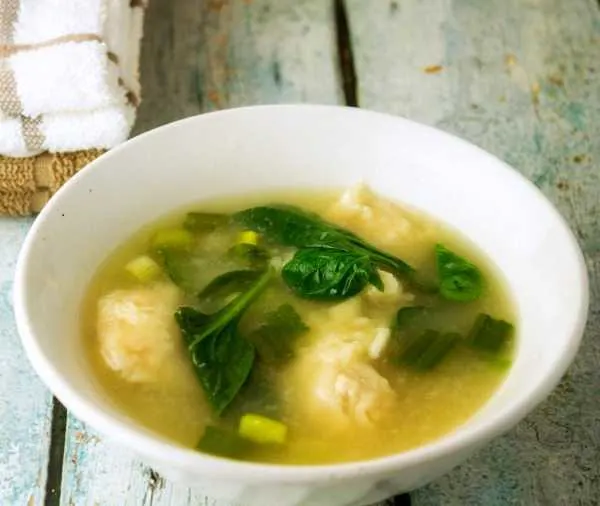 Yield: 6 Servings
Chicken Won Ton Soup Recipe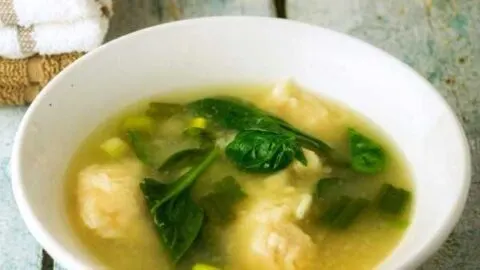 Chicken Won Ton soup is an Asian soup made with chicken filled dumplings. A recipe from Seduction in the Kitchen
Ingredients
8 cups chicken stock
3 scallions (sliced)
2 inches fresh ginger (peeled and sliced into thin coins)
1 cup fresh baby spinach leaves
2 tablespoons chicken stock
2 1/4 teaspoons cornstarch
1 tablespoon minced scallion
1 inch fresh ginger (peeled and minced)
1 lb ⁄4 ground chicken
6 cooked shrimp (minced)
1 tablespoon soy sauce
1 tablespoon dry sherry
1 teaspoon sesame oil
1/4 teaspoon sugar
20 wonton wrappers
Instructions
In a large soup pot, add the broth, ginger, and scallions. Bring it to a boil.
Once boiling, reduce heat to low, cover and simmer for 10 minutes to combine flavors. take off the heat and set aside.
In a mixing bowl, place 2 tbsp chicken stock and cornstarch into a large mixing bowl and stir to combine.
Add minced scallions, minced ginger, ground chicken, minced shrimp, soy sauce, dry sherry, sesame oil, and sugar, and stir well.
Place a wonton wrapper in front of you so that it looks like a diamond.
Dip your finger in the water and moisten all 4 edges of the wrapper.
Place about 1 tsp of the meat mixture in the center of the wrapper and fold in half over the filling to make a triangle.
Press firmly along the sides to seal it and remove any excess trapped air.
Moisten the left and right corners of the triangle and pinch them together.
Repeat until all wontons are made.
Bring reserved broth to a boil, cover and reduce heat to medium low.
Add wontons to simmering broth.
Stir occasionally until wonton filling is firm and cooked through, about 5 minutes or so.
Stir in spinach leaves and cook for 30 seconds until they wilt.
Ladle in a bowl and ENJOY!
Recommended Products
As an Amazon Associate and member of other affiliate programs, I earn from qualifying purchases.
Nutrition Information:
Yield:
6
Serving Size:
1
Amount Per Serving:
Calories:

356
Total Fat:

9g
Saturated Fat:

2g
Trans Fat:

0g
Unsaturated Fat:

6g
Cholesterol:

212mg
Sodium:

1620mg
Carbohydrates:

32g
Fiber:

1g
Sugar:

6g
Protein:

36g
Check out my the latest on my other blog: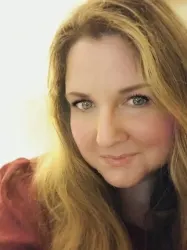 Latest posts by Deanna Samaan
(see all)