Cheesy Pepperoni Bratwurst Sliders is a fun game day recipe. This easy slider recipe you can whip up in no time. This bratwurst sausage recipe yummy, messy and perfect football food. Serves 12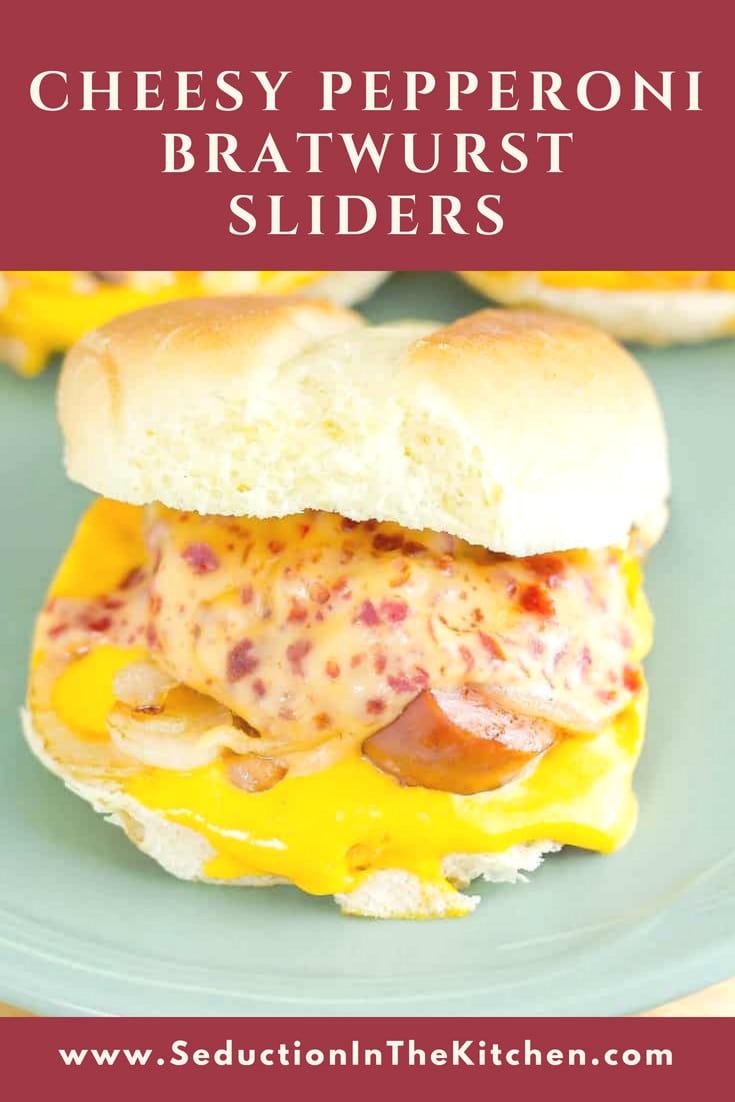 Game Day Recipe
As I am going through recipes and updating the posts, I realized I only have one game day recipe, Tailgate Crock Pot Pierogies with Kielbasa, Bacon, and Onions. I felt is time for more game day recipes.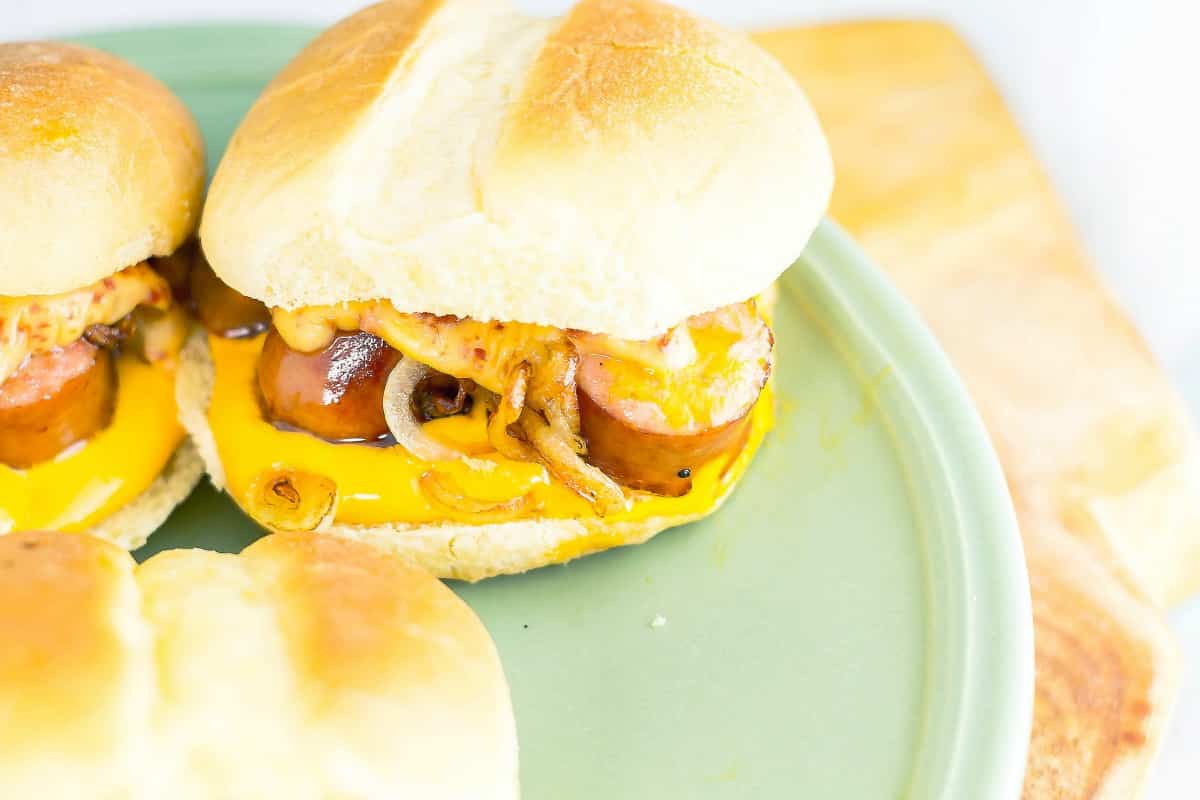 Bratwurst Sausage Recipe
When comes to football food, I know bratwurst sausage recipes are perfect to make for tailgates. With that in mind, I decided to make a bratwurst sausage recipe. It is perfect for when I am cheering on the hometown team, The Pittsburgh Steelers.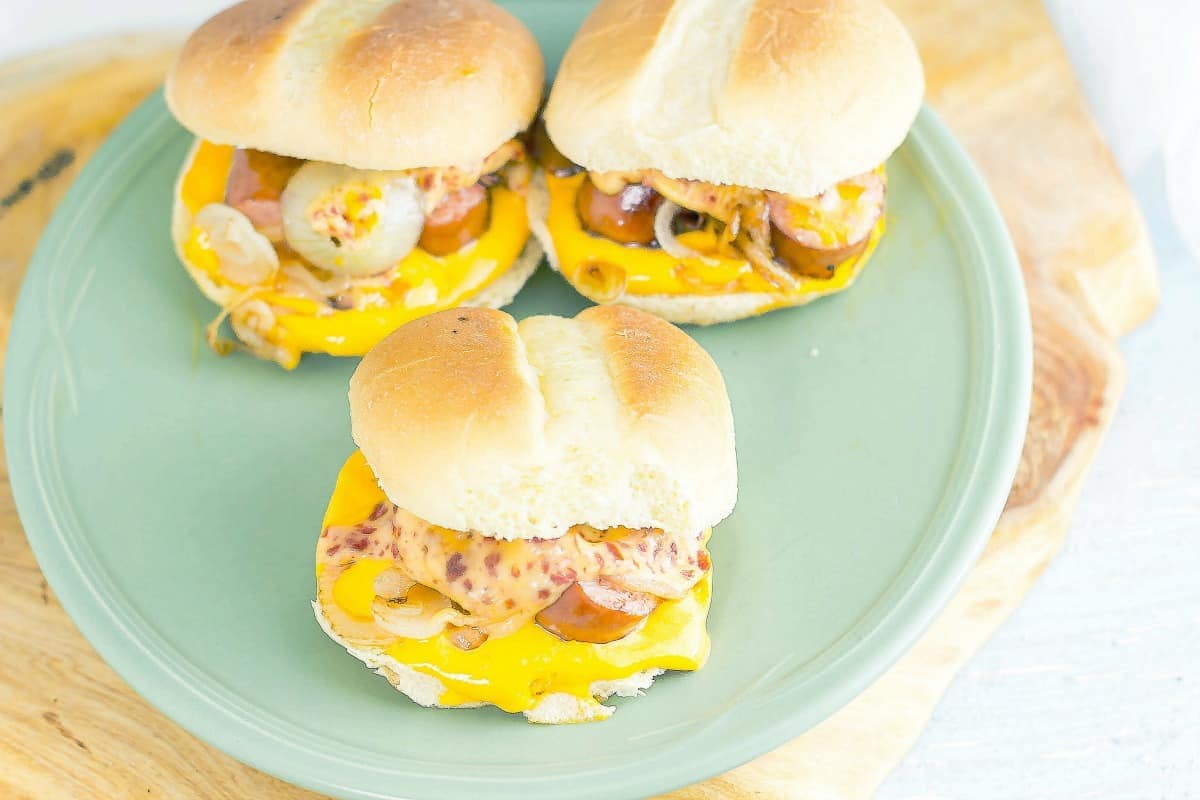 Slider Ideas
I really wanted to create slider recipes for a game day recipe. So I tossed around slider ideas that I could do as a bratwurst sausage recipe. I knew I wanted cheesy slider ideas.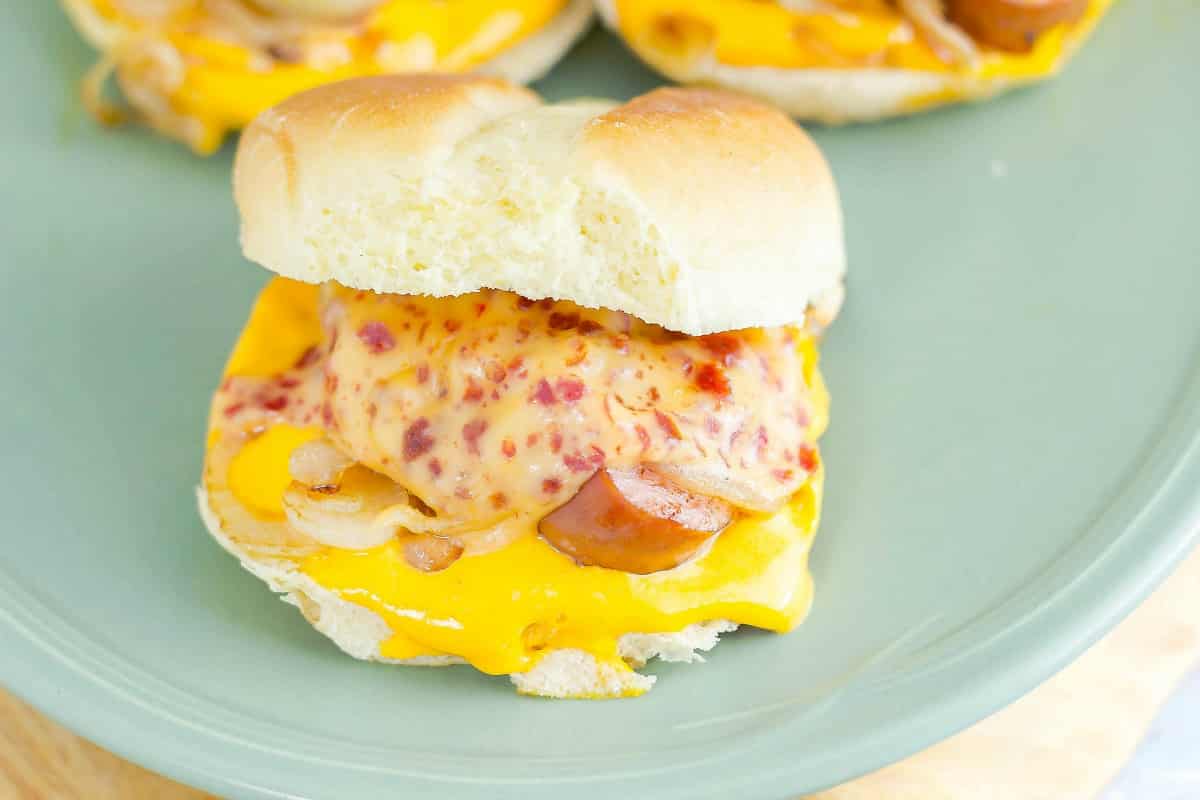 Easy Slider Recipe
What else can I do differently to a bratwurst slider? I knew I wanted it to be an easy slider recipe. My sister love pepperoni cheese. Truth be told I do too.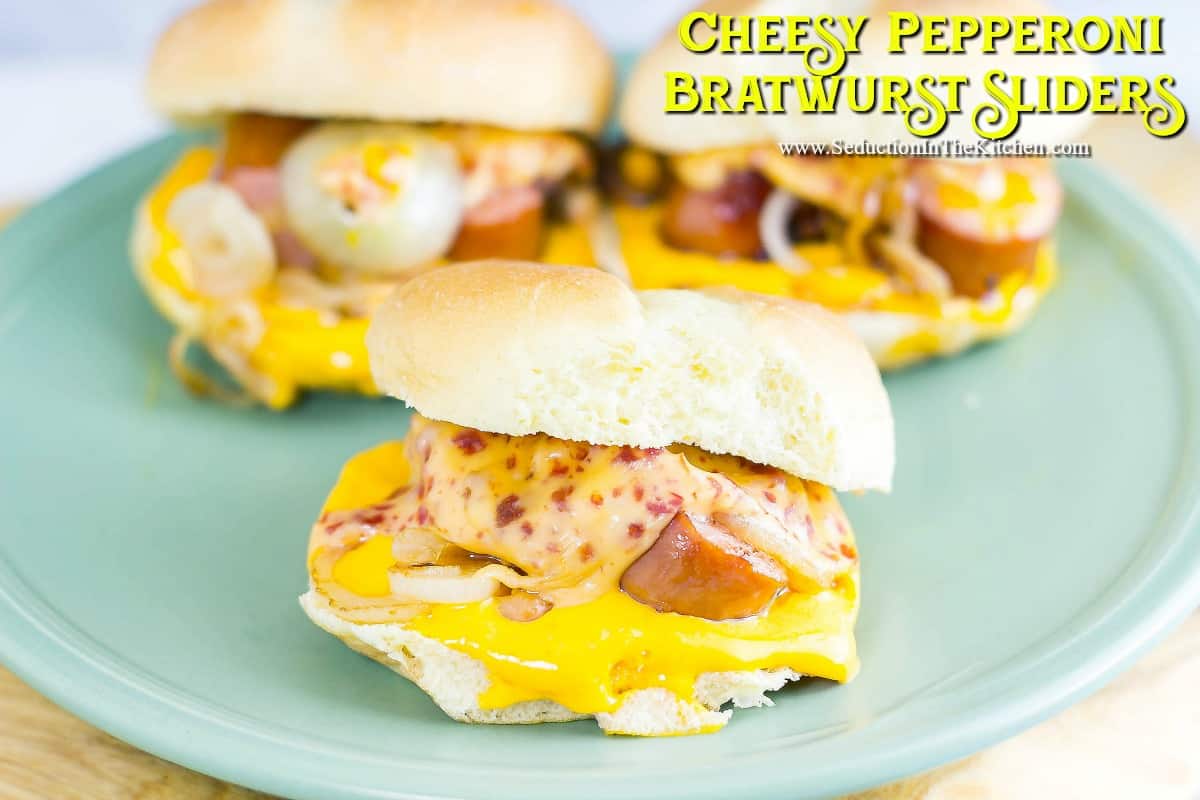 Pepperoni Cheese
pepperoni cheese was on sale at the store. So asked on Facebook, like I normally do when I want feedback, do you think pepperoni and bratwurst would go well together? I got an overwhelming yes!
One thing I come to find is many do not know what pepperoni cheese is. Well, have to get pepperoni cheese at the deli at the grocery store. Ask your deli if they have pepperoni cheese you can sample it. Trust me it is good!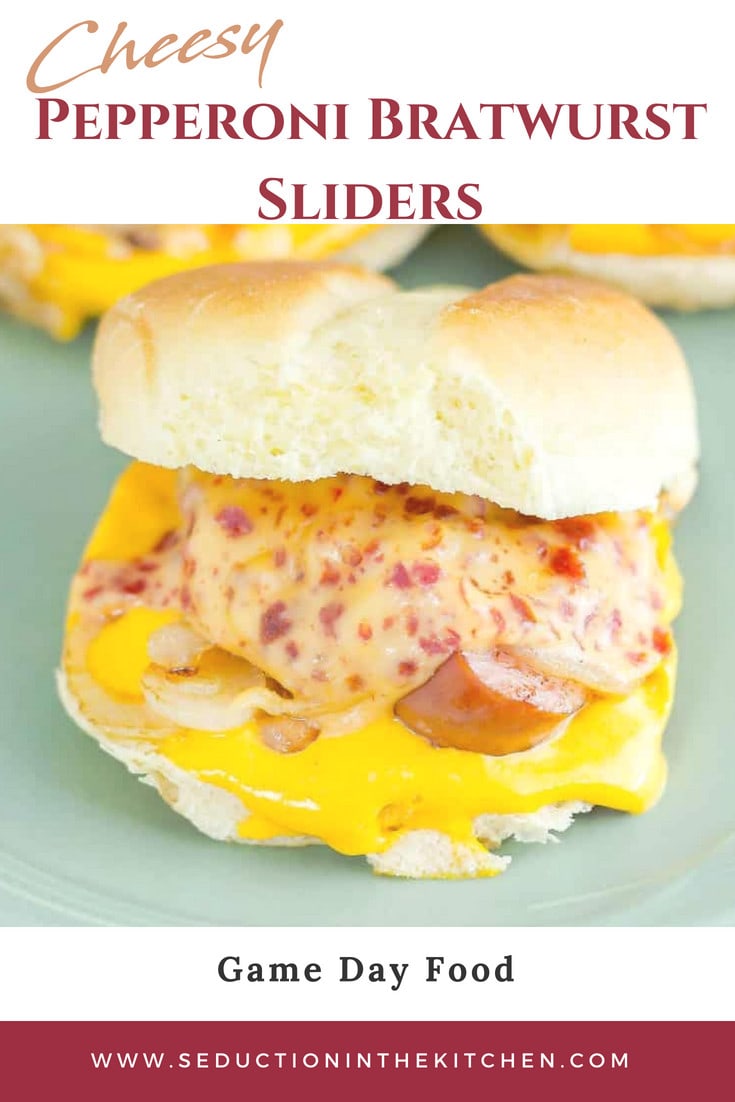 For This Recipe You Will Need
Cheesy Pepperoni Bratwurst Sliders
I did a little playing with this pepperoni bratwurst slider. The bratwurst and pepperoni cheese was good together, however, this slider recipe needed something.  I decided this bratwurst slider needed to be even cheesier. Then the rest was history as this easy slider recipe was born and made into the perfect tailgate recipe.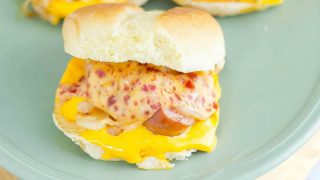 Yield:

12 servings
Cheesy Pepperoni Bratwurst Sliders Recipe
Cheesy Pepperoni Bratwurst Sliders is a fun tailgate sandwich you can whip up in no time. It is yummy, messy and perfect football food.
Ingredients
6 slices pepperoni cheese
1 package Hillshire Farms smoked ready cooked bratwurst
1 small onion, sliced
2 tablespoons of butter
1 tablespoon sugar
1/4 cup smokey BBQ sauce
1/4 cup cheese sauce
12 slider buns
2 tablespoons water
Instructions
 In a saute pan, melt the butter and add the onions.
Cook the onions till they start to turn transparent.
Then add the sugar and caramelize the onions.
Remove from the pan, and set aside.
Next cut up the bratwurst into pieces that will fit onto the slider buns.
Add the water to the saute pan and then add the bratwurst.
Cook the bratwurst for about 2 minutes, stirring constantly.
Add the BBQ sauce and let them simmer for about a minute more. The take off the heat.
Heat up the cheese sauce according to the directions on the jar.
Spread the cheese sauce on the bottom part the slider bun.
Next, add the onions on top the cheese sauce.
Then add the bratwurst,
Taking the pepperoni cheese, break the slices in half, so that they can fit the sliders. Place one the halves of the pepperoni cheese on top the bratwurst. Heat the bratwurst sliders up in a broiler for a minute just to melt the pepperoni cheese.
Then top it off with the top portion of the slider buns.
Serve them up and ENJOY!
Nutrition Information:
Amount Per Serving:
Calories:

230
Total Fat:

11g
Saturated Fat:

5g
Trans Fat:

0g
Cholesterol:

27mg
Sodium:

376mg
Carbohydrates:

23g
Fiber:

1g
Sugar:

4g
Protein:

9g
I want to hear what you have to say about this recipe that is on
SEDUCTION IN THE KITCHEN!
Let's get this conversation started! What do you think of this recipe?