This post was most recently updated
Peach Margarita Salsa is a sweet but very hot peach salsa. The salsa recipe that can become very addicting! With the addition of margarita mix in this peach salsa recipe, it cools this spicy salsa down with wonderful flavor.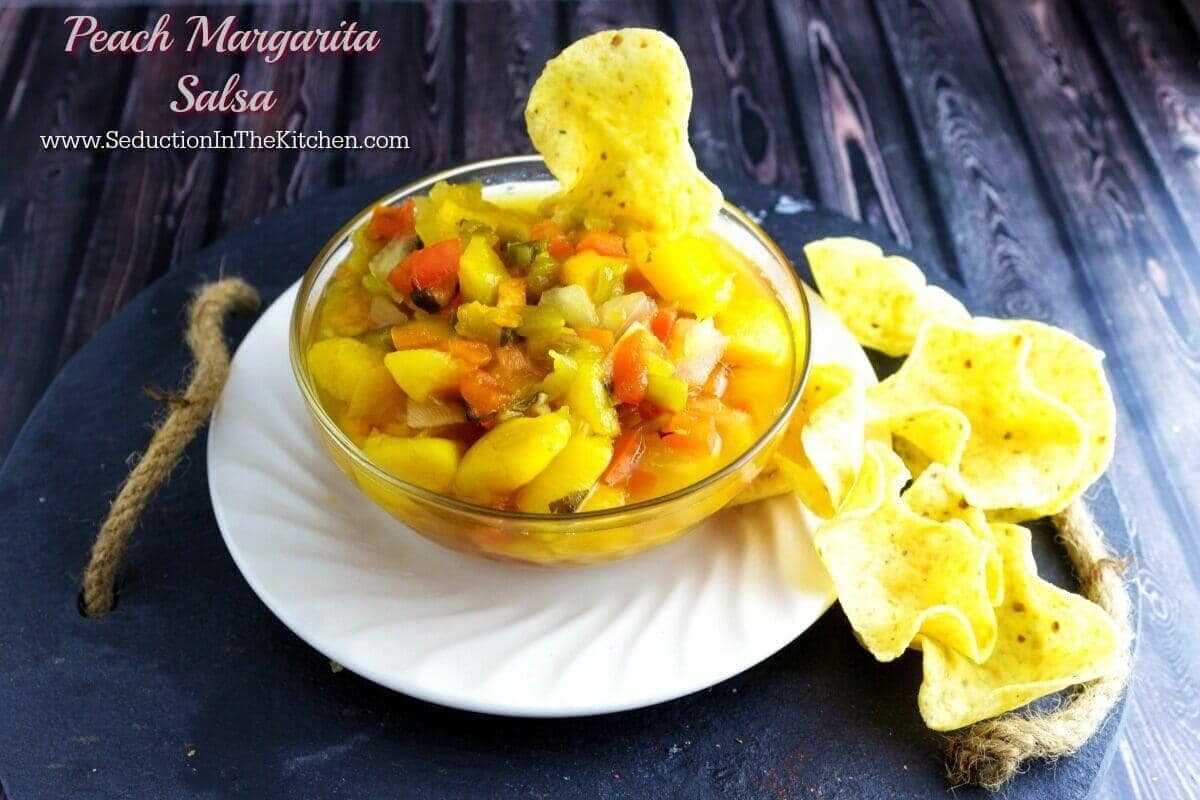 Battle of the Salsas Recipes!
I admit this idea of a battle of salsa recipes came to me very last minute. What fun thing can I do that will have peaked the reader's interest? I wanted to make this peach salsa fun, but how? Well let's create a salsa throwdown!
Yes, It is the BATTLE OF THE SALSAS! So today I am posting 2 recipes. I want you to look at each salsa recipe, see the videos I created for the salsas. Then vote on which salsa recipe you think will reign supreme!

Peach Margarita Salsa
This Peach Margarita Salsa recipe what I call a slow burner salsa. The peach margarita starts off sweet then it becomes hot. The heat for this peach salsa recipe comes from the 4 types of peppers used in this salsa.
Hot Salsa Recipe
You can scale it down the heat in this margarita salsa. I didn't, I figures let's just go for a hot salsa recipe. So the four peppers really go for that heat index if you love hot salsa.
Margarita Salsa
I know heat can get to be too much in a salsa recipe, so I cooled this peach salsa down with some margarita mix. The margarita and tequila really bring out the peaches in this margarita salsa. So you see why this salsa is a slow-burning salsa recipe.
Fruit Salsas
Anyway, this sweet-hot peach margarita salsa is up against the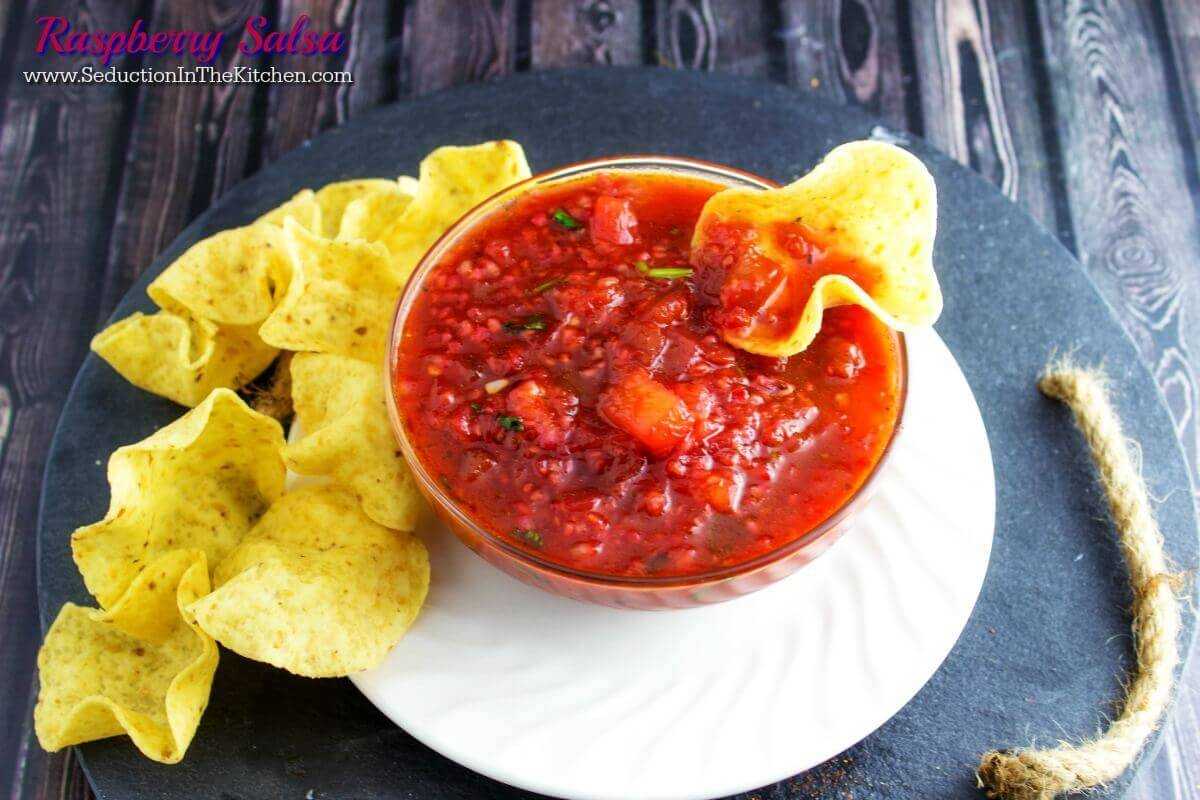 Both are fruit salsas but which fruit salsa recipe do you think will reign supreme?  Vote and let me know! Let's have a fiesta!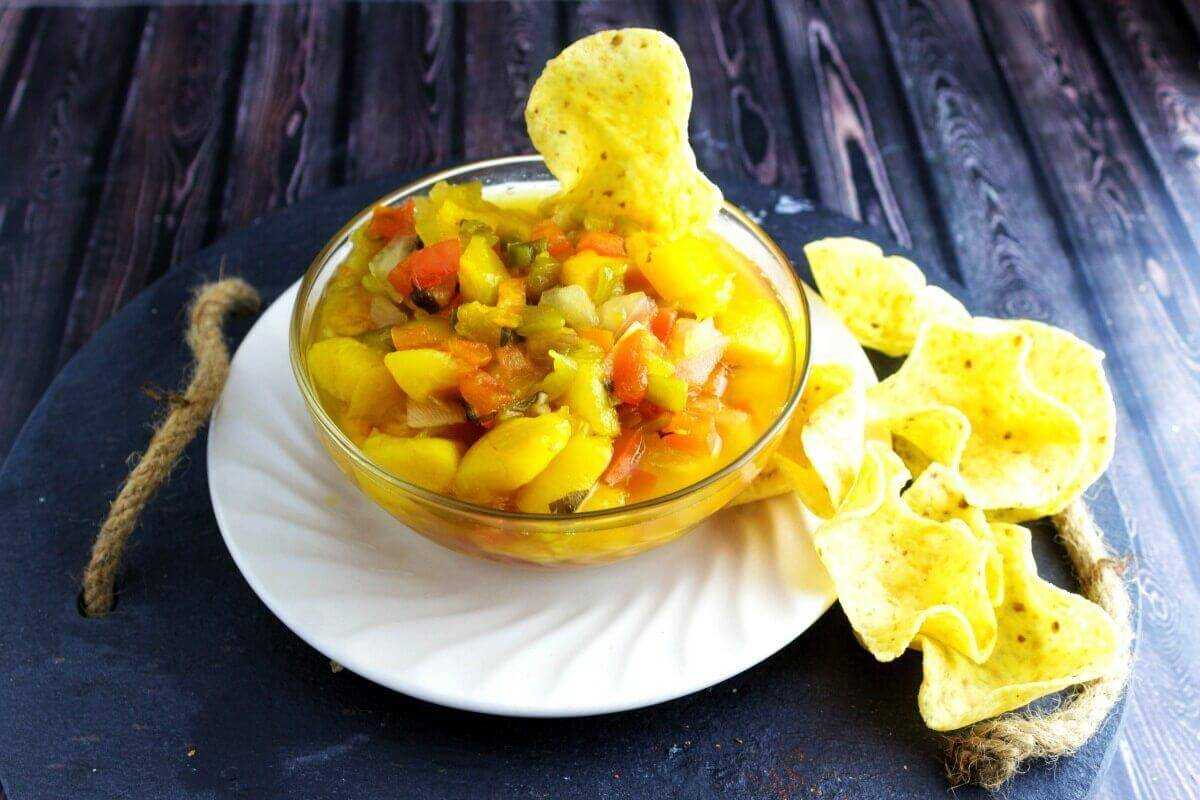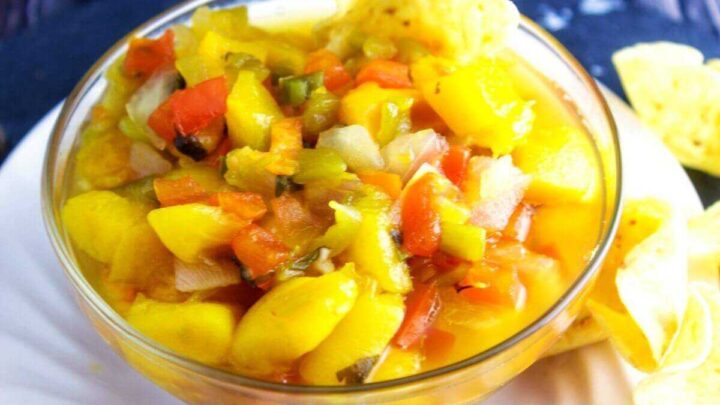 Yield:

8 servings
Peach Margarita Salsa Recipe
Peach Margarita Salsa is a sweet but very hot salsa that can become very addicting!
Ingredients
2 cups chopped peaches
1 cup tomatoes (chopped)
1/2 cup chopped onions
1 small jalepeno pepper (chopped)
1 small habenero pepper (chopped)
1 small serrano pepper (chopped)
1/4 cup sugar
4 oz chopped green chilies (drained)
5 sprigs cilantro (chopped)
2 oz margarita mix
1/2 teaspoon Smoked Orange Garlic and Chilli salt
Instructions
Add the peaches to a bowl.
Next, add the onions, tomatoes, the chilies, and chopped peppers.
Give everything a good stir
Add in the sugar, cilantro, orange salt, and finally the margarita mix
Give everything another stir so all well mixed.
You can serve it this way as a pico de gallo. Or transfer the salsa to a sauce pot and let it cook till everything becomes mushy.
Take it off the heat, let it cool and then serve it up and ENJOY!
Store in the fridge.
Notes
I use margarita mix with alcohol in it. You can use a virgin mix if you prefer.
Also, I found using from Delmonte the little fruit cups work well, I used about 4 of them, they are already chopped up and is perfect.
Nutrition Information:
Amount Per Serving:
Calories:

200

I am Deanna Samaan, a phlebotomist by day and a blogger at night! Born in Pittsburgh, rebuilt my life in Cleveland, found my true self in Orlando. No matter where I am at, food always seduces me! Let your taste buds be seduced too!