I am a participant in the Amazon Services LLC Associate Program, an affiliate advertising program designed to provide a means for me to earn fees to Amazon.com and affiliate sites.
Caprese Garlic Alfredo FlatBread is Caprese meets Alfredo in this flatbread that is simply delish!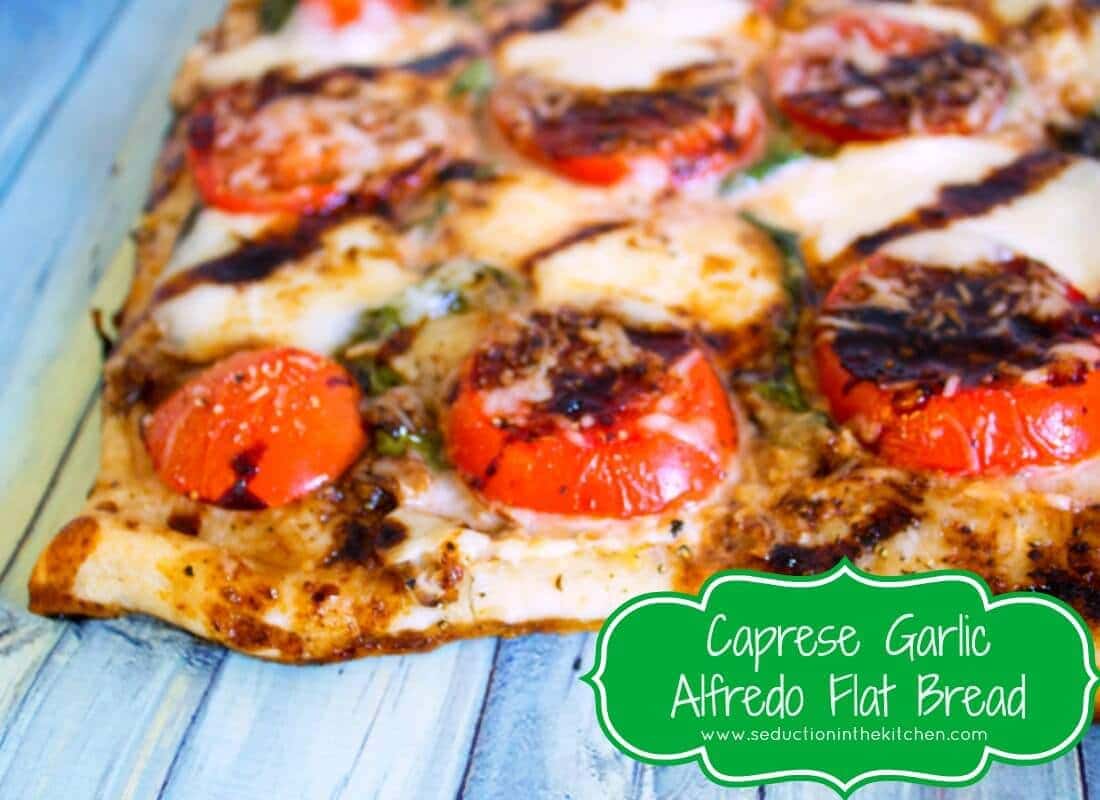 People
I was online, well ok, it was Facebook. Anyway, under trending, was about a YouTube channel for some woman who was shut down because of her video "Dear Fat People." The headline was confusing because she said she was doing comedy in fat shaming.
Some headlines said she was just being brutally honest. I don't care what the reason she had or that it may have been brutally honest, no one should be fat shaming period. You do not know a person's story on why they may not have a body you deem to be perfect.
I said it many times on here, yes I am fat, my weight goes up and down worse than a stripper on a pole. I have starved myself to lose weight. Yes, I literally would eat nothing for few days except a few crackers.
I have hit the gym hard. I have done everything from Atkins to Weight Watchers. My problem is I got a medical condition that makes it hard for a woman to lose weight, it called PCOS.
You can have 1-4 things with PCOS. It is not just irregular periods like most think. You can have also acne, weight gain, body hair. You can only have one thing like just acne. It is one of the reasons it is misdiagnosed in many.
You can only have one thing like just acne. It is one of the reasons it is misdiagnosed in many women because you can be regular and only have acne. The underlying cause of that acne, yep PCOS. Yes, most the time does involve your cycle. For me, it weight gain and my cycle.
I have had an hourglass figure my whole life, and right now this is the heaviest I ever been, partly it is because I am getting older. I am in shape, I am healthy. My blood sugars are normal.
I have a lipid panel levels many would kill to have, yeah they are really low. It goes to show you can not see the whole picture by what you see on the outside. A person who is fat is actually healthy, who would have thought?
I am sorry if this will offend some people but Nicole Arbour go screw yourself. How about I do a video that is called "Hey fake blond hair woman, who are you kidding? We see your dark roots, you're a brunette.Why are you faking being a blond?" Hey, I am being brutally honest too, Nicole Arbour is not a real blond, dark roots and fake blond hair don't look appealing to many people.
Sounds silly of me to do such a video about dyed hair colors, doesn't it? I am sure many of you would not find it funny. So why do you feel a video about fat shaming would be funny?
All I can say is that this woman must feel insecure about herself to poke fun of others like this. I mean, her humor is to make herself feel better. Plus she wants her moment in the sun.
Caprese Garlic Alfredo FlatBread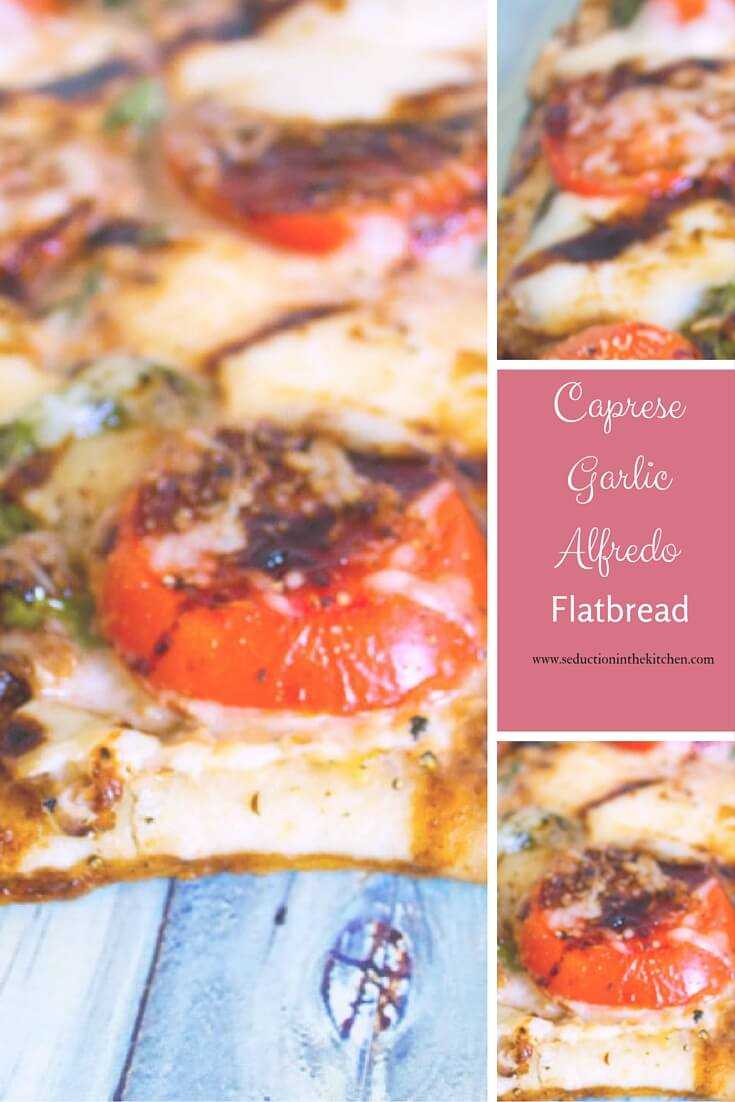 Anyway, let's give some attention to something else, like this Caprese Garlic Alfredo FlatBread. I love caprese. That combination of tomato, fresh basil, and fresh mozzarella, I love it.
It is simple and so easy to make, plus it is so refreshing to eat too. You can tell I love Caprese by the recipes I have on here on Seduction in the Kitchen, like Caprese Stuffed Zucchini Boats, Caprese Salmon, and Bacon Caprese Salad.
I have been busy, and I been wanting to make a flatbread for awhile now. With my busy schedule, I wanted something that would be very easy, quick, but also filling. So decided let's play with caprese.
That is how this Caprese Garlic Alfredo FlatBread came to be. It is the marriage between the Caprese and Alfredo. It is simply amazing.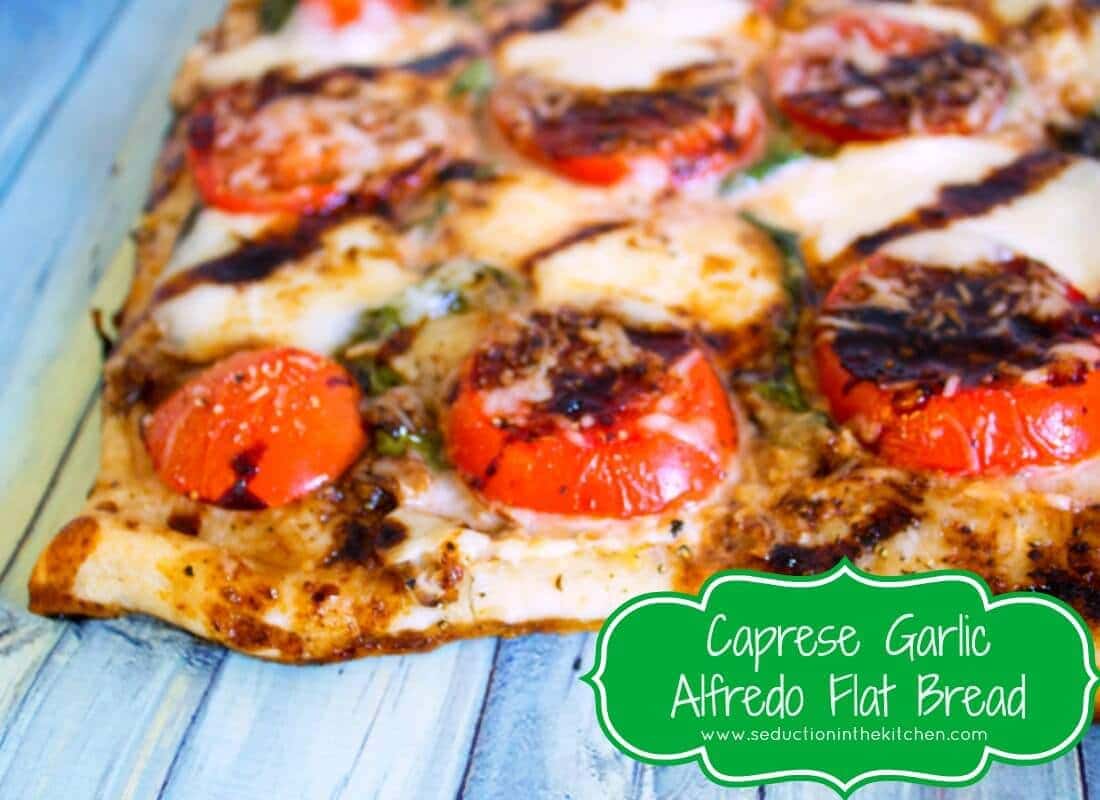 Check out these recipes:
Citrus Ahi Tuna with Pineapple Kiwi Salsa
Yield: 4
Caprese Garlic Alfredo Flat Bread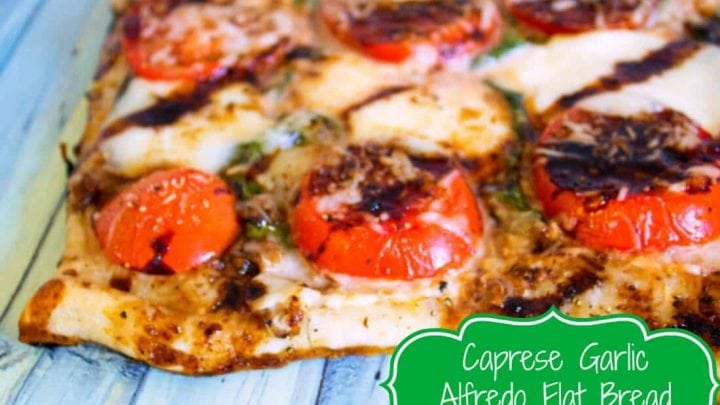 Caprese meets alfredo in this flat bread that is simply delish! A recipe from Seduction in the Kitchen.
Ingredients
1 tube of refrigerated pizza dough
2 cloves of peeled garlic
1/4 cup of jar alfredo sauce
2 tomatoes sliced
1/4 cup fresh basil leaves
1 large fresh mozzarella ball sliced
Fresh ground pepper
2 tablespoons of prepared balsamic glaze
Instructions
Heat the oven to the temperature on the back of the pizza dough package says.
Unroll the dough onto a cookie sheet or pizza pan.
Cut the tops off the garlic cloves and then rub the cut garlic all over the pizza dough. You could rub more cloves onto it if you like a strong garlic flavoring.
Mince the cloves after you rubbed them over the dough and then sprinkle it around the edges of the dough.
Bake the dough to what the pizza package says.
Take the dough out the oven, then spread on the alfredo sauce.
Place the basil leaves on top the alfredo sauce.
Then place the cheese slices on top the basil leaves.
Top off with the sliced tomatoes.
Season with some fresh ground black pepper and bake the flat bread for 10-15 minutes.
Take out the oven and drizzle on the balsamic glaze.
Slice it up and Enjoy!
Place the basil leaves
Nutrition Information:
Amount Per Serving:
Calories:

553
Total Fat:

30g
Saturated Fat:

17g
Trans Fat:

0g
Cholesterol:

95mg
Sodium:

1257mg
Carbohydrates:

37g
Fiber:

3g
Sugar:

4g
Protein:

32g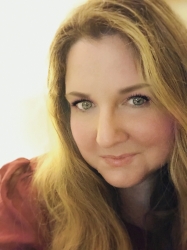 Latest posts by Deanna Samaan
(see all)