I am a participant in the Amazon Services LLC Associate Program, an affiliate advertising program designed to provide a means for me to earn fees to Amazon.com and affiliate sites.
[intro]Caprese Stuffed Zucchini Boats are a healthy zucchini recipe. These vegetarian stuffed zucchini are stuffed with a wonderful caprese recipe. You love this baked zucchini recipe to make with zucchini fresh from your garden! [/intro]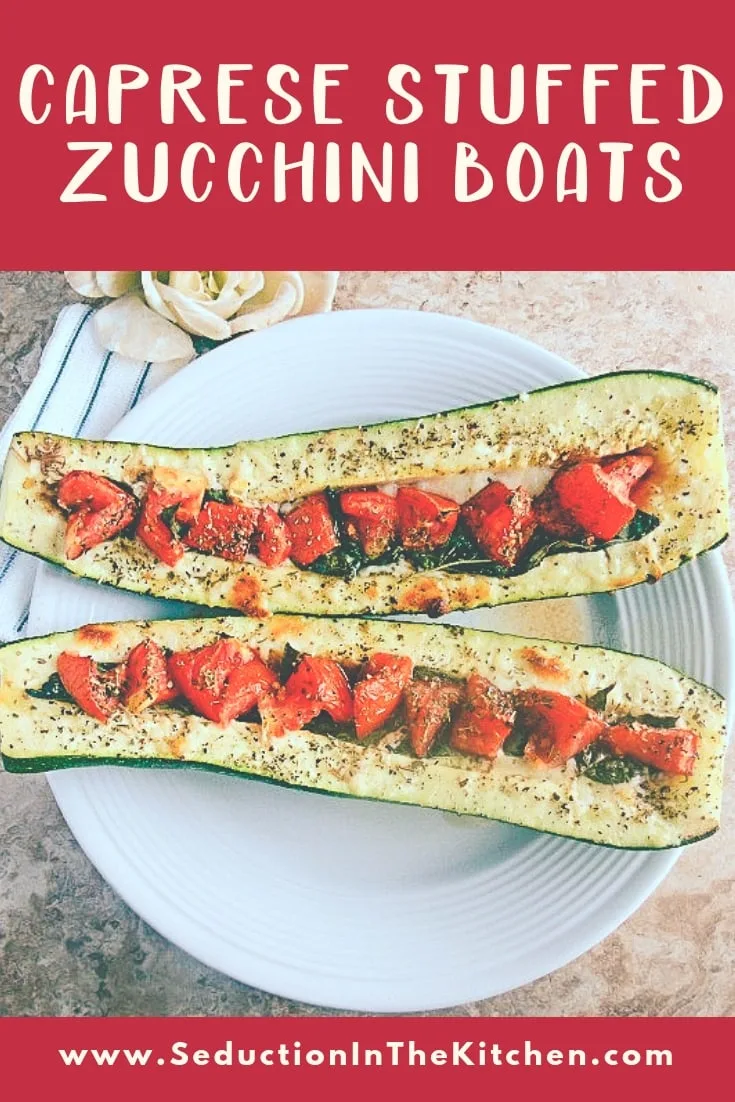 Zucchini Recipes
At work, I have patients bringing in vegetables from their gardens. One of the vegetables I am getting a lot of is zucchini. So I need zucchini recipes!
I know one of the things to do with zucchini is zucchini bread. I want other zucchini recipes more zucchini bread.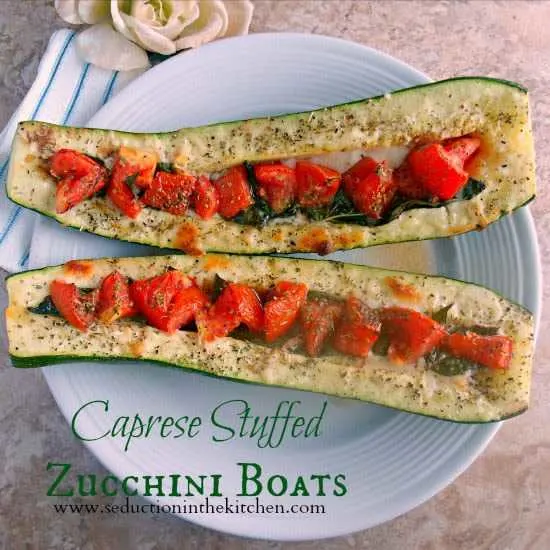 Healthy Zucchini Recipes
I am in a constant makeover of my body with DIETS! It a girl thing, we are never happy with our weight. So I want to make healthy zucchini recipes.
I decided let's make a healthy zucchini recipe that is a baked zucchini recipe. Vegetarian zucchini boats stuffed with caprese recipe!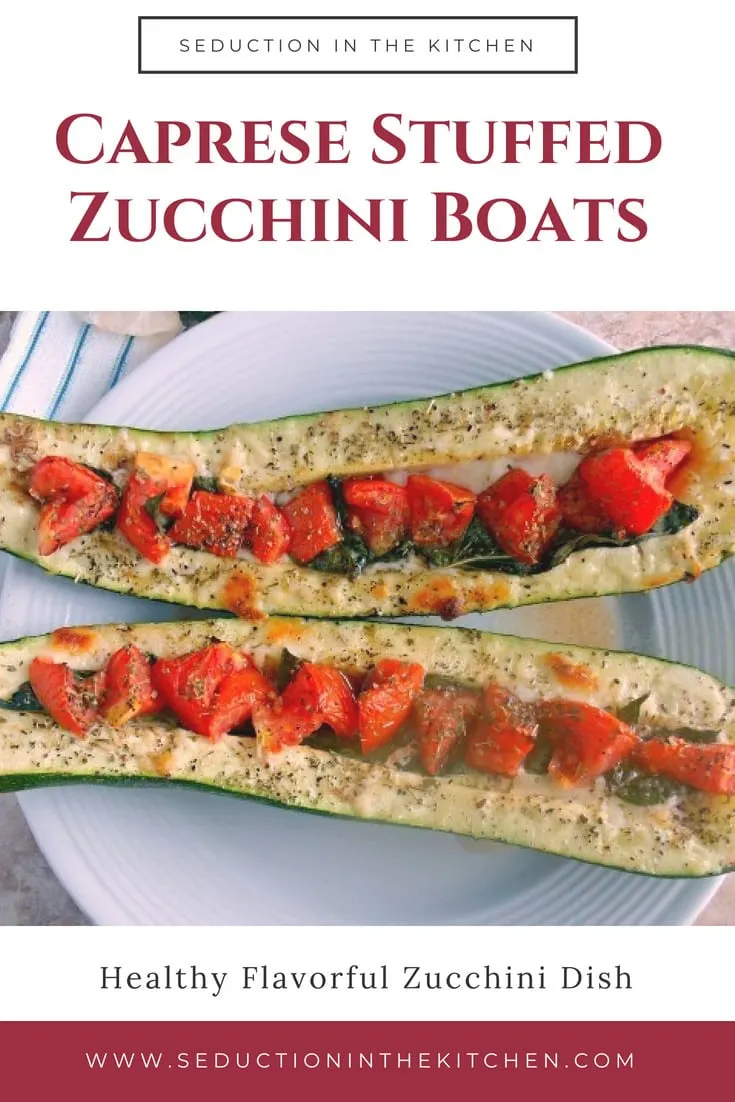 Stuffed Zucchini Recipe
Why do a stuffed zucchini recipe? I know most zucchini boat recipes call for meat but I wanted something different. A vegetarian stuffed zucchini just sounded yummy, especially since the stuffed zucchini recipe calls for caprese!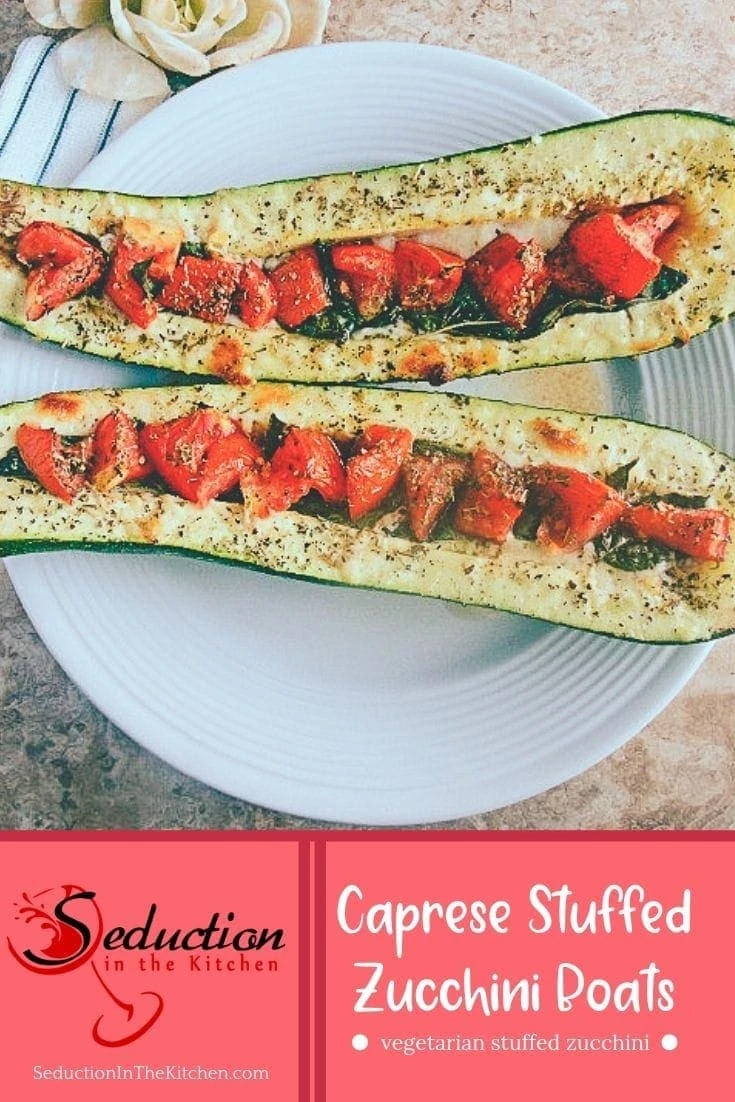 Baked Zucchini Recipe
The secret to this baked zucchini recipe is the seasoning the zucchini. The seasoning in this baked zucchini recipe just makes the stuffing of the caprese recipe just pop with flavor!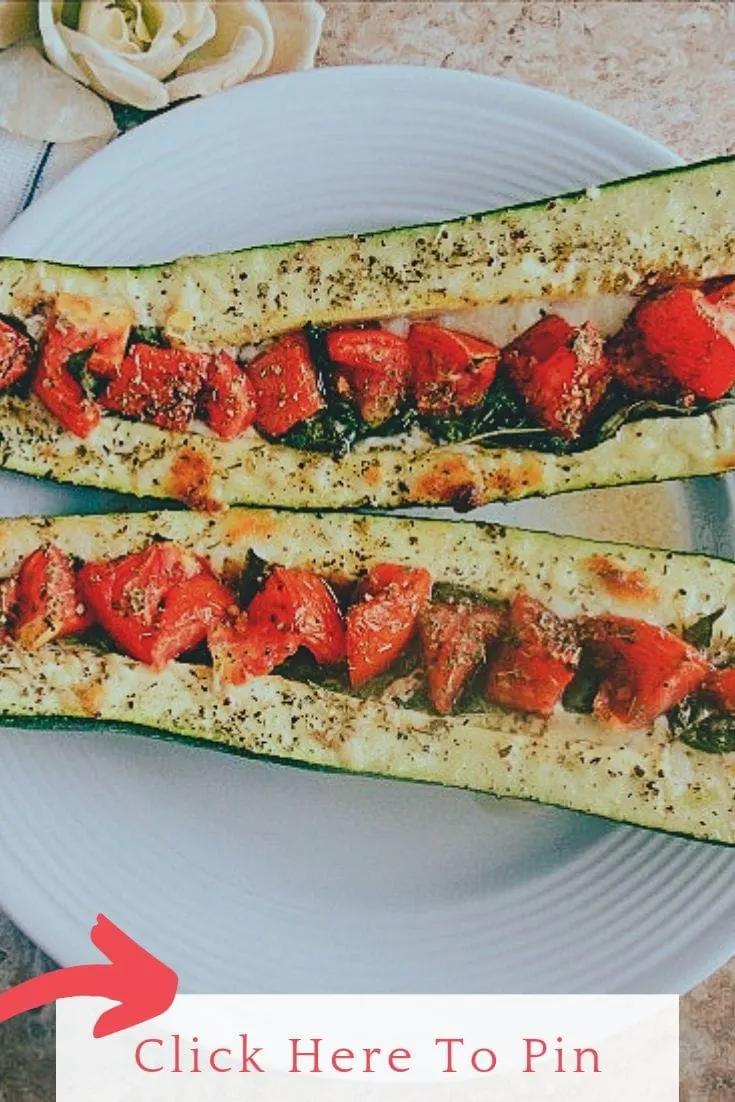 Caprese Recipe
With a caprese recipe you only need these ingredients:
Tomatoes
Mozzarella
Basil
Balsamic
When these ingredients make a great vegetarian stuffed zucchini! You will love this baked zucchini recipe!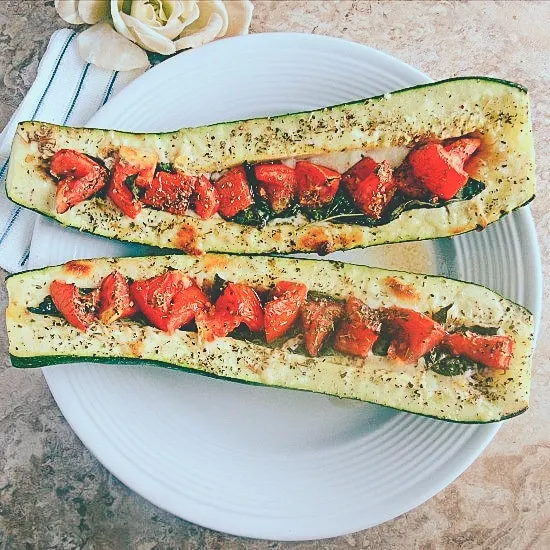 Yield: 2servings
Caprese Stuffed Zucchini Boats Recipe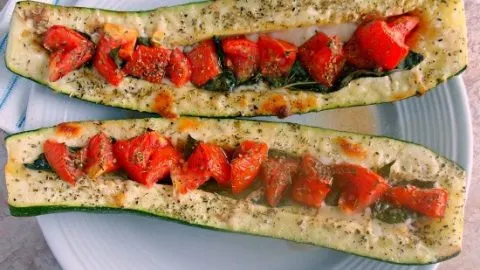 Caprese Stuffed Zucchini Boats are a healthy, flavorful dish that will not wreck a diet and is perfect for the hot summer months.
Ingredients
1 large zucchini
1 tablespoon olive oil
2 tablespoon balsamic vinegar
1 teaspoon honey
2 tablespoons shredded mozzarella cheese
10-15 leaves fresh basil
10 cherry tomatoes
Fresh cracked pepper
sea salt
Instructions
Cut the zucchini in half length wise. The cut a well out the center portion on the zucchini. Cut a 1/2 inch to inch down and scoop out the center. You can save what you cut out and use in a saute for a pasta dish if you like.
Next, mix the balsamic and honey together. Then drizzle it onto the well you made in the zucchinis.
Then stuff the well with the mozzarella, you may need more, just depends on how big the zucchini is.
Layer the basil leaves on top the cheese.
Slice the cherry tomatoes in half and lay them on the cheese.
Drizzle the olive oil over the zucchini. Season with the salt and pepper.
Bake on a cookie sheet in the oven at 350F for about 20 minutes.
Take it out, slice it up and ENJOY!
Notes
You can grill this zucchini recipe. Wrap it up in foil and throw on the grill for about 10-15 minutes. Remove from the foil and ENJOY!
Recommended Products
As an Amazon Associate and member of other affiliate programs, I earn from qualifying purchases.
Nutrition Information:
Yield:
2
Serving Size:
1
Amount Per Serving:
Calories:

130
Total Fat:

8g
Saturated Fat:

2g
Trans Fat:

0g
Unsaturated Fat:

6g
Cholesterol:

3mg
Sodium:

338mg
Carbohydrates:

12g
Fiber:

2g
Sugar:

9g
Protein:

3g
Vegetarian Recipes
Looking for Vegetarian Recipes you can make? Check out these recipes from Seduction In The Kitchen

A light and refreshing is what this Balsamic Couscous Salad is. Looking for a healthy option, look no further. A recipe from Sed

Slow Cooker Split Pea Soup is "almost famous". This recipe is based on Pea Soup Andersens famous endless bowl version in Buellton, California. Like the restaurant's this version is vegetarian, and dairy free. As a bonus, it is made in the slow cooker. A recipe from Seduction in the Kitchen.

Check out my the latest on my other blog:
[ss_social_follow]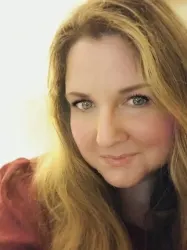 Latest posts by Deanna Samaan
(see all)