30 Minute Burrata Pizza is a Neapolitan style pizza that you can make in 30 minutes, including that sauce! The combo of creamy burrata with a basil pesto and balsamic spinach bursts with flavor.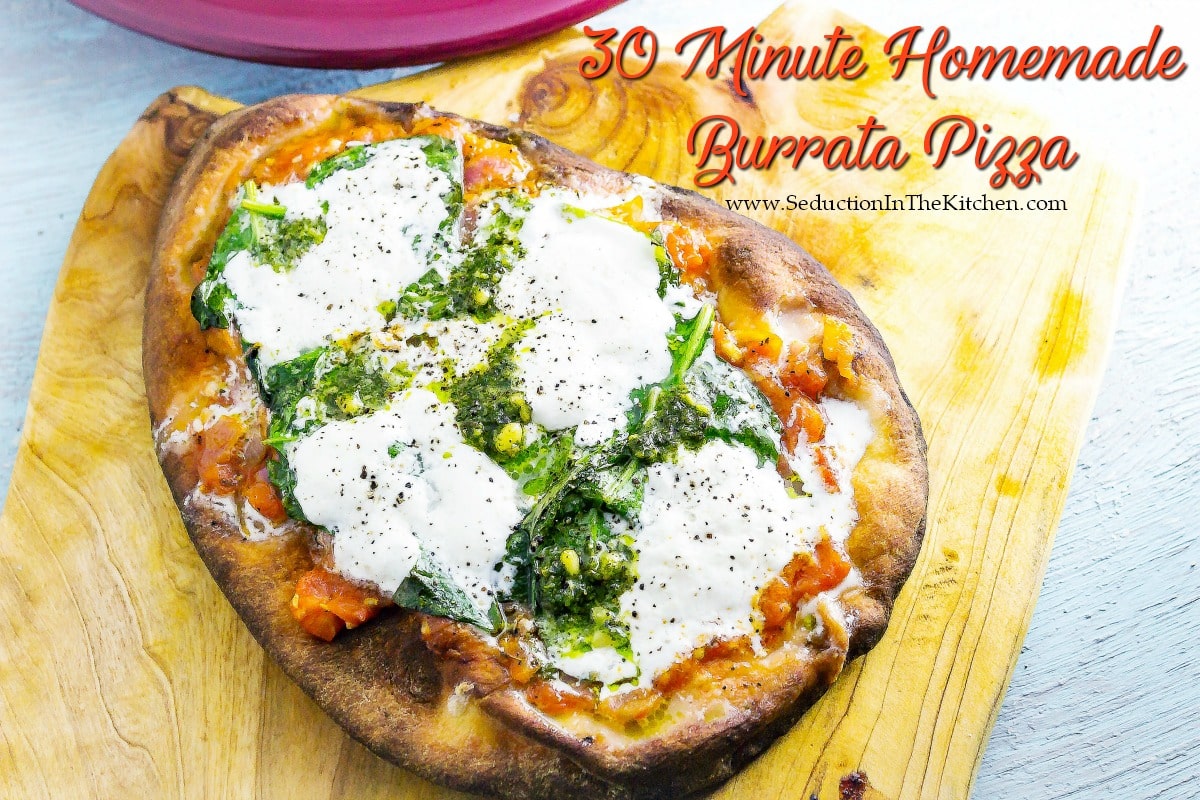 New Design
I did it! Yep, a new design is now launched on Seduction in the Kitchen. I just needed a change. I liked my old design but the more I looked at the front page of it, I realized I wanted to open that front page up.
I still have tweaking to do with this design, but overall, I do like it. It wasn't easy to install, but that is another story. Let's just say I was up to 1 am trying to figure out how to configure it. The directions to install was not very clear, but eventually, I figured it out, 6 hours later.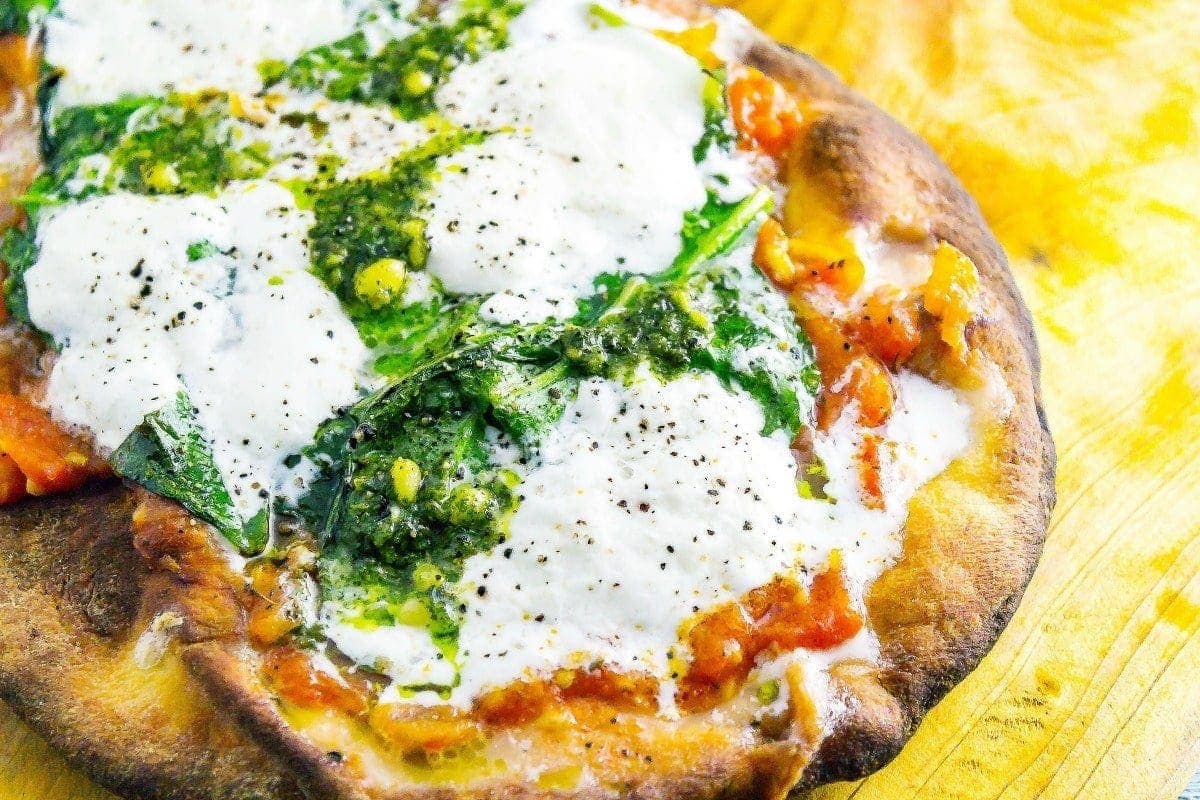 Why Change?
Why am I changing up so much on Seduction in the Kitchen? First was the new host. Next was the recipe card, then came the index. Now it is the over all design. Honestly, I am trying to make a new beginning for this food blog.
The outage I had back in June opened my eyes up. It was that outage that forced my hand with the switching of my hosting. After I did that, I realized the potential this blog had.
When I started Seduction 4 years ago, it was to impress a man. Plus I was in the cast on bed rest and I needed to keep busy. From that, I subconsciously used Seduction to help find myself. This food blog helped became my therapy to overcome the abuse my ex-husband put me through.
It made me realize I am a great woman. I do know how to cook. I can learn new things. It brought Dee back, she was a little lost for a time, but doing this blog found her again.
So, right now I feel this is the second phase of Seduction in the Kitchen. With new phases comes change. So that is why I decided on the new everything.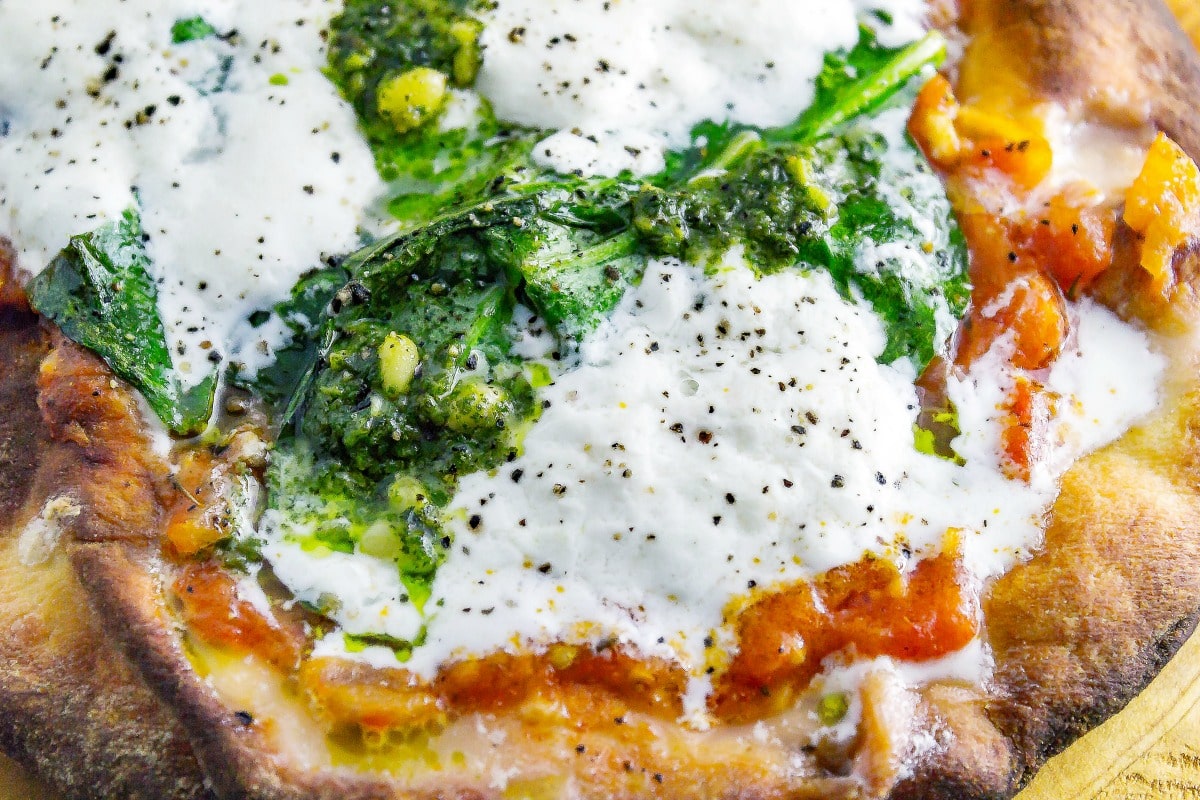 Burrata
Have you ever had Burrata? I honestly did not know about it until a few years ago. My GBF, Richard told me about it. He was practically salivating when he was describing this cheese to me.
After that, I started noticing a few food blogger had published recipes that had Burrata in it. Then I went to a small dinner party and the host served up Burrata. OMG, it was so yummy. Now I know why Richard was drooling as he talked about it.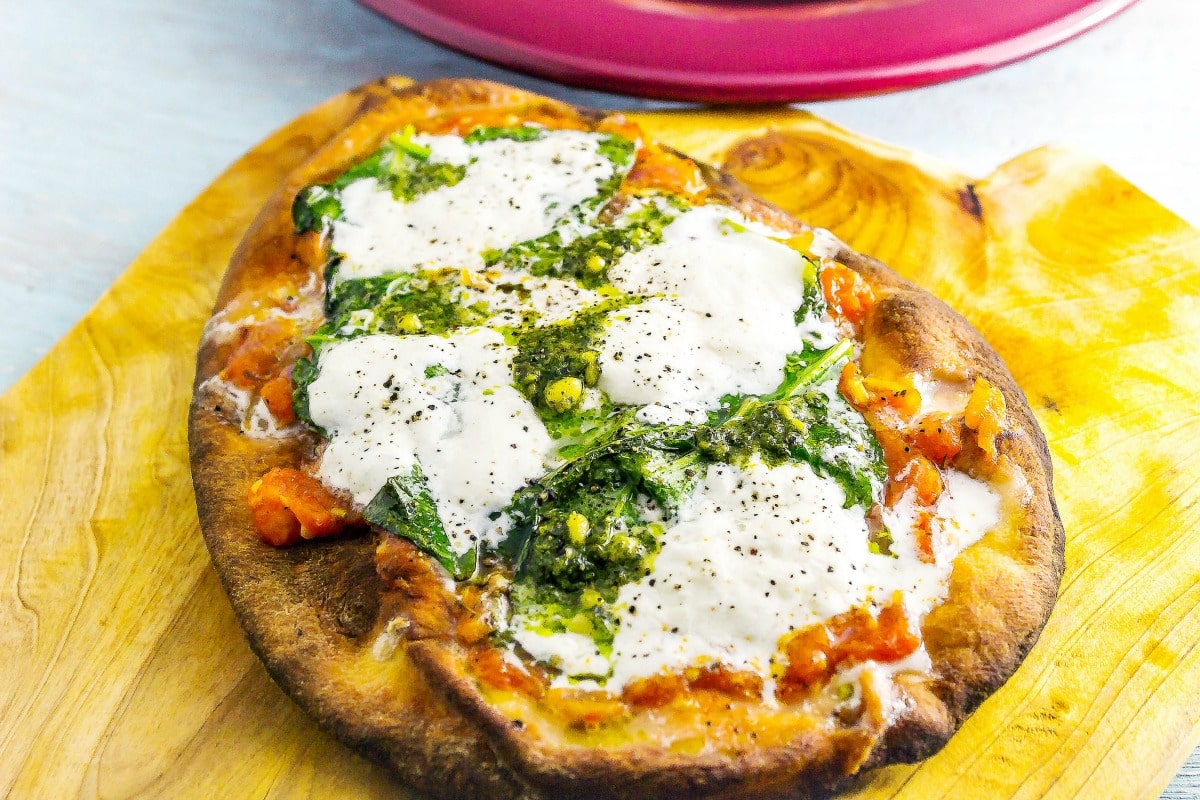 What is this cheese? It is this mozzarella that has a center of cream to it. So when opening it up, the creamy filling just oozes out. It is simply amazing. It truly is a drool worthy cheese.
30 Minute Burrata Pizza

I love pizza. To make one from scratch it can take hours, right? Well almost, but you can make a pizza, a homemade pizza in under 30 minutes, that includes the sauce!
How do I know this? Honestly from  Home Chef. I got a Burrata Pizza kit from them. It was ok but truthfully it was a bit bland to my liking. However, the basics were there. You really can make a pizza, sauce and all in under 30 minutes.
Let me show you with this video:

Using naan bread, the sauce doesn't take long to make, you really can make this Burrata Pizza in under 30 minutes. You will so glad that you created a Neopolitan style pizza that will please your taste buds. It really is a great old world pizza made with today's busy family in mind.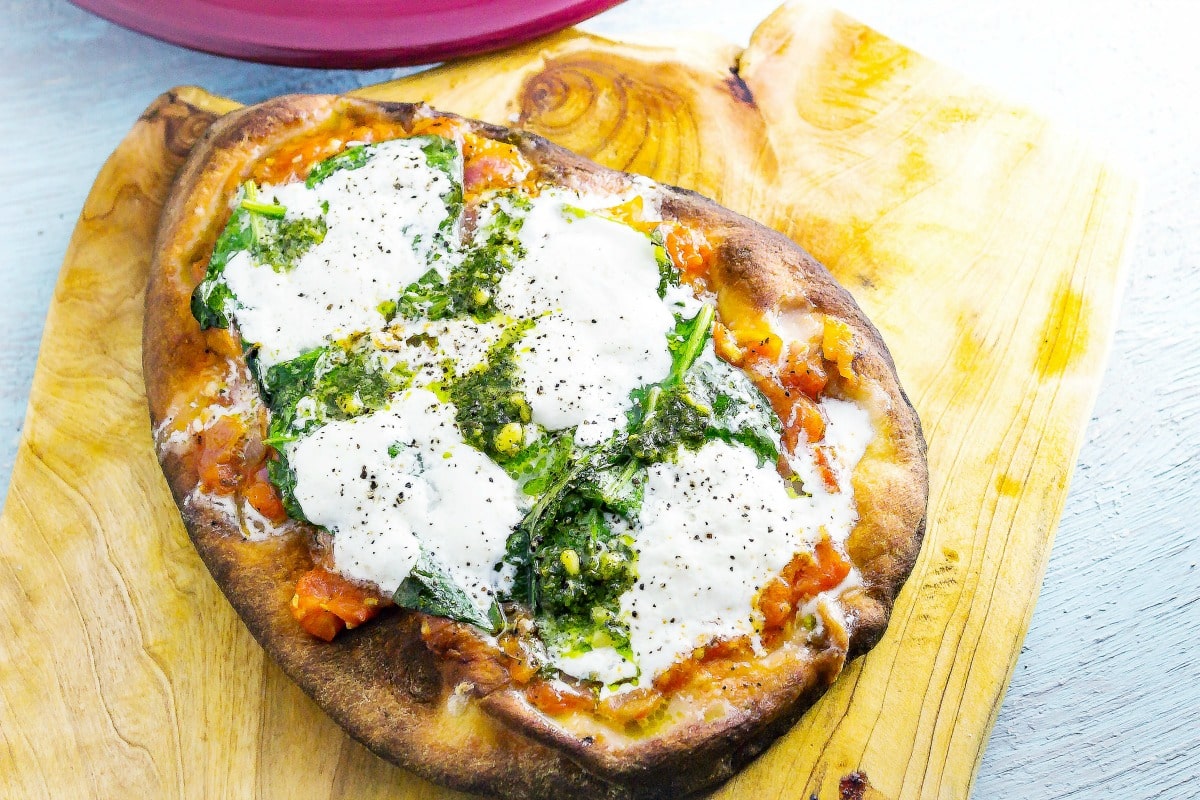 If you like Italian food, check out: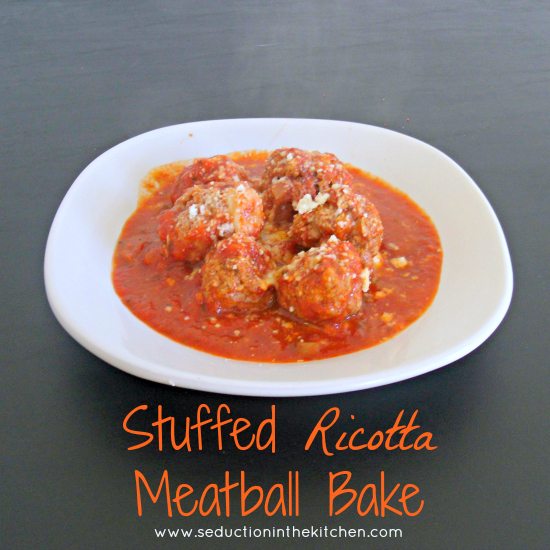 Looking for other great Pizza menu ideas? Check out: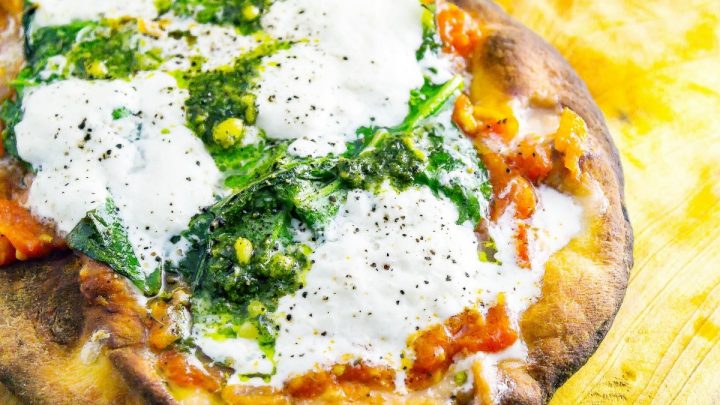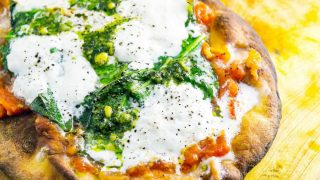 Yield:

4
30 Minute Burrata Pizza
30 Minute Burrata Pizza is a Neapolitan style pizza that combines creamy burrata, basil pesto and balsamic spinach just bursts with flavor.
Ingredients
Pizza Sauce:
2 Shallots, minced
4 Plum Tomatoes, chopped
2 Tablespoons Tomato Paste
1/2 Cup Water
2 Tablespoons Basil Infused Olive Oil
4 Cloves garlic, minced
1 Teaspoon thyme
Balsamic Spinach:
1 Cup Baby Spinach
1 Tablespoon white balsamic vinegar
1 Teaspoon sugar
2 Tablespoon olive oil
Pizza:
4 Naan Flatbreads
8oz. Burrata Cheese
2 Tablespoons. Basil Pesto
Fresh ground pepper
Instructions
Preheat oven to 450 degrees.
In a saucepan, heat up the basil infused olive oil.
Add the minced shallot and garlic to saucepot. Stir constantly until fragrant, 30-60 seconds. 
Stir constantly for about 30-60 seconds. 
Next, add the tomatoes and stir occasionally until tomatoes soften for about 2 minutes.
Add ¼ cup water and tomato paste. Over heat, mash into a chunky sauce and season with ½
Mash everything into a chunky sauce and season with the thyme.
Bring to a simmer and stir occasionally until sauce slightly thickens, 2-3 minutes. Remove from burner.
Bring the sauce to a simmer and stir occasionally for about 2-3 minutes. Remove the sauce from the burner.
While the sauce is cooking, place naan bread directly on oven rack and bake until lightly browned about 3-5 minutes.
In a small bowl, whisk together the sugar and white balsamic vinegar.
Whisk till the sugar dissolves.
Next whisk in the olive oil.
Add the baby spinach leaves, and toss until the baby spinach is covered in the dressing. Set aside.
Next, mash the burrata in a mixing bowl and mash until it is the consistency of cottage cheese.
Assemble the pizzas:
Spread the sauce on top the naan bread.
Place a layer of the balsamic baby spinach on top the sauce.
Top the pizza with dollops of mashed burrata.
Next dot the pizza with the basil pesto.
Finally season the pizzas with fresh ground pepper.
Place flatbreads directly on the oven rack with a baking sheet on the rack below to collect any drips.
Bake until cheese bubbles about 4-5 minutes. 
Take them out the oven, serve them up and ENJOY!
Nutrition Information:
Amount Per Serving:
Calories:

697
Total Fat:

48g
Saturated Fat:

15g
Trans Fat:

1g
Cholesterol:

60mg
Sodium:

1080mg
Carbohydrates:

44g
Fiber:

4g
Sugar:

8g
Protein:

25g
I want to hear what you have to say about this recipe that is on
SEDUCTION IN THE KITCHEN!
Let's get this conversation started! What do you think of this recipe?