I am a participant in the Amazon Services LLC Associate Program, an affiliate advertising program designed to provide a means for me to earn fees to Amazon.com and affiliate sites.
Cajun Crawfish Dressing is a seafood cornbread dressing. This southern cornbread dressing recipe has Cajun flavor and of course crawfish! You are going to love this crawfish dressing for the holidays!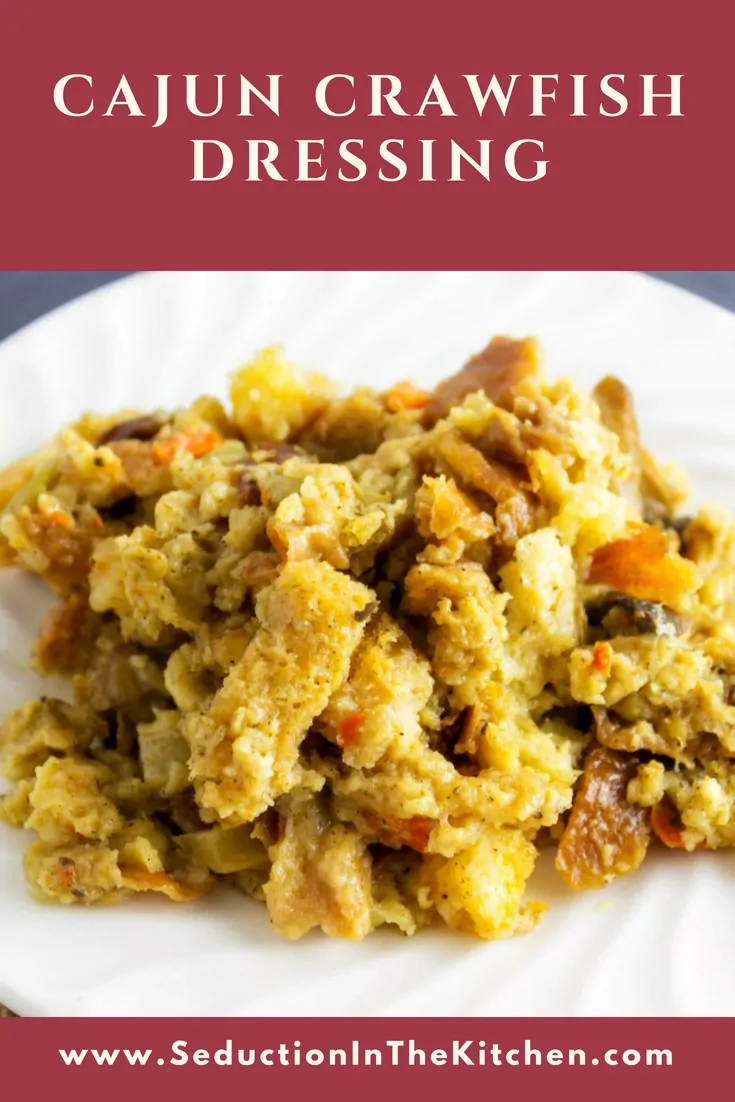 Dressing or Stuffing?
What do you call the side dish you serve with turkey. Is it stuffing or dressing? I always called it stuffing, but some call it dressing. What do you call it?
Dressing or stuffing? That was the question I asked on Facebook. I was told:
Stuffing is when stuffed into the turkey. Dressing is when it cooked outside of the turkey.
Growing up, we did the stuffing. But I was challenged to make cajun cornbread dressing. So a dressing recipe I must create!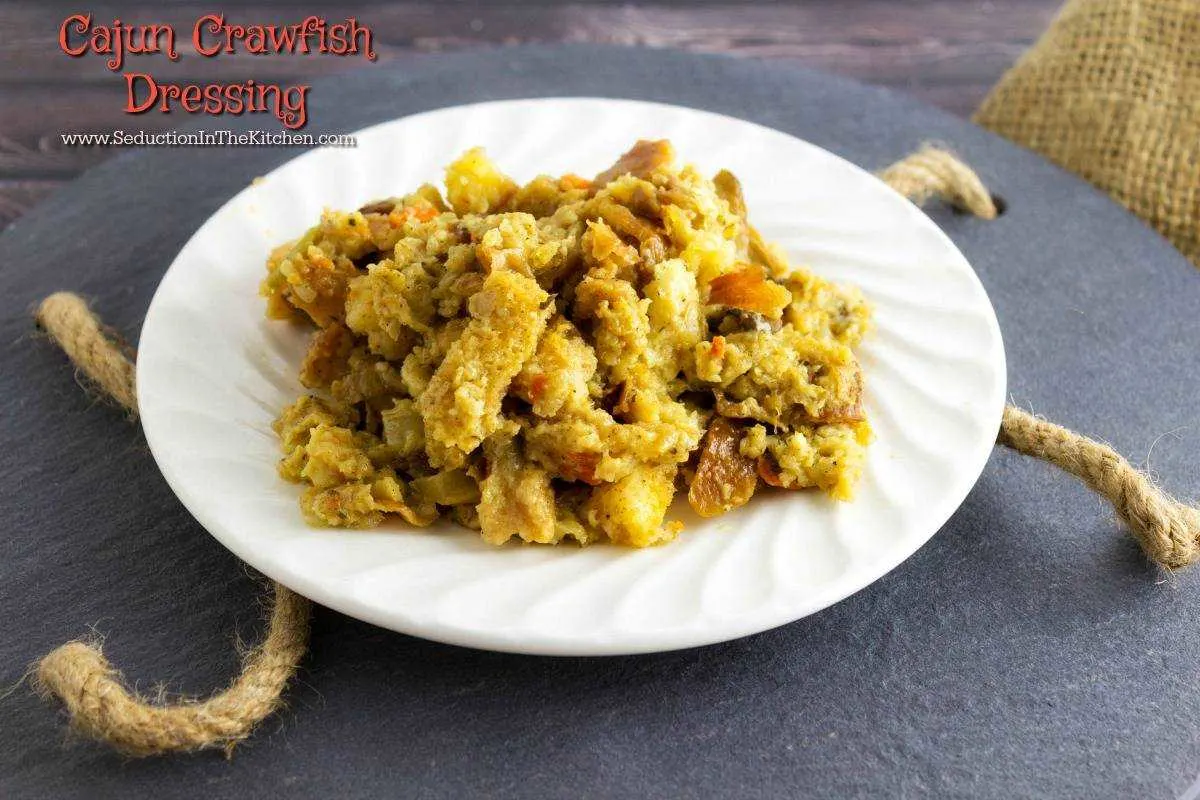 Cajun Crawfish Dressing
So as I said, I was challenged to make a southern cornbread dressing recipe from Adam of The Unorthodox Epicure. In return, I challenged him to make a stuffing. He had me make from his neck the woods, a Cajun Crawfish Dressing.
Amish Potato Stuffing
I am a Western Pa girl. I also live in Ohio. What could I challenge him to do for a stuffing?

Then the answer came, an Amish recipe! Amish is in both Pa and Ohio. My challenge to him: Amish Potato Stuffing!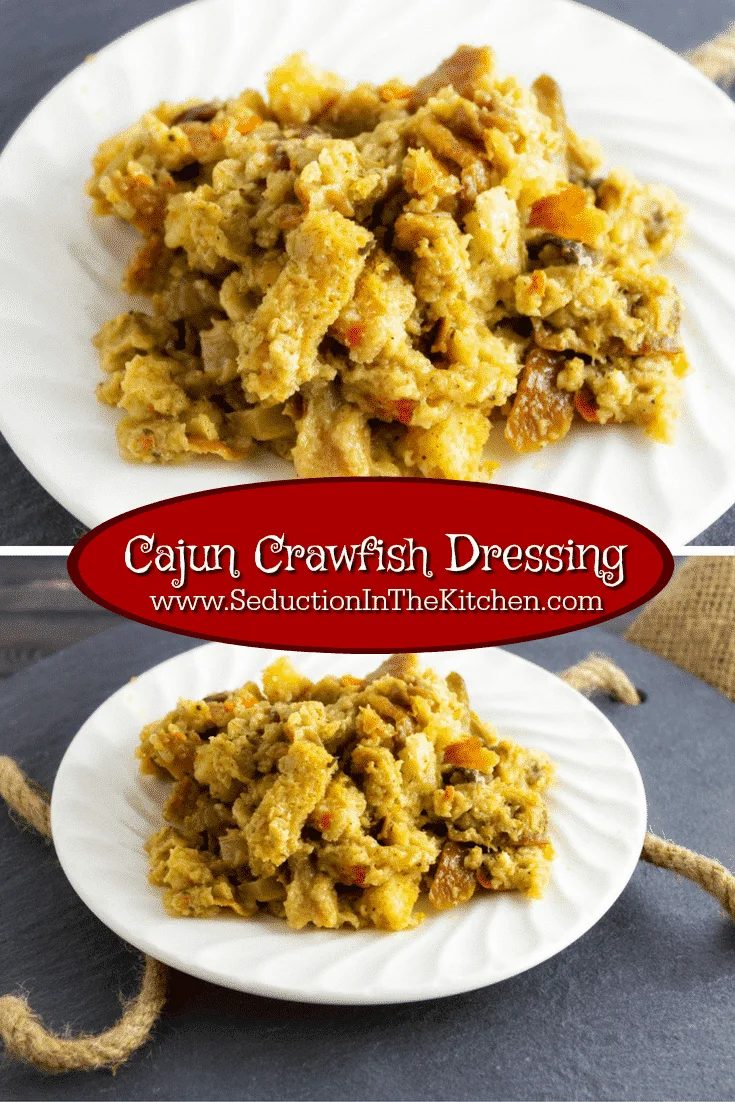 Crawfish Recipes
One small problem I had with creating this cajun cornbread dressing. This is Ohio and crawfish recipes are not popular here. Where do I find crawfish in North Western Ohio?

The answer was to use a substitute, shrimp. It is the closest crustacean for crawfish recipes I can use!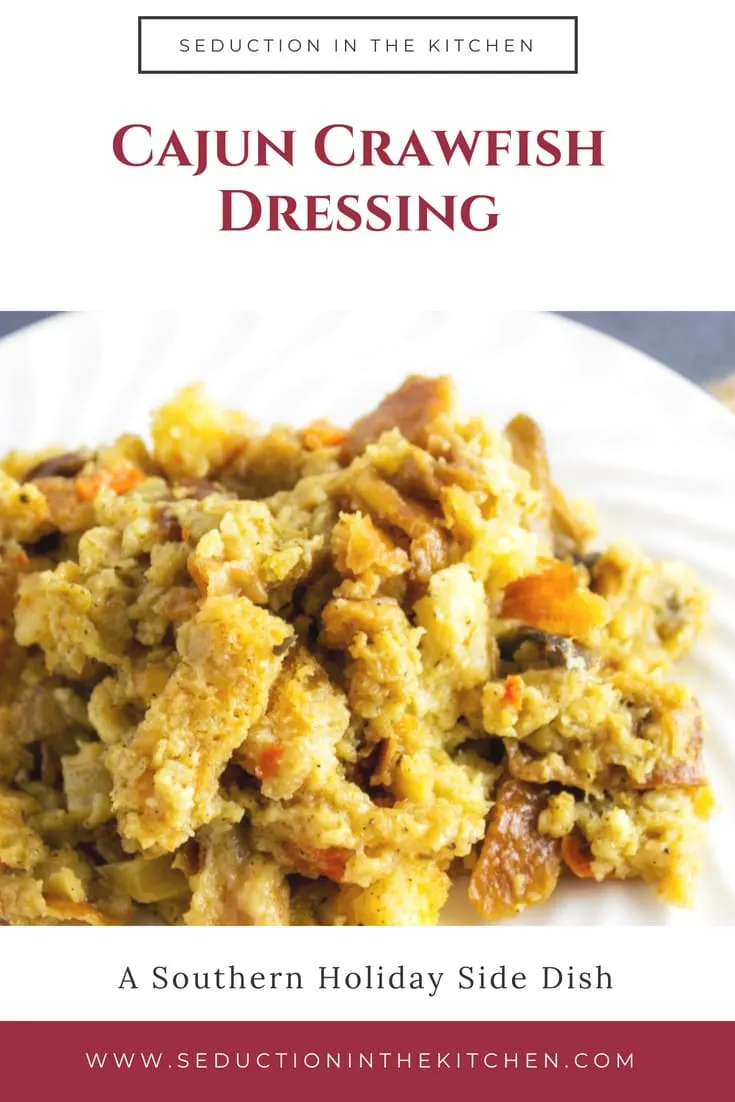 Seafood Cornbread Dressing
After a little research on this seafood cornbread dressing, I decided it is best to create my own version of this southern dressing recipe. I knew I needed Cajun seasoning for this crawfish cornbread dressing, so Tony Chachere's Cajun seasoning my first choice to use.
Cajun Dressing Recipe
Creole recipes also need the triad: celery, onions, and peppers. This would not be a Cajun dressing recipe without that triad. After all the triad is the base of almost all Cajun recipes!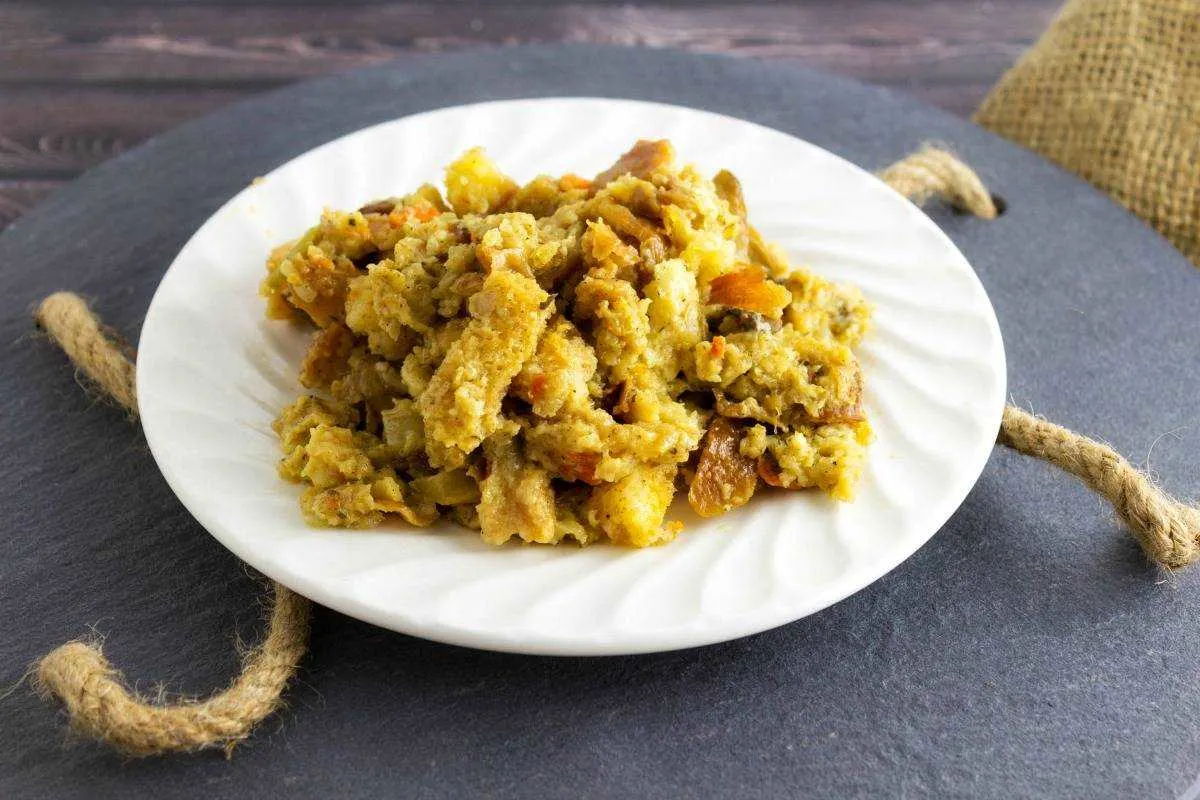 Southern Cornbread Dressing Recipe
So after some tinkering with this southern cornbread dressing recipe, I came up with a savory crawfish dressing with Cajun flavors. The crawfish, or in my case shrimp, really makes this seafood cornbread dressing pop with extra flavor. It simply was good in my opinion.

So, Adam, I accept your challenge and created Cajun Crawfish Dressing! Thank you for challenging me and having me think outside the box for this crawfish cornbread dressing. I hope you enjoyed the challenge of creating Amish Stuffing!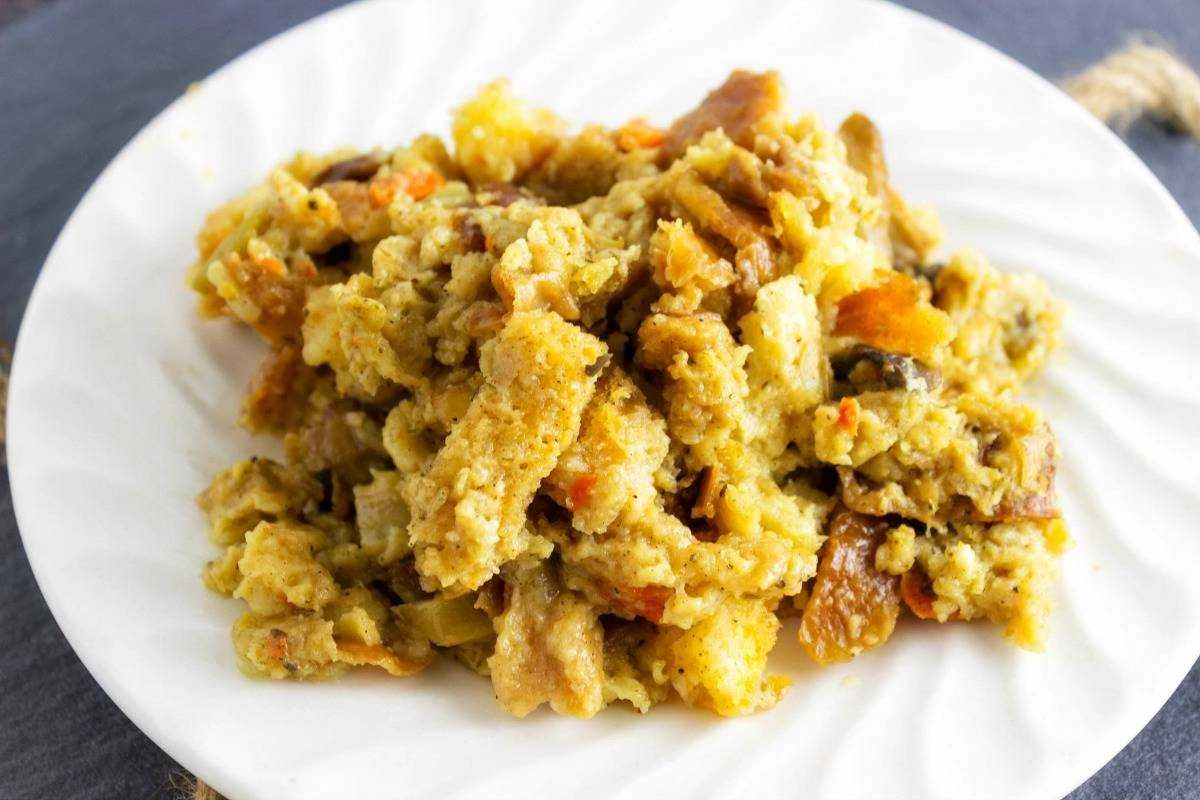 Yield: 6 Servings
Cajun Crawfish Dressing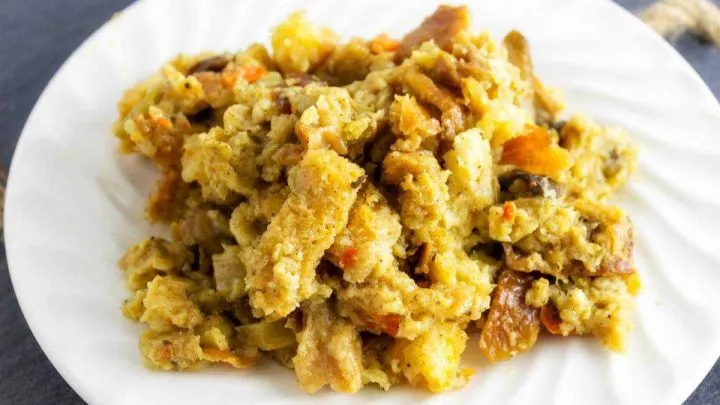 Cajun Crawfish Dressing is a cornbread dressing with creole flavors and of course crawfish! This Southern specialty dressing was challenged for me to make from Adam of The Unorthodox Epicure.
Ingredients
1 lb small shrimp or crawfish cooked and chopped
1 whole bell pepper chopped
2 stalks celery chopped
1 whole onion chopped
1 clove garlic minced
2 1/2 cups chicken broth
1/2 tsp poultry seasoning
1 TB Tony Chachere's Cajun seasoning
4 cups cornbread croutons
2 large eggs
2 TB butter
Instructions
In a saute pan, melt the butter and add the celery, onions, minced garlic, and peppers. Saute the vegetables until the onions start to turn translucent.
Add the poultry seasoning to the vegetables and saute for 1 minute longer. Set aside
In a large bowl, add the croutons.
Next, add the sauteed vegetables, crawfish/shrimp, eggs, and broth.
Season with Tony Chachere's.
Mix well. The cornbread will soak up the juices. The mixture should be very wet.
Cover with foil and bake at 350 degrees for approximately 45 minutes. Remove the foil and cook another 15 minutes to brown the top.
Take it out the oven and ENJOY!
Recommended Products
As an Amazon Associate and member of other affiliate programs, I earn from qualifying purchases.
Nutrition Information:
Yield:
6
Serving Size:
1
Amount Per Serving:
Calories:

596
Total Fat:

18g
Saturated Fat:

6g
Trans Fat:

0g
Unsaturated Fat:

11g
Cholesterol:

311mg
Sodium:

2738mg
Carbohydrates:

73g
Fiber:

1g
Sugar:

2g
Protein:

33g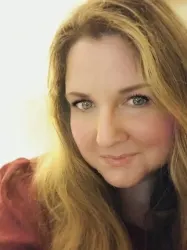 Latest posts by Deanna Samaan
(see all)