Asian Chicken Slaw Wraps is a healthy chicken salad with an Asian flavoring! This Asian chicken wraps recipe is a delicious wrap that is so easy to make. You love these healthy chicken wraps.
Healthy Chicken Wraps
I am on a quest to eat healthier. One way is to have a wrap for lunch rather than a sandwich. Healthy chicken wraps are the wrap of choice when comes to what to order for lunch.
Sometimes ordering healthy chicken wraps can get expensive. So making one yourself is more ideal.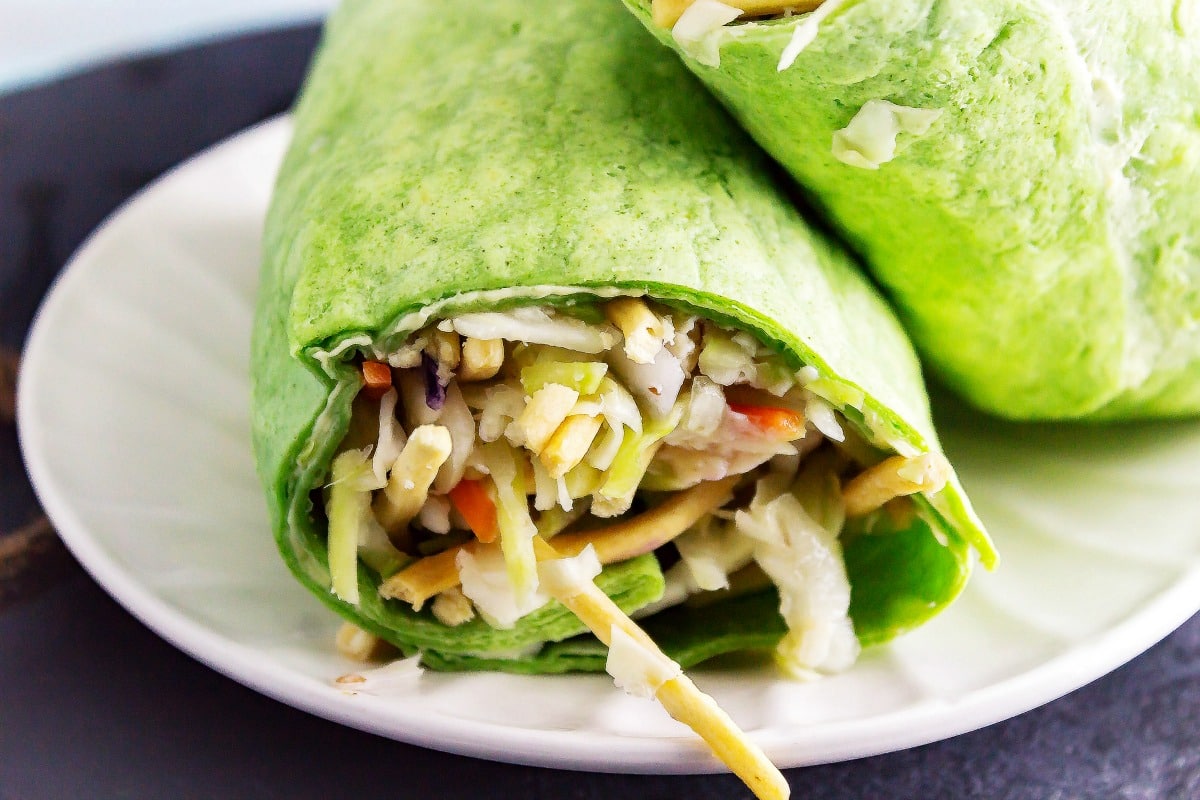 Asian Wraps
Asian food, for the most part, tend to be a bit healthier. So I wanted to create Asian wraps because I just like the flavor of Asian foods. An Asian chicken wraps recipe would be perfect to create for healthy chicken wraps!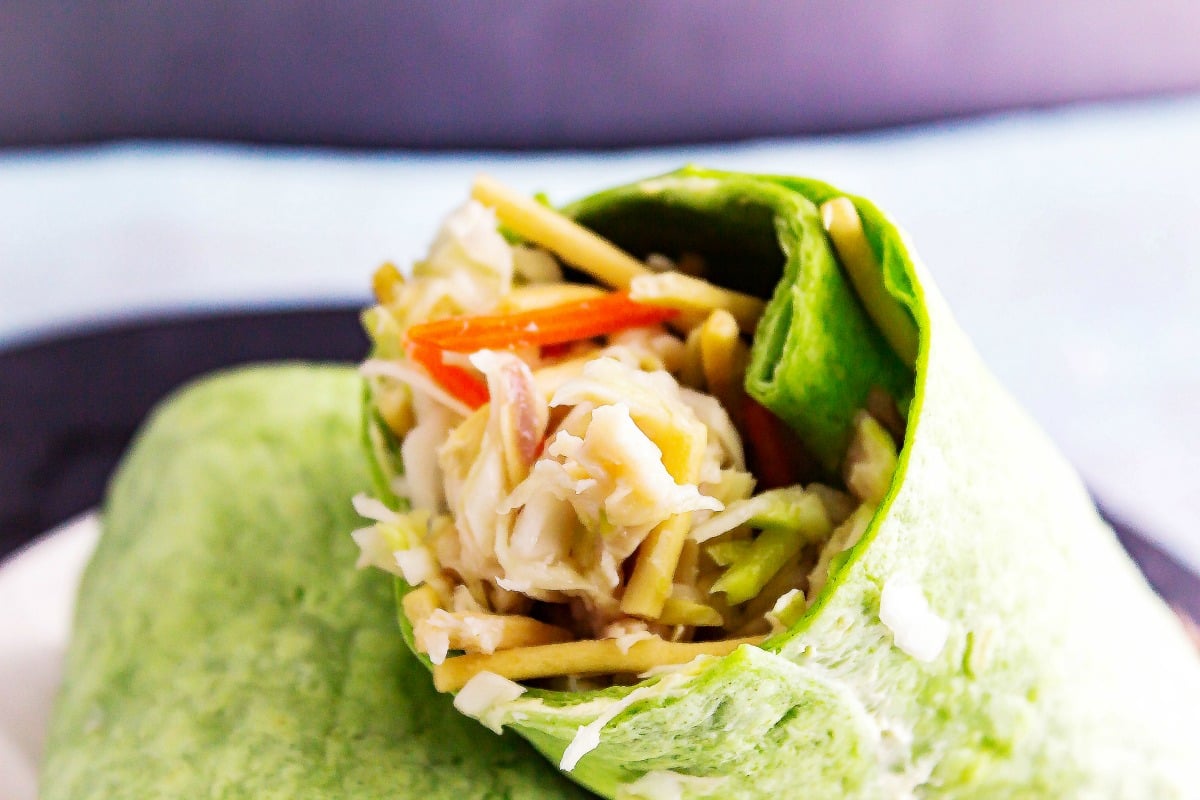 Asian Chicken Slaw Wraps
I went to a place for lunch and they had these Asian chicken slaw wraps. They were fantastic. The Asian Sesame flavoring was amazing in the wraps. So, of course, I wanted to recreate these Asian Chicken Slaw Wraps.
Asian Chicken Wraps Recipe
The secret to a good Asian chicken wraps recipe is the sesame flavor. Which comes from sesame oil. The thing with sesame oil is only 1-2 drops is needed for this Asian chicken wraps recipe.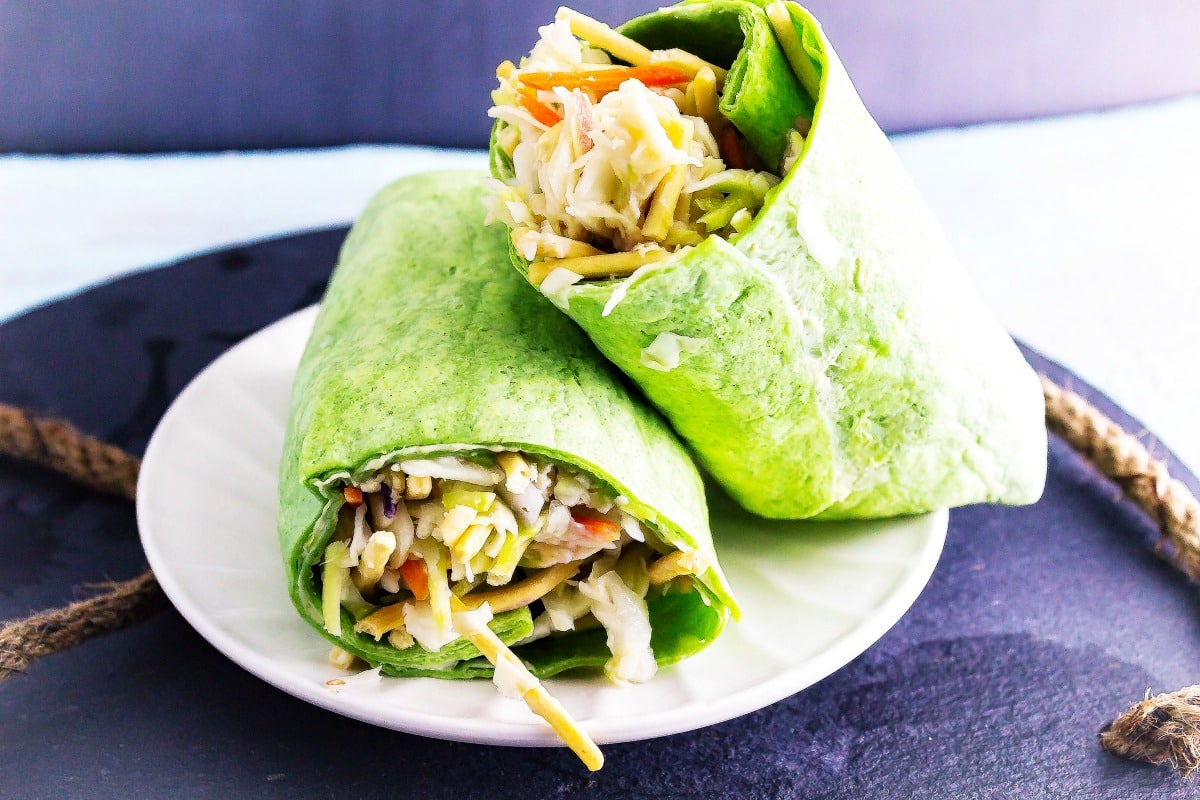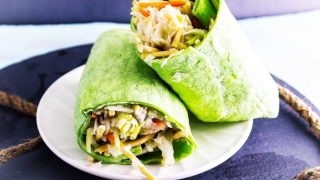 Yield:

4 wraps
Asian Chicken Slaw Wraps
Asian Chicken Slaw Wraps is a healthy chicken salad with an Asian flavoring! Then it is all rolled up to make a delicious wrap.
Ingredients
2 packages ramen noodles (oriental flavor)
1 medium cabbage (shredded fine)
2 carrots (shredded fine)
1 cup sunflower seeds (roasted)
4 green onions (sliced)
1/4 cup Chinese noodles
2 cups shredded cooked chicken
4 spinach tortilla wraps
2 packets noodle flavoring (from ramen noodles)
1/4 cup white wine vinegar
1 tablespoon vegetable oil
1 tablespoon granulated sugar
1/2 teaspoon salt
1/8 teaspoon black pepper
1/2 cup mayonnaise
2 tablespoons milk
1-2 drops sesame oil
Instructions
Somewhat crush the noodles in their clear cellophane envelopes, then make sure larger clumps are separated.
Combine cabbage and carrots in a large bowl.
Add sunflower seeds, and green onions over all and mix it well
DRESSING
In a small bowl, whisk together both seasoning packets, vinegar, vegetable oil, sesame oil, sugar, salt & pepper.
Pour this over the slaw, and toss to coat.
In another small bowl, whisk together mayonnaise and milk, then carefully stir into the slaw.
Let sit in the slaw sit in the fridge for an hour.
Assembly
On a tortilla, wrap place a layer of the slaw in the middle of the wrap.
Sprinkle on some the Chinese noodles
Finally, add a layer of the shredded cooked chicken.
Roll the wrap up like a burrito.
Serve them up and ENJOY!
Nutrition Information:
Amount Per Serving:
Calories:

340
This post was most recently updated
I want to hear what you have to say about this recipe that is on
SEDUCTION IN THE KITCHEN!
Let's get this conversation started! What do you think of this recipe?