This post was most recently updated
Grilled Mushroom Steak uses a technique to tenderize cheap steak and turn it into a mouth-watering steak with balsamic saute mushrooms.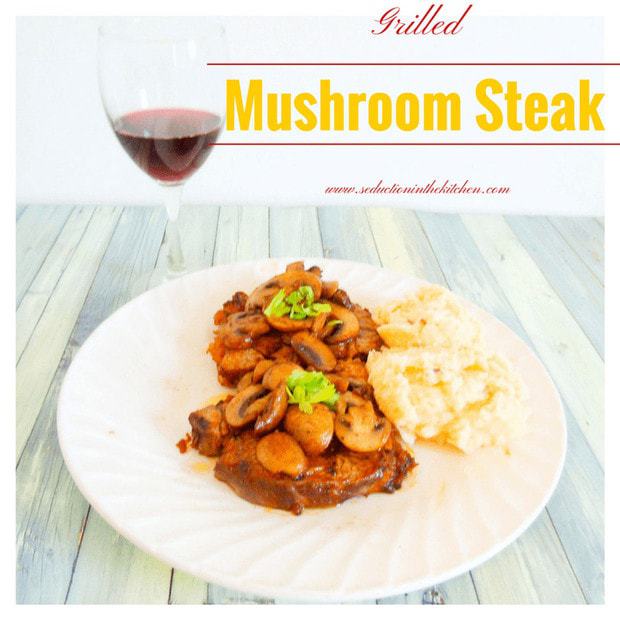 Parade Magazine
I do have some exciting news I want to share with you. I am now a contributing editor for Parade Magazine's Community Table. I am beyond thrilled at this opportunity, In fact, I have already I have my first post up and it is live! It is called Coffee Lover's Delight: 14 Tasty Coffee Creations.
I am going to do a weekly recipe collection theme each week on there. I will let you guys know when on Seduction in the Kitchen's Facebook Page and in my posts as well. I do have a Salsa one I am working on now for the next post for the Community Table.
Recipentrest
Recipentrest just launched, which is my recipe submission website I been helping create with WebFortuners web development team, just launched ready for people and food bloggers to submit their recipes and recipe links too. Now Parade gig, I told you guys I am making changes in my life. Actually, over the next week, I am going to be encouraging people to start submitting their recipes and recipe links to Recipentrest, because now I am in a position where I can help promote those wonderful recipes. So in other words, yes Recipentrest is open for business and will take your recipes and recipe links. It is a whole new way for you to promote those yummy recipe creations you make.
Grilled Mushroom Steak Recipe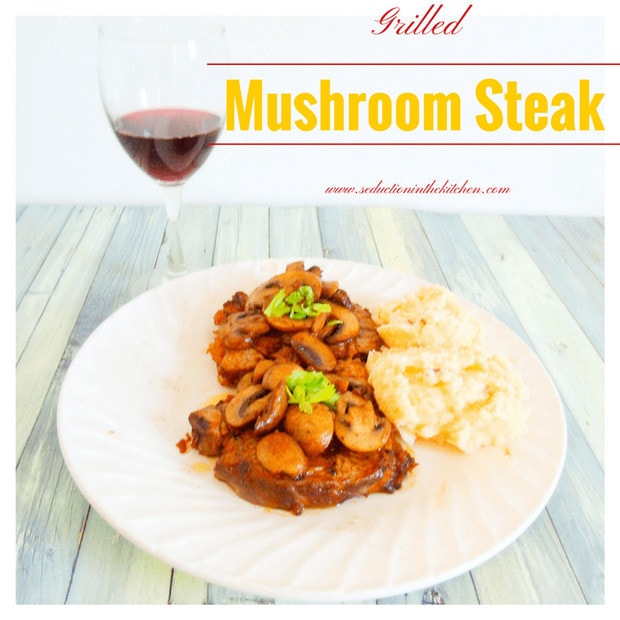 Anyway, last weekend, when the weather was actually more spring-like. I think the way this weather here in Cleveland is ping-ponging is why I have been feeling blah lately, but that another thing altogether. Anyway, I actually grilled, yes I grilled up this Grilled Mushroom Steak. The weather was good and a steak on the grill was perfect to have for dinner.
What inspired this recipe actually was a technique I saw on how to make a cheap piece of steak taste like filet mignon. The secret: Salt. Yep, you saw that right, salt. I heard about this before, salt can age a steak and make it tender. I use a mixture of Pink Himalayan salt and Hawaiian Volcanic salt to age my steaks. Wait, here instead of me getting into detail about this detail, just watch this:
Trust me it works like a charm this technique. I used the cheapest steak I could find at the Super Market and the end result of salting it with the technique above really made for a Grilled Mushroom Steak. I am a lover of mushrooms, so I did this balsamic saute mushroom and put them on top the steak. The result was fabulous! It was one the best Grilled Mushroom Steak I have had outside of a restaurant.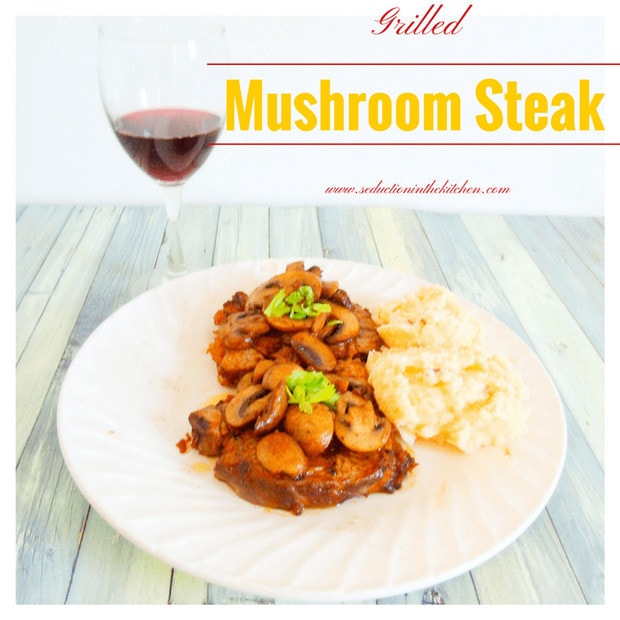 Yield:

2
Grilled Mushroom Steak
Total Time:
1 hour
20 minutes
A technique to tenderize cheap steak and turn it into a wonderful mouth watering steak topped with balsamic saute mushrooms. A recipe from Seduction in the Kitchen.
Ingredients
2 cuts of steak
Salt
pepper
2 tablespoons of olive oil
6 oz sliced mushroom
1 clove minced garlic
2 tablespoon sugar
1/4 cup balsamic vinegar
Instructions
On a foiled lined cookie sheet place your steaks on it. Then cover the steaks in salt. Depending on the thickness let them sit, salt covered for at least 1 hour.
After an hour you will notice the "juice" around the steaks, If you want to sit longer to tenderize it more you can. I have been know to let steaks age overnight. Rinse off the salt under water,
Pat the steaks dry with a paper towel, and season the steaks with a little salt and pepper.
Grill the steaks to your liking.
Heat up the oil in a pan, place the sliced mushrooms and garlic in the hot oil and saute them for 3-4 minutes, stirring constantly.
Add the vinegar and sugar to the mushrooms and stir to dissolve the sugar. Bring to a simmer and reduce the heat.
Let the liquid reduce over the mushrooms.
Once the liquid is reduced, remove the mushrooms from the heat.
Place the steaks on a plate and top with the saute mushroom mixture and ENJOY!
Nutrition Information:
Amount Per Serving:
Calories:

1282
Total Fat:

87g
Saturated Fat:

33g
Trans Fat:

4g
Cholesterol:

286mg
Sodium:

1412mg
Carbohydrates:

25g
Fiber:

0g
Sugar:

20g
Protein:

93g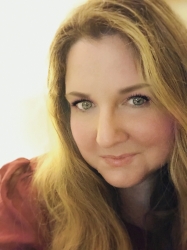 Latest posts by Deanna Samaan (see all)