This post was most recently updated
These Bourbon Glazed Surf and Turf Kebabs combine shrimp kabob recipe with a beef kabob recipe. To make this a real seafood delight salmon kabobs are also included in the surf and turf recipes! Then there is a bourbon sauce that is used for the surf and turf sauce that is amazing!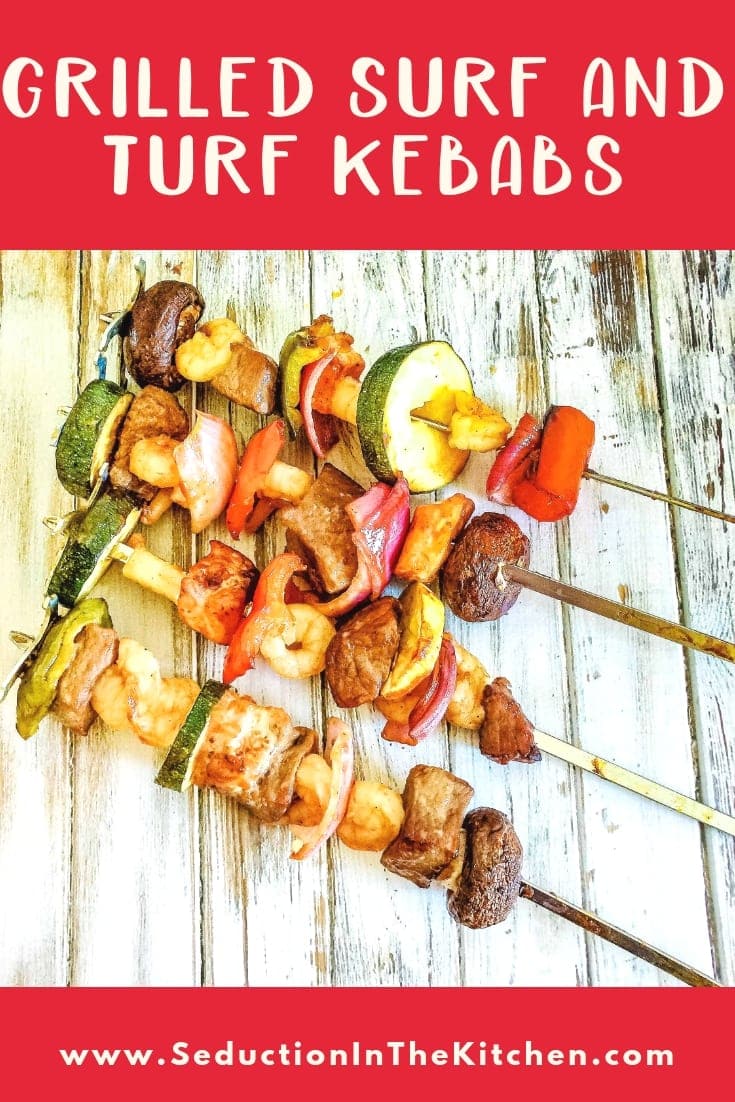 Surf and Turf Recipes
I love surf and turf recipes! What is surf and turf you may be asking? Well, surf and turf recipes are when you combine beef and seafood recipes in a dish!
I have always had a soft spot for surf and turf recipes. For me personally, it gives me a variety of steak and seafood. If I see surf and turf recipes on a menu, I will 90% of the time choose it.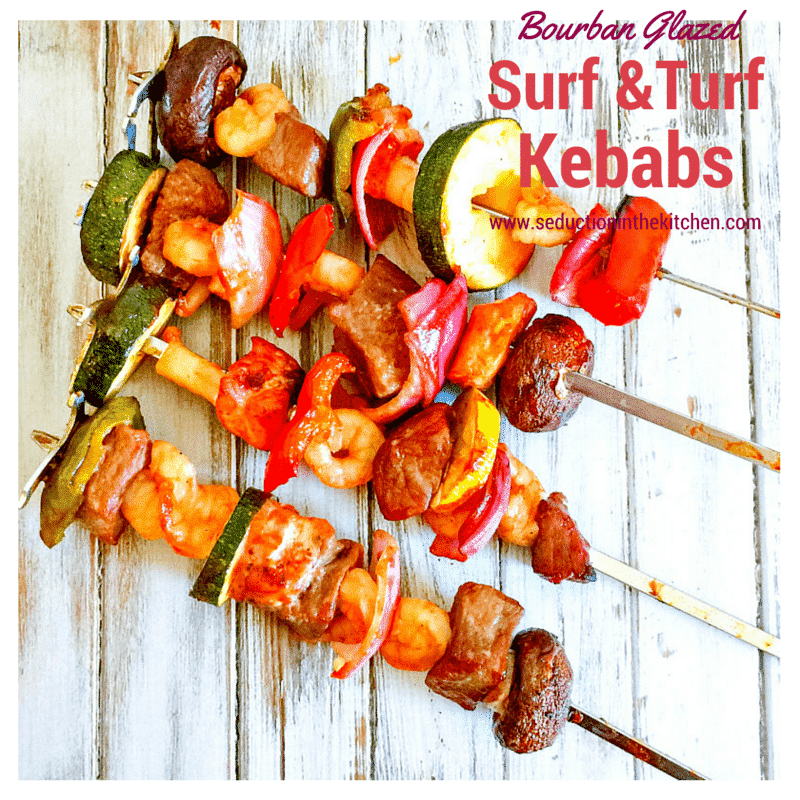 Salmon Kabobs
With one protein is from the ocean and the other is from the land was how my mom explained what a surf and turf recipes are to me. That sparked the idea of using salmon kabobs with a beef kabob recipe!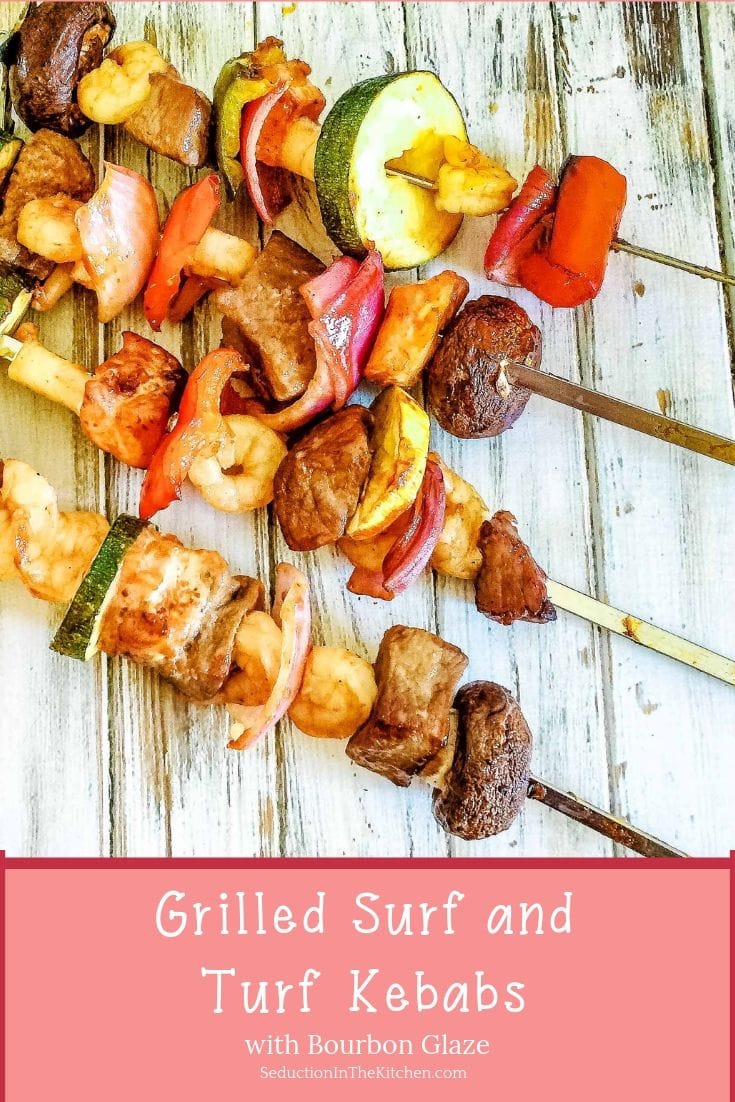 Shrimp Kabob Recipe
If this was salmon kabobs with grilled steak kabobs how did the shrimp kabob recipe get involved? Honestly, shrimp was on sale at the store. Usually, shrimp is in surf and turf recipes.
Surf and Turf Sauce
What would be the best surf and turf sauce for this grilled steak kabobs? I needed the surf and turf sauce to go well with shrimp kabob recipe as well as salmon kabobs. It came to me, bourbon sauce.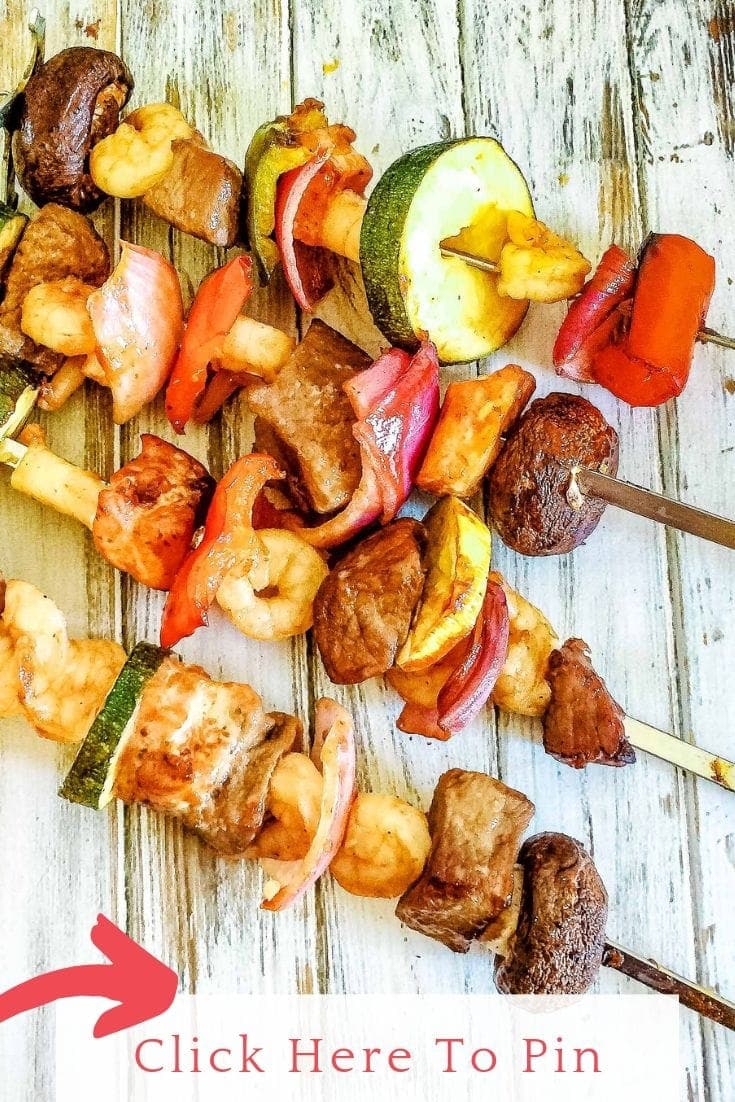 Bourbon Sauce
That bourbon sauce was inspired by a marinade for a bourbon-glazed salmon recipe. The more I thought about it, bourbon sauce would make a great surf and turf sauce! That sweet, tangy bourbon glaze would do well on all three shrimp kabob recipe, grilled steak kabobs, and salmon kabobs!
Bourbon Glazed Surf and Turf Kebabs
When I made these Bourbon Glazed Surf and Turf Kebabs, my taste buds were seduced. grilled steak kabobs are just a perfect combination of yumminess. The salmon kabobs topped off with the bourbon sauce, wow! Then you have the shrimp kabob recipe, it just screams with flavor!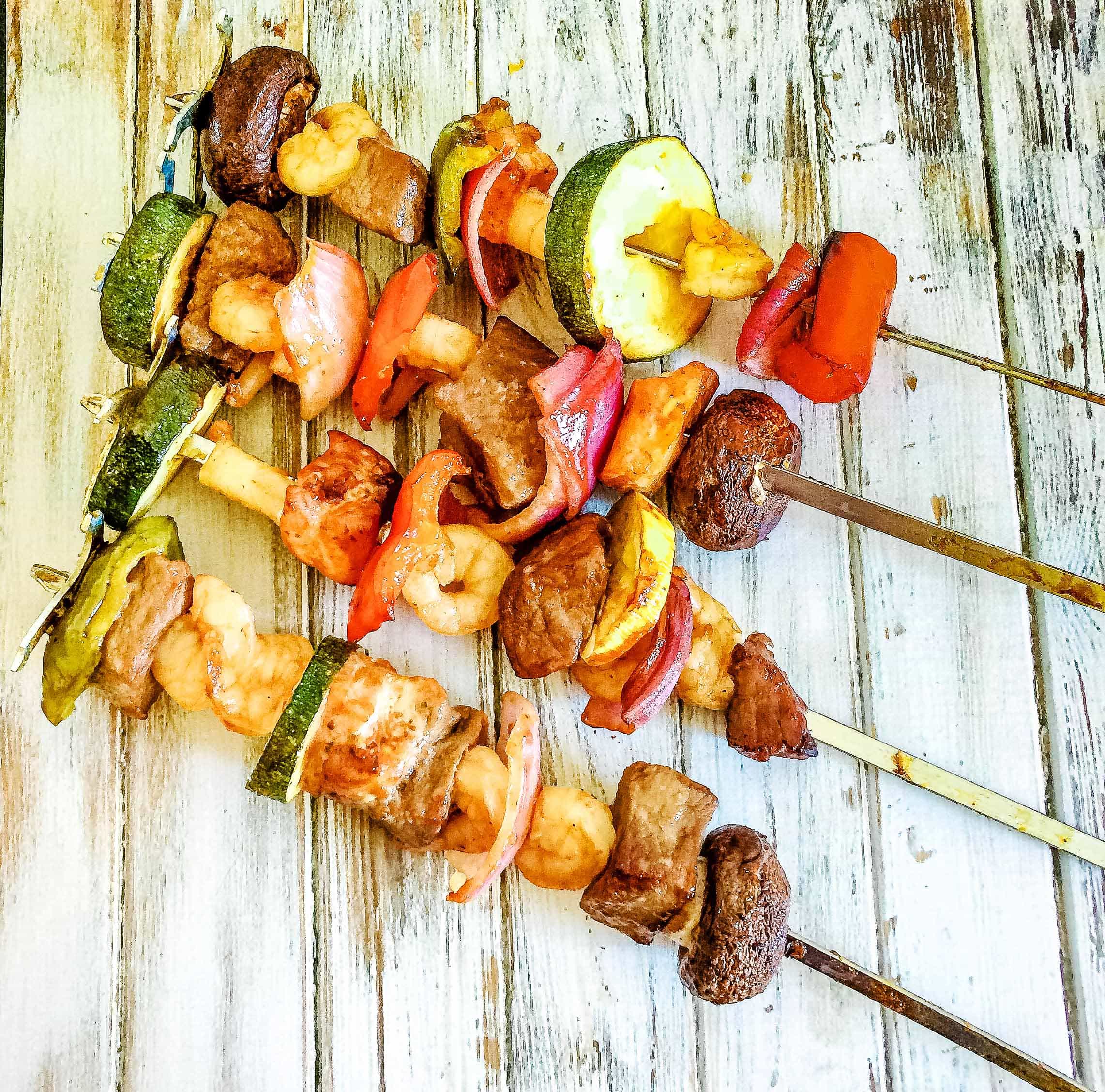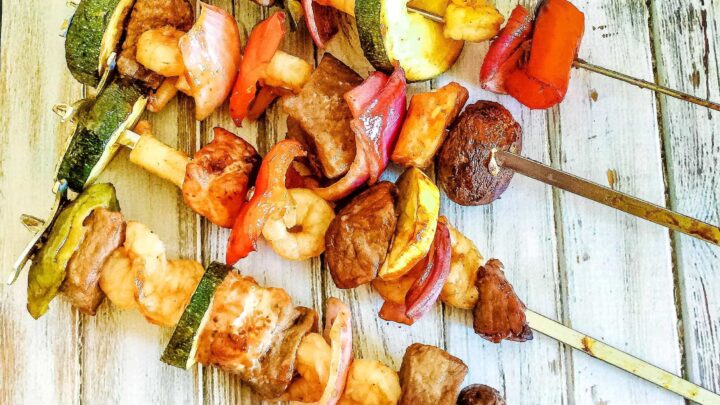 Yield:

6 servings
Bourbon Glazed Surf and Turf Kebabs Recipe
These kebabs have a combination of salmon, shrimp, and steak in a savory bourbon glaze. A recipe from Seduction in the Kitchen
Ingredients
Kabobs
1 lb Salmon steak (cubed)
1/2 lb medium raw shrimp (peeled, deveined)
1/2 lb Angus beef steak kebab cubes
1 zucchini (sliced)
1 yellow squash (sliced)
1 red onion (quartered)
1 bell pepper (thickly cut (red or green)
6 oz whole mushrooms
Bourbon Sauce
1 cup firmly packed light brown sugar
6 tablespoons Dijon mustard
4 tablespoons soy sauce
4 tablespoons Bourbon
1 teaspoon salt
1/2 teaspoon pepper
Instructions
Mix together all the ingredients for the bourbon glaze, reserve about a 1/4 of a cup of it for basting.
Put the salmon, beef, and shrimp into a ziplock bag, and pour the remaining glaze over them in the bag. Let sit in the refrigerator for an hour.
After an hour, start to thread your kebab skewers, alternate the meats with the cup up veggies and mushrooms.
Light your grill, and grill the kebabs, after about 2 minutes on the grill, flip them and brush the kebabs with the reserved glaze.
Flip them again after 2 minutes and again brush on the glaze.
Do that until the the kebabs are done. The shrimp will be a pink, the salmon will flake and the beef grill till your desired likeness, I like medium well, so about 8 minutes on the grill.
Take off the grill and serve and ENJOY!
Recommended Products
As an Amazon Associate and member of other affiliate programs, I earn from qualifying purchases.
Nutrition Information:
Yield:
6
Amount Per Serving:
Calories:

410
Looking for more grill recipes? Check out these recipes:
Check out my the latest on my other blog: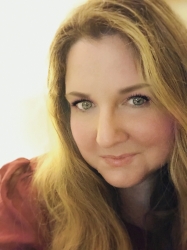 Latest posts by Deanna Samaan
(see all)