I am a participant in the Amazon Services LLC Associate Program, an affiliate advertising program designed to provide a means for me to earn fees to Amazon.com and affiliate sites.
[intro]Apple Pomegranate Walnut Pie is a semi-homemade pie that uses canned apple pie filling for a base to create this wonderful pie. It is perfect for that last minute dessert you may need for a function or holiday.[/intro]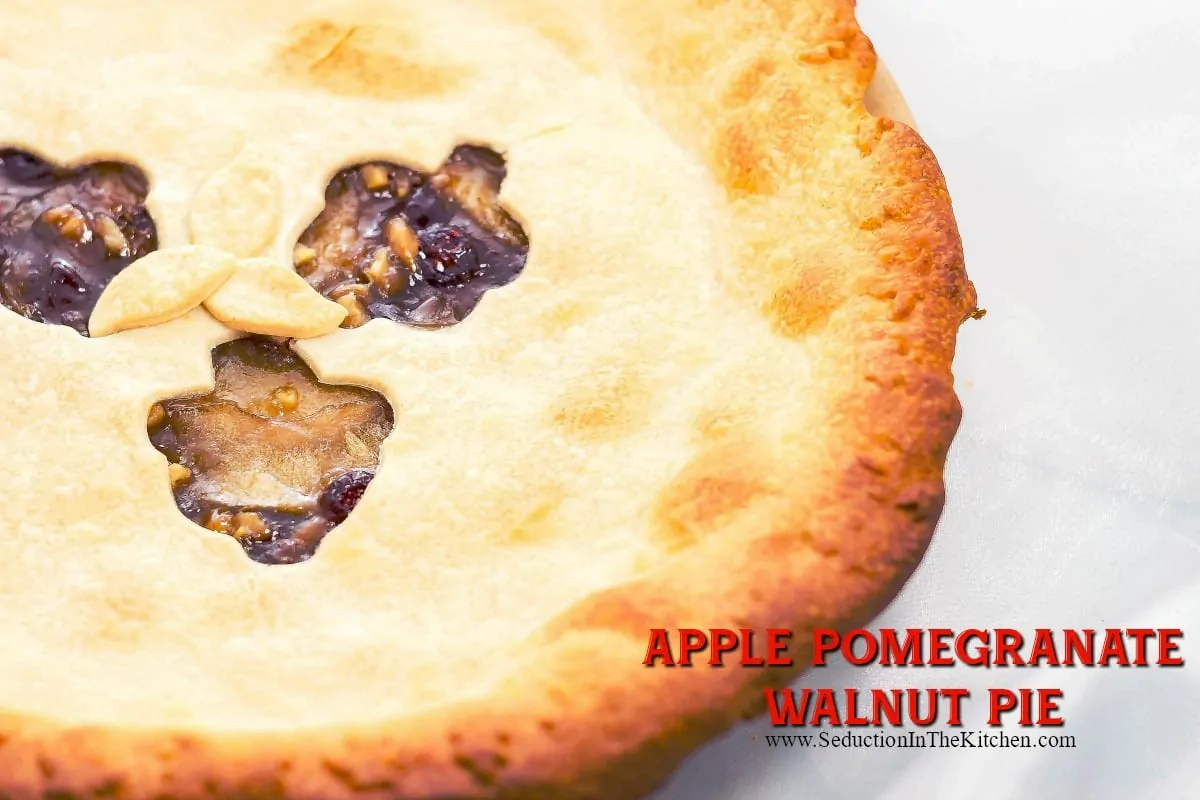 Ah-Huh Moment
I saw this discussion thread on Facebook that was in a food blogger group. It had to do with SEO. Before you go "oh no, here she goes on about SEO." The conclusion was you will drive yourself crazy if that is what you are writing for.
Basically, why do readers love your blog? The personality. Write what makes you happy, stop focusing on keywords. Content is king, make your blog reader friendly.
The thread was right. I am killing myself doing this updating of old posts for the "Keyword." I realized I was killing my old posts old stories I told as I wrote out the recipes. I finished Roasted Mushroom and Tomato Salad: A simple Salad To Enjoy and saw that was the post about my mom and dad getting Oscar and Baylee.
That was the ah-huh moment, seeing them as puppies, that was my personality coming through in that post. When I announced that I had to change up how I write, I did get lots of emails and comments stating please don't change it too much. You guys love that this blog has a heart.
It is my ups and downs I have had. You love the advice I gave out. That was what Seduction in the Kitchen was. A food blog, that seduces you with food and heart.
Now I do agree I did and still do need to organize the old posts better, like with the headings. There are those who don't what to read about things like the Ah-huh moment on this Apple Pomegranate Walnut Pie. That is fine, that is why I have the jump to the recipe button and the headings. Bottom line, I am going somewhat back to my roots, writing Seduction in the Kitchen, with what I want to write about, only organized.
Apple Pomegranate Walnut Pie Recipe
I was supposed to participate a pie blogging event. Lately, I admit, work at the phlebotomy job has me very busy. The truth be told, I also have been in a very bad depression. So because of that, I forgot to signup for the event with this Apple Pomegranate Walnut Pie.
People forget I work health care. I work way more than 40 hours, it is the life of a healthcare worker. Most of you have seen the posts where I bitched about it. Of course, most of those posts had to do with the torture I had at the old family health center with the clique that was there.
Anyway, sometimes I just don't have time to make a pie from scratch. I am exhausted from work and I just want to do a shortcut. That is why there is premade can pie fillings. It gives you a shortcut to pie making. Plus there is refrigerated pie dough as well.
So I know there are others out there, like me, that are so busy that need a pie that is semi-homemade due to a busy lifestyle. That was the thought behind this Apple Pomegranate Walnut Pie. I wanted to create the pie blogging event a pie that you can make but also take a few shortcuts to make.
Plus, I have been wanting to do a pie recipe for awhile on Seduction. I got this pie decorating kit for a gift last year, and this would be the perfect opportunity for me to finally use it. So kit too I think helps make this Apple Pomegranate Walnut Pie impressive too. I love that was able to cut out the cute acorns and add the leaves to this pie.
The combination of the can apple pie filling with dried pomegranate and walnuts just elevate the apple pie to a new level. It is the perfect combination of flavors. Trust me it was so good, no one realized at work that I used can filling.
Yield: 6
Apple Pomegranate Walnut Pie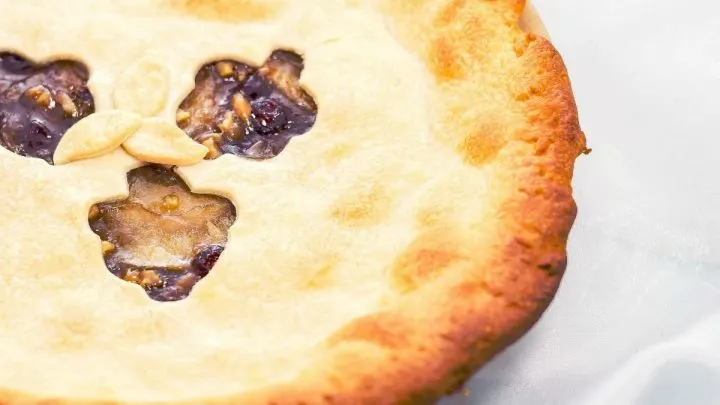 Apple Pomegranate Walnut Pie a semi-homemade pie that uses canned apple pie filling to create this wonderful pie. Perfect for that last minute dessert.
Ingredients
2 cans (21 oz) Comstock More Fruit Apple Pie Filling
1 pkg refrigerated pie crust
1/4 cup pomegranate craisins
1/4 cup chopped walnuts
Instructions
In a mixing bowl, add the apple pie filling. Next mix in the pomegranate craisins and walnuts, then set aside. Grease a deep dish pie plate and preheat your oven to 400F Line the pie plate with one of the refrigerated pie crust. Next, add the filling to on top of pie crust in the pie plate. Lay out the other refrigerated pie crust if you plan on doing some fancy decorating with cutters. After you do your cutouts, carefully lift the top pie crust and roll it on top the pie. Seal the edges of the pie. Place the pie in the oven and cook for 10 minutes at 400F. Turn the heat down to 300 and continue to bake for 50 minutes until the top crust is a nice golden brown. Watch the edges, they do burn easily. Take out the oven, let it cool. Then serve it up and ENJOY!
Notes
If you choose not to decorate the pie with cutouts and keep the top crust plain. You need to poke holes on the pie frust. Using a fork, do that so the steam can leave the pie.
Nutrition Information:
Amount Per Serving:
Calories:

0
Total Fat:

0g
Saturated Fat:

0g
Trans Fat:

0g
Cholesterol:

0mg
Sodium:

0mg
Carbohydrates:

0g
Fiber:

0g
Sugar:

0g
Protein:

0g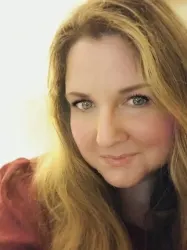 Latest posts by Deanna Samaan
(see all)