Candied Cinnamon Swirls is so easy to make with only 4 ingredients! They can easily become addictive so you want to make sure you make plenty of these treats.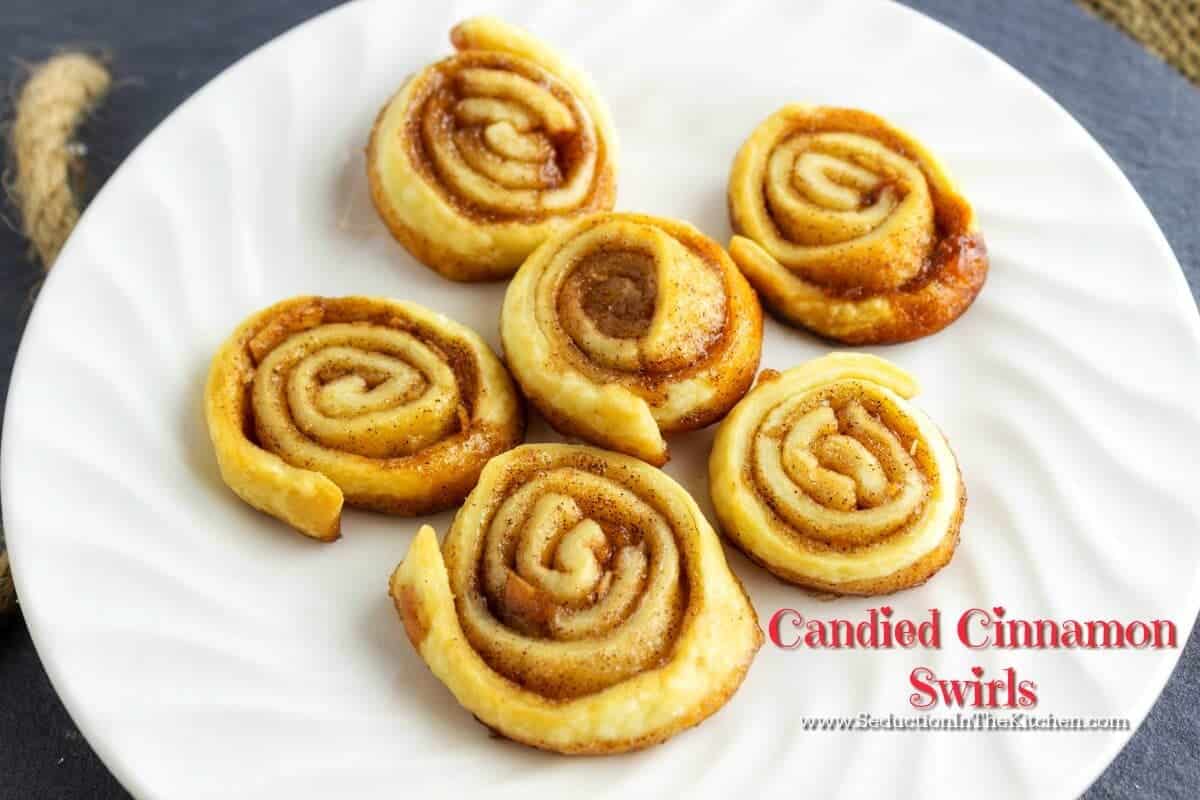 Inspired By Mom
D
ay 3 of 12 days of cookies! So today's Candied Cinnamon Swirls cookies are very simple to make. In fact, this recipe was actually inspired by my mom.
My mom doesn't bake anymore. She has left that duty to me and my sisters. Well, sister, only one of my sisters likes to bake. The other likes to run. In fact, the runner doesn't even cook, that is for another time and recipe post.
Anyway, how did my mom inspire this Candied Cinnamon Swirls? When she did bake, the one thing she made that was so good was her apple pie. The leftover pie dough she sprinkles cinnamon and sugar on it. Roll it up. Then slice it and bake these pinwheel-like goodies.
Candied Cinnamon Swirls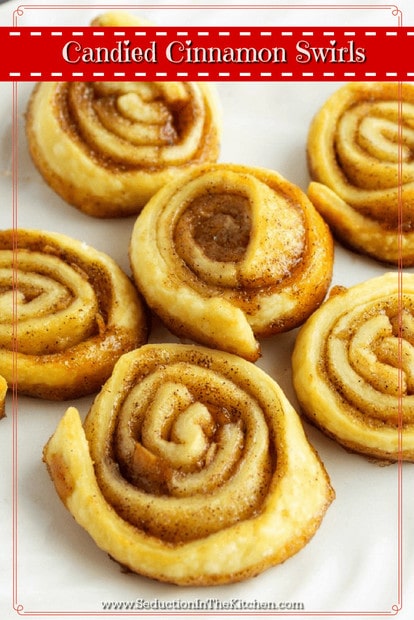 They were so good. It was just a simple little thing she makes and it was good. Not all cookies have to be fancy. In fact, some the best treats you can make are just simple and easy treats.
I guess I was thinking about my mom when I came up with this Candied Cinnamon Swirls cookie idea. I had just returned from the Fabulous Food Show, where I had bought this wonderful syrup. There was some pie crust dough in the fridge, so I thought, let's play on this pie dough cookie thing my mom would make.
I ended up adding this Chai syrup to the sugar mixture for this cookie from Simple Gourmet Syrups. I discovered this place last year when I went to the Fabulous Food Show. I don't know what it is about their syrups, but they are amazing!
From flavoring coffees to cocktails to baking. I love these syrups. The Chai is my favorite one. Trust me you need to check out Simple Gourmet Syrups. They are all natural too so that makes these syrups even better!
Anyway, this Chai helps not only add flavor to the filling but also gave the cookies a nice candied crunch to them. Trust me these simple little Candied Cinnamon Swirl cookies are addicting. You can not eat just one, at least I couldn't.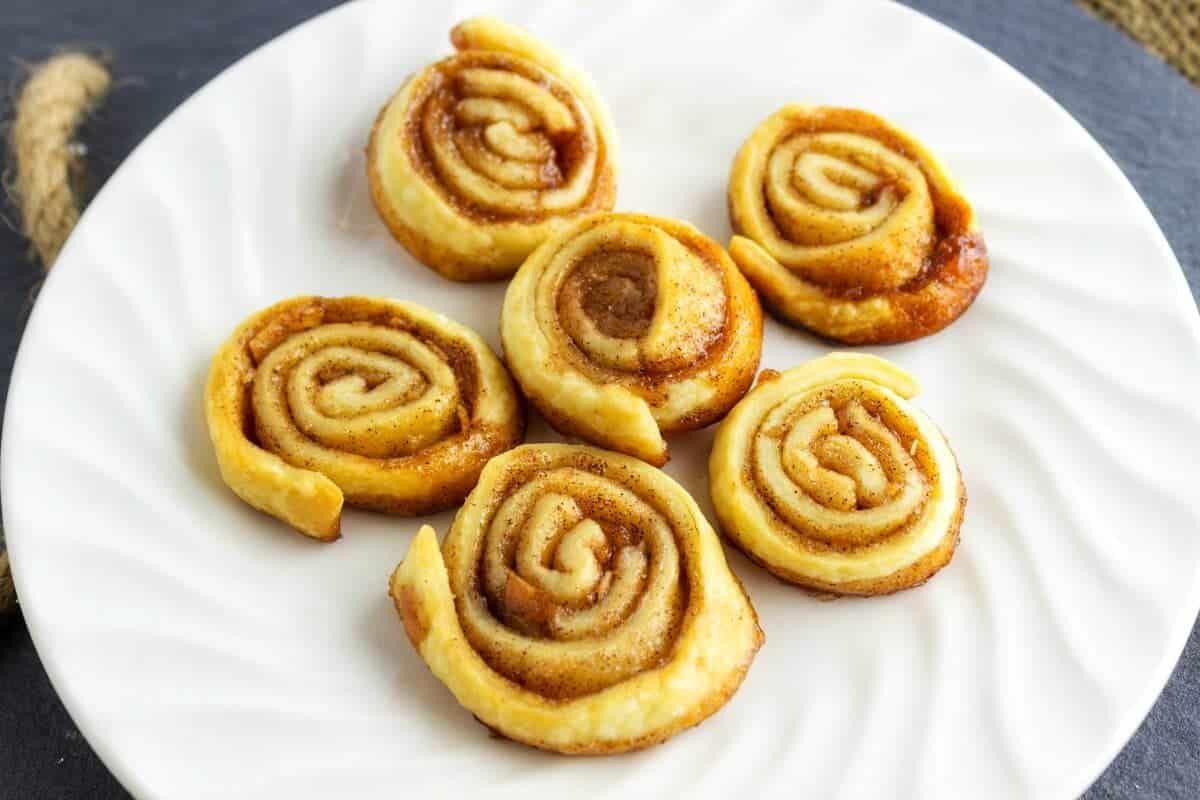 Check Out These Recipes: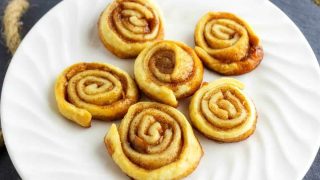 Yield:

12
Candied Cinnamon Swirls
Candied Cinnamon Swirls is so easy to make with only 4 ingredients! They can easily become addictive so you want to make sure you make plenty of these treats. A recipe from Seduction in the Kitchen.
Ingredients
1 sheet prepared pie dough
1/4 cup brown sugar
1 TBSP ground cinnamon
1 TBSP Simple Gourmet Chai Syrup
Instructions
Preheat the oven to 350F and line a cookie sheet with parchment

Unroll a sleeve of ready-made pie dough.

In a small bowl mix together the cinnamon and brown sugar.

Add the Simple Gourmet Chai Syrup to the sugar mixture and mix well.

Spread the sugar mixture onto the pie dough

Roll up the pie dough after you have the sugar mixture spread on it.

Slice the rolled up pie dough into slices and arrange those slices on the parchment.

Bake the slices for about 10  minutes or until the dough turns a nice golden brown.

Take out the oven, and move them to a cooling rack

Once cooled, serve them up and ENJOY!
Nutrition Information:
Amount Per Serving:
Calories:

93
Total Fat:

5g
Saturated Fat:

1g
Trans Fat:

0g
Cholesterol:

0mg
Sodium:

79mg
Carbohydrates:

11g
Fiber:

1g
Sugar:

4g
Protein:

1g
This post was most recently updated
I want to hear what you have to say about this recipe that is on
SEDUCTION IN THE KITCHEN!
Let's get this conversation started! What do you think of this recipe?