This post was most recently updated
Watermelon Rice Krispy Pops is a fun way to enjoy Rice Krispy treats! This Rice Krispy treats pops are the perfect summer themed snack for your kids. Who would love a marshmallow rice treat on a stick?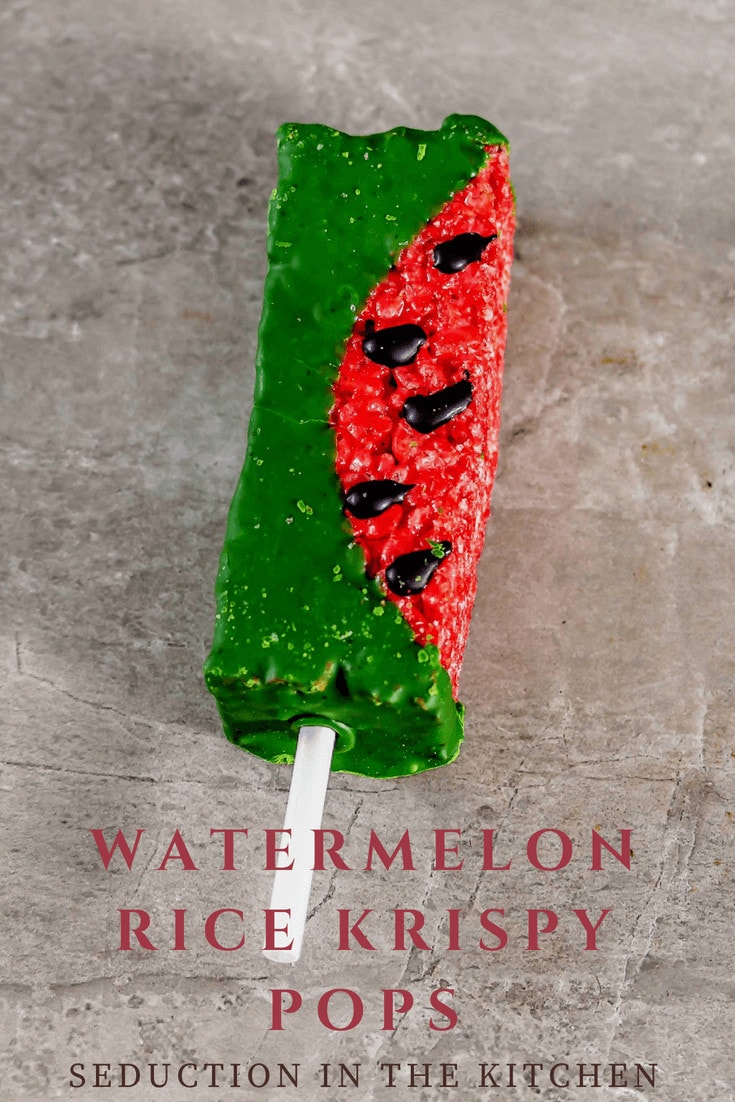 Summer Snacks
Summertime needs summer snacks. That was the inspiration behind this marshmallow treat pops. I saw a Rice Krispy pop in the shape of a flip-flop at the store and it inspired me.
Rice Krispy Pops
There are many shapes you can make with rice Krispy treats. I was thinking many things like a seashell, beach ball, even maybe a dolphin. For my Rice Krispy Pops, I decided simple and fun: watermelon.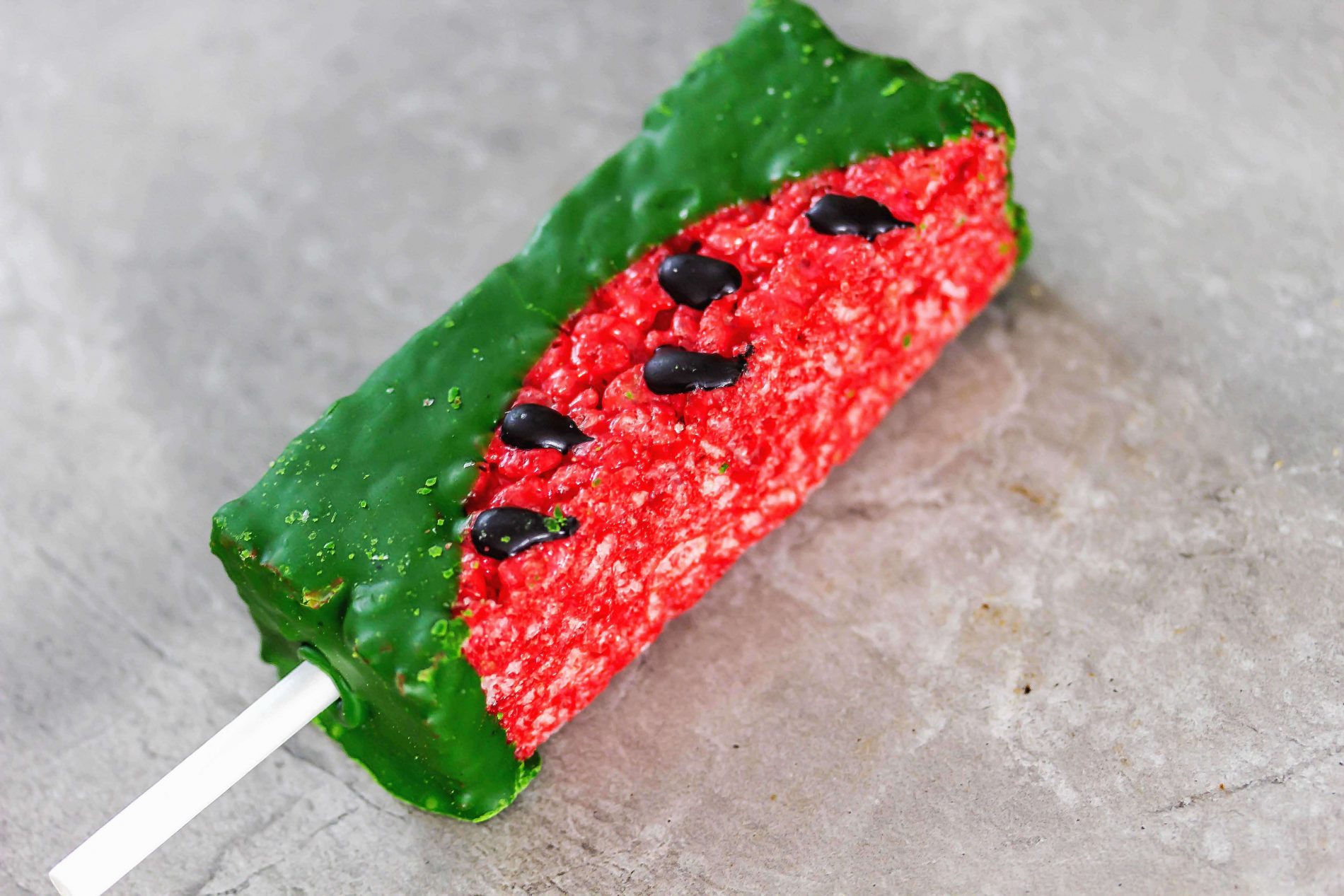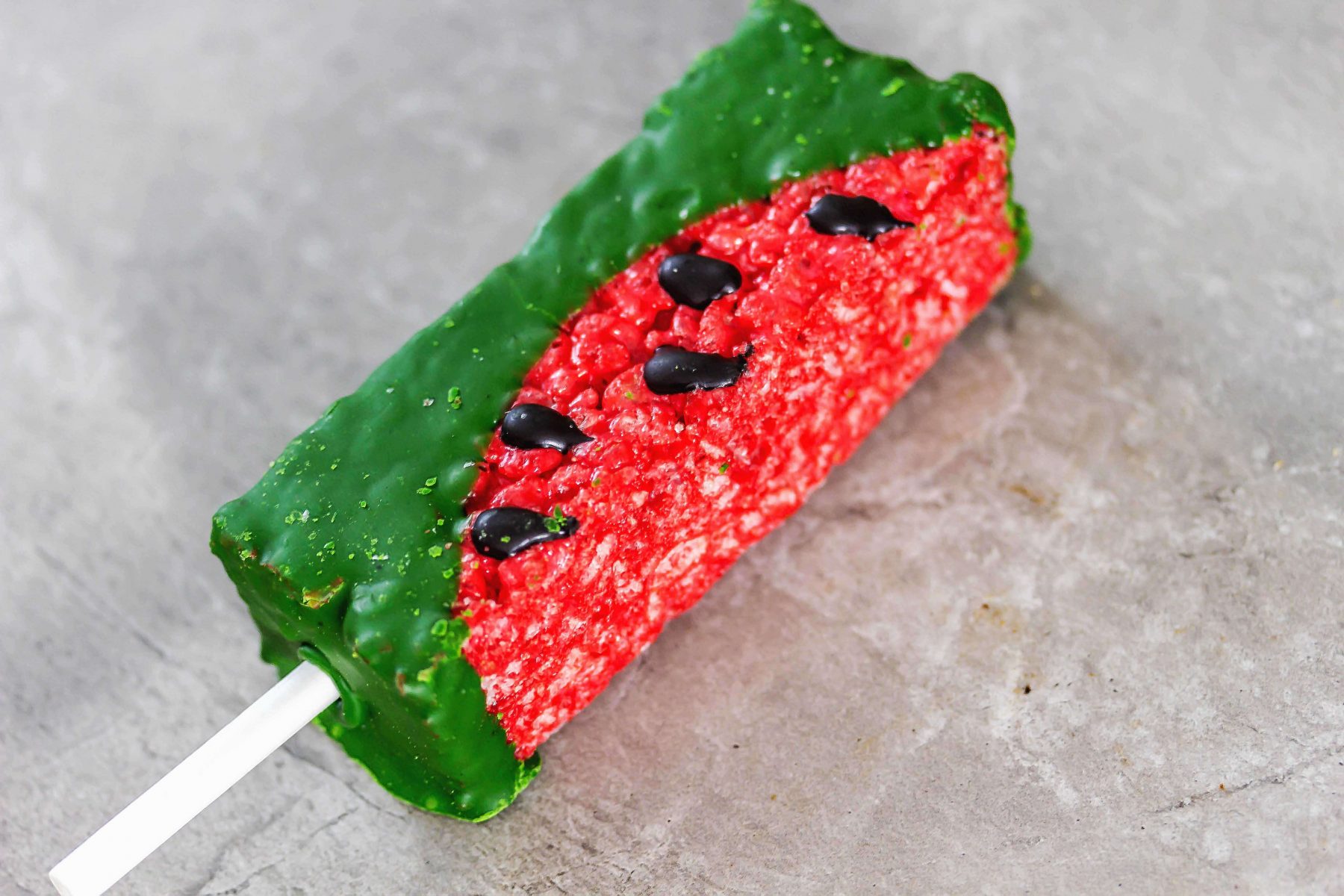 How To Make Rice Krispy Treat Pops
When I watch shows like the Cake Boss, you see them sculpting these figures out of Rice Krispie treats. The marshmallow rice cereal treats are perfect to mold into a shape and put them on a stick. All you need besides a few ingredients is just your creative imagination.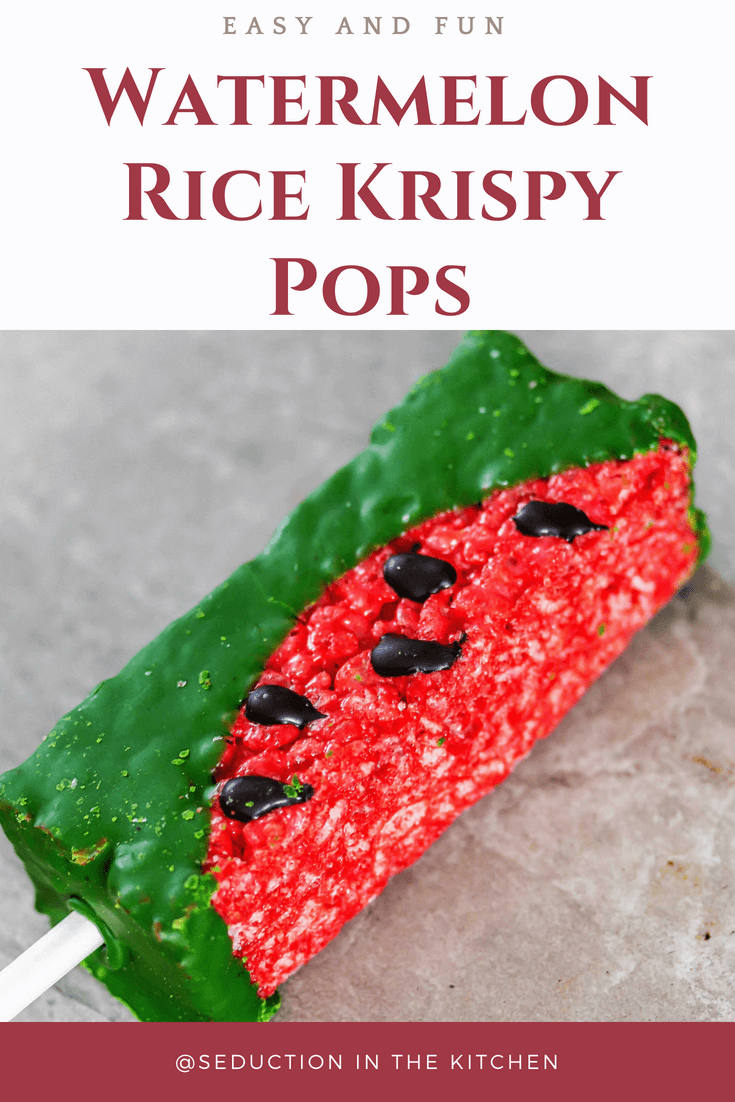 Watermelon Rice Krispy Pops
How can I take Rice Krispie Treats and turn them into Watermelon Rice Krispy Pops? One answer is I need to tint the actual rice Krispies red for the red part of the watermelon.
That part is easy, how to get marshmallow treat to be a watermelon? After a few trial and errors, the answer came, colored melted chocolate!
Chocolate Dipped Rice Crispy Treats
I could not just dip these rice crispy treats in chocolate and be done. To make these marshmallow pops look like a watermelon, I have to do a bit of chocolate painting. It is still Chocolate dipped rice crispy treats, but it also a chocolate art project as well.
Chocolate Painting
To give the Rice Krispy pops that watermelon look, I took a little bit of melted green chocolate and painted the border of where the red meets the green on a watermelon. Once I had that I would carefully dip the ends and bottom in chocolate up to that line.
Then again smooth out with chocolate painting the border and where I dipped with the paintbrush so it all in one. Sounds complicated but the truth is it very easy. Then I used melted chocolate that was black in a piping bag to make the seeds. Viola, you have Watermelon Rice Krispy Pops!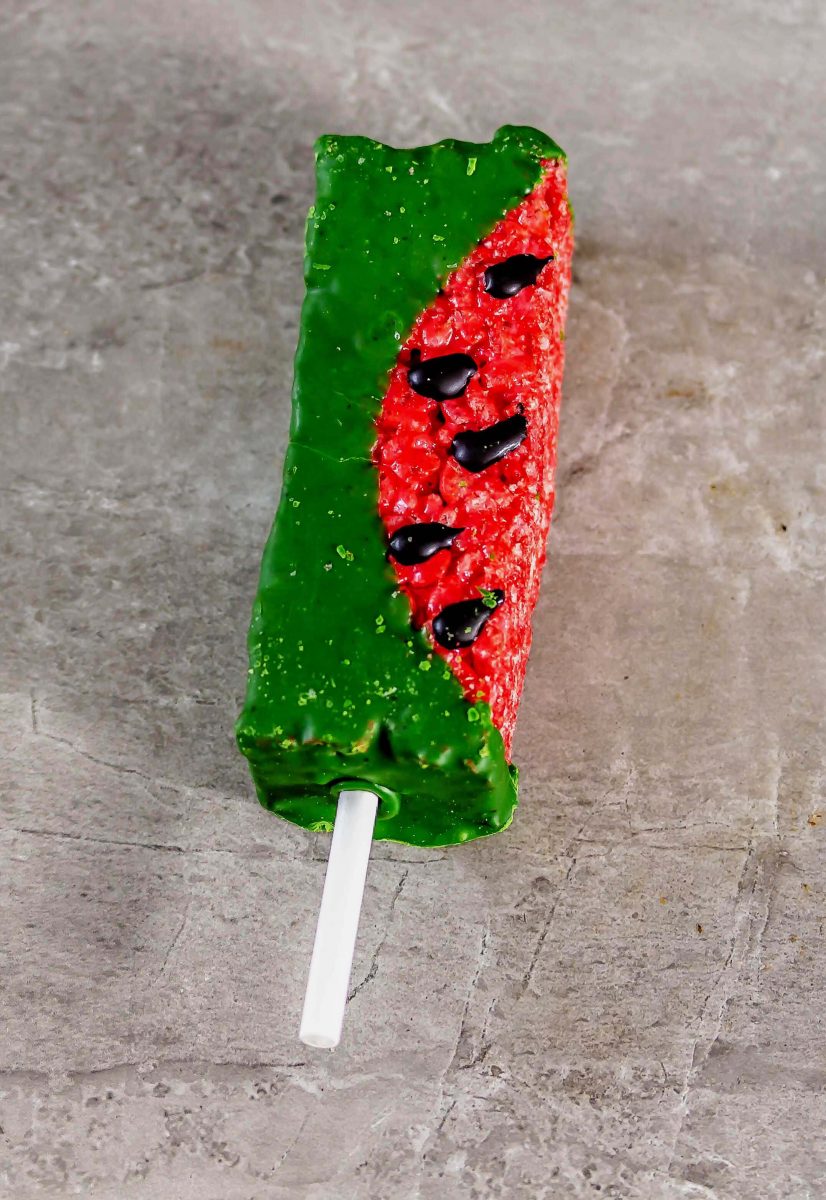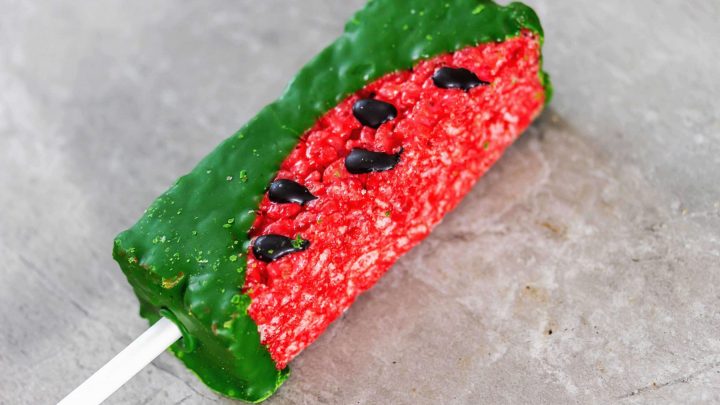 Yield:

24 servings
Watermelon Rice Krispy Pops Recipe
Total Time:
1 hour
10 minutes
Watermelon Rice Krispy Pops is a fun way to enjoy Rice Krispy treats! This Rice Krispy treats pops are the perfect summer themed snack for your kids. Who would love a marshmallow rice treat on a stick?
Ingredients
3 tbsp unsalted butter
1 bag of large marshmallows
6 cups Kellogg's® Rice Krispies® cereal
Red food coloring
Green Candy Melts
Back Candy Melts
cookie sticks/cake pop sticks
Instructions
Grease a 9"W x 13"L x 2"H pan with vegetable shortening and set aside.

In a large pot, add the unsalted butter and over low heat melt it.

Add the marshmallows, and stir with a wooden spoon until melted and smooth.

Remove the pot from the heat and pour in the cereal.

Add a few drops of the food coloring.

Stir until the cereal and marshmallow mixture is completely combined and red.

Dump the sticky mixture into the greased pan.

Grease your hands, then use them to smooth out the mixture and pat it down into one flat layer.

Allow the treats to cool.

Once cool, grease a sharp knife and use it to cut the treats into rectangles.
Melt the green candy melts
Using a food paintbrush, paint a green cholate semi-circle on one the long side of the treats.
Dip the back side, the top, and bottom into the green melted chocolate.
slowly dip up to the green line the top part.
Using the paintbrush, smooth out the green chocolate so looks like a watermelon.
Place the pops on wax paper to dry.
Inset a lollypop stick into the great while the green chocolate is still wet.
Use the paintbrush to smooth out any cracks in the chocolate from the stick.
Once the green chocolate is set up, melt the black chocolate.
Put the black chocolate in a piping and pipe on some "seeds"
Let the black chocolate set up.
Once it is cool, serve the pops up and ENJOY!
Using a food paintbrush, paint a line in a semi-circle on one side the
Notes
You can use a Ziploc bag and snip off a small corner for a piping bag if you don't have that. That works just fine!
Nutrition Information:
Amount Per Serving:
Calories:

350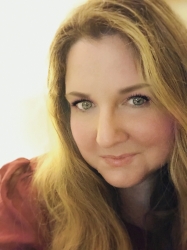 Latest posts by Deanna Samaan
(see all)