I am a participant in the Amazon Services LLC Associate Program, an affiliate advertising program designed to provide a means for me to earn fees to Amazon.com and affiliate sites.
Strawberry Shortcake Whipped Cream Cupcakes is a light and fluffy strawberry filled cupcake that is topped off with a whipped cream frosting. This strawberry delight will simply delight you and your taste buds.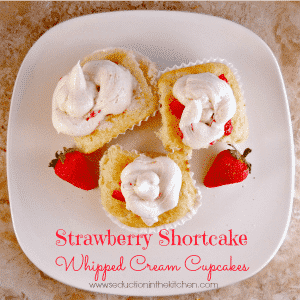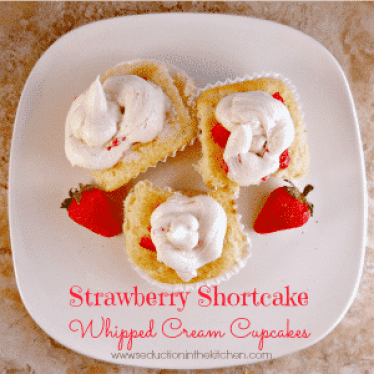 Video or Trying To
Happy Mother's Day! I got a sort of funny story, I decided to launch a YouTube Channel. I had plans of making these Strawberry Shortcake Whipped Cream Cupcakes the first recipe on the channel. I wanted to do an actual tutorial of the making of these cupcakes.
I admit I am still learning this little camera thingy to do the filming with. Well, I got 2 hours of footage, now it's time to edit it. Yeah…. hmmm, did you know you should open a shutter thing on a portable webcam? I did not do that, I got 2 hours of audio, and pitch black, and sometimes a finger because I was adjusting the lens. I guess I better read the manual again.
I had this cute little intro, talking about how this recipe blog will be turning 1 year in 2 weeks. How this is a Sunday Supper post and it all about Mother's day and how my mom inspired the recipe. So instead of seeing it in the video that is all black, how about I just type it out for you. It just one of those laugh out loud moments in life
So when I figure out this gizmo to film, I want to take this blog to next level with video tutorials. S,o hopefully soon I will have 15-20 minute recipe videos on the YouTube Channel. You will, however, have to bear with me on it. I will be chatty Cathy, I will make mistakes, I am still learning it as I go, just like I am with food photos! I hope they will be fun and you get to see my personality.
Strawberry Shortcake Whipped Cream Cupcakes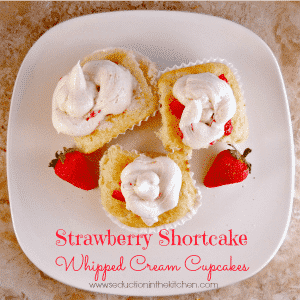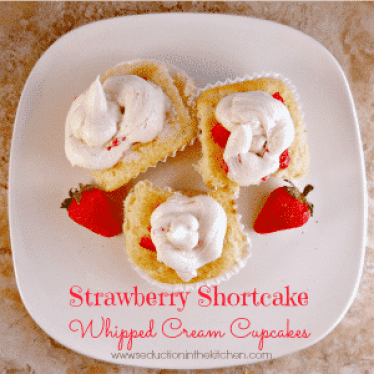 Seduction in the Kitchen recipe blog would not be possible without the support of its fans. One of my fans is my mom. My mother actually inspired Strawberry Shortcake Whipped Cream Cupcakes recipe.
My mom can not smell or taste anything from a brain tumor she has. It is not cancerous, but she did lose these senses from it. It been 15 years and trust me it is interesting sometimes. You ask her if something tastes ok, she looks at you and says, "texture seems right." It is all about texture rather than taste with her.
My mom asked me to make her a strawberry whipped cream cake she used to get with her father at a bakery in Pittsburgh, I think it was in Squirrel Hill and was called Waldorf's Bakery. The problem was this place went out business in the 80's. From everything I could find on this place, there is no recipe online for this Strawberry Whipped Cream Cake, the only thing could find was people missed the bakery.
So I listened to description she told me of what she could remember about this cake. I tried my best, asked her how it was, I got "texture seems right." We will never know if I cracked the recipe.
My mom suggested instead putting strawberries into the batter for the Strawberry Shortcake Whipped Cream Cupcakes, I should put the strawberries on top of the cupcakes. That is what they did at this Waldorf's bakery for the cake she treasured as a kid. She said also said put chunks of strawberry into the whipped cream because again that goes back to the strawberry whipped cream cake she loves.
So I did as she said, and my family truly loved them, they are so moist, that they melted in your mouth. I asked my mom, did I finally crack this childhood recipe? "Texture seems right."
Yield: 12 servings
#SundaySupper Strawberry Shortcake Whipped Cream Cupcakes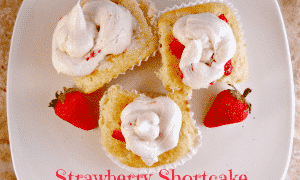 #SundaySupper recipe post! A Moist cupcake that is a take on a whipped cream cake and strawberry shortcake. A recipe from Seduction in the Kitchen
Ingredients
1 box of French Vanilla Cake mix
1 6 oz carton of strawberry Yogurt
1 small box of vanilla pudding
2 eggs
1/4 cup vegetable oil
1/4 cup heavy cream
3/4 cup water
1 cup of shortening
1 stick of butter (soften)
1 cup of sugar
1 egg white
2 tablespoons heavy cream
2 teaspoons vanilla
6 strawberries (chopped)
6-8 strawberries sliced
1 tablespoon sugar
Instructions
First, you want put the table spoon of sugar over the strawberry slices and set them aside to juice up.
Next, in a bowl, add the French vanilla cake mix, with 2 eggs, pudding mix, yogurt, vegetable oil, heavy cream and water. Mix it till well blended.
Preheat your oven to 350F and fill cupcake liner 3/4 way full with batter. Bake the cupcakes for 15 minutes. When a tooth pick comes out clean, then they are done.
While the cupcakes are baking, make the whipped cream frosting. In a small bowl, beat the egg white till it doubles in size and all nice and foamy. Set it aside.
Then in another bowl, cream the shortening and butter together. You may have to scrape the bowl down some as you do this.
Then add the chopped strawberries, sugar and vanilla to the butter mixture. With a mixture blend it all together.
Once blended together add the 2 tablespoons of heavy cream and the egg white, fold it all together by hand. Once it is all incorporated, spoon the frosting into a ziplock or a pastry bag.
When the cupcakes are done in the oven, let cool. Once they are cooled, arrange 3-4 strawberry slices on the top of each cupcake.
Then, pipe on the frosting onto each one, covering the strawberries.
Then finally ENJOY!
Nutrition Information:
Amount Per Serving:
Calories:

420
So are you ready for the other great Sunday Supper recipes and mother stories? Well here they are:
Mother's Day Appetizers, Soups and Salads:
Mother's Day Main Dishes: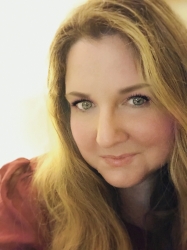 Latest posts by Deanna Samaan
(see all)