This post was most recently updated
Catalina Layered Taco Salad is a layered taco salad that is made with Catalina dressing.  This taco salad recipe just burst with flavor! The Catalina dressing taco salad will be your favored layered taco salad to make! Serves 8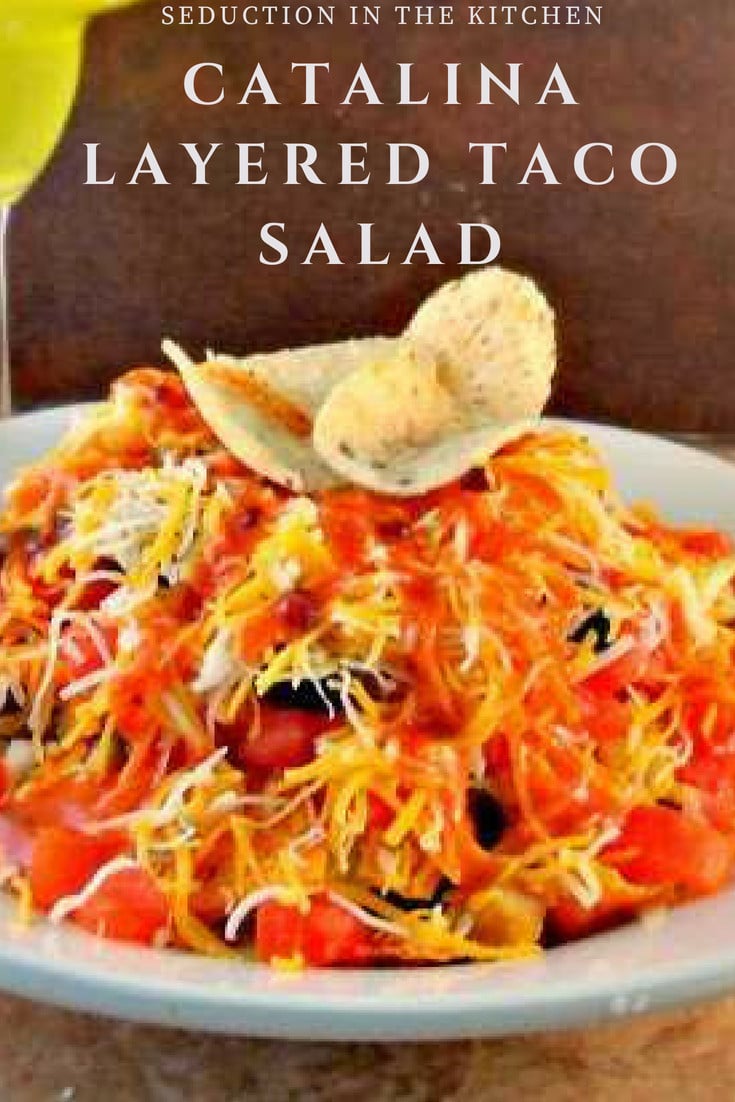 Recipe For Taco Salad With Catalina Dressing
When I was a kid, my mother had a friend make this Catalina taco salad. What made this taco salad recipe so good was the Catalina dressing.
Fast forward to today, as I was going through some things because I will be moving,  yes I am leaving Ohio finally! Anyway, I came across some old recipes that were given to me. One of them was the recipe for taco salad with Catalina dressing.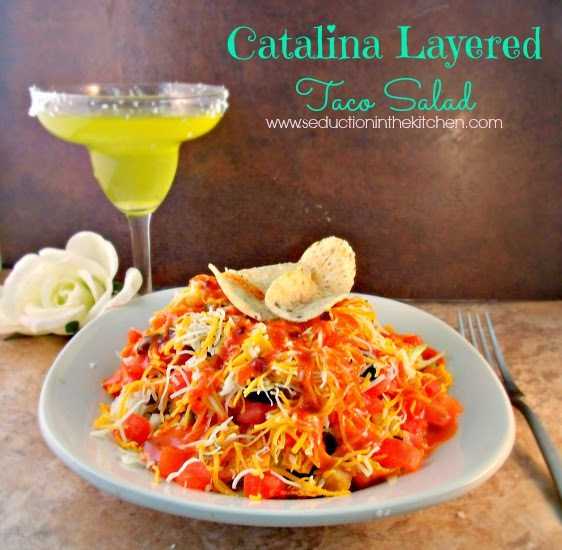 Layered Taco Salad
I decided I wanted to put this layered taco salad on Seduction In The Kitchen. Why? Well because it really is a great taco salad recipe and two, the woman who gave to me, sadly passed away a few years ago, so it would be a nice mini-tribute to her and her great taco salad with Catalina dressing.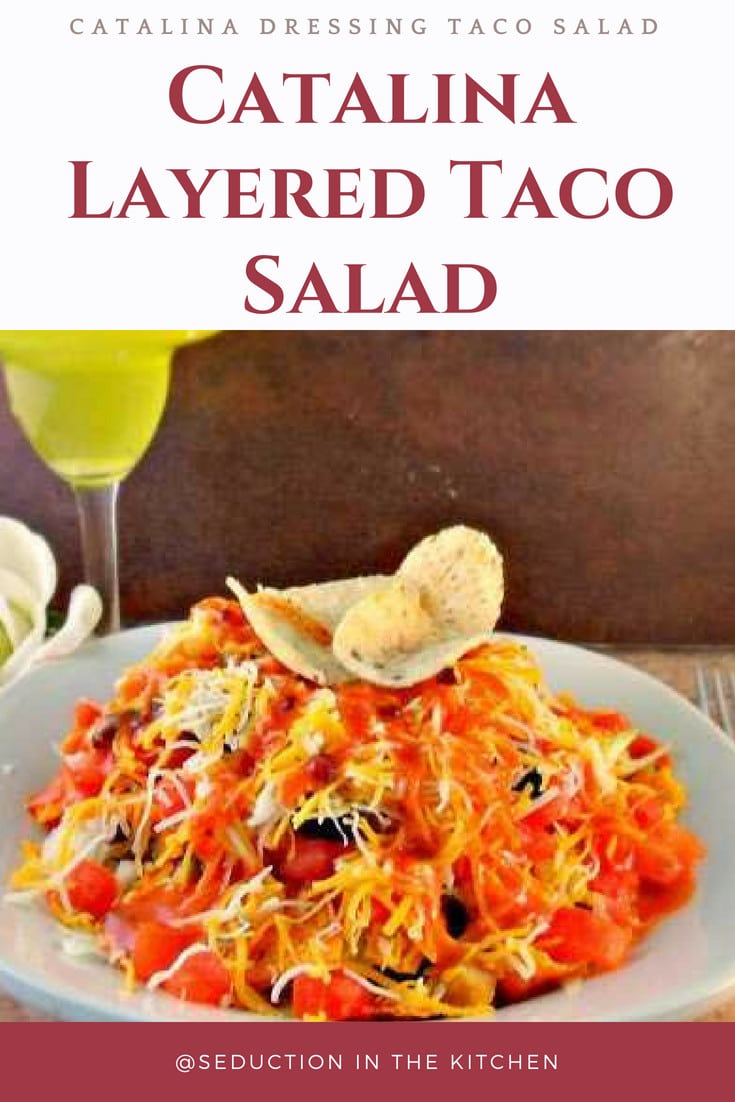 Catalina Layered Taco Salad
Besides a tribute, but this Catalina Layered Taco Salad has always been my favorite version of taco salad recipe. That sweet tangy flavor of the dressing just brings out the taco flavor. A taco salad with Catalina to be is the Rolls Royce of taco salads, in my opinion.
Taco Salad Recipe
Can you make this taco salad with Catalina dressing without the dressing? Well, yes, but there is just something about that tangy Catalina dressing. I can not explain it, other than it just brings that wow factor to a  layered taco salad.
Catalina Dressing Taco Salad
If you want to impress people at a potluck or picnic make this Catalina dressing taco salad. Trust me you will get rave reviews. This Catalina taco salad is just that good!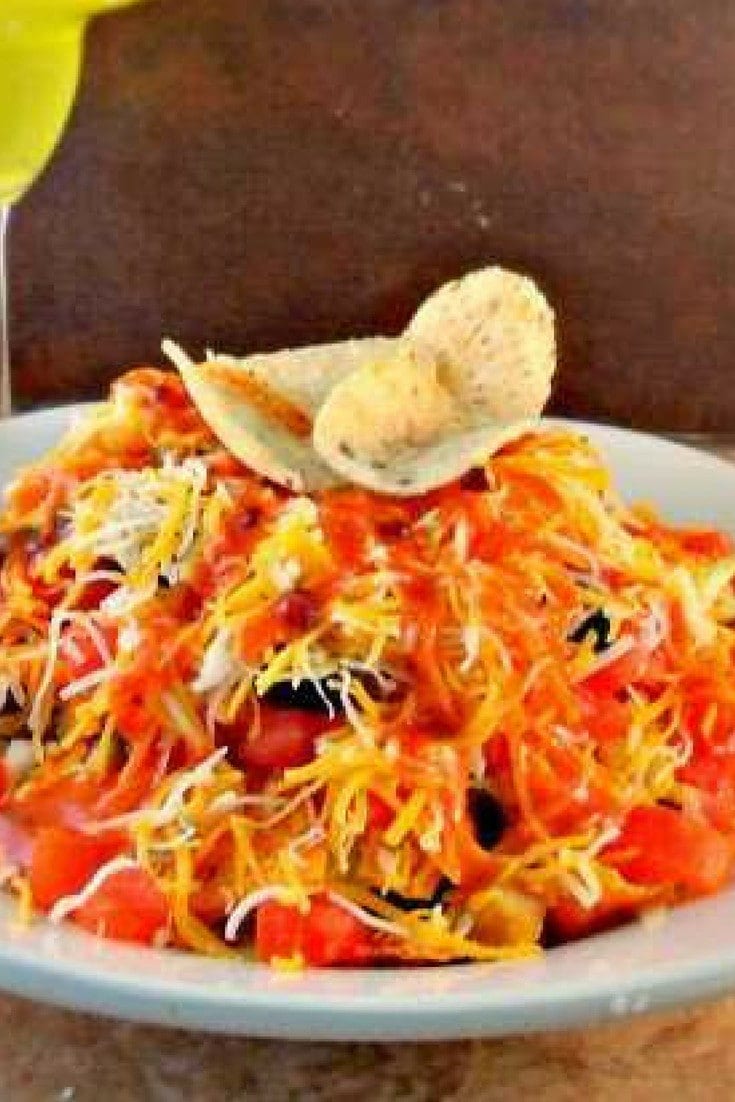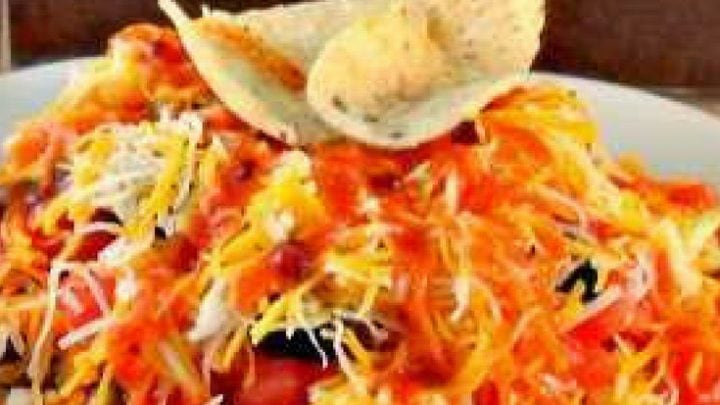 Yield:

8 servings
Catalina Layered Taco Salad Recipe
A layered taco salad with Catalina dressing makes for a great Mexican meal. A recipe from Seduction in the Kitchen.
Ingredients
1 head iceberg lettuce
2 cups shredded cheddar cheese
2 lbs ground beef
1 package taco seasoning
2 tomatoes (diced)
1 onion (chopped)
1 bag plain Doritos
1 4 oz can sliced black olives
1 ounce bottle Catalina dressing (16)
Instructions
Brown your ground beef and add the taco seasoning to it. Make the taco meat according to the directions on the taco seasoning.
Place a layer of the taco meat onto a plate.
Crush the Doritos and then put a layer of the crushed Doritos on top the taco meat.
Next layer on the lettuce.
Add the tomatoes.
The next layer is onions.
Then the black olives.
Finally the cheese on top.
Squeeze the Catalina dressing on the very top. Usually 1/2 the bottle is good but you can use the whole bottle is desire.
Then serve it up and ENJOY!
Nutrition Information:
Amount Per Serving:
Calories:

525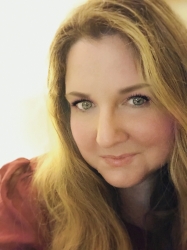 Latest posts by Deanna Samaan (see all)