This post was most recently updated
Reuben Meatball Casserole is the best recipe for a Reuben casserole! It starts with canned corned beef made into meatballs. Then it turned into a Reuben recipe and it is delish!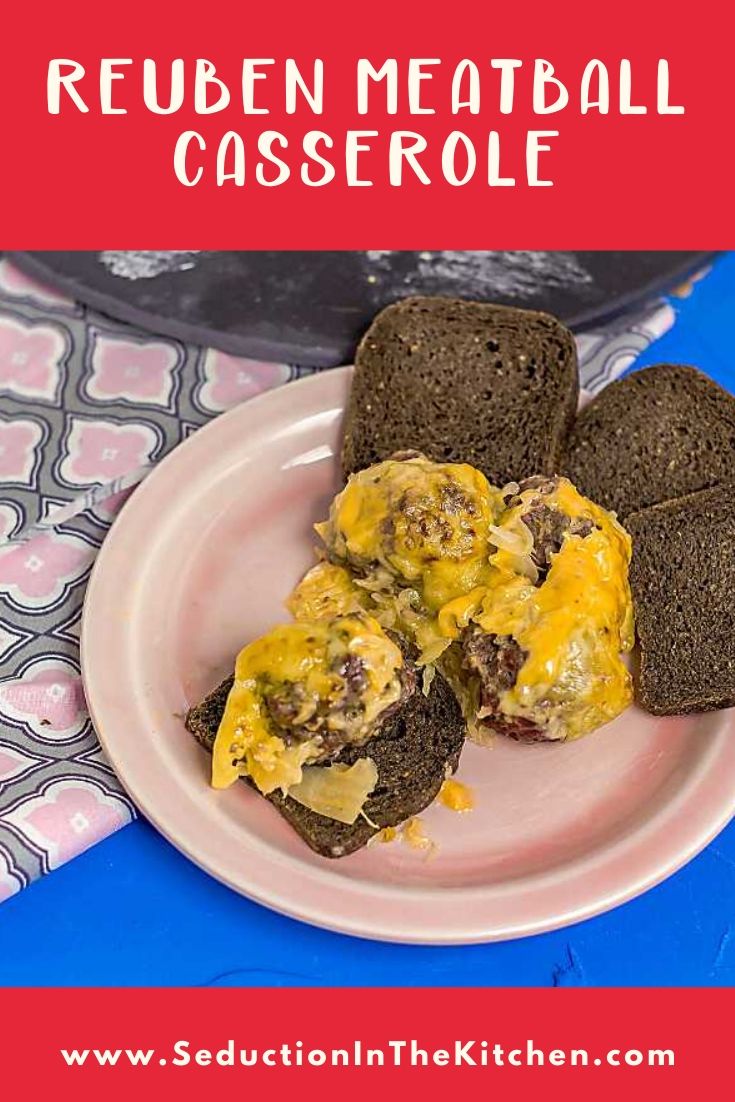 Reuben Casserole
Where did this reuben casserole come from? I was in Freaky Friday and was assigned to make a recipe from Take Two Tapas! I love Jennifer's blog! This food blog is full of PARTY FOOD! That is right cocktails, small plates, and everything fun.
Trust me if you are throwing a party, a celebration, or want to do wine and slippers, you need to go to Take two Tapps blog. Here is a sample of some of Jennifer's cuisine:
Reccomended Recipes From Take Two Tapas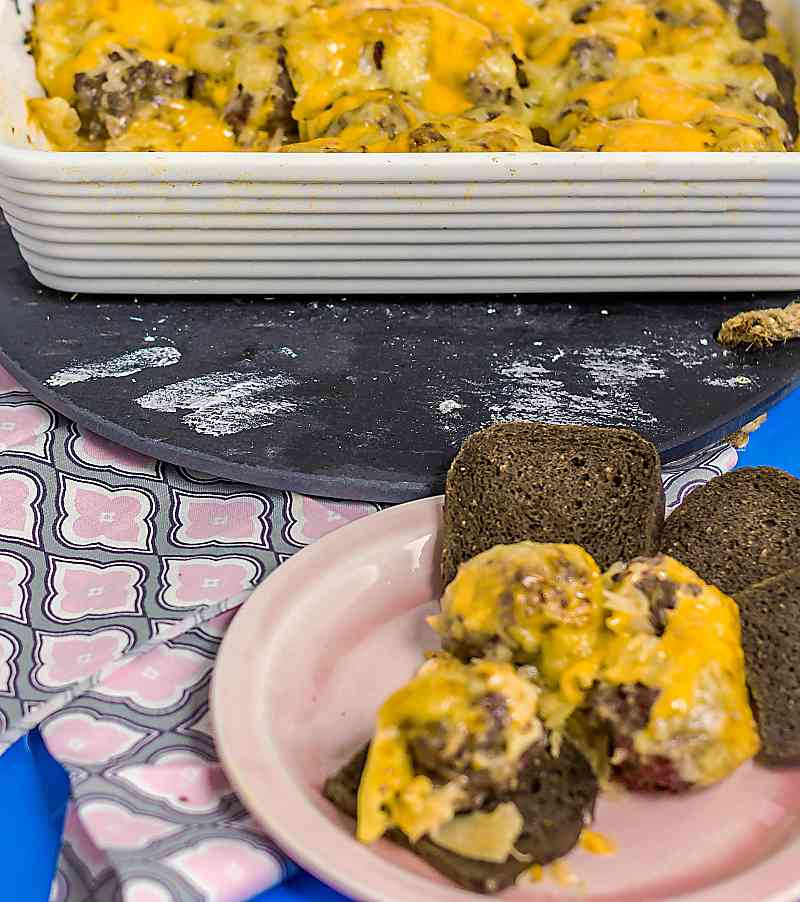 Meatball Casserole
When I had to pick one of Take Two Tapas recipes, I finally settled on her Savory Reuban Meatballs. I chose this meatball casserole because I love a good Reuben recipe! This Reuben casserole sounded amazing!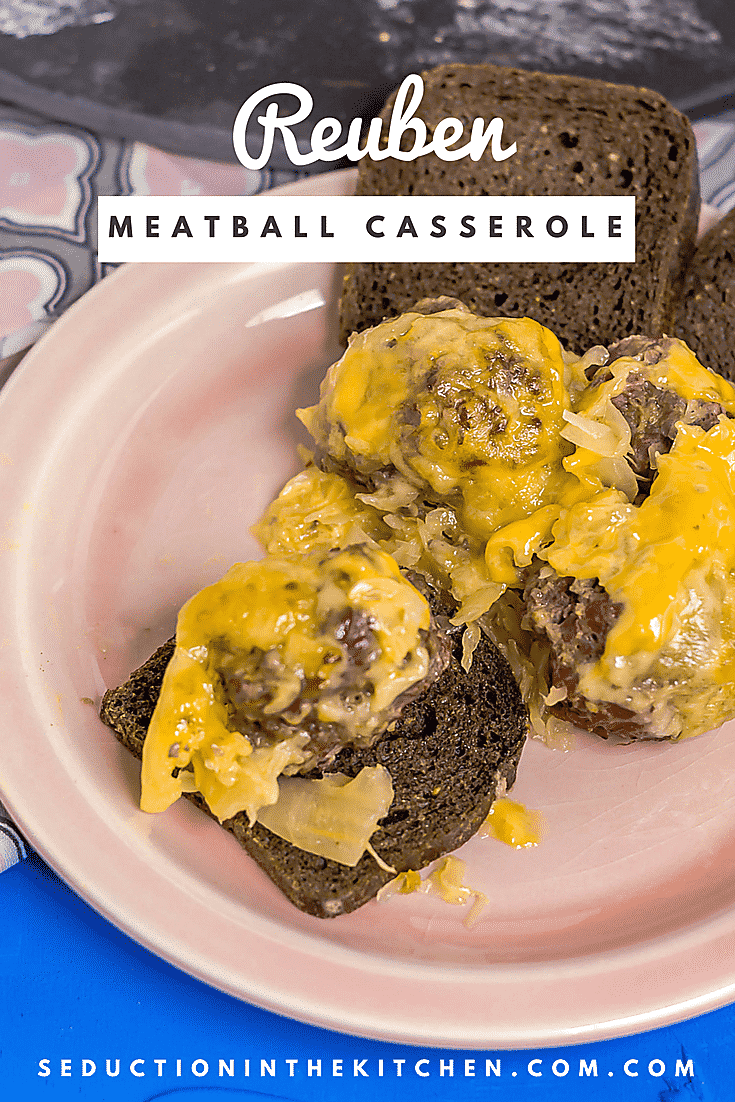 Corned Beef Recipes
St Patrick's Day is HUGE here in Cleveland. Everyone here in Cleveland keeps asking me if I have any corned beef recipes. What is nice about corned beef recipes is they also make for a good Reuben recipe.
Canned Corned Beef
Now I did make tiny changes to Jennifer's meatball casserole. Like she made her reuben recipe as a skillet casserole, and I made it more as an oven casserole. Plus after making these meatballs a few times I used canned corned beef instead of griding up the corned beef.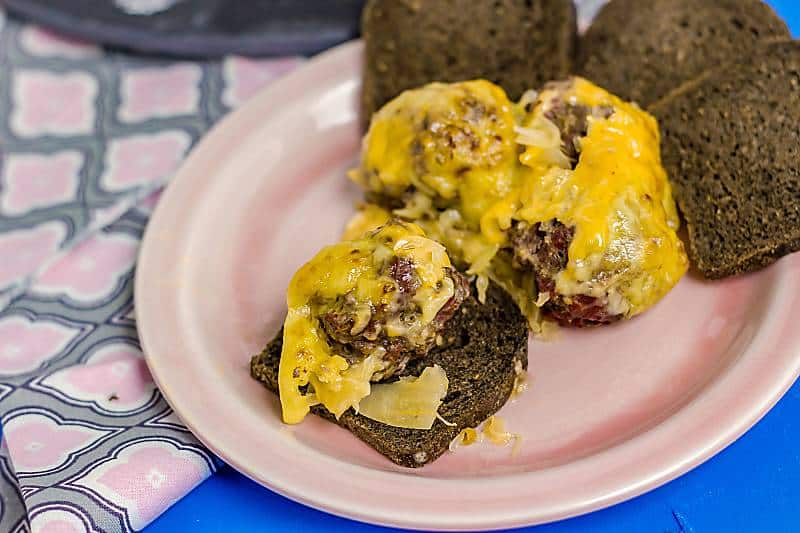 Reuben Recipe
A reuben recipe is simple it is:
corned beef
sauerkraut
swiss cheese
thousand island dressing
rye or

pumpernickel bread
So to make this reuben casserole, you need all those ingredients in order to make this a reuben recipe.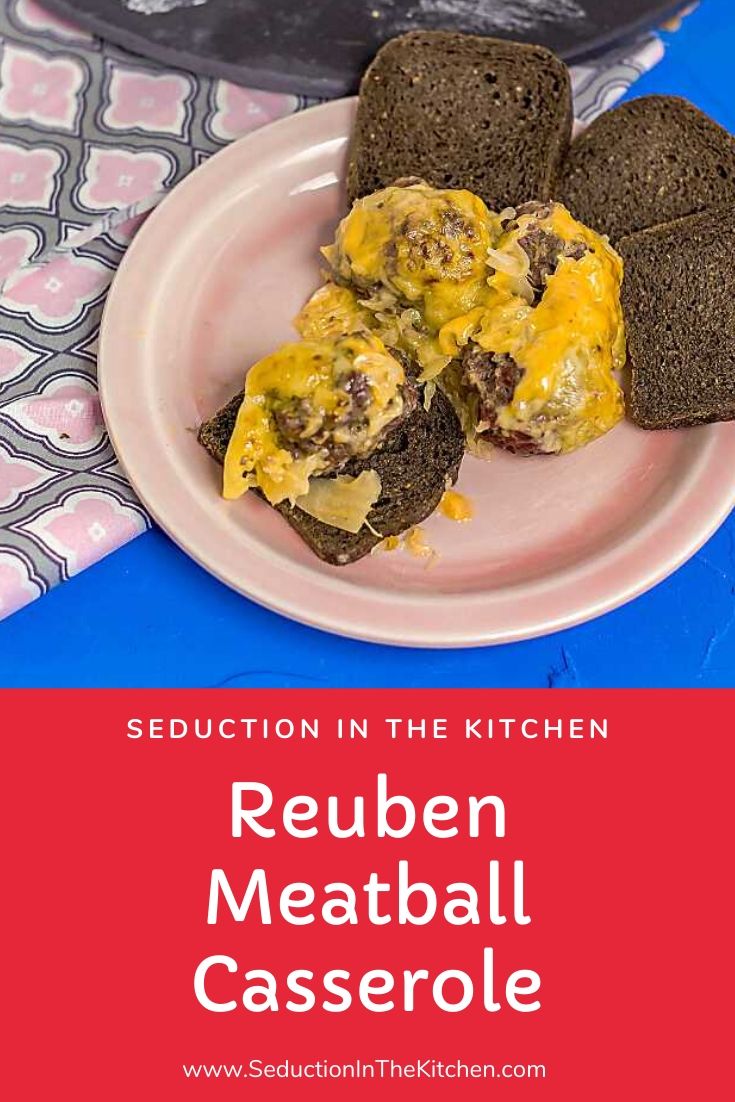 Cocktail Bread
Since this is a reuben casserole, I knew I could serve it up with cocktail bread. I also needed a binder to keep the canned corned beef formed into meatballs.What I did was take some of the cocktail bread and made them into breadcrumbs for the binder.
By doing that, the meatballs embraced that wonderful Reuben flavor to them. Plus I felt that this corned beef recipe would really embrace that Reuban taste.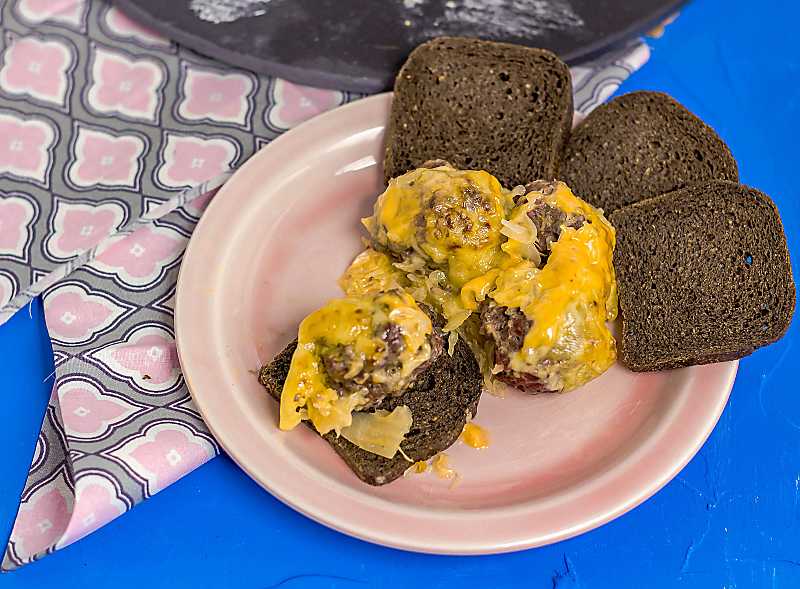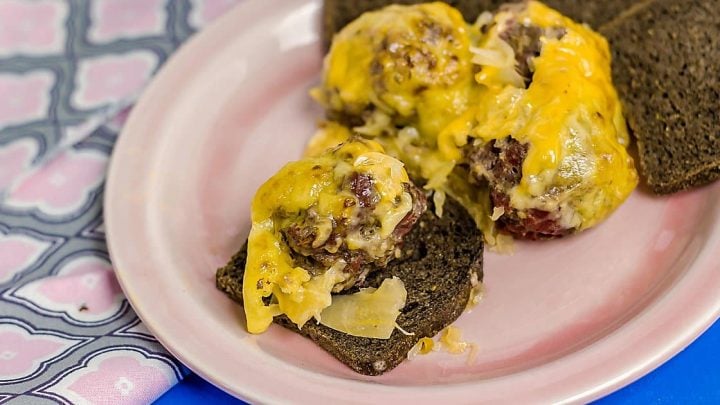 Yield:

14
Reuben Meatball Casserole Recipe
Reuben Meatball Casserole is the best recipe for a Reuben casserole! It starts with canned corned beef made into meatballs. Then it turned into a Reuben recipe and it is delish!
Ingredients
1 tablespoons of oil
1 lb ground beef
12 oz canned corned beef
a sprinkling of salt and pepper
20 oz can sauerkraut
1 egg
2 tablespoons pumpernickel breadcrumbs
1 cup swiss cheese, shredded
1/4 cup Thousand Island dressing
mini  pumpernickel toasts
Instructions
Preheat oven to 400 degrees F.

Add the corned beef, ground beef, salt, pepper, pumpernickel breadcrumbs, and egg in a large bowl and mix well.

Form the meat into meatballs.

Add some oil to a pan and brown the meatballs.

When the meatballs are browned, take off the heat and set aside.

Sprinkle a layer of sauerkraut to the bottom of casserole pan.
Drizzle some of the thousand Island dressing over the sauerkraut.
Add the meatballs on top the sauerkraut.
Add another layer of the sauerkraut on top the meatballs.
Drizzle the rest the thousand island dressing on the top.
Finally, top with the shredded cheese.

Bake for 30 minutes.

Serve with mini pumpernickel toasts and ENJOY!
Notes
To make pumpernickel toasts make pumpernickel breadcrumbs toast about 2-3 of the mini pumpernickel bread. Then grind it up to make breadcrumbs.
If you can not find canned corned beef, 1/2 lb of deli corned beef shredded will work
Recommended Products
As an Amazon Associate and member of other affiliate programs, I earn from qualifying purchases.
Nutrition Information:
Yield:
14
Serving Size:
1
Amount Per Serving:
Calories:

225
Total Fat:

14g
Saturated Fat:

5g
Trans Fat:

0g
Unsaturated Fat:

7g
Cholesterol:

68mg
Sodium:

594mg
Carbohydrates:

6g
Fiber:

2g
Sugar:

2g
Protein:

18g
Looking for more meatloaf recipes? Check out these recipes:
Check out my the latest on my other blog: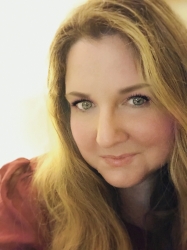 Latest posts by Deanna Samaan
(see all)