I am a participant in the Amazon Services LLC Associate Program, an affiliate advertising program designed to provide a means for me to earn fees to Amazon.com and affiliate sites.
[intro]Ravioli and Meatball Soup is a hearty soup recipe. This Italian soup is garnished with homemade garlic bread croutons for the full Italian flavor. [/intro]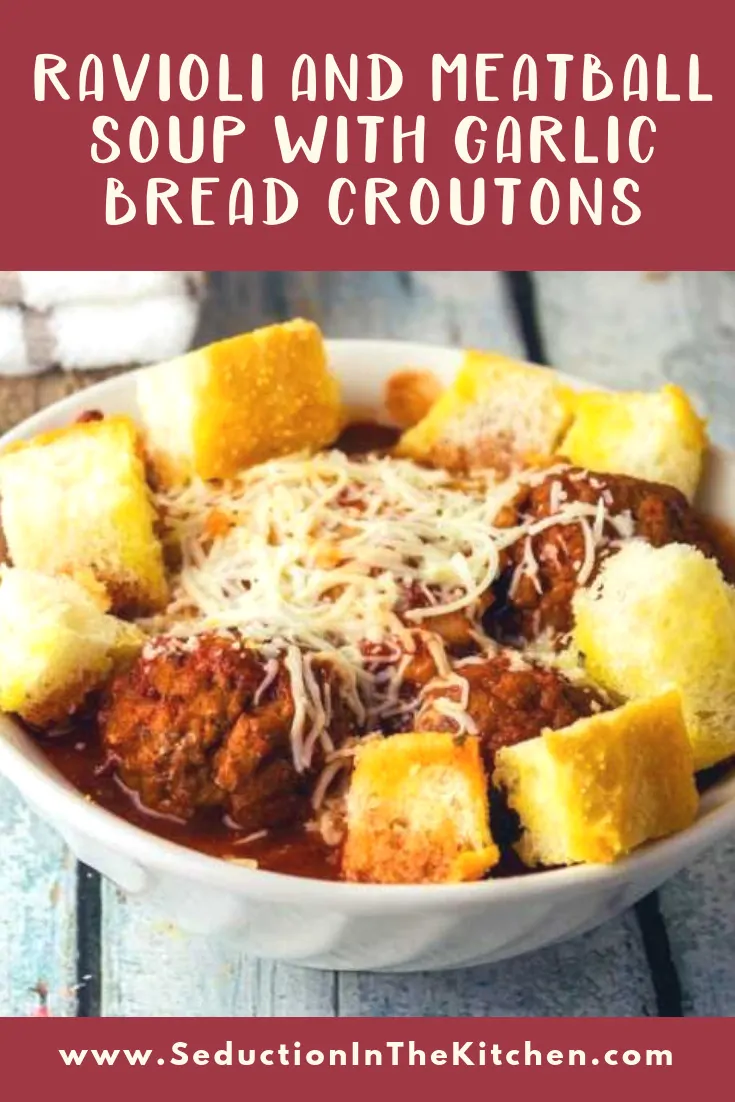 Hearty Soup Recipes
I love hearty soup recipes. What is a hearty soup? It a soup that is full of ingredients that just fills you right up!
With the weather turning cooler, I find myself making more hearty soup recipes, especially with my slow cooker. However, I wanted to make a fulfilling soup that is budget friendly and also be an Italian soup.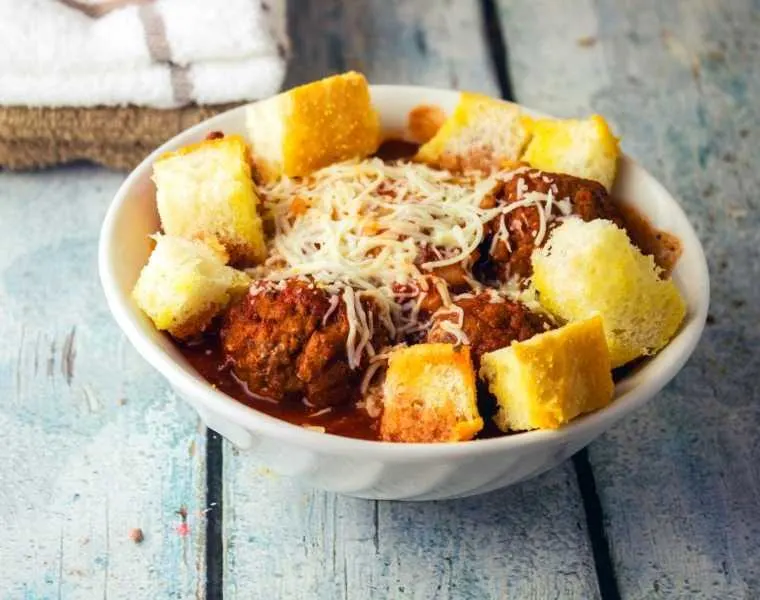 Italian Soup
There are several Italian soups that are hardy. I wanted to make an Italian soup that could be a complete Italian meal in a bowl. What would be budget friendly, a hardy Italian soup I could make? A ravioli soup was the answer.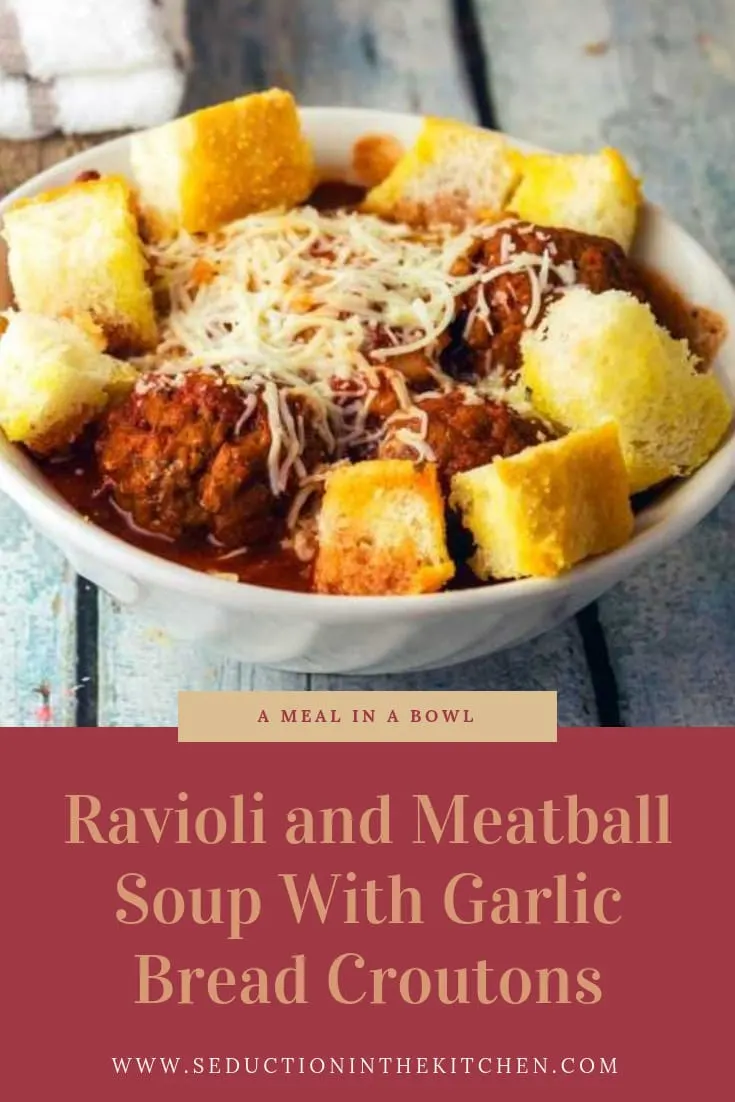 Ravioli Soup
Ravioli soup is a great idea to turn into a meal bowl soup. I didn't want to just have a cheese ravioli in this Italian soup recipe. I decided to combine a meatball soup idea with this soup recipe.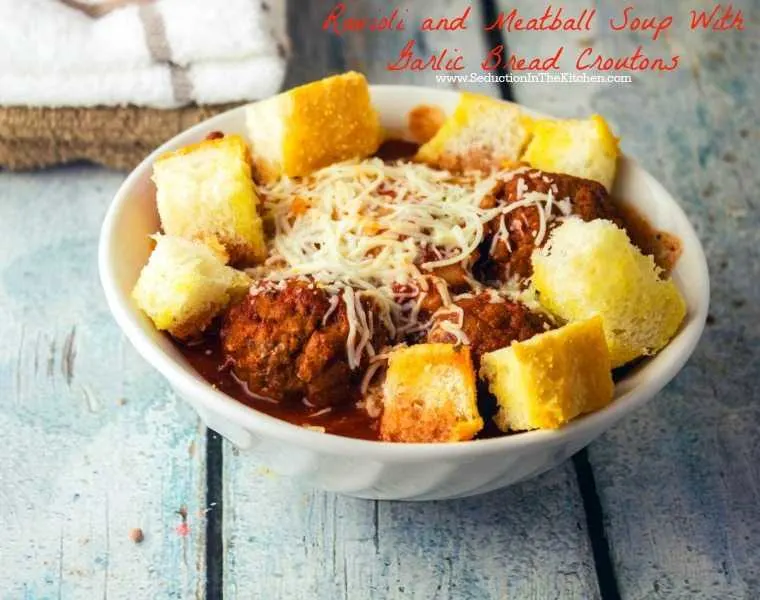 Garlic Bread Croutons
If you look at my lasagna soup, it is a lasagna soup but with a twist. I used a cheesy garlic toast on top of the soup as you do with French onion soup. With this ravioli soup, I wanted to to do a similar concept, only I decided that it should be with homemade croutons, or should I say homemade garlic bread croutons!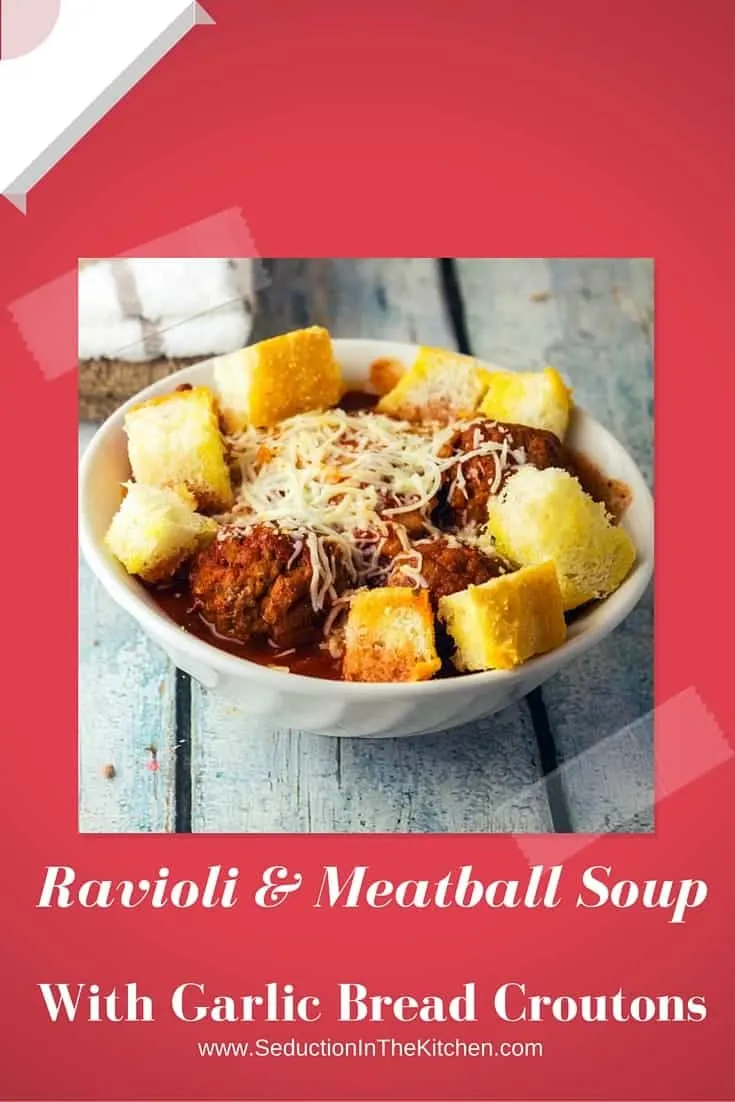 Meatball Soup
What if this ravioli soup is too hardy of a soup for you? You could make it without the meatballs. However, you could just make it a meatball soup! Just leave out the cheese ravioli! This hearty Italian soup is very versatile!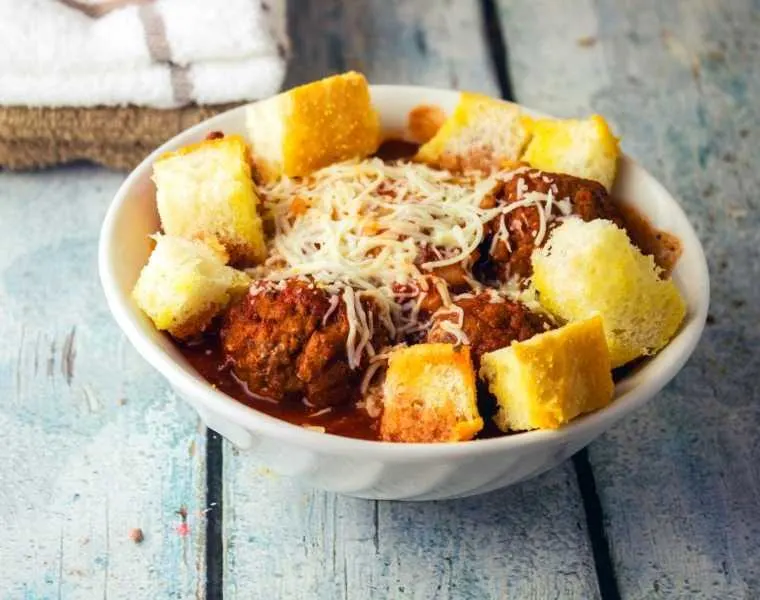 Yield: 8 servings
Ravioli and Meatball Soup With Garlic Bread Croutons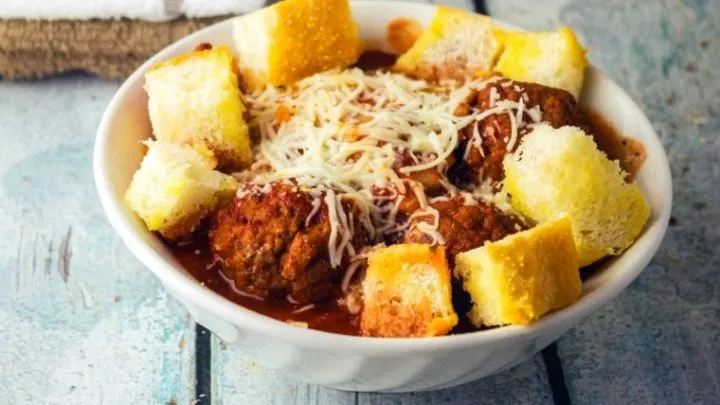 Ravioli and Meatball Soup With Garlic Bread Croutons is a hearty soup that is garnished with garlic bread croutons that will fill you up.
Ingredients
1 pkg Italian Style Frozen Meatballs
1 tablespoon olive oil
1 large onion finely chopped
1 garlic clove minced
28 ounces crushed tomatoes
1/4 cup tomato paste
13 3/4 ounces beef broth
1/2 cup dry red wine
1 cup water
1/2 teaspoon sugar
1/2 teaspoon basil crumbled
1/4 teaspoon thyme crumbled
1/4 teaspoon oregano
12 ounces cheese ravioli, frozen, thawed
1 ⁄4 cup fresh parsley, chopped
4 slices frozen garlic toast , cubed
Italian cheese for garnish
Instructions
In a dutch oven, heat up the oil and add the onion and garlic and cook about 5 minutes, stirring so they do not burn.
Add meatballs, tomatoes and their liquid, tomato paste, broth, wine, water, sugar, basil, thyme and oregano.
Bring to boiling; reduce heat; cover and simmer 30 minutes.
Add ravioli and cook, covered, at a gentle boil for as long as specified on ravioli package.
Salt to taste; stir in parsley., then let the soup sit off the heat till the croutons are baked.
Preheat the oven to 400F.
On a foil lined cookie sheet, add the cut up garlic bread and bake for 5 minutes.
Take out the oven, ladle some the soup into a bowl, garnish with the Italian cheese and croutons and ENJOY!
Recommended Products
As an Amazon Associate and member of other affiliate programs, I earn from qualifying purchases.
Nutrition Information:
Yield:
8
Amount Per Serving:
Calories:

273
Total Fat:

8g
Saturated Fat:

3g
Trans Fat:

0g
Cholesterol:

25mg
Sodium:

601mg
Carbohydrates:

39g
Fiber:

4g
Sugar:

8g
Protein:

12g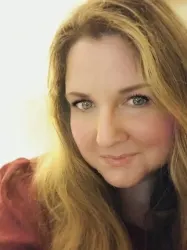 Latest posts by Deanna Samaan
(see all)