I am a participant in the Amazon Services LLC Associate Program, an affiliate advertising program designed to provide a means for me to earn fees to Amazon.com and affiliate sites.
[intro]Ranch Noodle Broth Bowl is a savory broth soup with udon noodles, mushrooms, onions, and zucchini. This ranch flavor broth bowl recipe is loosely based on the broth bowls from Panera. If you like a ranch recipe, then you will love this broth bowl![/intro]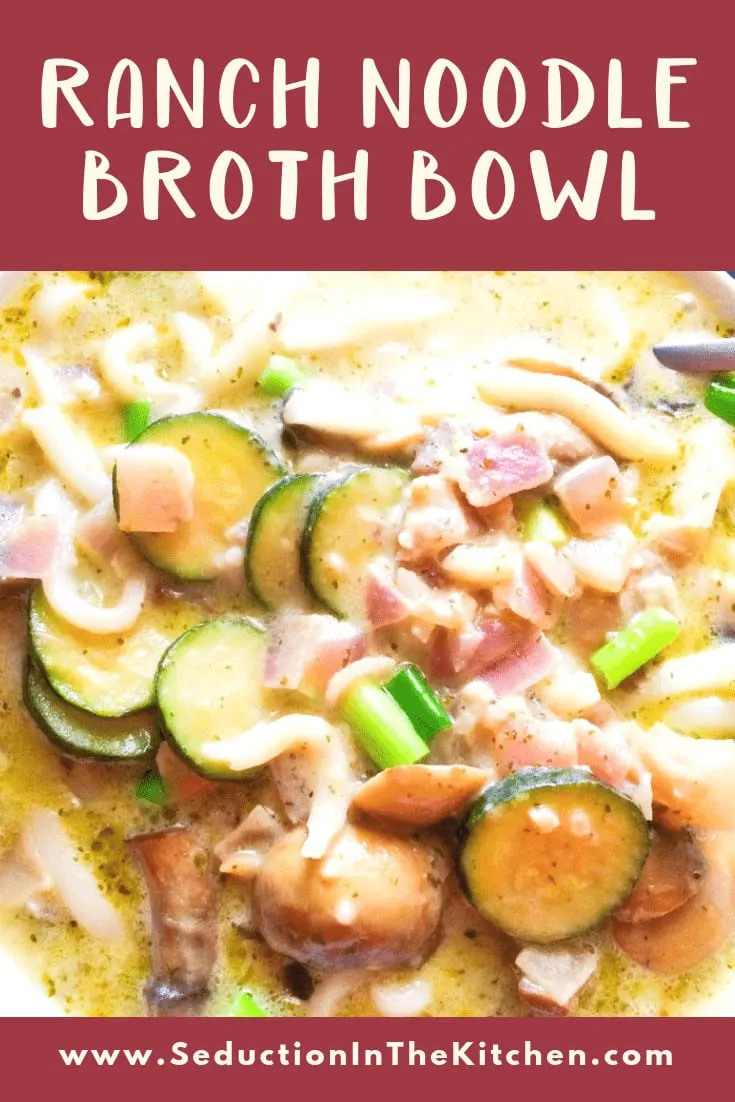 Ranch Recipe
Give me a ranch recipe any day!. Pittsburghers love ranch flavored anything. WHy? Not quite sure, but it is true, ranch dressing added to anything is a Pittsburgh thing!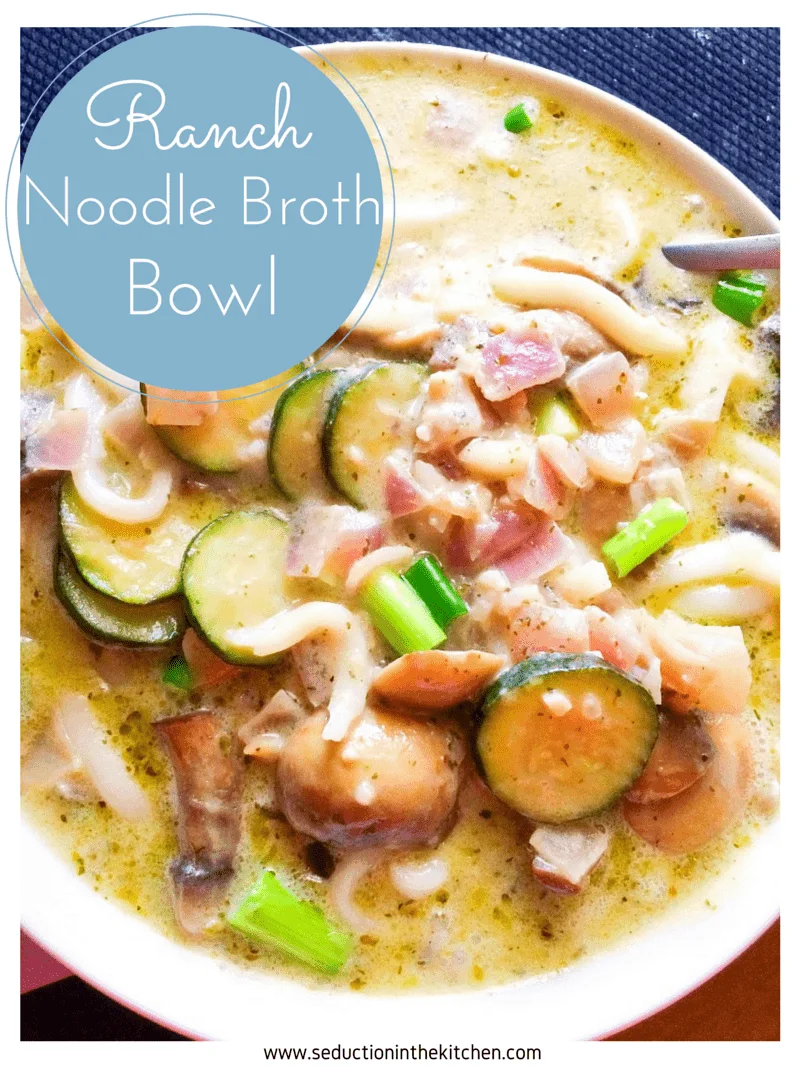 Broth Bowls Panera
Have you ever had a broth bowl from Panera? A broth bowl is mostly a homemade broth with noodles and vegetables. AT least that is what the Panera Browth bowl is.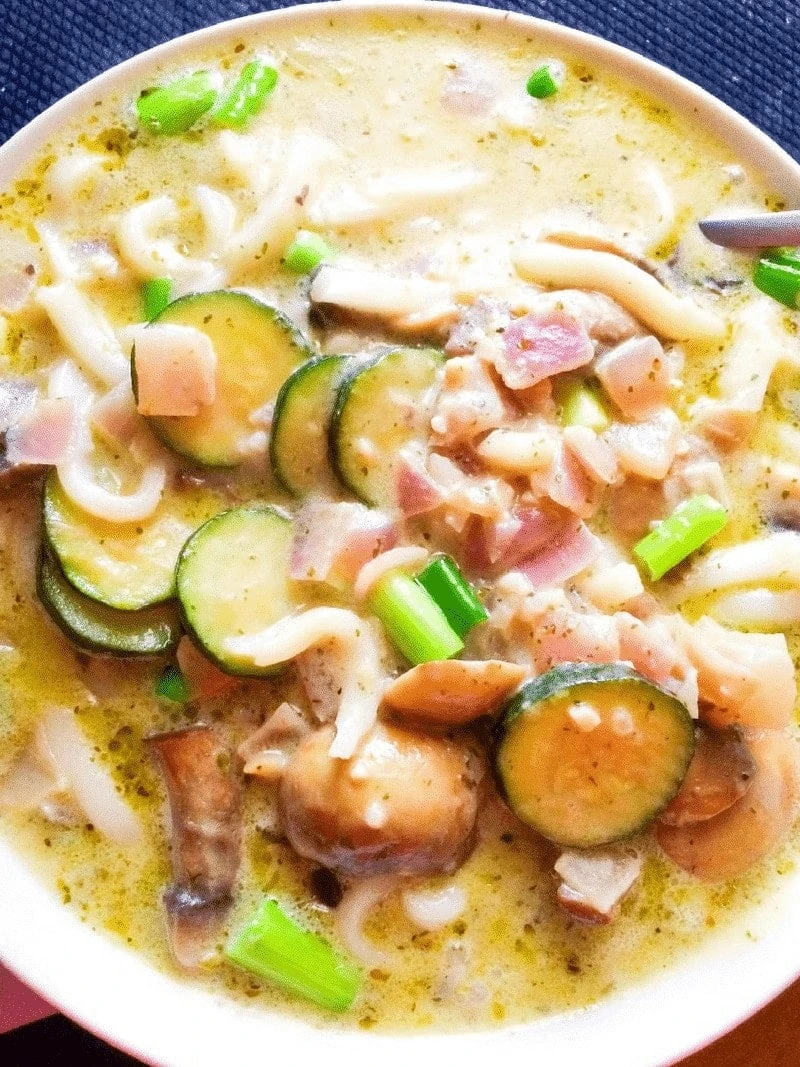 Broth Soup
What is the difference between a broth soup and a broth bowl? Not much actually. The main difference is a broth soup has more broth where a broth bowl is more noodles.
So think broth bowl recipes as the chunky broth soup. Plus a broth bowl is slurpy I think. You use the really long noodles in broth bowl recipes.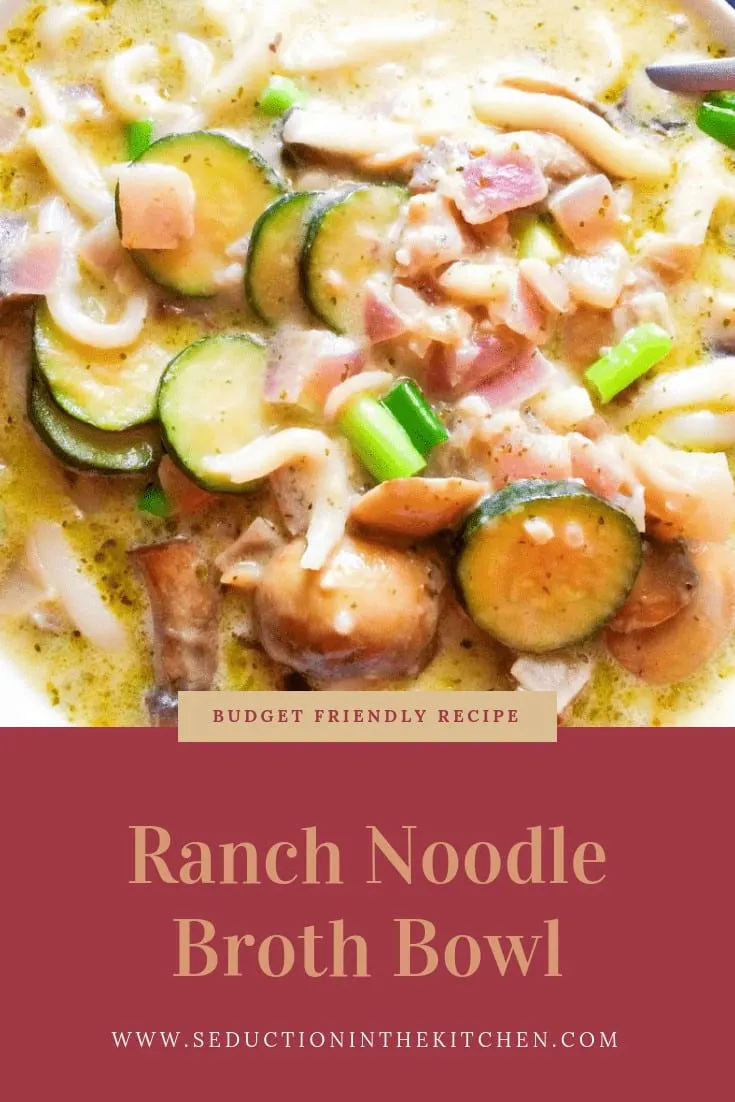 Budget Recipes
I am on a budget right now. Why? Because I just did a huge cross-country move to Florida. That was how this Ranch Noodle Broth Bowl came about, I needed to make budget recipes.
I was looking around my pantry and I saw some udon noodles. Recently I had one those broth noodle bowls from Panera and thought I could make a budget broth bowl recipe.
Ranch Flavor
I saw the envelope of ranch dressing in my pantry. Then it hit me, I could make a broth bowl to give it ranch flavor with udon noodles!
Ranch Seasoning
The Ranch Noodle Broth Bowl came out amazing. I used what I have in my cabinets, and I end up with a broth bowl recipe that is made with ranch seasoning. It was great and perfect for anyone on a budget, like me!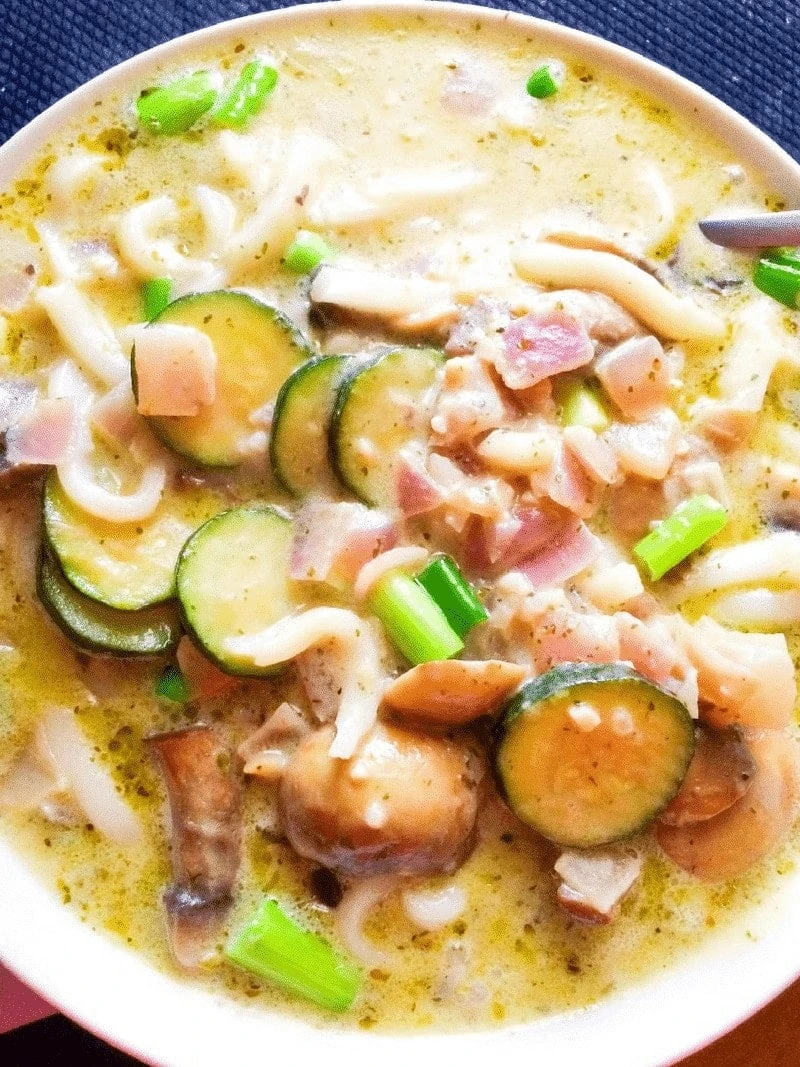 Yield: 2
Ranch Noodle Broth Bowl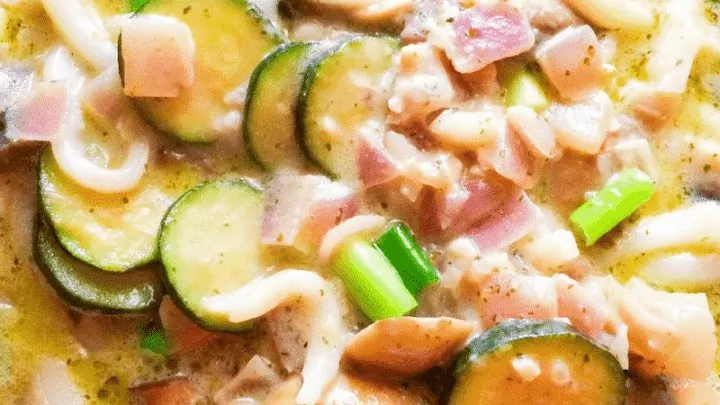 A savory ranch broth with udon noodles, mushrooms, onions, and zucchini. Perfect to have on a busy day
Ingredients
1 envelope ranch dressing
1 cup of buttermilk
1 2% cup milk
1/4 cup sliced mushrooms
1/2 onion chopped
1 zucchini sliced
1 clove minced garlic
1 package of Udon Noodles
1/2 cup shredded parmesan cheese
2 tablespoons butter
Sliced green onion for garnish
Instructions
In a pot melt the butter and saute the mushrooms, onions, garlic, and zucchini till the onions are clear.
Next add the ranch seasonings and milks. Mix it up well.
Add the udon noodles and let the soup come to a simmer.
Add in the cheese and let that melt into the broth and continue to simmer for about 5 minutes.
Give a final stir, add in the shrimp, chicken or steak if you want to add it.
Ladle into a bowl and ENJOY!
Notes
To make buttermilk add 1 tablespoon to 1 cup of milk, let sit for about 5 minutes, you got buttermilk!
Recommended Products
As an Amazon Associate and member of other affiliate programs, I earn from qualifying purchases.
Nutrition Information:
Amount Per Serving:
Calories:

837
Total Fat:

25g
Saturated Fat:

15g
Trans Fat:

1g
Cholesterol:

64mg
Sodium:

816mg
Carbohydrates:

116g
Fiber:

6g
Sugar:

20g
Protein:

37g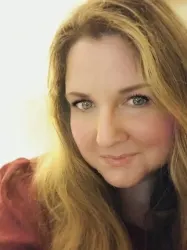 Latest posts by Deanna Samaan
(see all)