Bacon Ranch Pasta Salad is a pasta salad recipe with ranch dressing with bacon.  This ranch pasta salad with bacon is so easy to make. This ranch and bacon pasta salad will soon be your new favorite recipe. 6 servings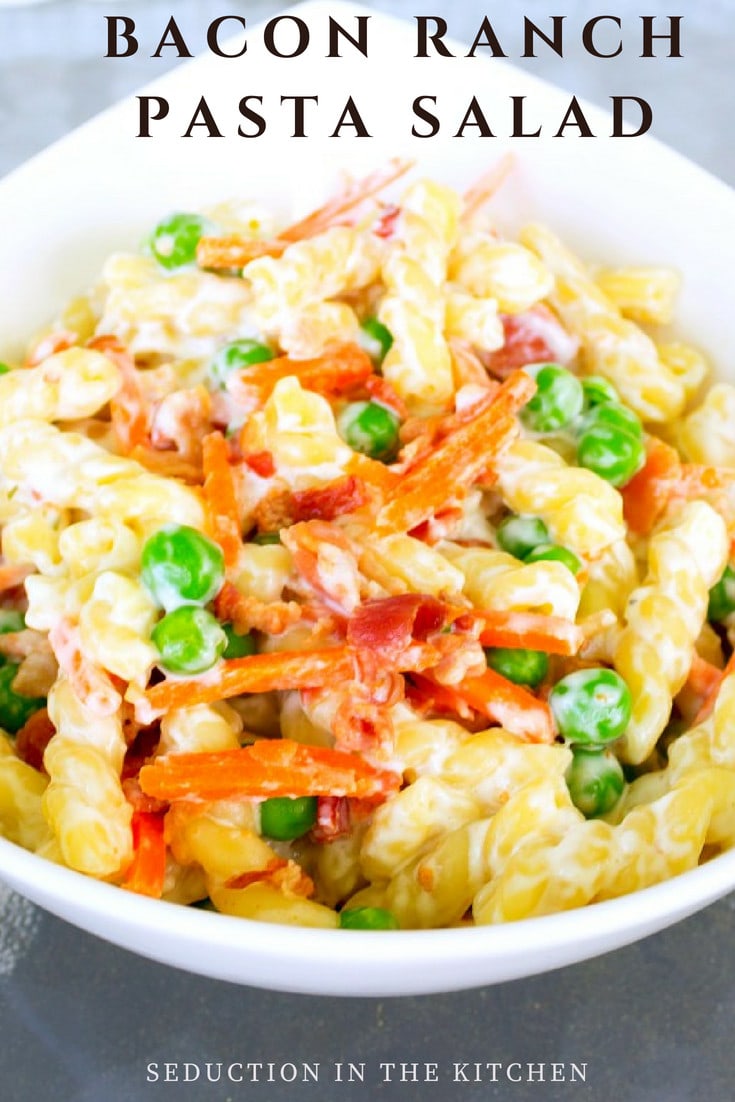 Ranch Dressing Pasta Salad
I'm from Pittsburgh and ranch dressing is king. I don't know why but it is, next to Heinz Ketchup that is. So making a ranch dressing pasta salad for me is just a recipe that digs into my Pittsburgh roots.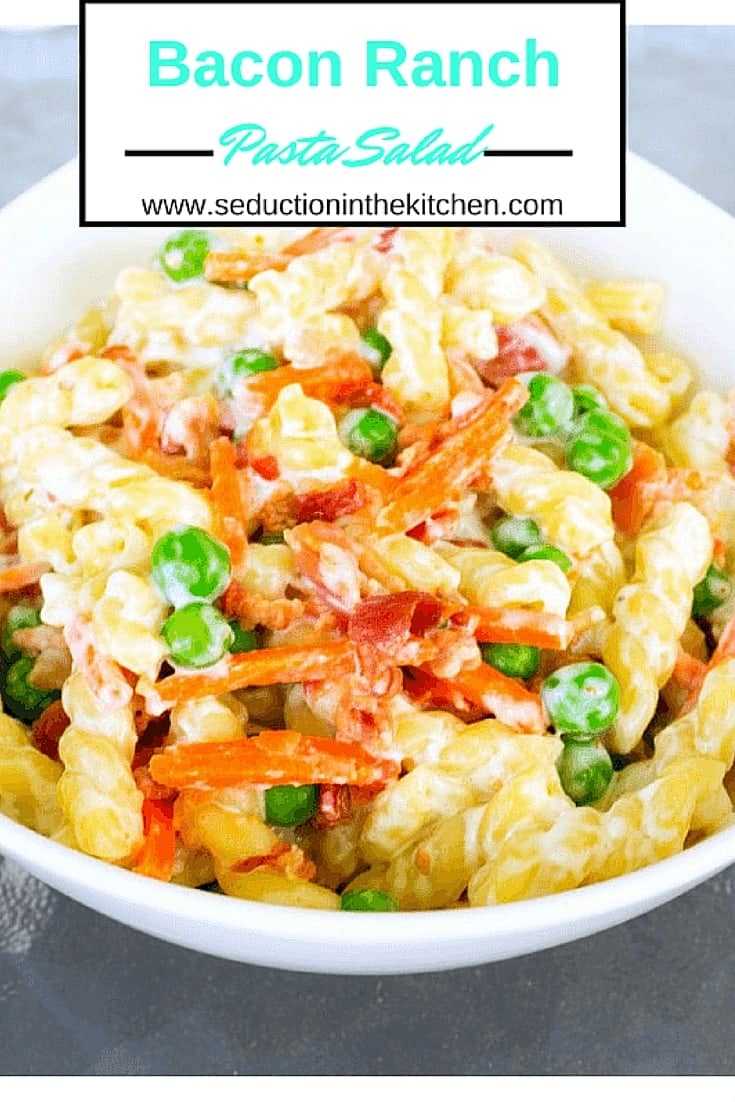 Ranch And Bacon Pasta Salad
Sometimes I think macaroni salad can be a little bland. It needs a recharge, so why not flavor it with classic ranch dressing? So I decided to doctor up a pasta salad and make it a ranch and bacon pasta salad.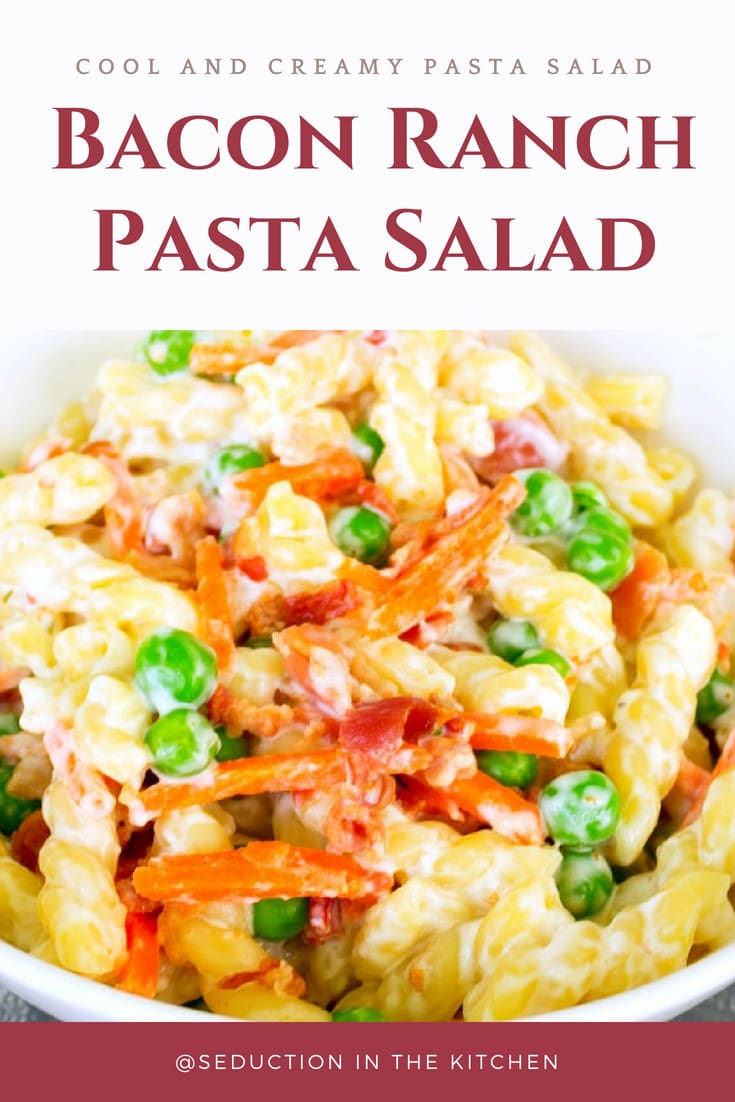 Pasta Ranch Salad
I have seen where pasta ranch salad uses a packet of ranch seasoning. I didn't want this ranch bacon pasta salad to be salty because I wanted to also have bacon in it as well. So I choose to play with the bottled dressing instead.
Pasta Salad With Peas
I also made the pasta salad with peas. Why? I did have a macaroni salad that had peas in it and I really loved it. The combination of bacon ranch and the peas were amazing.
Ranch Pasta Salad With Bacon
Why make a ranch pasta salad with bacon? Well, bacon just makes everything better! Honestly, I love bacon in my salads. I add it all the time and it tastes so good.
For This Recipe You Will Need
Bacon Ranch Pasta Salad
You will love how easy this Bacon Ranch Pasta Salad is. If you love ranch and bacon then you will love this ranch dressing pasta salad.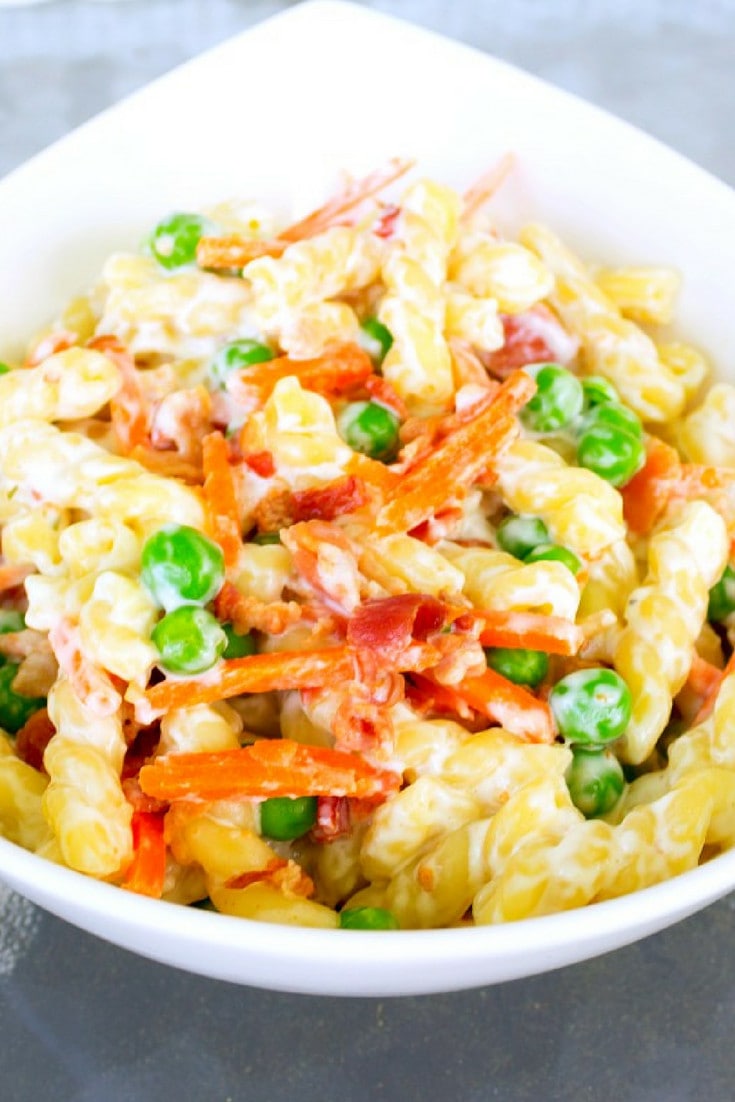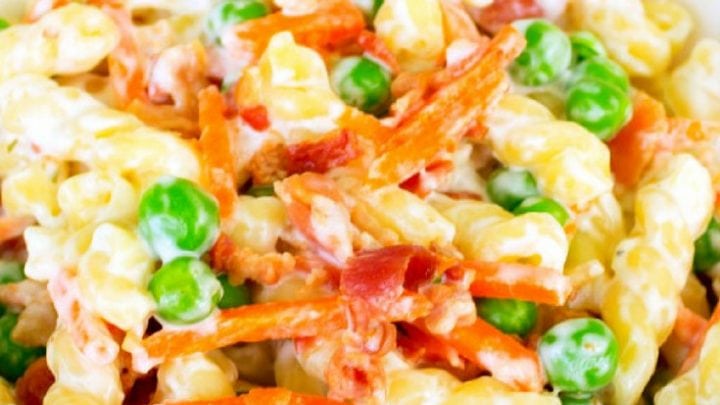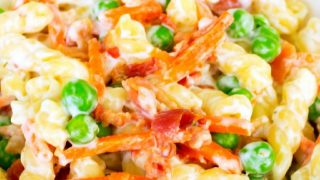 Yield:

6 servings
Bacon Ranch Pasta Salad
A ranch dressing with bacon flavor to pasta salad. A recipe from Seduction in the Kitchen
Ingredients
12 ounces fusilli pasta, cooked and chilled
5 -7 slices bacon
1/2 cup fresh peas
1 /2 cup carrot (shredded)
1 small bottle Ranch dressing
3/4 cup mayonnaise
Instructions
Cut bacon into small bits and fry until very crispy. Drain and let cool.
Shred carrots, and mix with peas, noodles, and bacon in a large bowl.
Mix in a bowl the Ranch dressing and mayonnaise.
Pour the ranch mixture over the pasta mixture and mixed everything together so all coated.
Chill in the refrigerator for 3-4 hours
Serve it up and ENJOY!
Nutrition Information:
Amount Per Serving:
Calories:

410
I want to hear what you have to say about this recipe that is on
SEDUCTION IN THE KITCHEN!
Let's get this conversation started! What do you think of this recipe?