Pumpkin Dump Cake is an easy dump cake recipe you will love to make. This recipe for pumpkin dump cake is simply dumped it all in a cake pan and bake! It doesn't get any easier than that! Serves 10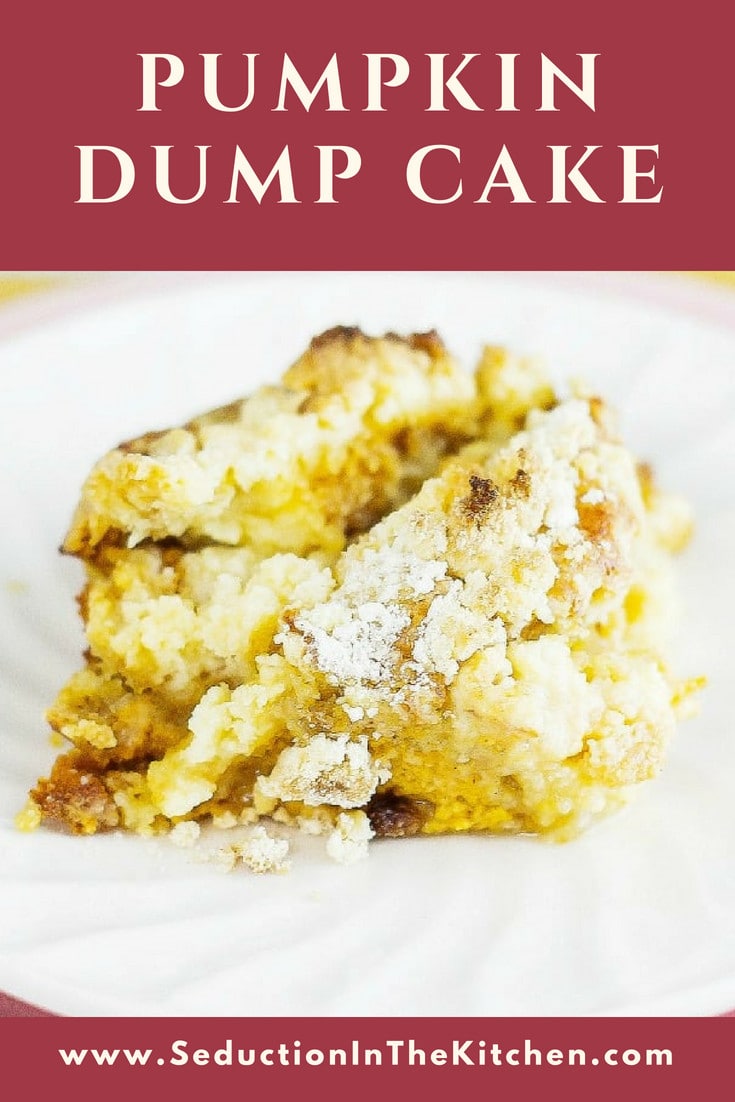 Pumpkin Week
Pumpkin week continues! So far I am enjoying all the pumpkin recipes for pumpkin week, are you? LoveandConfections.com has done a wonderful job of putting together this pumpkin extravaganza. Seeing all the pumpkin recipes from the various bloggers have really inspired me on a creative level for recipes.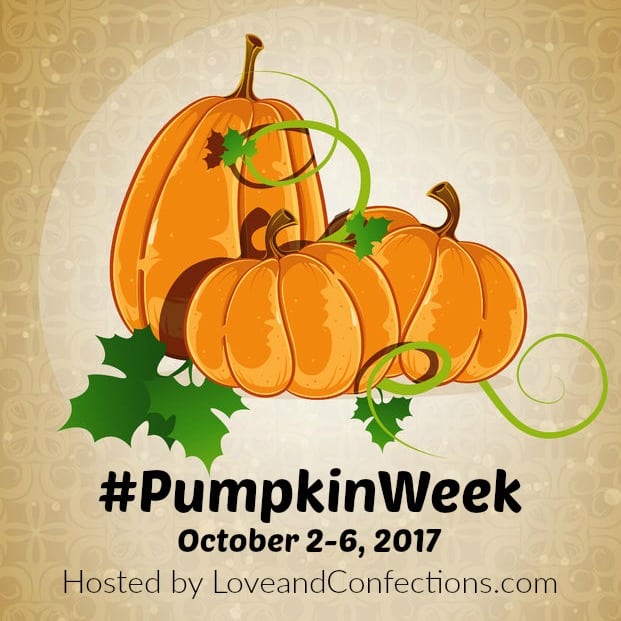 What Is Dump Cake
What is dump cake? Honestly, I didn't know for the longest time. I kept hearing Oh this a dump cake recipe when I ask various people about a dessert they brought in for potlucks.
Finally, I had to google what is dump cake? I found out dump cake is exactly what the name implies:
Dump everything into a pan and bake. That is what a dump cake is.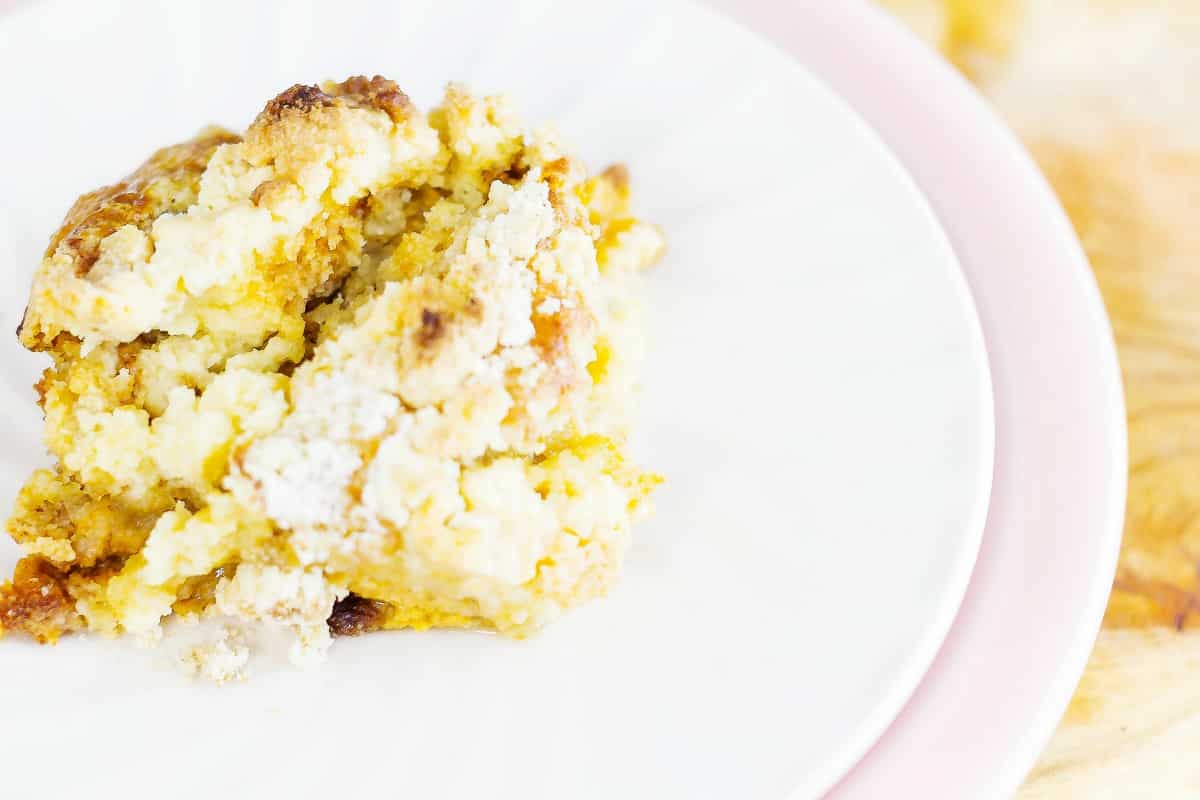 Recipe For Pumpkin Dump Cake
Since pumpkin week is all pumpkin recipes, why not make n easy pumpkin dump cake? So I decided to tinker with an easy pumpkin dump cake. After all dump cake recipes are the simplest cake recipes you cake you can make!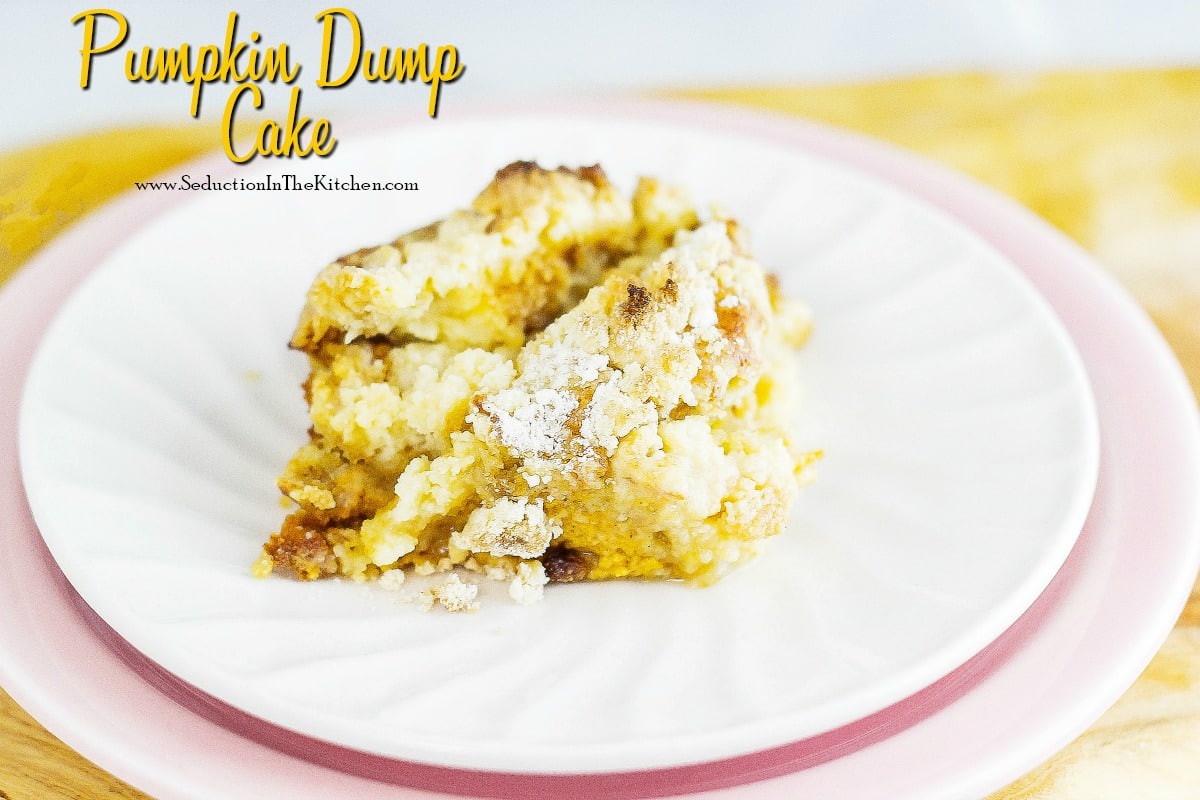 Pumpkin Dump Cake With Yellow Cake Mix
Now, I admit I have never made a dump cake before. This Pumpkin Dump Cake is my first one! I am a fan of old church cookbooks, in one was a pumpkin dump cake with yellow cake mix. This was exactly what I was looking for, an easy pumpkin dump cake!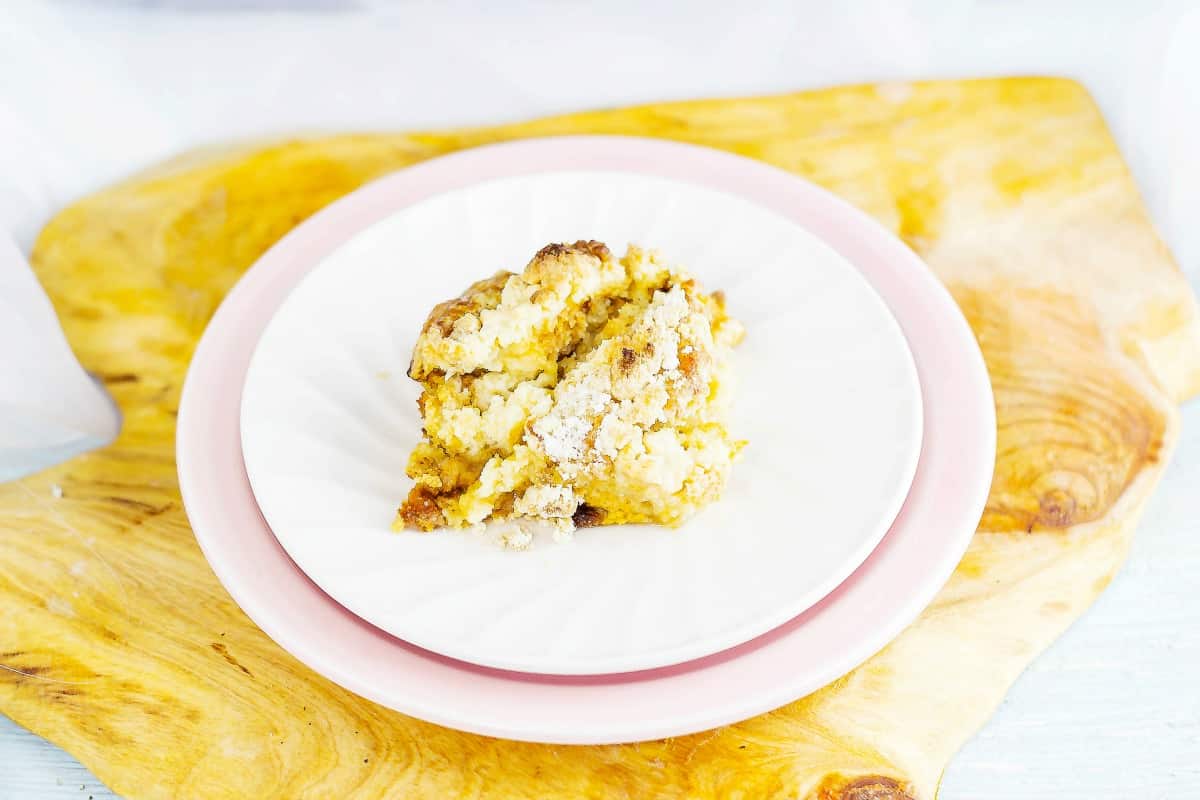 Pumpkin Dump Cake
I have found some really great recipes in those old church cookbooks. So finding that dump cake recipe was great. Plus since it was pumpkin dump cake, perfect for pumpkin week.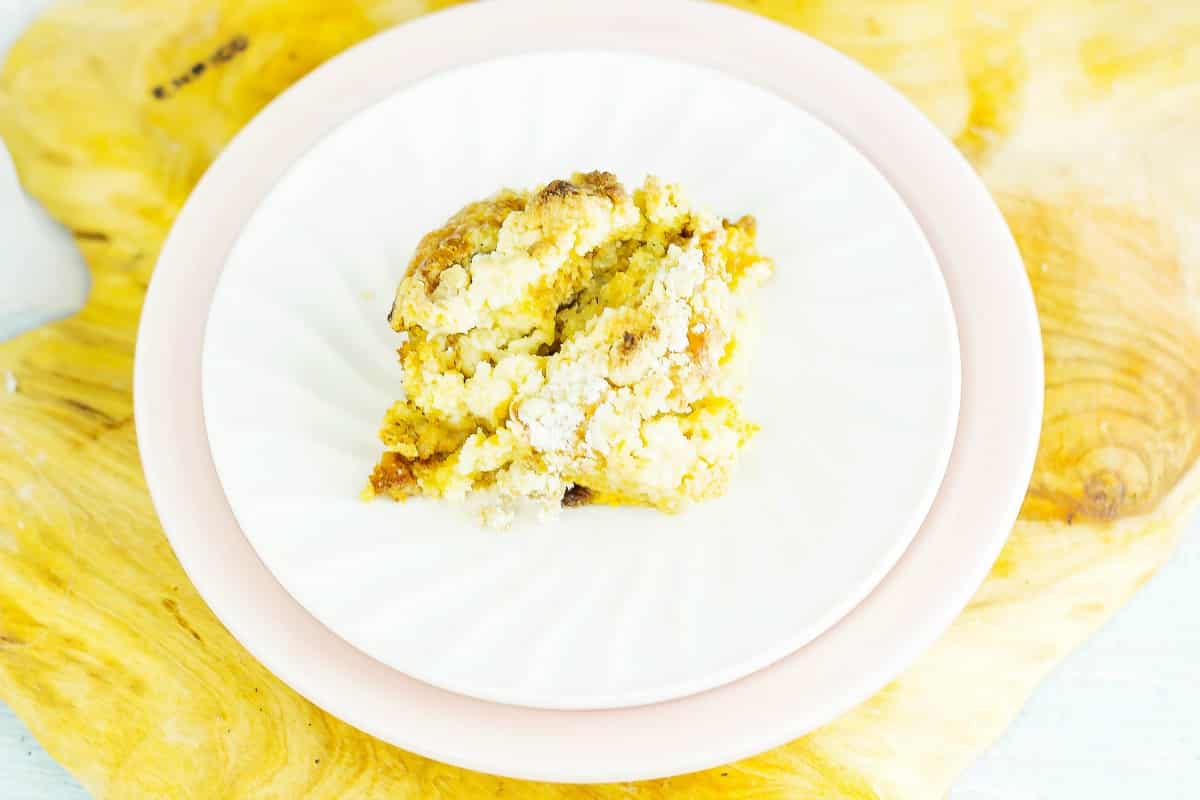 Dump Cake Recipe
What I loved about this dump cake recipe was yes it is like a cake, but also like a pudding in a way. It was like a pumpkin pie pudding that you bake.
For This Recipe You Will Need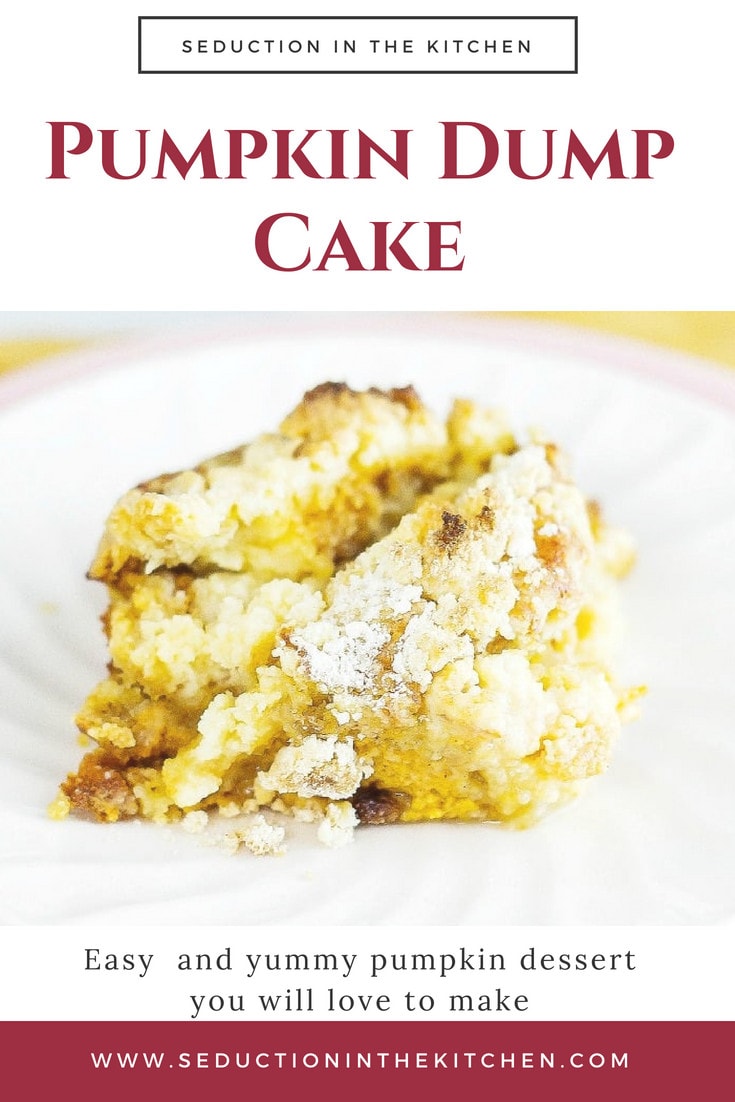 Easy Pumpkin Dump Cake
This pumpkin dump cake is really wonderful. You will love it. Now I know why, after making this Pumpkin Dump Cake why so many love making dump cake recipes. It really is easy pumpkin dump cake!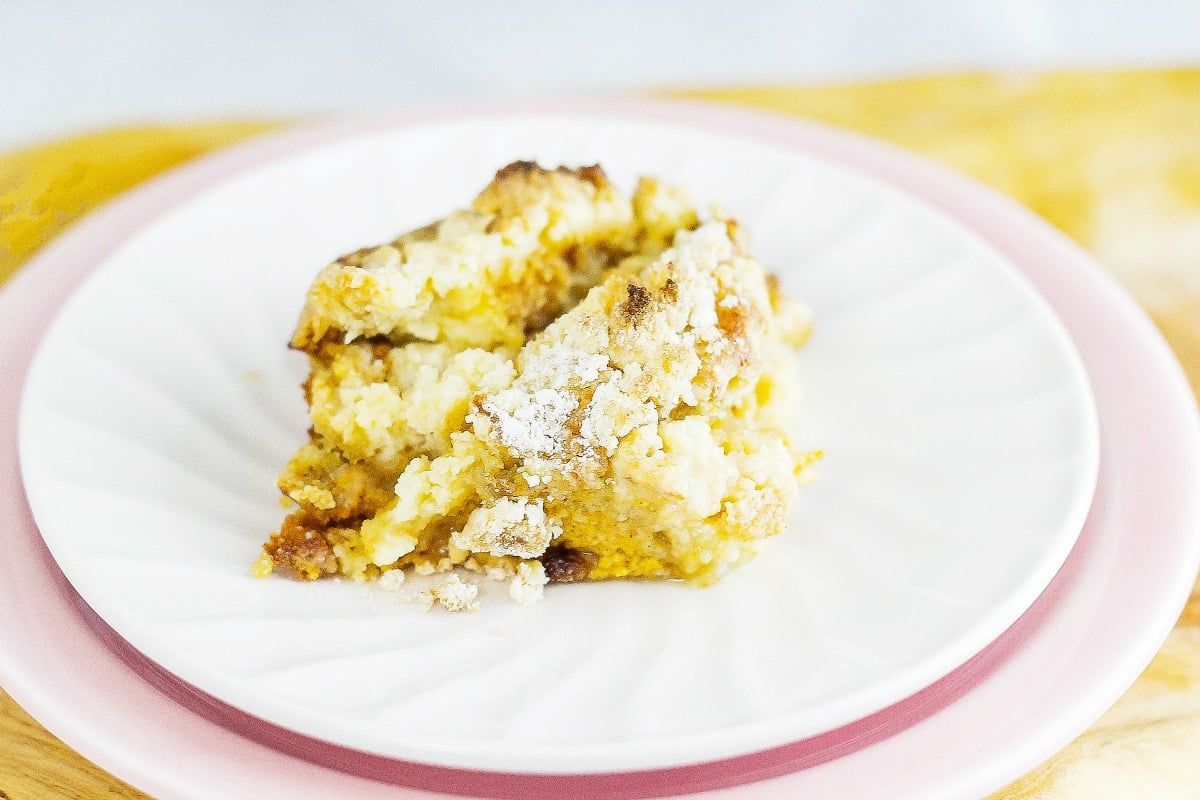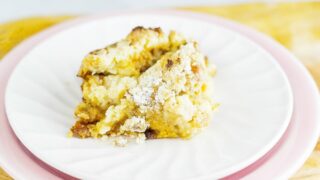 Yield:

10 Servings
Pumpkin Dump Cake Recipe
Total Time:
1 hour
10 minutes
Pumpkin Dump Cake is an easy and yummy pumpkin dessert you will love to make. It is simply a dump it all in a cake pan and bake!
Ingredients
1 (29 ounce) can pumpkin
1 (12 ounce) can evaporated milk
1/2 cup sugar
1/2 teaspoon pumpkin pie spice
1 teaspoon ground cinnamon
3 eggs
1 (18 ounce) box yellow cake mix
1 cup pecans, chopped
1 cup butter, melted
Instructions
Beat the pumpkin, evaporated milk, sugar, pumpkin pie spice, cinnamon, and eggs together.
Pour into a 9x13 inch baking dish.
Sprinkle the cake mix evenly over your mixture.
Sprinkle the chopped pecans on top.
Finally, evenly drizzle the butter on top of this mixture.
Bake at 350°F for one hour.
Take out the oven, let it cool. Serve it up and ENJOY!
Nutrition Information:
Amount Per Serving:
Calories:

561
Total Fat:

32g
Saturated Fat:

15g
Trans Fat:

1g
Cholesterol:

107mg
Sodium:

433mg
Carbohydrates:

64g
Fiber:

4g
Sugar:

39g
Protein:

8g
I want to hear what you have to say about this recipe that is on
SEDUCTION IN THE KITCHEN!
Let's get this conversation started! What do you think of this recipe?