Jump To Recipe
Print Recipe
You are here:
Home » Dessert Recipes » Pumpkin Crunch Bars
Pumpkin Crunch Bars are better than pumpkin pie. The shortbread crust has a touch of ground pecans in it for that crunch factor. One bite and you will be in love.
Tiny Break
I did not post last week. Why? Well, in all honesty, I took a break.
As you know I am trying to improve Seduction in the Kitchen. So I took off a tiny bit of time just for me. Sometimes you just have to do that, take time for yourself. If you don't, you get burned out.
I Did It Myself!
I am a single woman. I live by myself. My family is in another state. When you are in my position you have to learn to do things by yourself.
Before I tell you why I am proud I did something by myself, let me give a little background. I am simply not good at mechanical things. Sure I built my own photography light like I showed you in Creating Your Own Food Photography Light.
That was the beginning of me being, well mechanical. When I was in high school, everyone had to take wood shop. I think I broke every machine in the woodshop trying to build a spice rack.
Anyway, this is going to sound funny, but in the middle of the night I somehow broke off my toilet seat. I was half asleep and fell off the toilet. The seat came with me, let's say. I had to replace it. I am not mechanical, I did it, I replaced the seat. I didn't ask for help, I did it on my own.
Pumpkin Crunch Bars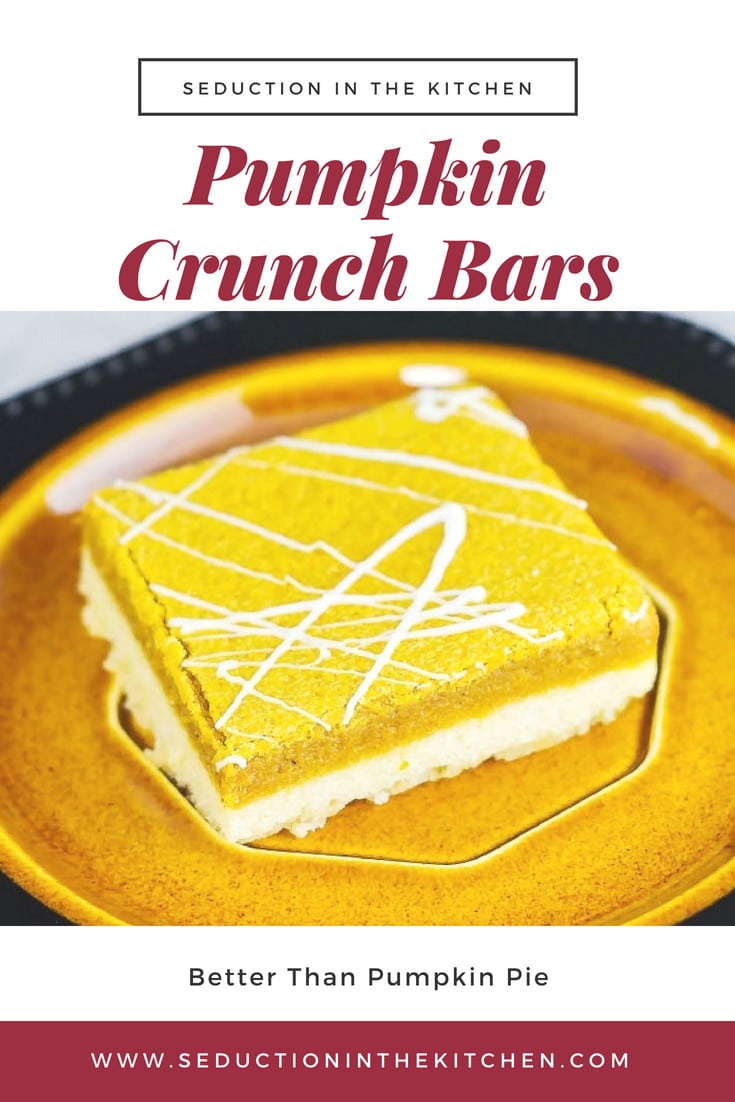 Now, what the heck does fixing a toilet have to do with Pumpkin Crunch Bars? It is the point. Something you might feel out of your comfort zone can surprise you when you actually do it.
For me, I am a girly girl that really should not handle a drill, yet I was able to fix my toilet all by myself. For some, it is baking. They are afraid to try something other than pre-made cookie dough.
I get it. I actually forced myself to step out my comfort zone. No wasn't just the toilet. It was honestly with my photography. I actually tried some different things with these photos. I am used to being in my little box with white plates
I am used to being in my little box with white plates. This time I forced myself to use color instead. I used a prop to give softness. I redid my lighting. Sometimes you have to step outside that box to achieve something great. That is what baking is, stepping outside the box and doing steps for a great dessert.
Layer bars like lemon bars or this Pumpkin Crunch Bars might be intimidating because it is a 2 step baking process. The secret to doing a bar like this is simple, take your time. When you slow down and take your time you will be surprised what you can do. It can be a dessert like these Pumpkin Crunch Bars or installing a toilet seat.
Personally, I rather make this Pumpkin Crunch Bars than being a handyman. The pecans in the shortbread crust just give that crunch that makes these bars irresistible. then a pumpkin layer topped with a cream cheese drizzle. These Pumpkin Crunch Bars won't last long.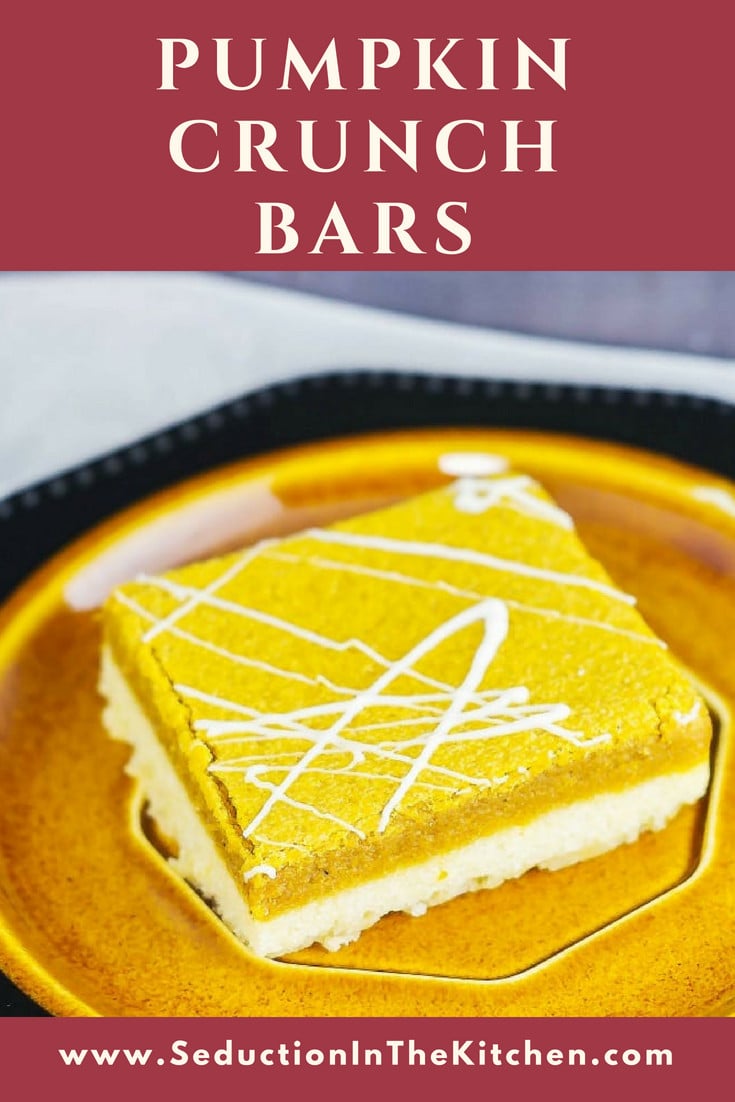 Print

Pumpkin Crunch Bars
---
Author:

Prep Time:

:10

Cook Time:

1:10

Total Time:

-25449520.083333 minute

Yield:

12

Category:

Pumpkin

Cuisine:

Dessert
Description
Pumpkin Crunch Bars are better than pumpkin pie. The shortbread crust has a touch of ground pecans in it for that crunch factor. One bite and you will be in love.
---
Ingredients
Shortbread crust:
1⁄4 cup sugar
1 cup flour
1/4 cup ground pecans
1⁄2 cup cold butter
Pumpkin filling:
4 eggs, lightly beaten
1 (29 ounce) can pumpkin
1 teaspoon salt
1 teaspoon cinnamon
1 teaspoon ground ginger
1⁄2 teaspoon ground cloves
1 1⁄2 cups sugar
2 (12 ounce) cans evaporated milk
Cream Cheese Drizzle:
2 tablespoons cream cheese frosting
1 cup white chocolate chips
---
Instructions
In a bowl, combine 1/4 cup of sugar, ground nuts, and flour
Cut in butter until mixture resembles coarse crumbs.
Press into ungreased 13×9 baking pan.
In a bowl, combine eggs, pumpkin, salt, spices and 1 1/2 c sugar.
Stir in milk and pour over crust.
Bake at 425° for 15 minutes.
Reduce heat to 350° and bake for 50 to 55 minutes more or until filling is set.
Cool on wire rack, then cover and refrigerate.
Cream Cheese Drizzle
Bring a pot of water to a boil.
Place a metal bowl on the top the pot and add the white chocolate chips to bowl
Add the cream cheese frosting to the bowl
keep mixing until the ever thing is melted and smooth.
Drizzle the cream cheese drizzle over the bars when they are cooled.
Cut the bars up and ENJOY!
I want to hear what YOU have to say about this recipe that is on ~
Seduction In The Kitchen
~ I try to respond to questions asap, so ask away ~ and if you've made a recipe I really love it when you come back and share your experience with all of us. Now let's get this conversation started!