This post was most recently updated
Pomegranate Glazed Chicken is a citrus-infused chicken that is roasted then topped off with a pomegranate glaze. The flavor is amazing.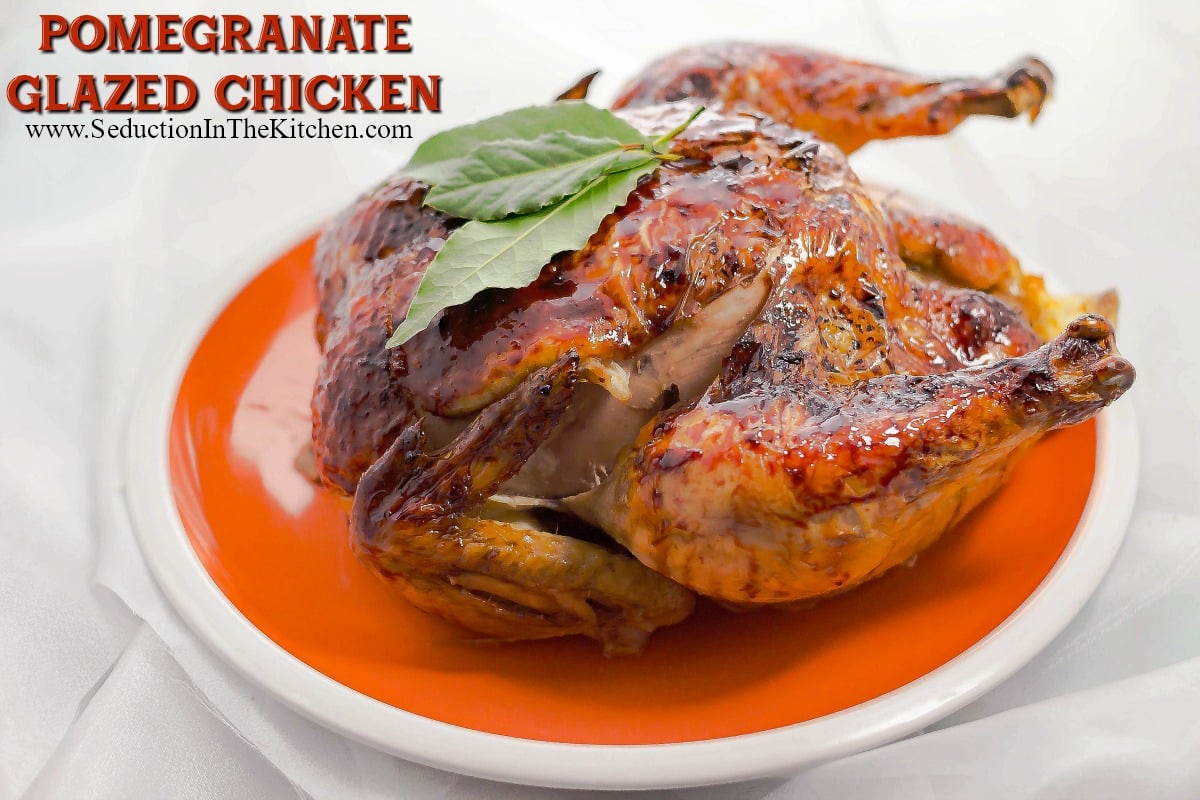 Thanksgiving
Thanksgiving was the only day I was allowed to cook for my ex-husband. He would not allow me to make anything for him. Why? Because I put milk in the refrigerator without washing the jug off.
Now I know you are going, wait, what? You read that correctly, the very first day we moved in with each other after we were married. We went shopping, and I was putting the groceries away, and I did not wash the milk jug off. I simply put it in the fridge.
He was a germaphobe. Him seeing me do that convinced him I was a terrible cook and could not be trusted in cooking. So he never ate anything I made. The exception and that was with a lot of begging on my end was Thanksgiving.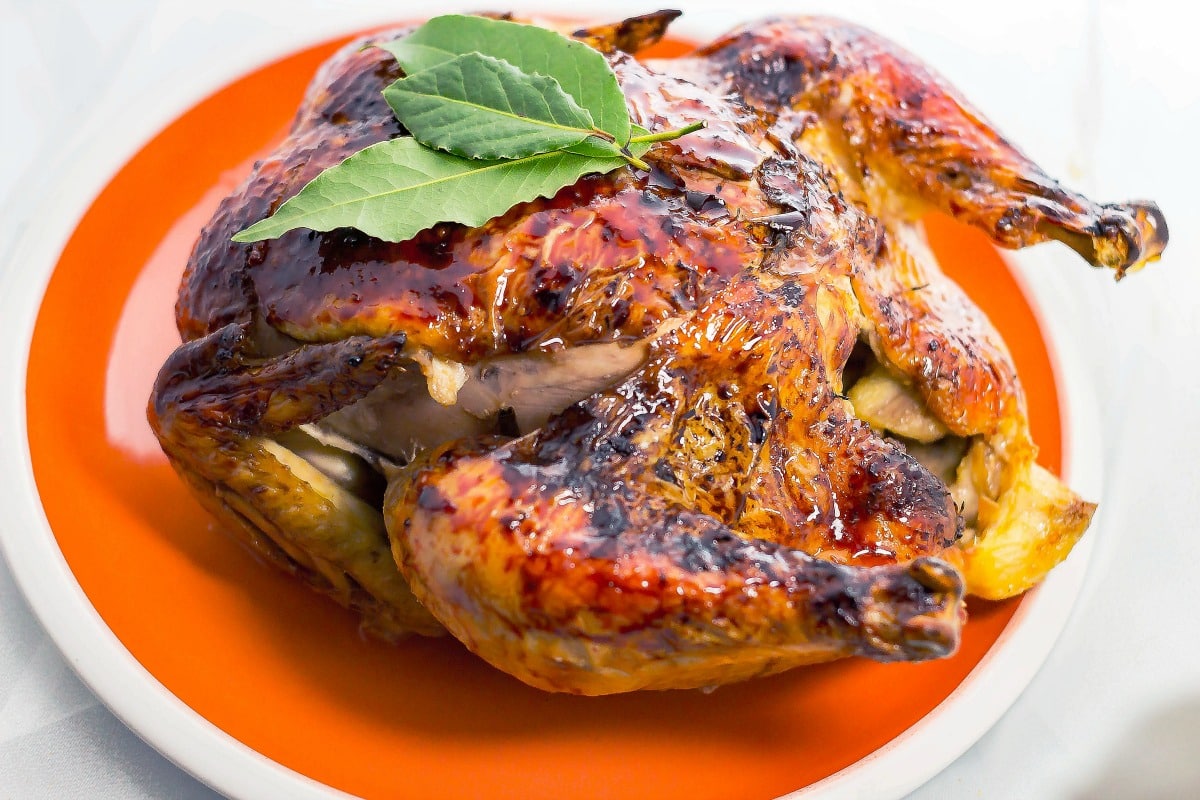 I went into some detail in my Rosemary Citrus Roast Chicken. That was the turkey I would make for him. I am using roasting chickens for both that recipe and this Pomegranate Glazed Chicken. Let's face it I am single, I live by myself, and I have no family. So cooking a big turkey would be a waste for me.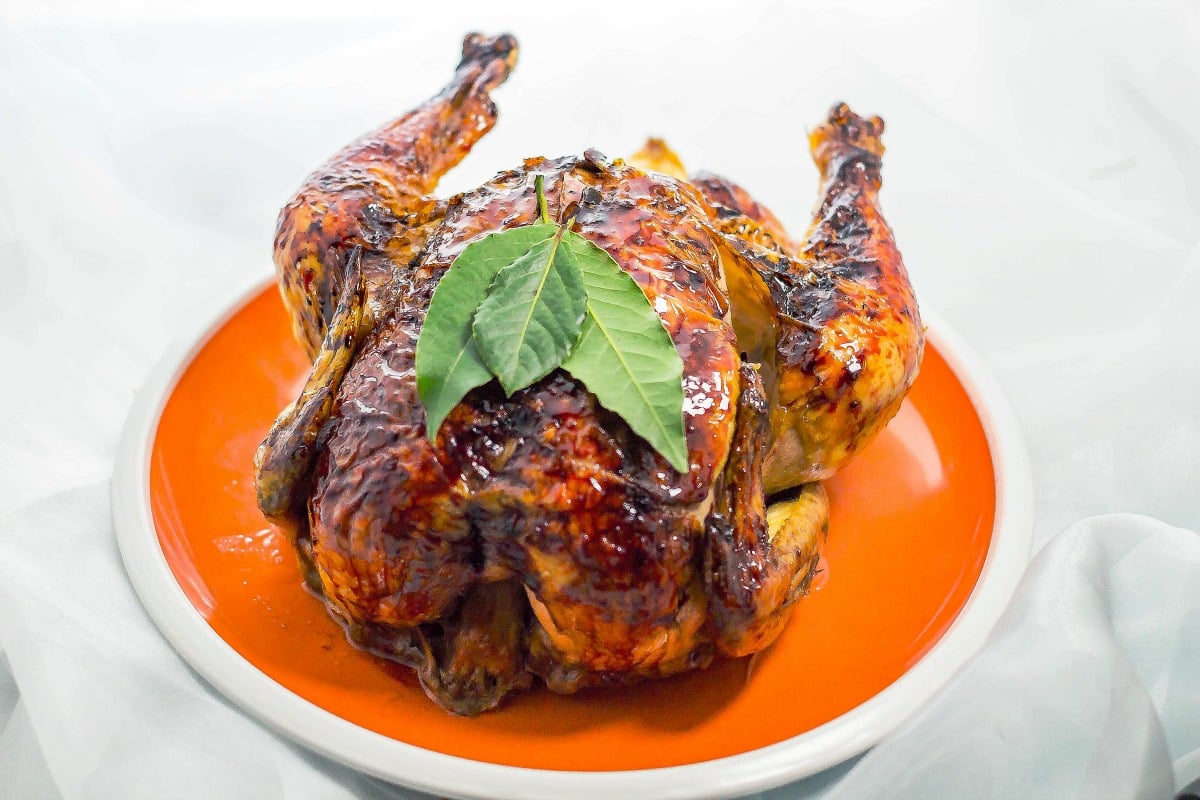 Either of these recipes would be great for a turkey instead of a chicken. This year for the holidays, I was in a pomegranate type of mood. I created 3 recipes that contain this fruit in it. That includes this star recipe, Pomegranate Glazed Chicken.
Pomegranate Glazed Chicken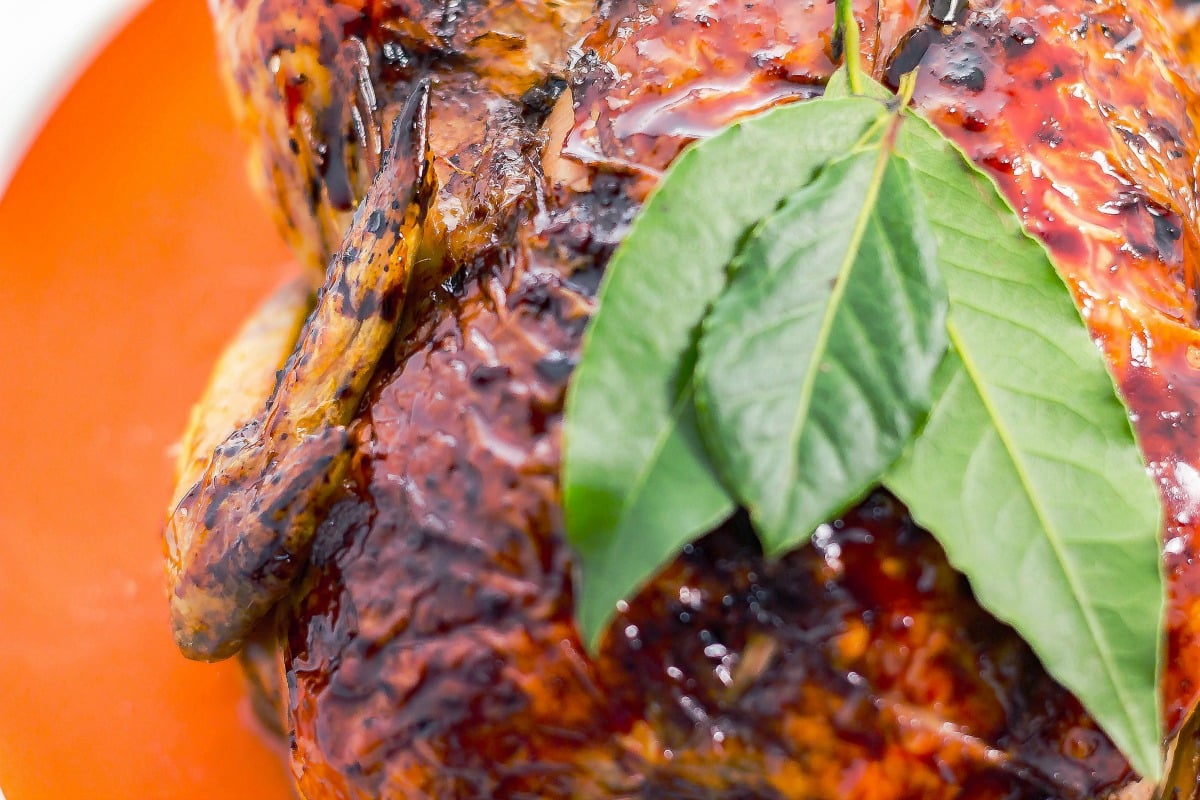 I really wanted this chicken to be flavorful. So I not only added lemon and orange slices inside the chicken. This would help infuse the meat with the citrus taste. I also did an orange butter ton the outside so the chicken can be moist and flavorful as well.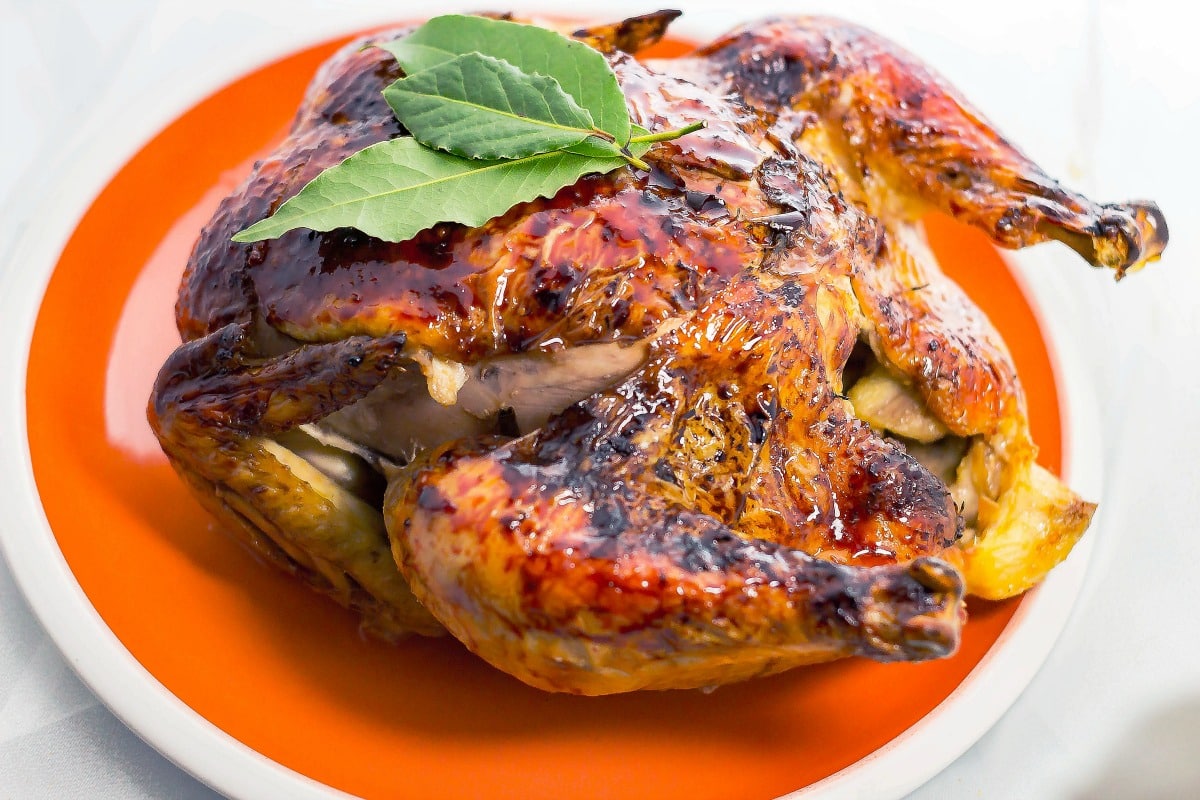 Finally, about the last hour of roasting the chicken, I started basting it with a Pomegranate Glaze I whipped up to create an amazingly flavorful chicken. The combo of the citrus and pomegranate really is a wonderful combination. If I was making a turkey, trust me I would be making it a Pomegranate Glazed Turkey, doing exactly what I did to this chicken.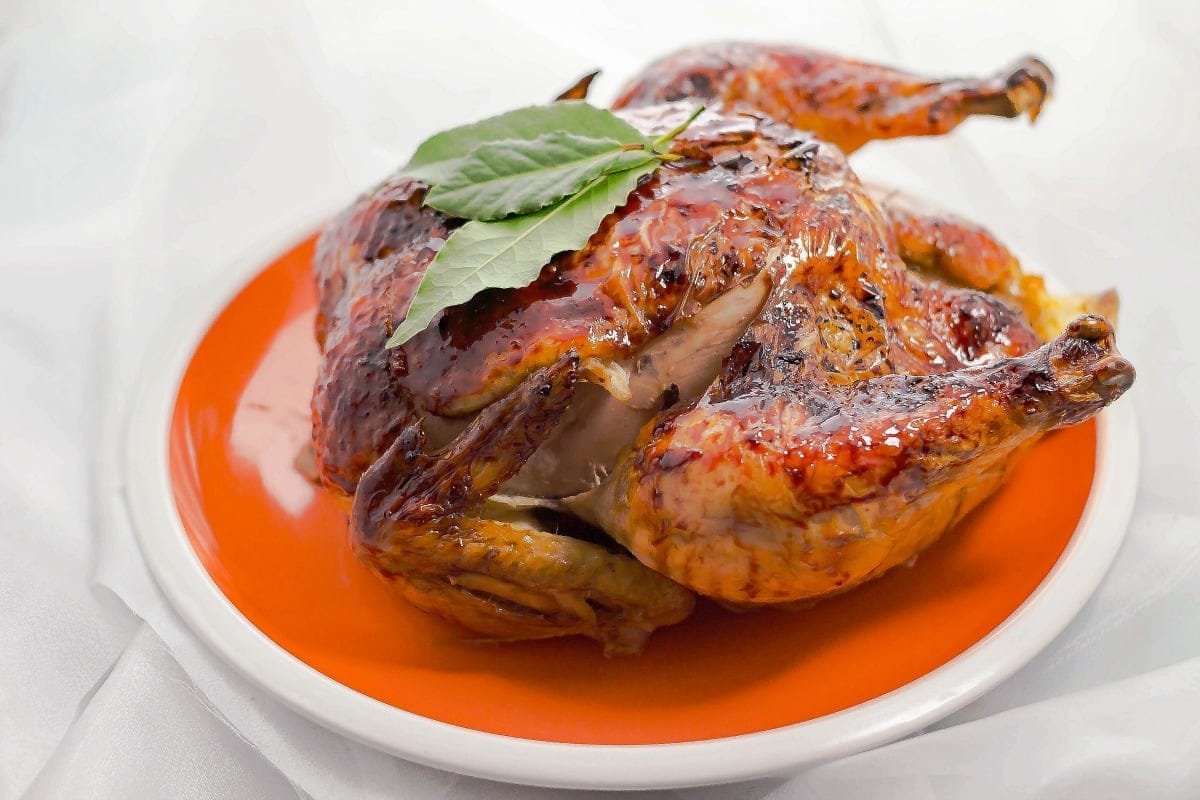 Looking for more Holiday Recipes: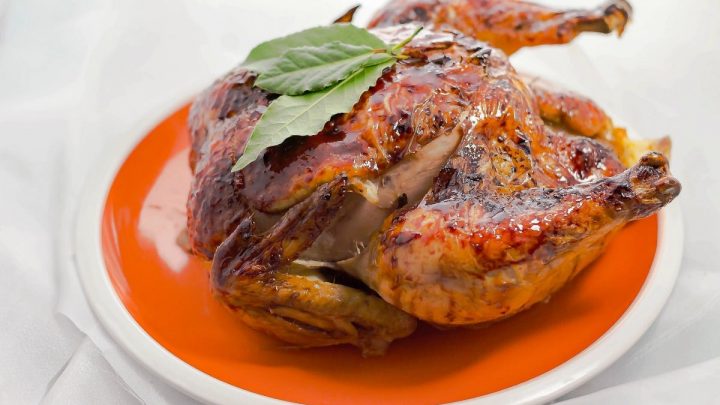 Yield:

4
Pomegranate Glazed Chicken
Total Time:
2 hours
20 minutes
Pomegranate Glazed Chicken is a citrus-infused chicken that is roasted then topped off with a pomegranate glaze. The flavor is amazing.
Ingredients
1 1/2 cup pomegranate juice
3 Tablespoons honey
1/4 cup butter, soften
1 Tablespoon orange juice
1 orange, sectioned into 4's
1 lemon, sectioned into 4's
3-pound whole chicken
1 teaspoon thyme
Instructions
Prepare the chicken, removing the neck and giblets. Wash and pat dry it. Place it into a roasting pan.
Next, place the lemon and oranges inside the chicken cavity.
Place the softened butter in a mixing bowl, add the orange juice.
Blend the butter with the juice till all incorporated together.
Preheat the oven to 450F
Rub the chicken with the orange butter, make sure you get the butter under the skin.
Sprinkle the thyme over the chicken.
Cover with foil, and let the chicken cook for about 1 hour.
Next, in a saucepan, add the pomegranate juice and honey.
Whisk it together till the honey is dissolved. Bring to a boil.
Once it is boiling reduce the heat and let it simmer, till the juice is reduced by half.
Reserve a small amount before you start basting.
After the chicken has cooked for an hour, brush it with the pomegranate glaze.
Every 20 minutes for the next hour, just baste the chicken with that glaze.
After the hour is done, take the chicken out the oven, and let it rest for 30 minutes.
Take the small amount of glaze you reserved and brush it on the chicken before serving.
Then ENJOY!
Notes
If you use a turkey for this, double everything since a turkey is much larger
Nutrition Information:
Amount Per Serving:
Calories:

953
Total Fat:

63g
Saturated Fat:

22g
Trans Fat:

1g
Cholesterol:

286mg
Sodium:

249mg
Carbohydrates:

31g
Fiber:

1g
Sugar:

29g
Protein:

64g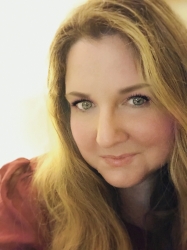 "Seduction in the Kitchen" started because I have the belief that everyone has an affair with food. It is that belief that fuels my passion for cooking and baking.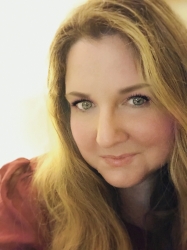 Latest posts by Deanna Samaan (see all)