I am a participant in the Amazon Services LLC Associate Program, an affiliate advertising program designed to provide a means for me to earn fees to Amazon.com and affiliate sites.
Holidays are for families to get together, spend time with each other. It isn't about what gift you received, the true gift is being with people you love. A family isn't about if they are blood-related. Myself, I am lucky I have my blood family in Pittsburgh, PA, but also have my Cleveland family.
They are not blood, but I think of them like brothers and sisters. Even one is like a father to me. I was able to have a special dinner for my Cleveland family for the holidays and now I am in Pittsburgh celebrating with my blood family.
Growing up, I can not remember the toys I got. What I do remember is going out on Christmas eve in the car. We would drive around to look at the pretty houses all lit up.
I remember driving to Mt Washington, parking at Aunt Lorraine's. Then walk up Merrimac Street to Grandview Avenue, taking the Monongahela incline down to Station Square. Then we would walk across the Smithfield Street bridge.
Oh, how I hated that bridge. I had a fear of heights, and it shook very bad. The holes it had because of its age. I would RUN across it. I did not want to be on it any longer than I had to.
My mom and dad would say "Bye Dee Dee" because they knew I was running to the other side. While they and my sisters would walk. Once we all met on that other side, we check out the store's window displays.
Gimble's, Horn's, Kaufman's, the displays they had in the windows for Christmas. They were amazing. We would then walk to a Chinese restaurant called China Town Inn, have lunch there, then walk back to Station Square, check out all the Christmasy delight there. Then back up the incline. Those are Christmas memories I remember, not things given to me.
I think many forget about family quality time. Those are memories that stay with you. Today, we are too obsessed with material items, that we forget about those small things, like actual quality time. Thinking back, I realized as an adult, those small little trips, they cost next to nothing, but those were the gifts I really enjoyed and treasured.
So I saved one of my best recipes for last for the holiday baking. Truth be told, scones can be dry, I combined a couple of recipes to make these. They are more cake like but not over sweet. I made them for work, right before I left for vacation and they had everyone singing their praises, well everyone except the one jealous co-worker. I decided for 2014, she is not worth any stress over.
Enjoy the holidays with your family. Merry Christmas- Dee
Yield: 8 servings
White Chocolate Orange Cranberry Scones
White Chocolate Orange Cranberry Scones are a moist and delicious. These scones are made with white chocolate, orange, and cranberries, a recipe from Seduction in the Kitchen.
Ingredients
1 1/2 cups all-purpose flour
1/4 cup sugar
3 teaspoons baking powder
1/4 teaspoon salt
1/4 cup butter
1/2 cup dried cranberries
1/2 cup white chocolate chips
2 teaspoons grated orange rind
1/2 orange (juiced)
1/2 cup buttermilk
1 egg
1 cup powdered sugar
1/2 orange (juiced)
Instructions
In a bowl add the flour, sugar, baking powder and salt. Then cut in the butter with a fork or pastry blender. cut it in until the flour looks like coarse crumbs.
Add the white chocolate chips, cranberries, and the orange peel to the flour mixture. mix it till they are even distributed through out.
In a measuring cup, add the butter milk, now if you do not have buttermilk, add a tablespoon of white vinegar and let sit 5 minutes. This a great substitute for buttermilk. Anyway add to the milk the egg and orange juice. Mix it well and pour it into the flour mixture. Mix until the batter is just combined. You do not want over mix the batter.
Shape the dough on a cookie sheet into a nice circle. It will puff up while baking, so want to be about 8 inches wide the circle. Cut into wedges and then bake at 400 degrees F for about 15-20 minutes until the scones are a nice light golden brown.
While the scones are baking, mix together the powder sugar and orange juice, the more orange juice you add, the thinner the icing/ glaze will be. Then drizzle the glaze over the scones after they are done baking in the oven.
Once the glaze has set up, take a slice and ENJOY!
Nutrition Information:
Amount Per Serving:
Calories:

425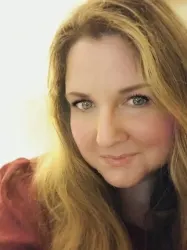 Latest posts by Deanna Samaan
(see all)