This post was most recently updated
No Bake Caramel Delights is a copy cat version of the famous Girl Scout Cookies Samoas! These no bake cookies with coconut are so easy to make. Plus these caramel cookies are an easy no bake dessert recipes with few ingredients!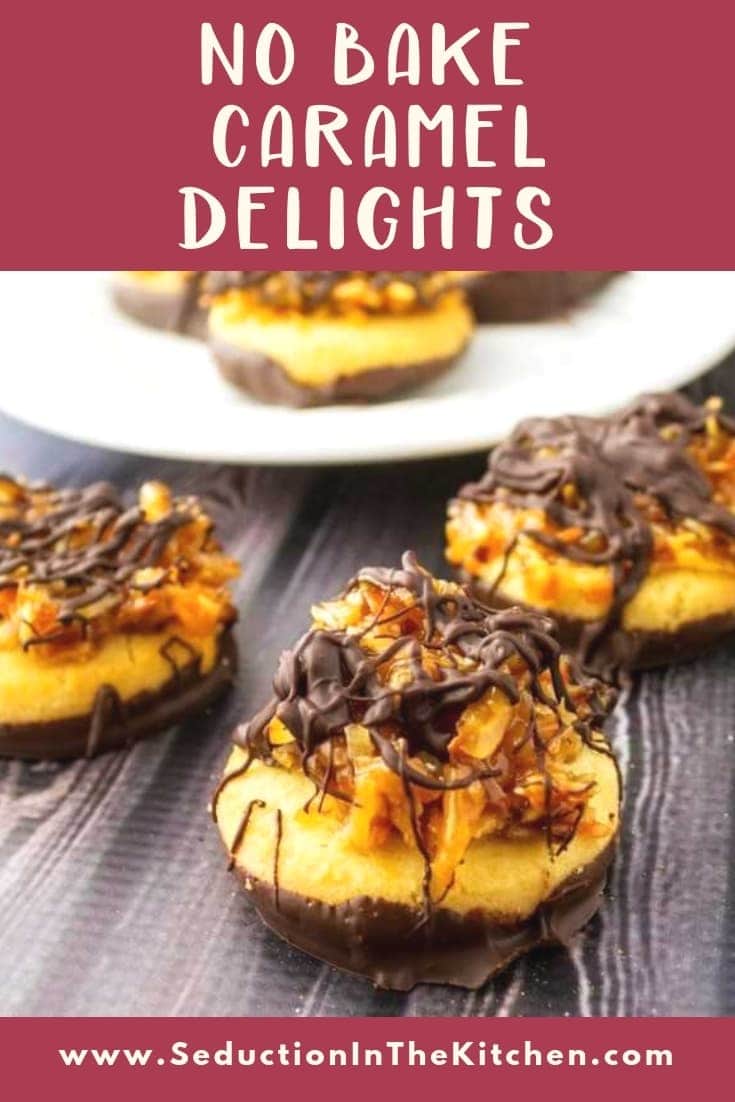 Girl Scout Cookies Recipes
Does everyone love Girl Scout Cookies? I know I do! I love finding Girl Scout cookies recipes. Sadly, there is only a short time frame to buy those cookies for those Girl Scout cookies recipes! So what to do? That is when a copycat recipes come in handy!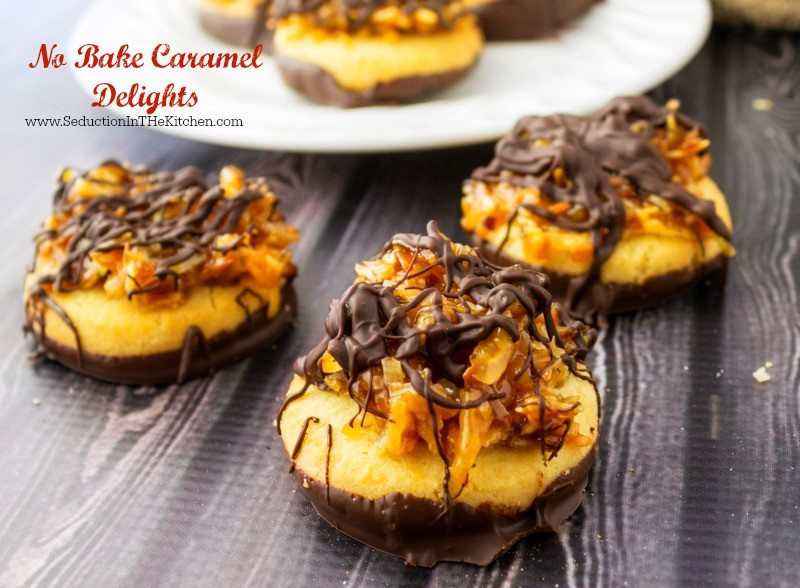 Girl Scout Cookies Samoas
I do love Girl Scout cookies Samoas. To be honest, of all the copycat Somoas recipes out there, to me it seemed like there is just a lot of steps in making those caramel delites. I wanted to create easy desserts for a crowd.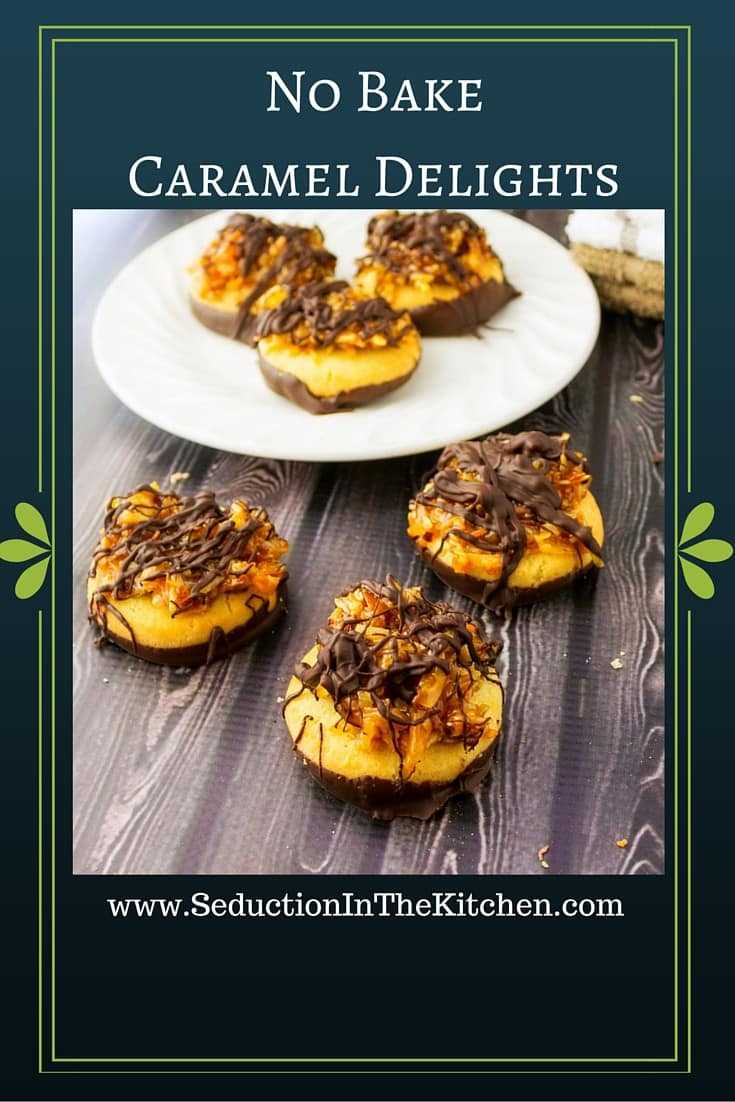 Easy No Bake Dessert Recipes With Few Ingredients
How can I make easy no bake dessert recipes with few ingredients? The idea came to me when I saw Nilla Wafers on sale at the store. I can make caramel delights using store bought cookies! I needed to find another cookie base, that Nilla Wafers they thought would not work.
Caramel Cookies
I thought maybe a Lorna Doone would work for these caramel cookies. Instead, I spotted from Keebler Sandies. Those cookies are just regular shortbread cookies. They were perfect for these no bake cookies with coconut!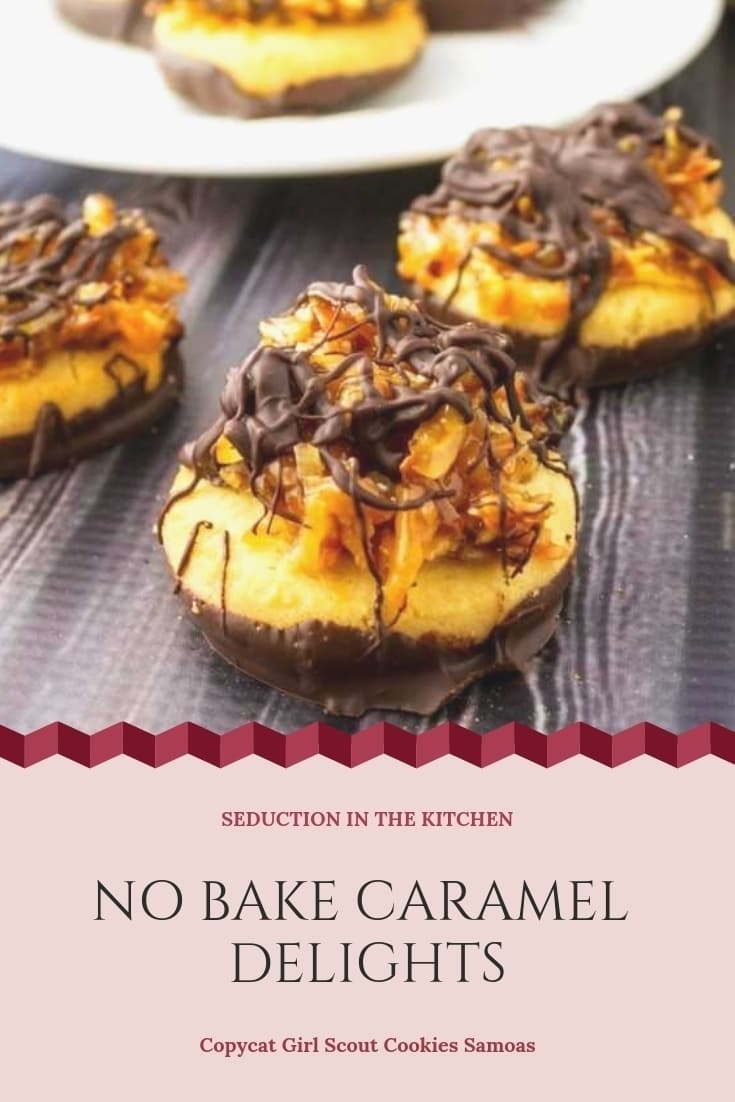 Caramel Delites
In trying to keep these caramel delites as an easy, no bake dessert recipe with few ingredients, ice cream caramel sauce was also an answer for these Girl Scout Cookies Samoas no bake recipe. I wanted to make this caramel delights as easy as possible.
No Bake Cookies with Coconut
The final version of these no bake cookies with coconut was amazing. I created not only great tasting caramel delights, but also easy desserts for a crowd! When you are craving Girl Scout cookies and you can not find any to buy YOu can add these caramel delites to your collection of girl scout cookies recipes!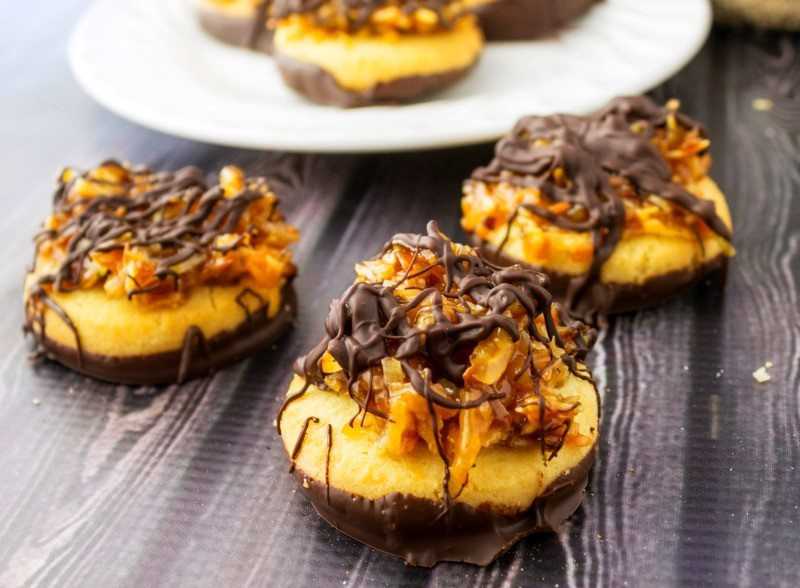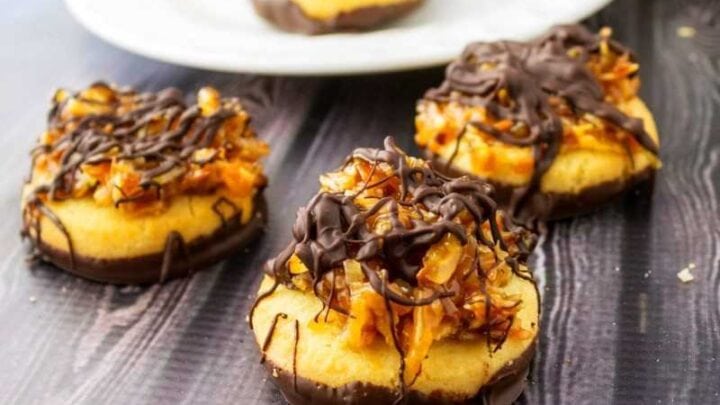 Yield:

12
No Bake Caramel Delights
No bake caramel delights are inspired by Girl Scout cookies. These are easy and lots of fun to make. A recipe from Seduction in the Kitchen.
Ingredients
1 package of Keebler's Sandies Shortbread cookies
1 (12 ounce) package of chocolate chips
1 cup of shredded coconut (toasted)
1 cup of caramel topping
Instructions
In a bowl, combine the caramel topping and coconut together, set aside.
On a wax paper lined tray, line up the shortbread cookies.
Place a heaping spoonful of the coconut mixture on top the cookies, flatten the mixture out as best as you can.
After you got the coconut mixture on the cookies, melt the chocolate chips. You can either use a double boiler to melt them till smooth, or melt in the microwave.
One at a time pick up the cookies, and coat the underneath of them in the melted chocolate. Then place them back on the wax paper.
After you got the bottoms coated with chocolate, drizzle the remaining chocolate over all the cookies.
Let the cookies set up for about an hour, so that the chocolate can harden.
After the chocolate is set, then ENJOY!
Recommended Products
As an Amazon Associate and member of other affiliate programs, I earn from qualifying purchases.
Nutrition Information:
Yield:
12
Serving Size:
1
Amount Per Serving:
Calories:

113
Total Fat:

3g
Saturated Fat:

3g
Trans Fat:

0g
Unsaturated Fat:

1g
Cholesterol:

0mg
Sodium:

117mg
Carbohydrates:

22g
Fiber:

1g
Sugar:

20g
Protein:

1g
No Bake Recipes
Looking for no bake recipes you can make? Check out these recipes from Seduction In The Kitchen
Check Out The Latest Recipe On My Other Blog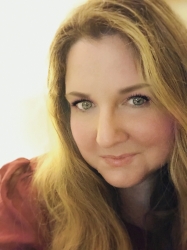 Latest posts by Deanna Samaan (see all)