I am a participant in the Amazon Services LLC Associate Program, an affiliate advertising program designed to provide a means for me to earn fees to Amazon.com and affiliate sites.
[intro]Mushroom Bacon Paprikash is a smokey bacon twist on Paprikash! The savory sweet of the sauce simply makes this dish pop with flavor. Serves 4[/intro]
Small Changes
[dropcap custom_class="normal"]S [/dropcap]mall changes, that what I keep telling myself, that only takes small changes. Plus you need to be open-minded to trying new things as well. To make a change you have to try new ways.
Everyday postings
That is what I am going to try this week with Seduction. It was suggested to me to try and post a recipe every day. One my issues I have with that is I work full time as a phlebotomist. I supposed to only work 1 weekend a month, but we are short and we are also the busiest health center for blood work that I now only get one Saturday off a month.
So, to try and cook everything daily doesn't work for me. So I am switching it up. I am trying these automatic posters, and I am going to cook and bake on Sunday what going to put up for the week.
Plus maybe it helps me with meals for the week so I not hurrying up making something when I get home. It a small change for me, but I want to change my life and this a good example of change. So we will see how this change goes for me and Seduction in the Kitchen.
Mushroom Bacon Paprikash Recipe
How did I come up with Mushroom Bacon Paprikash? Everyone knows chicken paprikash, and it is good, but what if we changed it up to be different? That was my thought behind this Mushroom Bacon Paprikash version.
Plus I also had a bunch of mushrooms and some bacon I needed to use up. I thought what the heck let's see if I can make Mushroom Bacon Paprikash. Turned out this Mushroom Bacon Paprikash is a great combo of flavors and made for a very hearty meal.
Yield: 4 servings
Mushroom Bacon Paprikash Recipe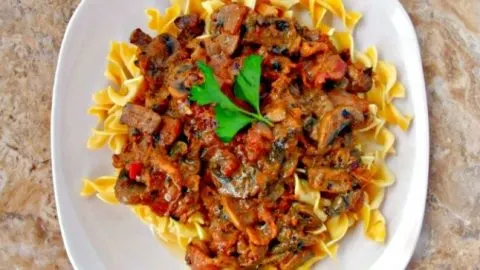 Mushroom Bacon Paprikash is a twist on a Hungarian dish. Using bacon and mushrooms takes this dish to a whole new taste level.
Ingredients
4 tablespoons butter
1 medium onion sliced
2 clove garlic minced
1/2 lb bacon chopped
1 lb mushroom sliced
1 tablespoon tomato paste
1 tablespoon paprika
1/4 teaspoon salt
1 cup sour cream
12 ounces egg noodles cooked
Instructions
Saute the bacon in a fry pan until starts to get a little crispy.
Drain a little of the bacon grease off and add the butter, onions, and garlic. Keep cooking until the onions start to get clear.
Add the mushrooms to the skillet. Keep cooking and stirring the bacon, onion, mushroom mixture for another 3-4 minutes.
Add the tomato paste, paprika and salt to the mixture. Let it simmer for about 5 minutes or so.
Take the mixture off the heat and stir in the sour cream.
Finally, put some the noodles on a plate, spoon the bacon mushroom mixture over the noodles and ENJOY!
Recommended Products
As an Amazon Associate and member of other affiliate programs, I earn from qualifying purchases.
Check out my the latest on my other blog: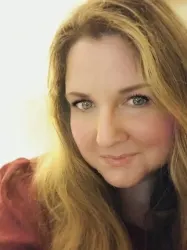 Latest posts by Deanna Samaan
(see all)