I am a participant in the Amazon Services LLC Associate Program, an affiliate advertising program designed to provide a means for me to earn fees to Amazon.com and affiliate sites.
Bacon Mac n Cheese Soup is a soup version of the ultimate comfort food, mac n cheese. Adding bacon to it brings it to a new level of taste excitement. A recipe from Seduction in the Kitchen.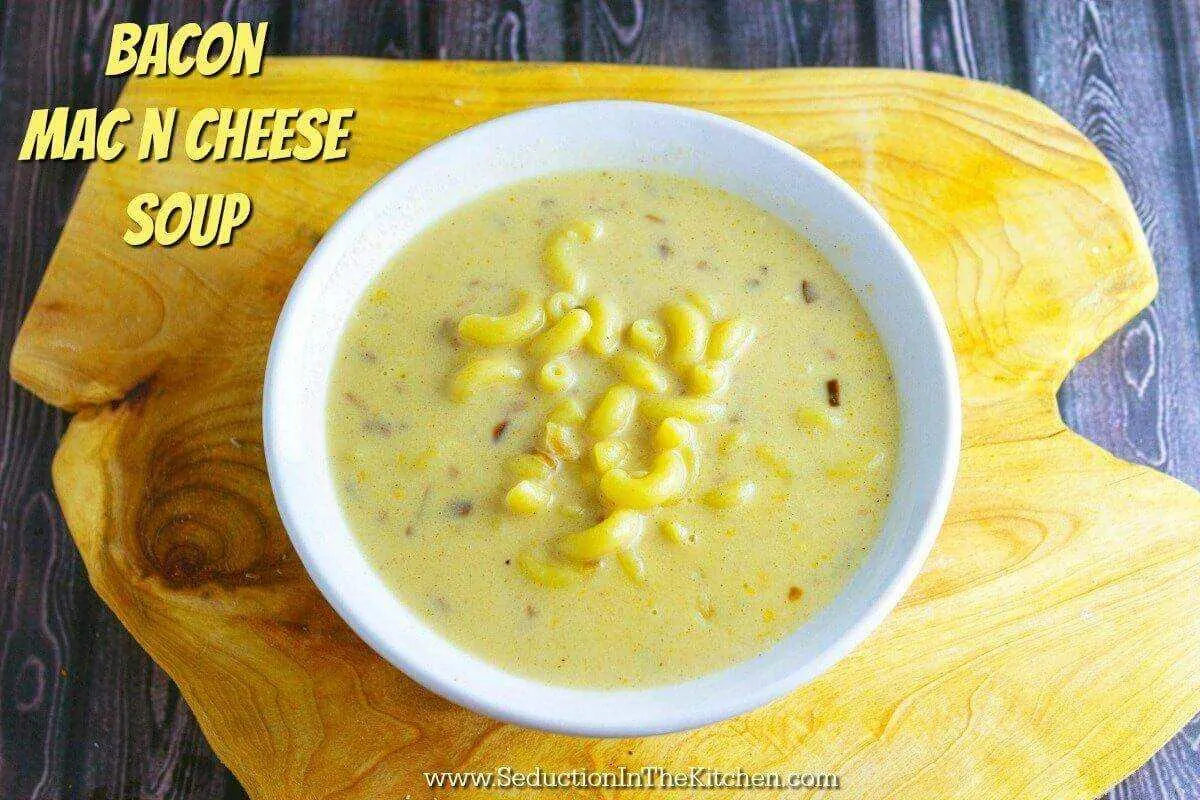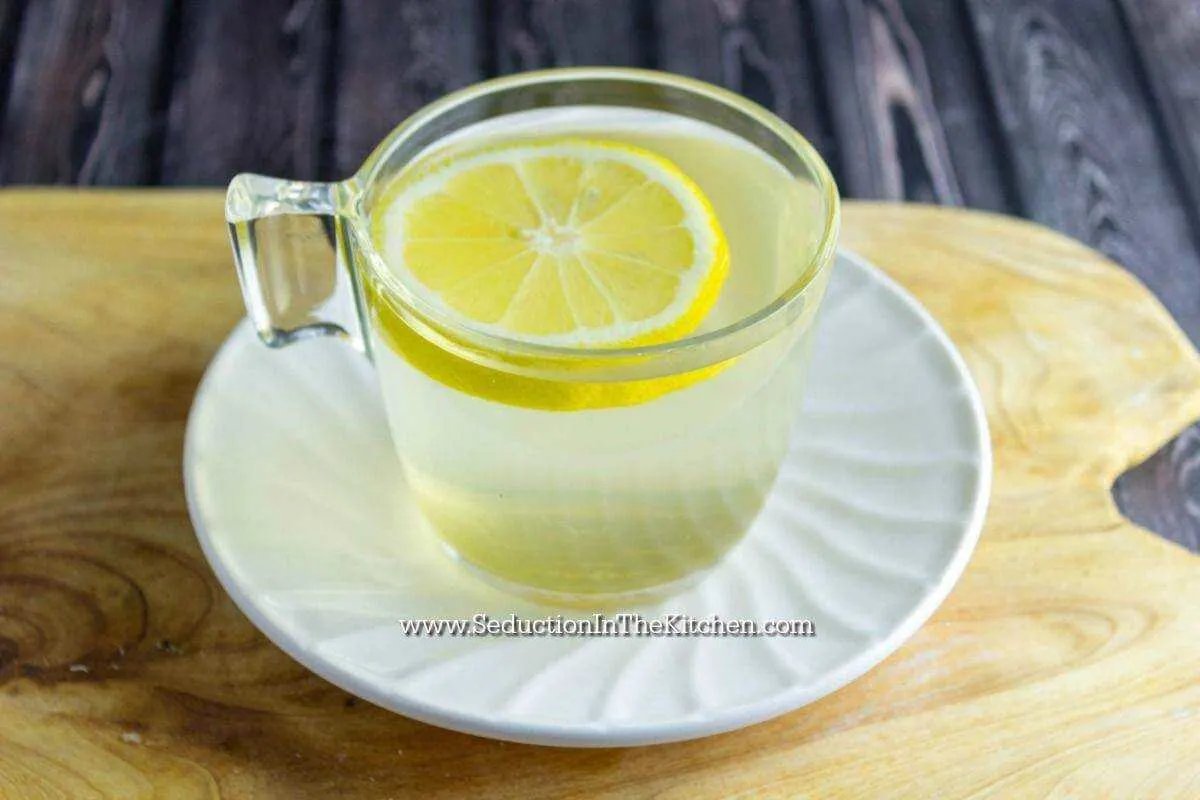 I have been battling a really bad virus. I went home sick and I been basically in bed since then. So I have been living on broth and soup. I hate being sick. Trust me, I will be glad when the cold and flu season is over. I think I am at more of a risk because I am drawing blood on all these sick people. Trust me only 1/3 of people actually cover their mouths when they cough and sneeze.
I did make a nice Hot Toddy, a Pomegranate Lemon Honey Hot Toddy. It really helps with congestion. Plus just makes you feel better. I actually have the recipe published. Where? On my YouTube channel. This one those recipes I am only publishing on that channel. So sign up to subscribe to it so you can see those recipes.
Well, I have made Seduction in the Kitchen AMP. What does that mean? Well, it this new thing with Google for faster loading mobile pages. For a change, I am one the first to make this changeover. Usually, I am one the last to make for most changes.
Like most things in the beginning stages, there are a few hiccups. One is I can't seem to get the AMP pages to show the videos. Another is the style is pretty basic, not customized. It is being worked on. Rome wasn't built in a day.
Yes, you know me I am always about changes. I am playing with Pinterest. Namely the image in the posts for you to save on Pinterest. I'm trying out a new collage image. This Bacon Mac n Cheese Soup the first to have it. So we will see if this new collage pin does better on Pinterest than just a long pin that I have been doing.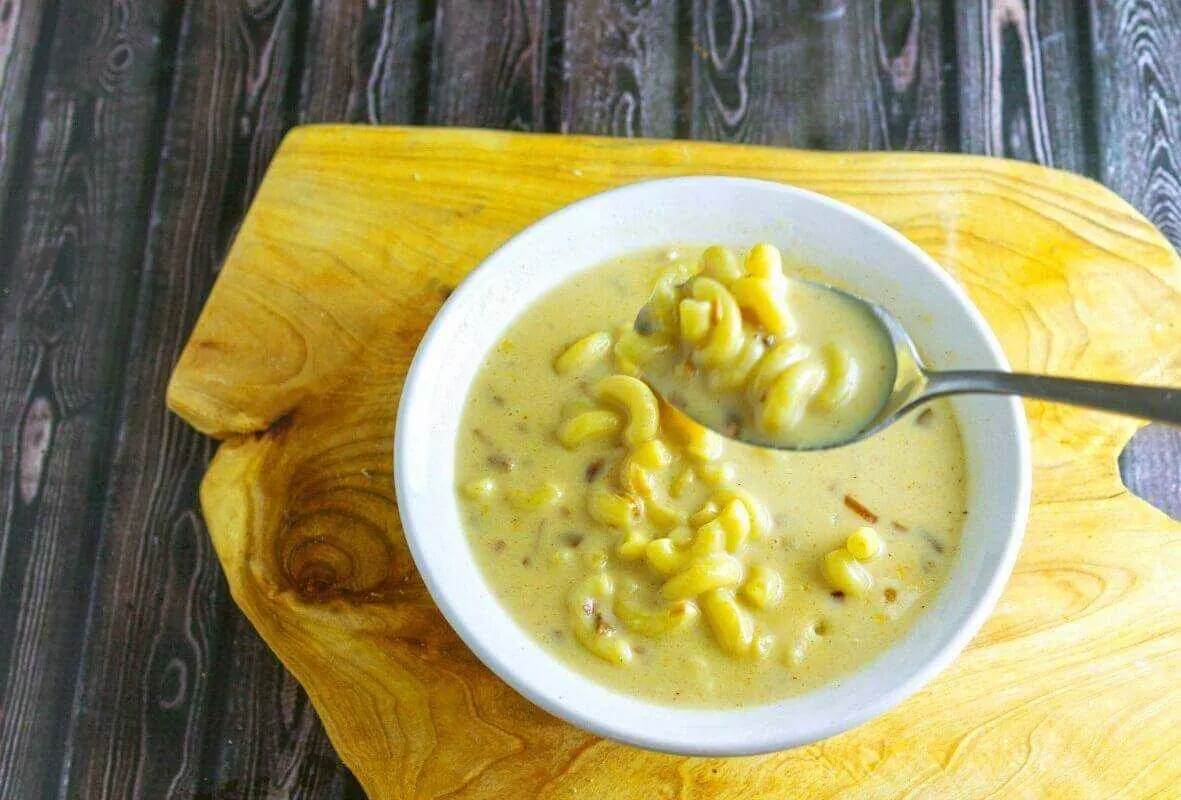 There is a place to eat here in the Cleveland area called Zoup! Every day they have about 6-8 soups. The soups change every day there. They are really good. One of my favorites there is a mac n cheese soup. It is like traditional mac n cheese but in soup form.
I gave my recipe that I had to a friend. The hardest part of it is that the soup is remembering it is a soup. So it should not be real thick like mac n cheese. My friend kept forgetting that.
Actually, it was he who added the bacon to the soup. Which I think makes it even better. It is that smokey taste of bacon that brings out the cheese flavoring if you ask me.
Yield: 6 Servings
Bacon Mac n Cheese Soup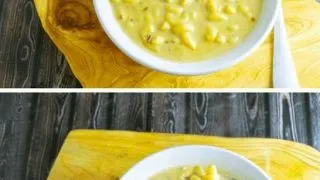 Bacon Mac n Cheese Soup is a soup version of the ultimate comfort food, mac n cheese. Adding bacon to it brings it to a new level of taste excitement.
Ingredients
2 cans chicken broth ((13 1/4oz cans))
1/2 teaspoon vegeta
3/4 cup elbow macaroni
2 tablespoons chopped onion (finely chopped)
2 tablespoons bacon (finely chopped)
3 tablespoons butter
1/4 teaspoon cavander's all purpose Greek seasoning
2 tablespoons flour
2 1/2 cups 2% Milk
2 cups cheddar and Monetary Jack cheese
Instructions
In a pot mix together the broth and vegeta. Bring to a boil.
Next, add the elbow macaroni. Stir so the macaroni doesn't stick and cook for about 5-7 minutes. Then set aside.
In a small saute pan, melt the butter.
Add the onion and bacon to the melted butter. Season it with the Cavanders all purpose Greek seasoning. Saute for about 5 minutes till the onion is soft and the bacon is cooked. *See Note

Add the flour to the bacon mixture. Mix it together to make a roux.
When no traces of flour is seen. Add the bacon mixture to the chicken broth.
Bring it to a boil and reduce the heat.
Add the milk to the soup and let it simmer for about 5 minutes. Then turn off the heat.
Add in the cheese. Stir till the cheese is melted.
Serve it up and ENJOY!
Notes
To cut back on the grease, use only the meat portion of the bacon. When your shopping up the bacon. Cut the fat away from the meat portion and just chop up the meat.
Nutrition Information:
Amount Per Serving:
Calories:

410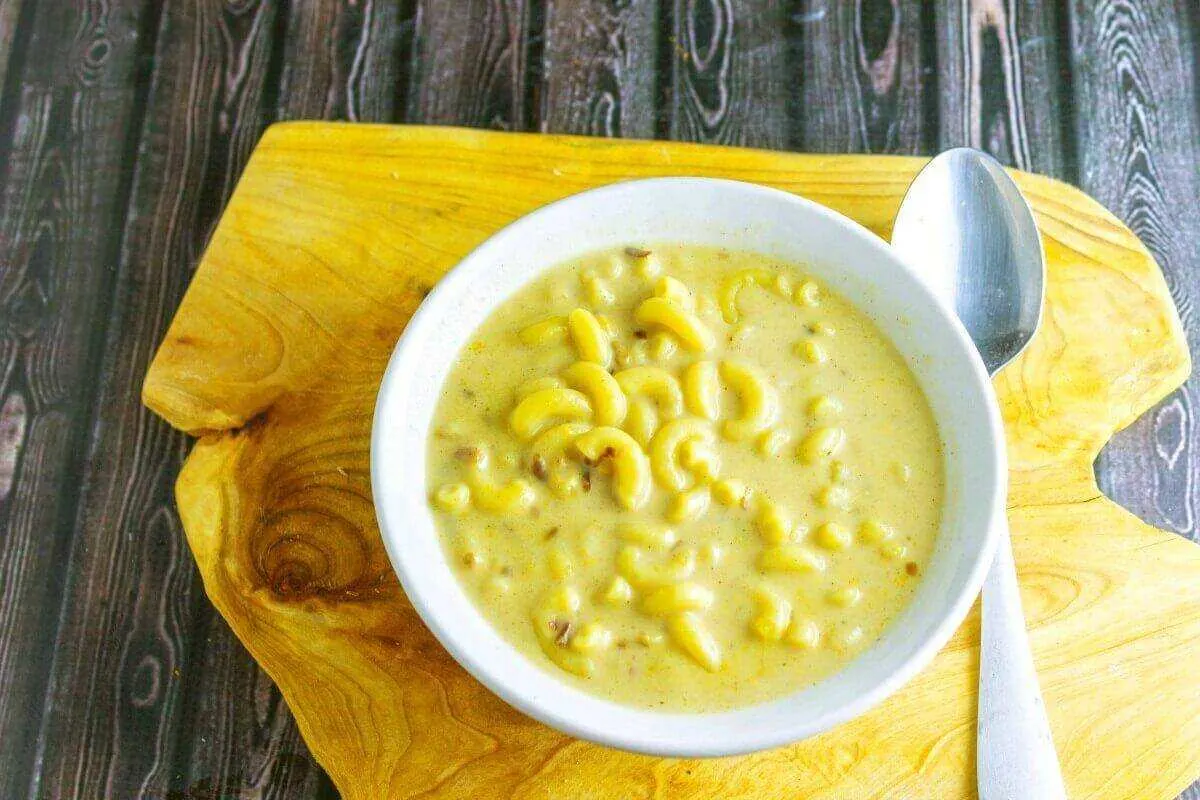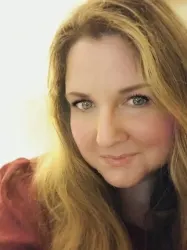 Latest posts by Deanna Samaan
(see all)