This post was most recently updated
Lemon Turmeric Grilled Chicken is a healthy grilled chicken recipe. This grilled chicken with lemon combines with a turmeric grilled chicken recipe for one amazing recipe for a cookout! Serves 4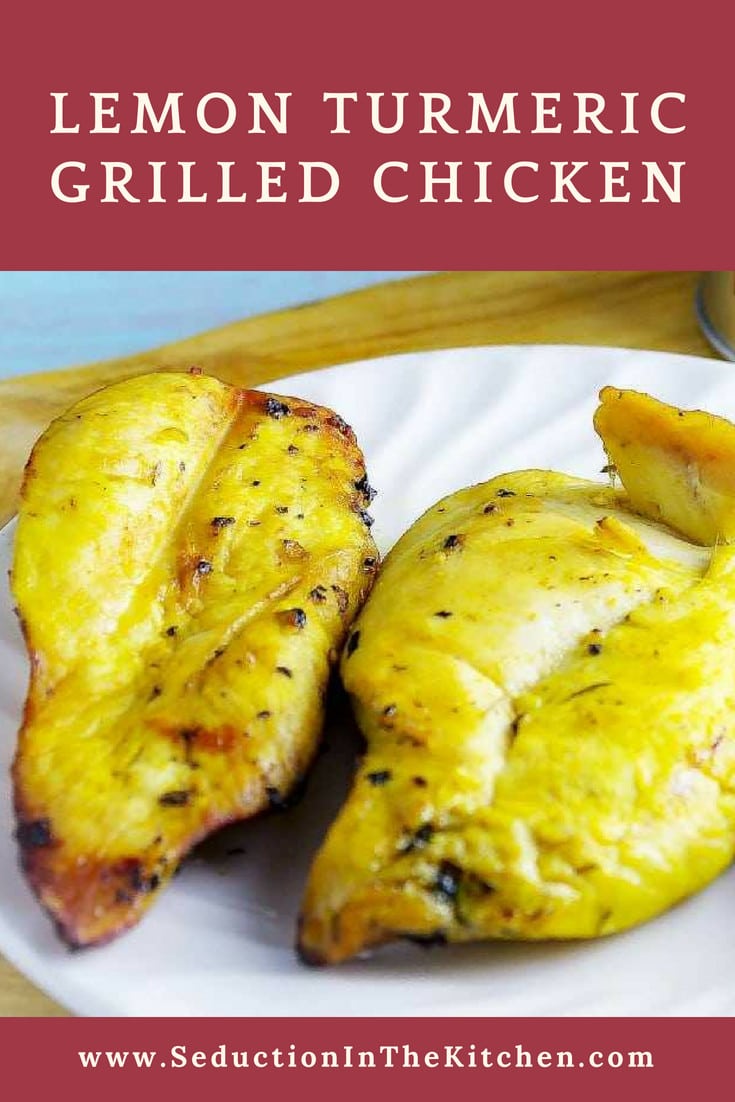 Recipes For a Cookout
It is cookout week and this Lemon Turmeric Grilled Chicken is part of my recipes for a cookout collection! This time to make this a healthy grilled chicken recipe. I used products from the sponsors: French Farm and Smokin-O's for this grilled chicken with lemon.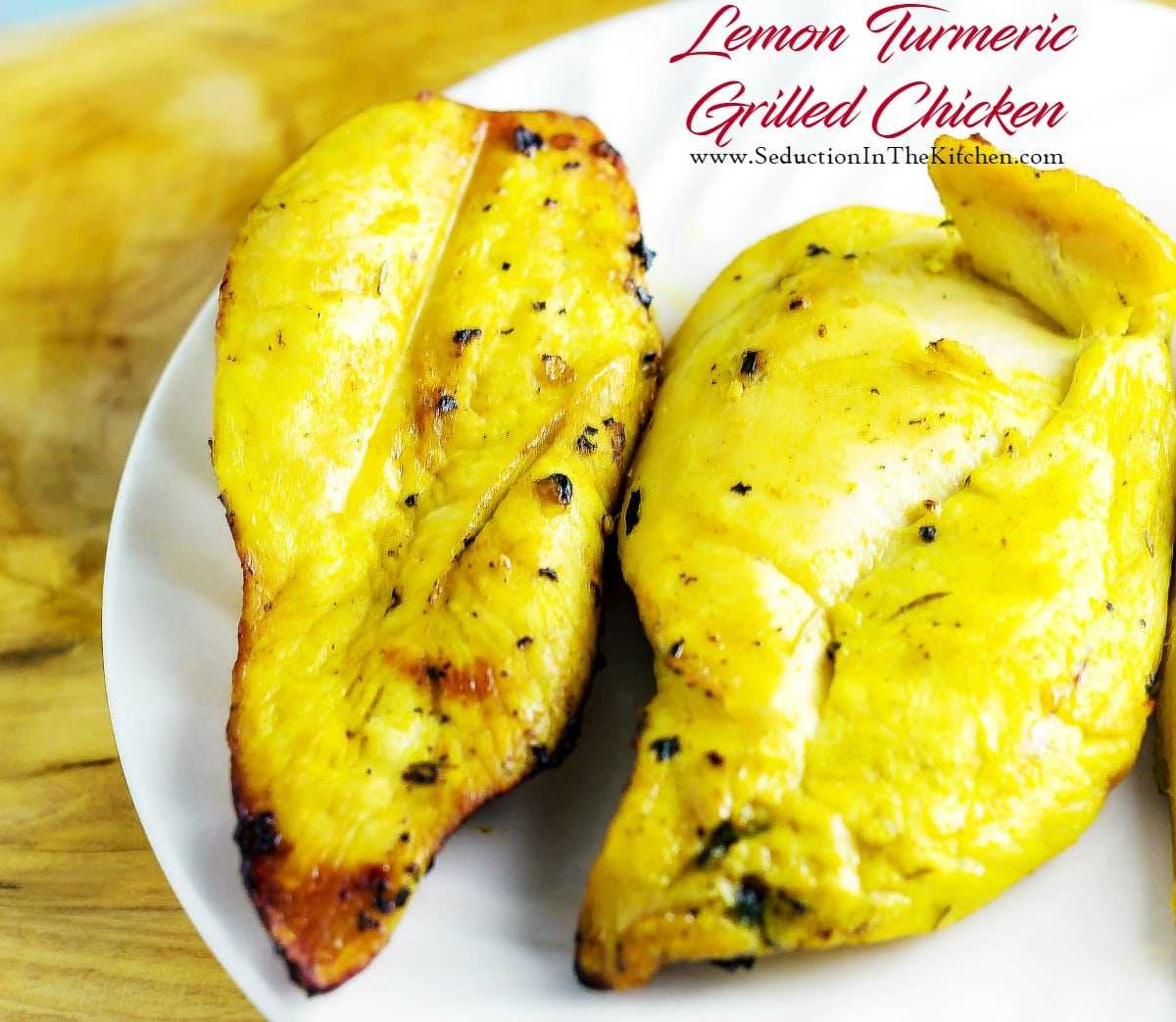 Smokin-O's
Smokin-O's is a great wooden disk that you can put on a gas grill so food tastes like it has been wood fired grilled! It is genius. I really love that these little disks really enhance the flavor of foods.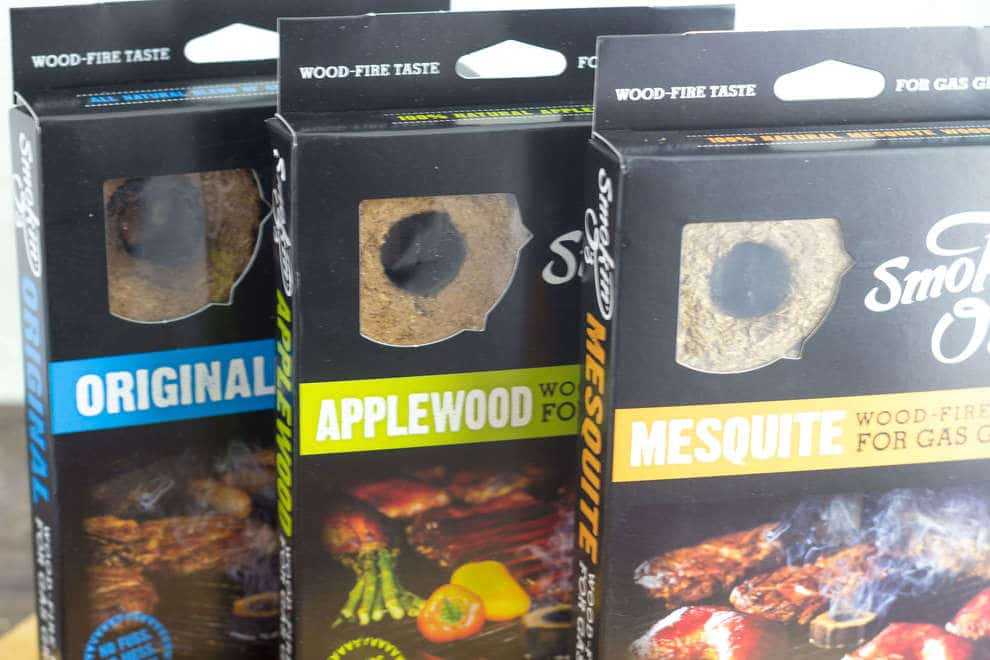 French Farm
This Lemon Turmeric Grilled Chicken features turmeric from French Farm. I admit this lemon and turmeric chicken idea has been in the back of my mind. The turmeric from French Farm. is superb!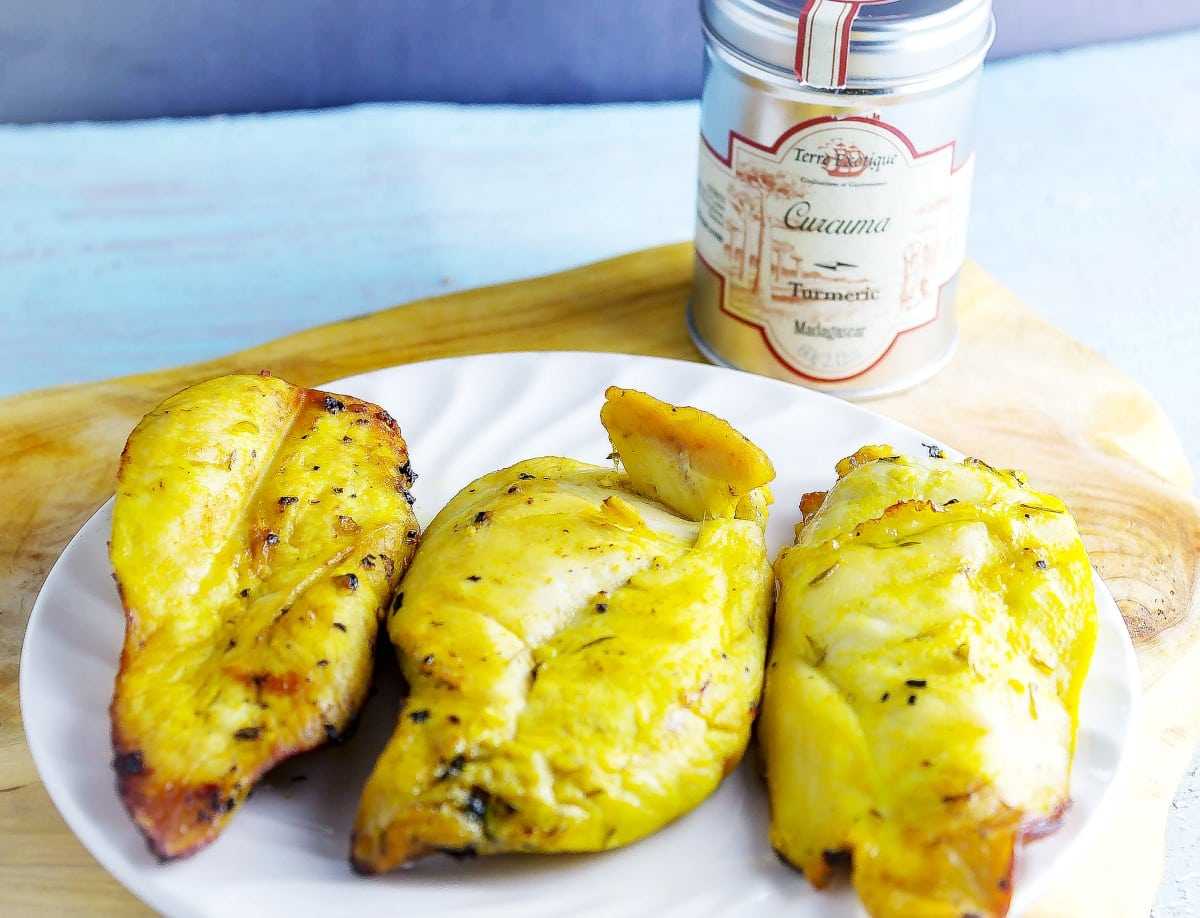 Grilled Chicken With Lemon
I am a fan of lemon chicken. I really love lemon. So creating a grilled chicken with lemon was easy for me.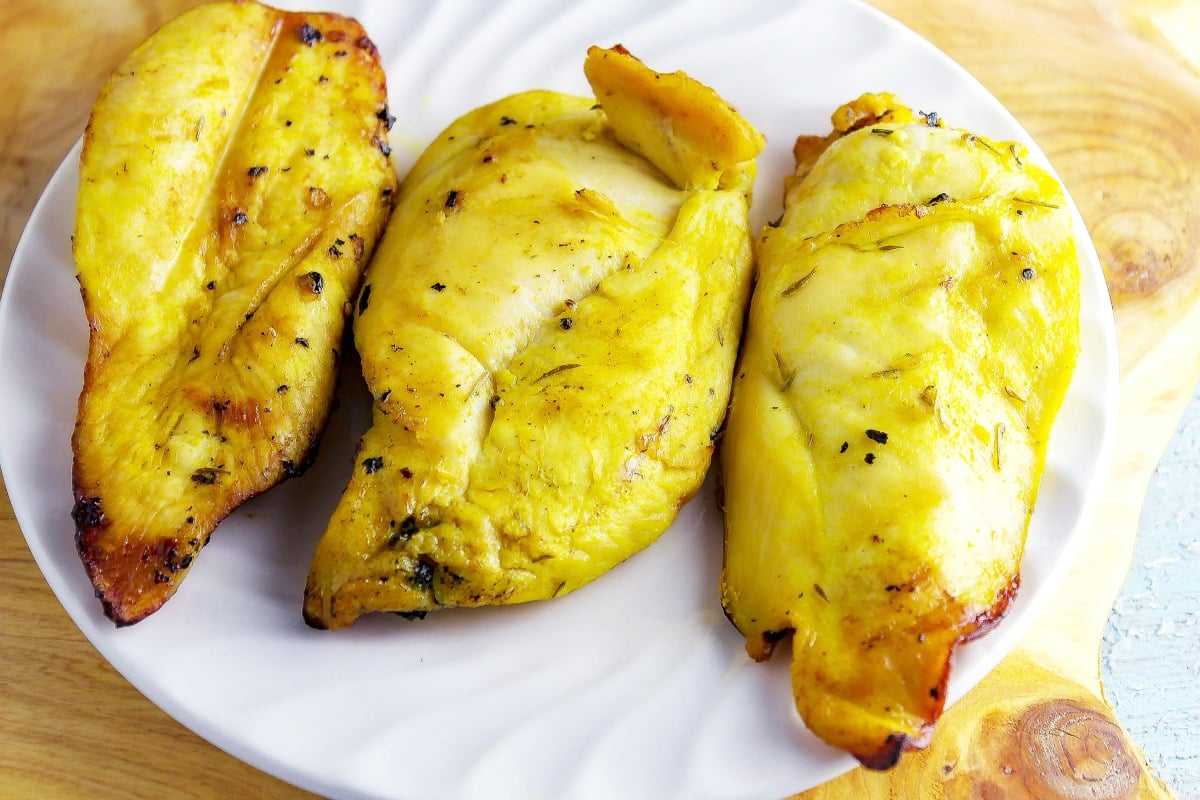 Lemon and Turmeric
Lemon and Turmeric go so well together. The combo is perfect for healthy grilled chicken recipes. So in developing recipes for a cookout, I decided to combine two recipes: turmeric grilled chicken and grilled chicken with lemon.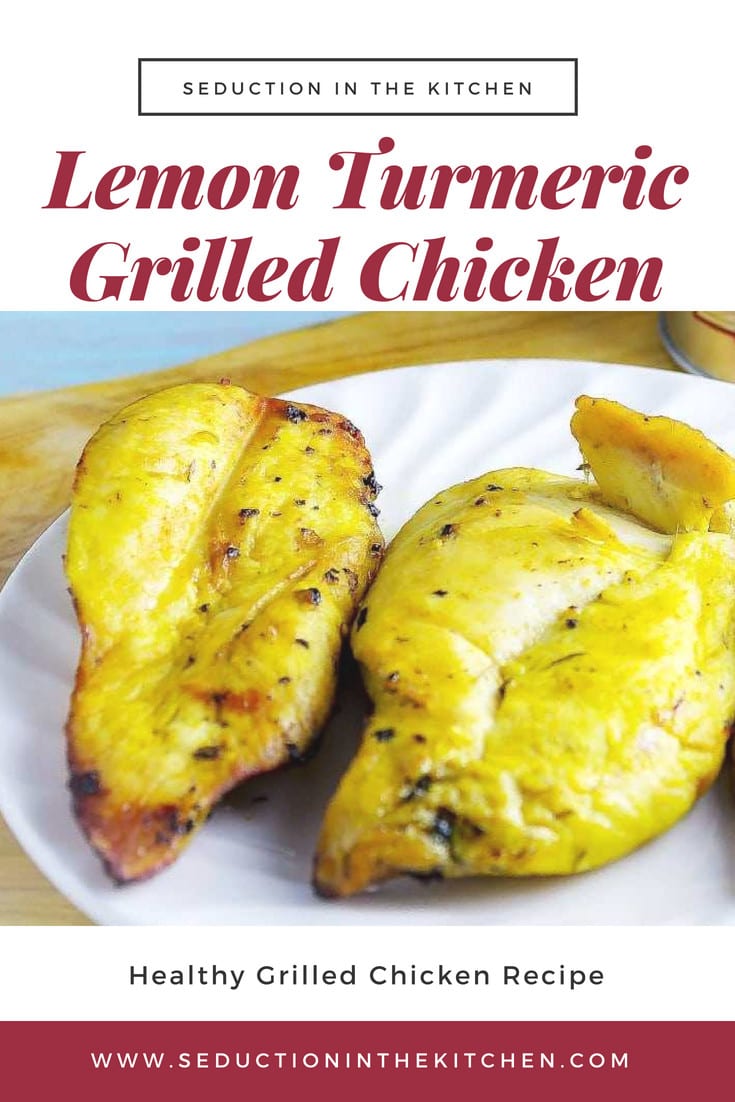 Chicken Recipes with Turmeric
Not only is chicken a healthy choice but turmeric is as well. There are many health benefits of using turmeric which include (source Healthline):
Turmeric Contains Bioactive Compounds With Powerful Medicinal Properties
Turmeric is a Natural Anti-Inflammatory Compound
Turmeric Dramatically Increases The Antioxidant Capacity of The Body
Turmeric Boosts Brain-Derived Neurotrophic Factor, Linked to Improved Brain Function and a Lower Risk of Brain Diseases
Tumeric Leads to Various Improvements That Should Lower Your Risk of Heart Disease
Turmeric Can Help Prevent (And Perhaps Even Treat) Cancer
Turmeric May be Useful in Preventing and Treating Alzheimer's Disease
Arthritis Patients Respond Very Well to Turmeric Supplementation
Studies Show That Turmeric Has Incredible Benefits Against Depression
Turmeric May Help Delay Aging and Fight Age-Related Chronic Diseases
So sounds like using both lemon and turmeric will make this a healthy grilled chicken recipe. So creating chicken recipes with turmeric is a winner if you take all the health benefits into consideration.
Lemon Turmeric Grilled Chicken
Besides lemon and turmeric, I added in some garlic and created a flavorful Lemon Turmeric Grilled Chicken. It was perfect! Thus turmeric grilled chicken was cooked with the Mesquite Smokin-O's made this chicken recipe beyond irresistibly good.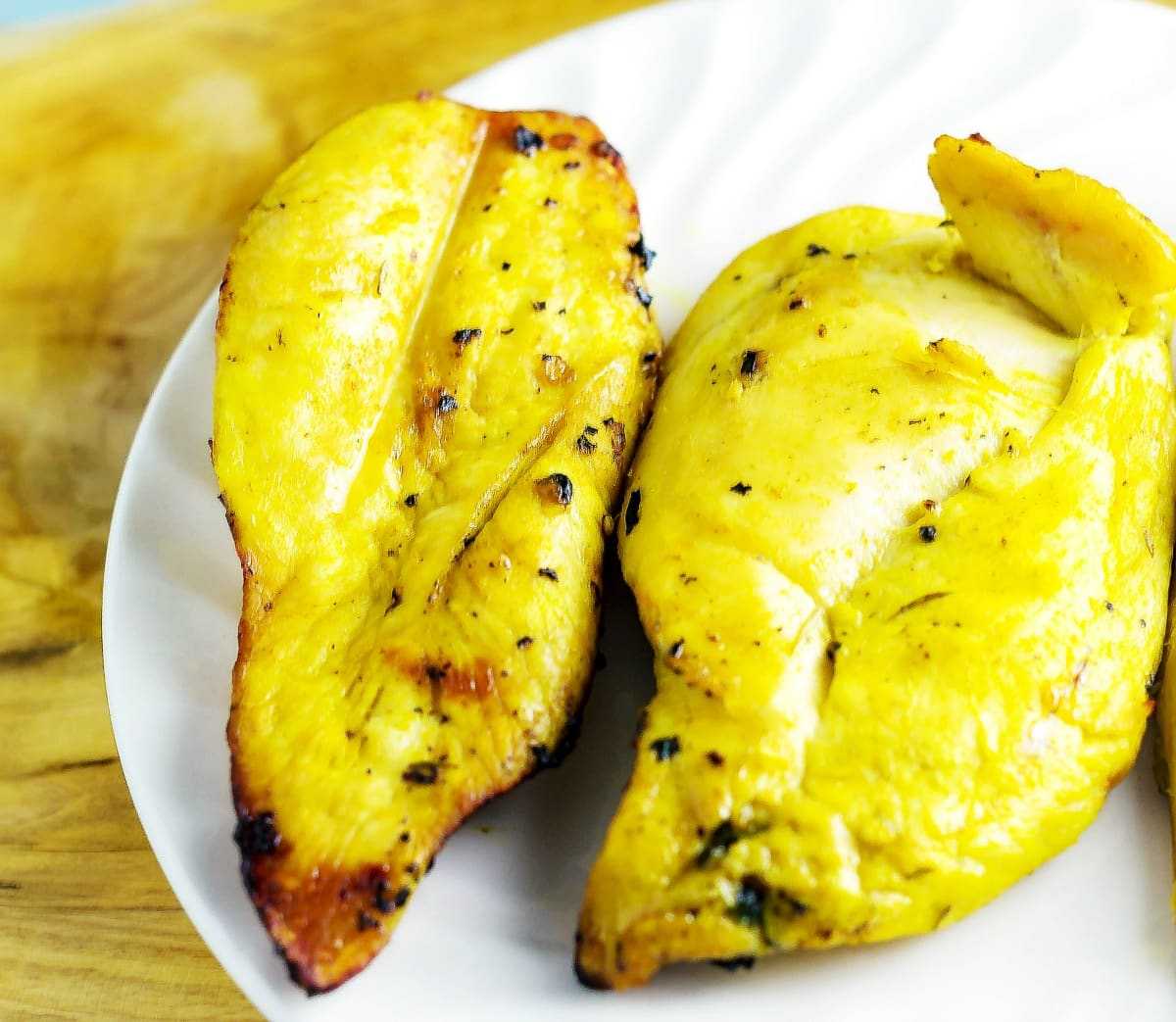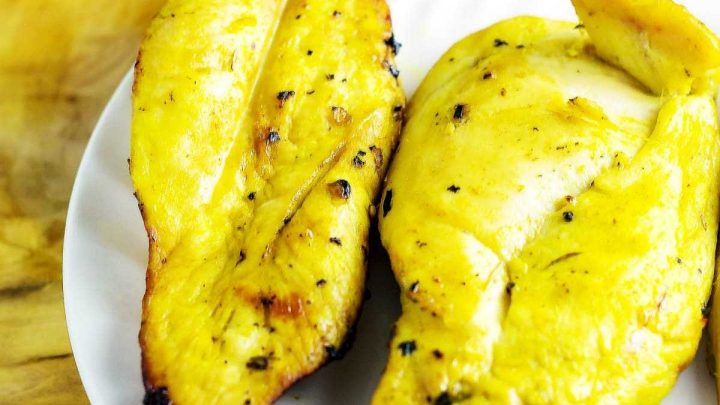 Yield:

4 servings
Lemon Turmeric Grilled Chicken Recipe
Lemon Turmeric Grilled Chicken is a healthy and flavorful chicken that you can grill up for your family. It is a new twist on lemon chicken.
Ingredients
1 whole lemon (juiced)
1 clove garlic (minced)
1 teaspoon turmeric
1/2 teaspoon lemon pepper
4 boneless chicken breasts (thin)
Instructions
In a bowl add the juice of 1 whole lemon along with the garlic, turmeric, and lemon pepper.
Whisk it all together and pour it into a Ziploc bag.
Add the chicken breasts and put the bag in the fridge and let the chicken marinade for at least 30 minutes.
Take the chicken out the marinade and put them on a hot grill.
Cook the chicken till it is done, about 25 minutes.
Serve the chicken out and ENJOY!
Nutrition Information:
Amount Per Serving:
Calories:

0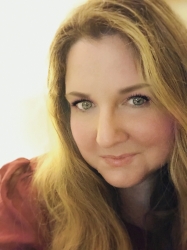 Latest posts by Deanna Samaan
(see all)