This post was most recently updated
Lady Locks is the showpiece of a Pittsburgh cookie table at weddings. This is a flaky cookie with a sweet, creamy filling that you will love at first bite. You also know Lady Locks as a cream horns recipe. In Pittsburgh, the cream horn is a Lady Lock and it is Pittsburgh cookies. Serves 24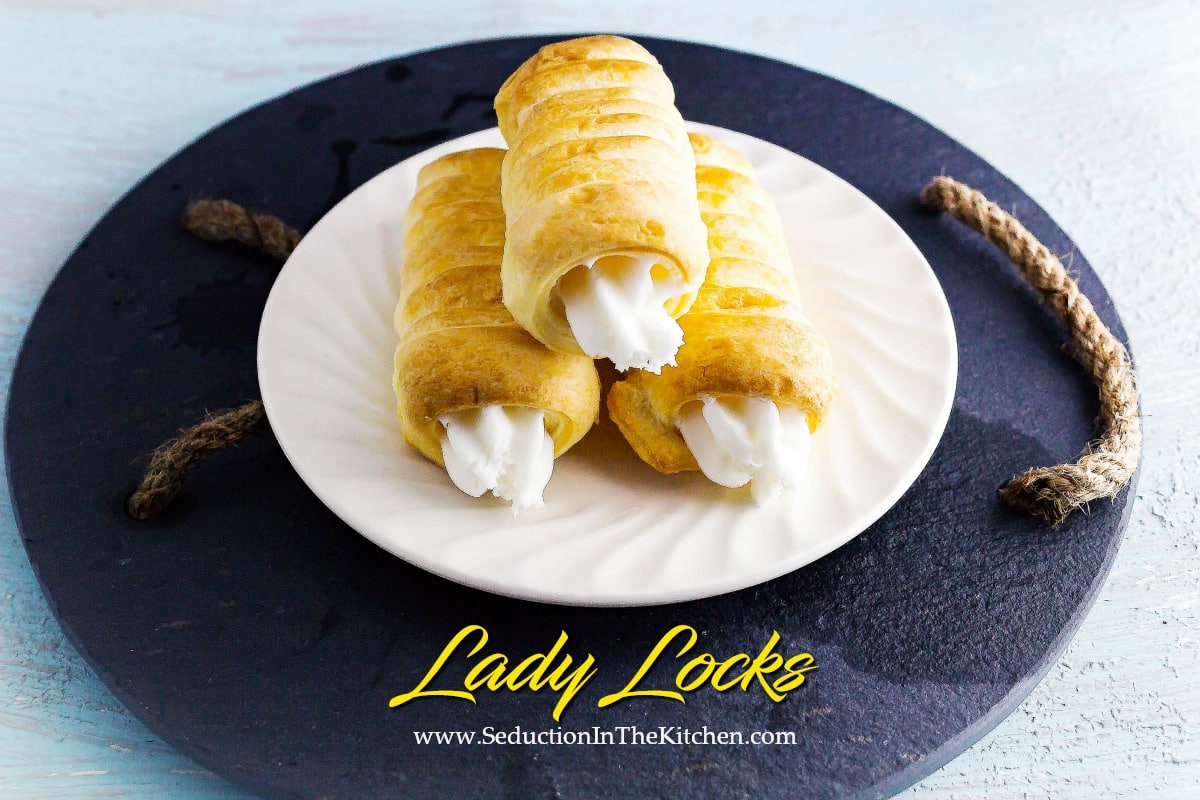 Pittsburgh Cookies For A Wedding
It is no secret that I am proud of my birthplace, Pittsburgh. I may live in Cleveland, but Pittsburgh is my home. One Pittsburgh tradition I found out is exclusive to Pittsburgh is a cookie table at a wedding.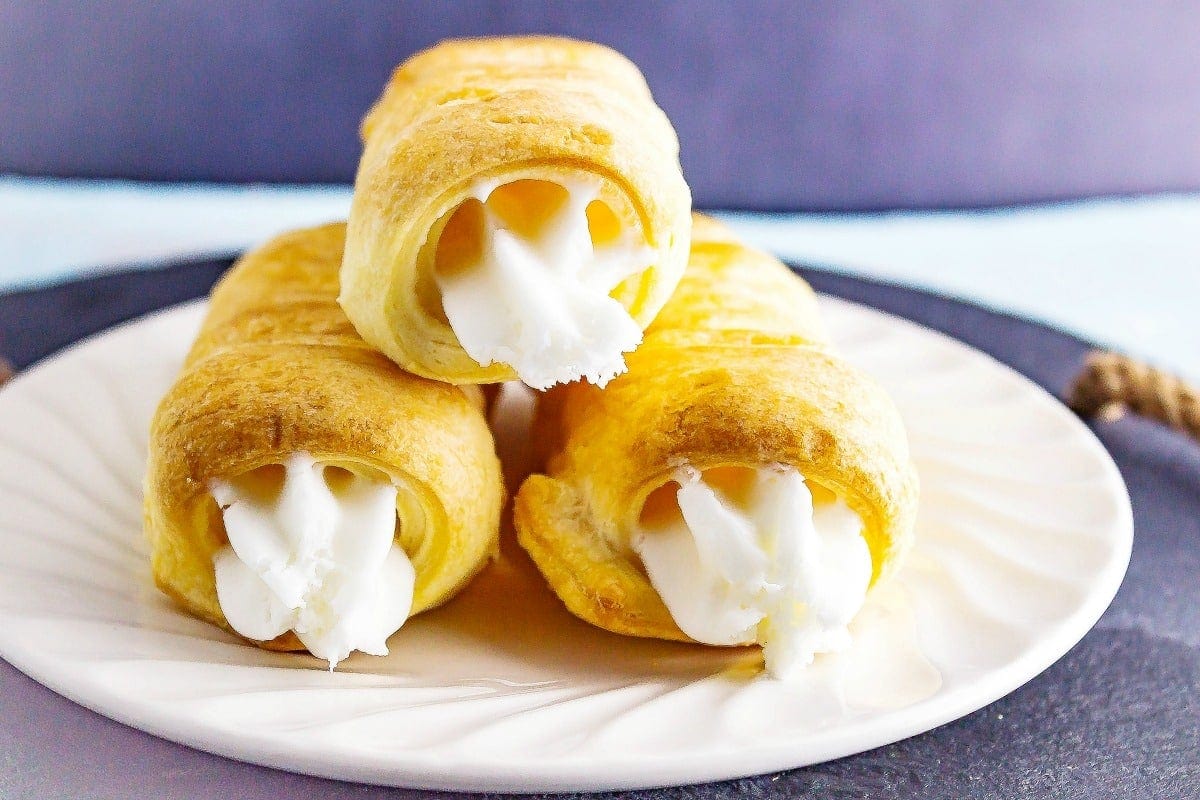 Wedding Cookie Table
What is a wedding cookie table? A cookie table is when people bring homemade cookies to the wedding. Then those wedding cookies are put on a table. As guests wait for the bride and groom to make their entrance, you munch on these homemade Pittsburgh wedding cookies and drink a drink a cocktail.
I always thought this was standard for weddings until I moved to Cleveland.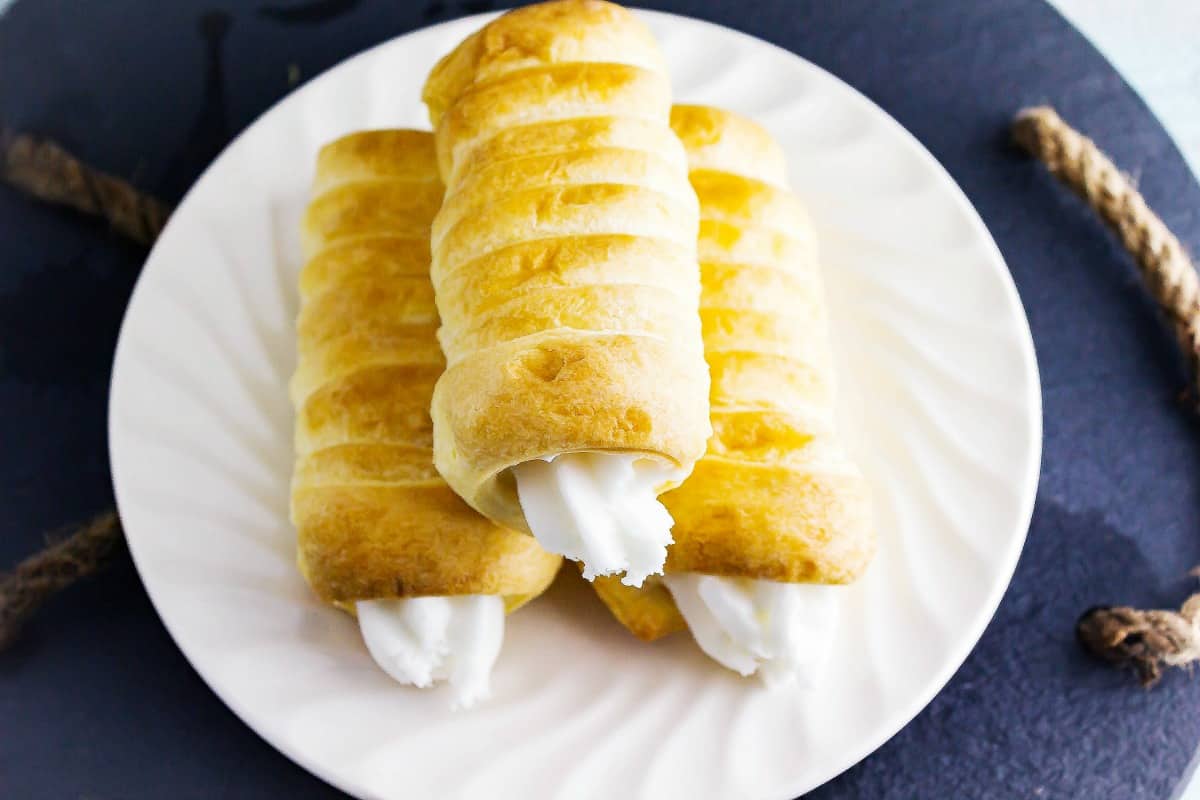 I do know these wedding cookie tables are becoming popular across the USA. In fact, there were 2 articles wrote about the cookie table tradition. One was in the NY Times the other in the National Post.
Cookies For A Wedding
I am writing up a post for Parade's Community table for the wedding cookie table. In my quest for links, I discovered no one had the one cookie that is a must at a wedding cookie table, the Lady Lock.
Lady Locks or Cream Horns Recipe
Every wedding has to have this homemade goodie. Lady locks are also called cream horns or clothespin cookies. Why? Instead of metal cones to make the shells you use foil around old fashion wooden clothespins.
It works well, thus giving the name clothespin cookies. The cream horns come because it does look like a horn filled with a creamy filling. If you are searching for cream horn recipes, lady locks recipe or clothespin cookie recipes, it the same.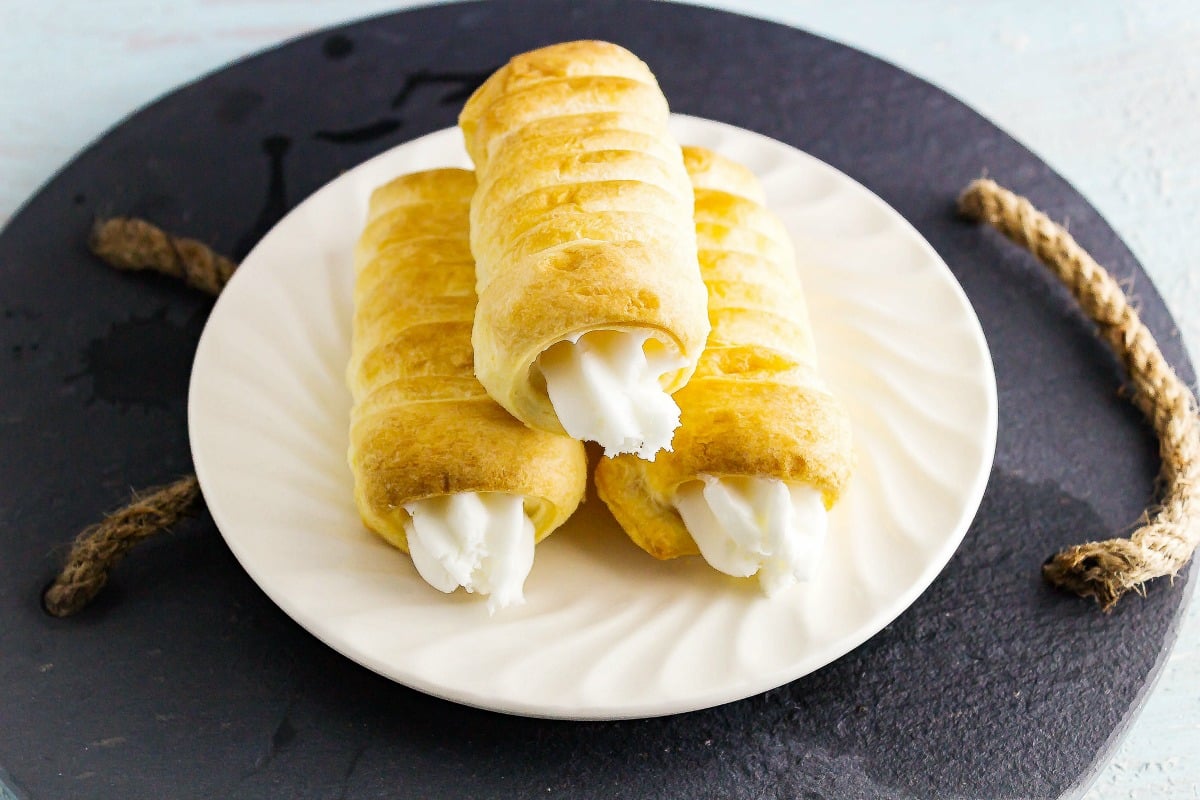 Pittsburgh Cookies
These Pittsburgh cookies are a labor of love. A cream horn recipe does take a little bit of work but they are worth it. That why the grandmothers seem to make these for the wedding cookie tables.
Clothespin Cookies
It is the love they have for the couple to make this wonderful, flaky cookie. When I married, my neighbor growing up made the lady locks or clothespin cookies on my cookie table. I asked for the clothespin cookies recipe because I was in love with them, she gave it to me.
Cookies With Filling
The lady lock or cream horn filling recipe is what makes these cookies. The creamy filling is what makes the clothespin cookie so addicting. It is best to invest in stainless steel cream horn molds also to make these as well.
My Cookie Table
My next marriage, if I have one, I will for sure have a cookie table. Even if I am still here in Cleveland, I will have this wedding cookie gtable tradition. You can take the girl out of Pittsburgh, but can not take the Pittsburgh out the girl.
Of course my lady locks will be the showpiece of the wedding cookies. Cookies with filling what is not to love about that? Trust me you love this cream horn recipe.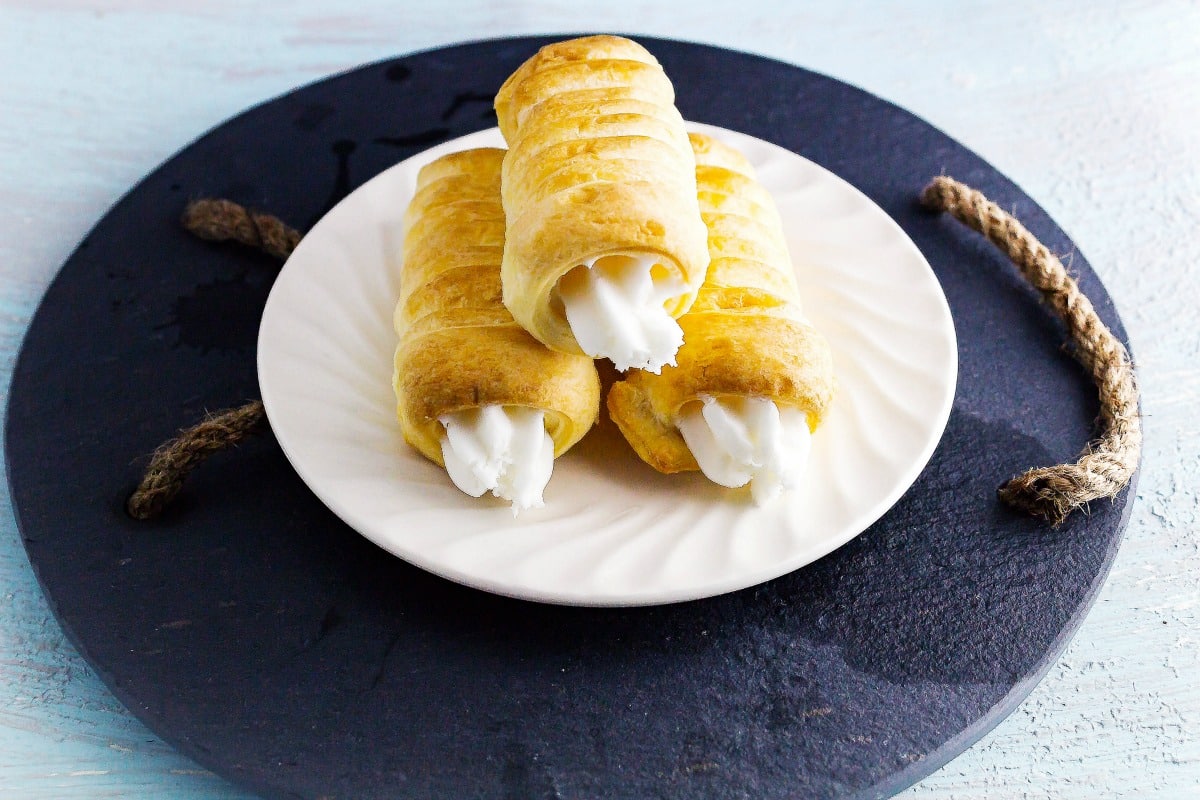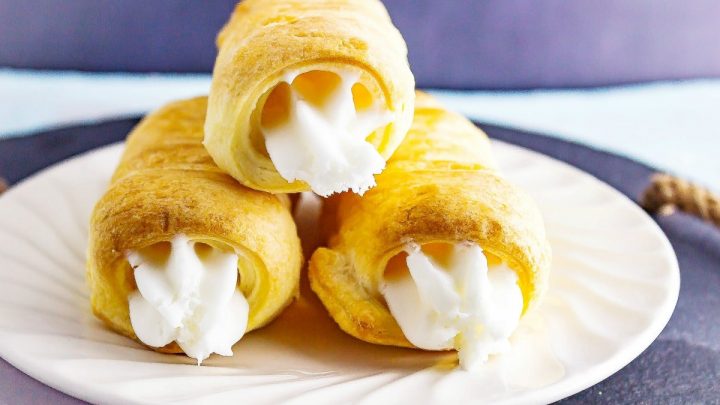 Yield:

24 cookies
Lady Locks Recipe
Lady Locks are the show piece of a Pittsburgh cookie table at weddings is this flaky cookie with a sweet, creamy filling. A recipe from Seduction in the Kitchen.
Ingredients
Pastry Shells:
4 cups all-purpose flour divided
2 teaspoons baking powder
1/2 cup plus 1 tablespoon granulated sugar divided
1/2 cup margarine (1 stick)
1/2 cup vegetable shortening
2 teaspoons butter
2 egg yolks
1 cup evaporated milk
2 teaspoons vanilla
1 package active dry yeast
1 cup confectioners' sugar
Filling:
2 cups milk
4 teaspoons heaping all-purpose flour
1 cup margarine at room temperature, 2 sticks
1/2 cup vegetable shortening
2 cups granulated sugar
2 teaspoons vanilla
Dash salt
Instructions
Sift together 3 1⁄2 cups flour, the baking powder and 1 tablespoon granulated sugar. Add the margarine, shortening and butter and cut in as for pie crust. Set aside.
In a bowl, combine the egg yolks, evaporated milk, vanilla and yeast. Add to the flour mixture and mix well. Chill overnight.
Heat the oven to 325 degrees.
Working with small pieces of dough at a time, roll out on a board sprinkled with a mixture of 1⁄2 cup flour, 1⁄2 cup granulated sugar and the confectioners' sugar.
Roll thinly, then cut into strips approximately 1⁄2-inch wide. Wrap on old-fashioned wooden clothespins that have been covered with foil and lightly greased, or use metal baking rods according to manufacturer's directions.
Place on an ungreased baking sheet and bake for 10 to 15 minutes. Carefully remove the shells from the pins immediately. Let cool, then fill the shells with the filling, using a pastry bag.
Combine the milk and flour. Cook over low heat until thick. Cool completely.
Beat the flour mixture, using an electric mixer. Add the margarine, vegetable shortening, sugar, vanilla and salt. Beat at high speed until light and fluffy.
Recommended Products
As an Amazon Associate and member of other affiliate programs, I earn from qualifying purchases.
Nutrition Information:
Yield:
24
Serving Size:
1
Amount Per Serving:
Calories:

375
Total Fat:

22g
Saturated Fat:

7g
Trans Fat:

2g
Unsaturated Fat:

15g
Cholesterol:

26mg
Sodium:

73mg
Carbohydrates:

40g
Fiber:

1g
Sugar:

23g
Protein:

4g
Check out my the latest on my other blog: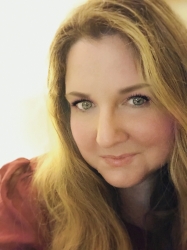 Latest posts by Deanna Samaan
(see all)