This post was most recently updated
Hawaiian Potato Salad is a Hawaiian sweet potatoes recipe. This Hawaiian salad is a change from ordinary potato salad. Let's go on a picnic and enjoy this Hawaiian potato recipe.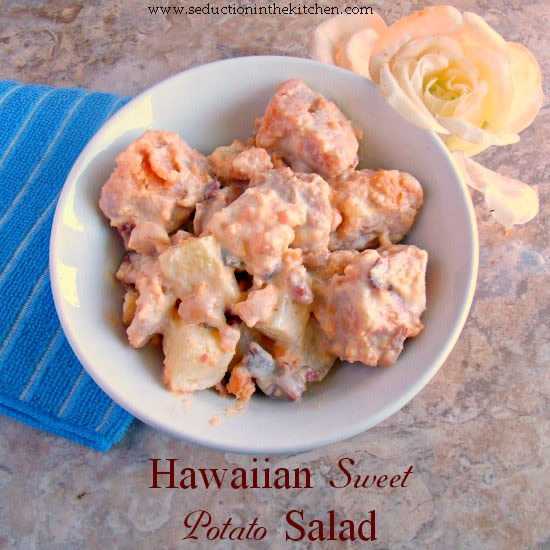 Nice Weather
The weather has been nice so far this summer, at least here in North East Ohio that is. So far hasn't been very hot, it actually been very pleasant. Perfect weather for a picnic actually.
Having A Picnic
I admit I love picnics. Growing up I can remember going to school picnics at Kennywood Park.  I also remember doing a family picnic at White Swan Park. Then the last huge family picnic that comes to mind was a picnic for my dad's union at Idlewild Park.
Amusement Park Picnics
Yes, all three parks are amusement parks in PA. Only, White Swan Park was torn down to make room for the highway. Still, it was nice memories.
I remember my mom would pack this cooler with food for our amusement park picnic. I have this vivid memory of a school picnic at Kennywood. Somehow in the grocery, the bag my mom brought home from it had someone's BBQ chicken.
How it ended up in her grocery bag she wasn't sure.  So she just packed in our cooler, along with the other goodies and her homemade potato salad. My sister had a friend come with us that year.
All I can remember about this "friend" is she was a pain in the ass. She drove us up the wall. All she did was complain the entire time.
Potato Salad
My mom is known for her potato salad.  Everyone her potato salad because it is different. How? Well, she uses olives in it, so it stands out.
After riding the rides at Kennywood, we were to meet at a certain time at the picnic pavilion for lunch. What was nice back then, you could leave your coolers at a table and no one bothered with them. I know most likely it is not that way anymore, but growing up and going to those school picnics, that was how it was.
In fact, want share a clip with you I found on YouTube.  It is from an OLD WQED special called Kennywood Memories, yes you can tell it is dated by the style of clothing people are wearing, but it talks a little about those picnics:
Check Out This Video Of Kennywood Park Picnics
This friend that of my sister brought came to our table at the time my mom said to be there. We sat down, my mom gives us sandwiches and puts potato salad on everyone's plates.  This girl says to my mom what mayonnaise is in the potato salad.
My mom says Hellman's mayonnaise. This girl as bold as brass, says to my mom: "I don't like Hellman's, I like Miracle Whip." I think my mom wanted to kill her. I think, if memory recalls, she pulled that BBQ chicken out and plopped down in front the girl and said eat that instead.
The Mayonnaise Joke
That mayonnaise comment was a joke for the longest time in my family. I know my dad would say if my sister was talking about a friend, he would ask, "is that the mayonnaise girl?" He couldn't remember her name but remember she was mayonnaise girl.
You know, thinking back on that memory, they say everything happens for a reason.  The bagger accidentally forgetting to put someone else's BBQ chicken in their bag and putting it in my mom's by mistake must be meant to be because that chicken kept the girl from making any more rude comments to my mom and her food.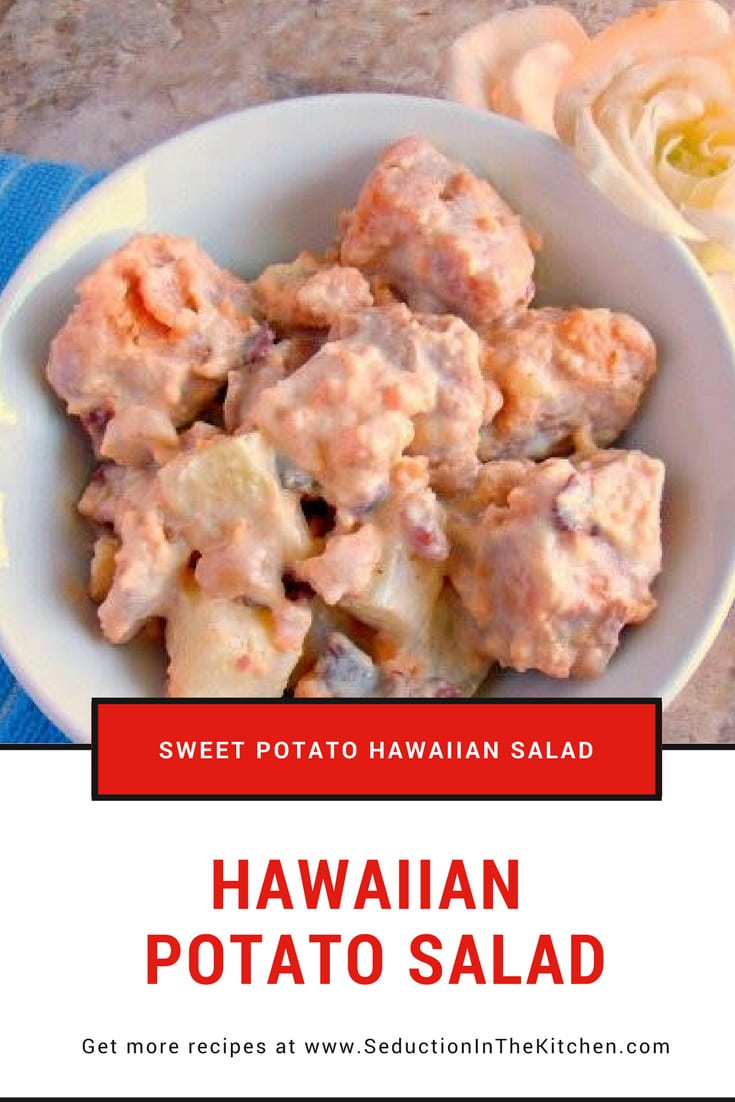 Hawaiian Potato Salad
Picnics are enjoyable and they should be special too. Every picnic needs a potato salad. So how about something different? A Hawaiian Potato Salad.
;
Hawaii Sweet Potato
This isn't my mom's potato salad. This Hawaiian salad is a different type of potato salad like hers. I been on this Hawaiian salads kick and saw a version of a Hawaiian sweet potatoes recipe online.
What a great idea, make a Hawaiian potato recipe, but as a Hawaii salad. So I played around with this Hawaiian sweet potatoes recipe.  I came up with something that is actually really good. This Hawaiian Potato Salad is little different but still very tasty.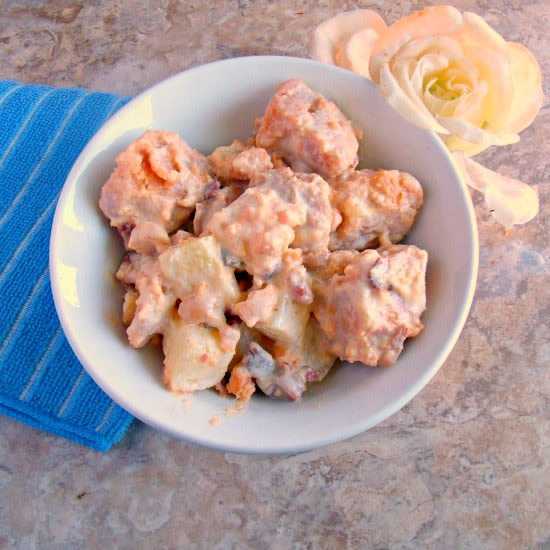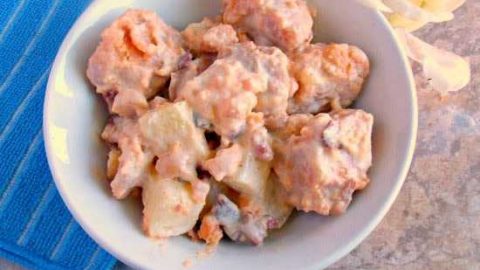 Yield:

8 servings
Hawaiian Potato Salad
A taste of Hawaii! A different type of potato salad, a recipe from Seduction in the Kitchen.
Ingredients
8 strips of bacon (crumbled)
3 cups sweet potatoes (cooked and chopped)
2 cups pineapple chunks
1/2 cup mayonnaise
1 tablespoon Dijon mustard
2 tablespoons fresh lime juice
1/2 teaspoon pepper
1/2 cup macadamia nuts (chopped)
Instructions
In a bowl, whisk together the mayonnaise, mustard, lime juice, and pepper, then set it aside.
Next combine the sweet potatoes, bacon, pineapple, and macadamia nuts. Mix them together, so they are evenly mixed up.
Pour the mayonnaise dressing over the yam mixture and mix everything till well coated.
Let the salad sit in the fridge for about and hour and the ENJOY!
Nutrition Information:
Amount Per Serving:
Calories:

0
Like this Recipe? Pin it!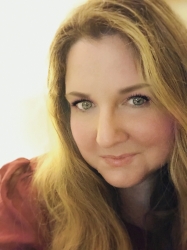 Latest posts by Deanna Samaan (see all)