Jump To Recipe
Print Recipe
You are here:
Home » Bread Recipes » Cinnamon Raisin Banana Bread: The Best Combination Of 2 Favorite Breads
Cinnamon Raisin Banana Bread combines 2 loaves of bread into one. It
is a combination of cinnamon raisin bread recipe and banana bread all in one loaf.
This cinnamon banana bread recipe is easy to make. You will love to have a slice of it with a cup of coffee
Refreshed
I

t is good to be back in the kitchen cooking and creating recipes again
. I did not realize how much I needed the break. It helped refuel my creative juices.
Which is good because I have this banana bread recipe with cinnamon. My creativity in food recipes ready to wow you.You will love how I combined moist cinnamon banana bread. Then I added bread with raisins with it!
Before I dive into this Cinnamon Raisin Banana Bread recipe, let's talk progress. Sometimes you need to stop and see what you have already realized. You need to see far you come.
Fortune Cookie Saying
Why the fortune cooking saying? I am laying on my couch writing this post. I am looking around the condo, I see my couches, my end tables, everything around me.
The key word here is "my". I own all this, no one helped me buy them. I bought them all new. I own all it.
At one point, would I have thought this, no? I thought in order for me to have what I have now, I have to be married. Was I wrong.When I got my divorce, he left me with nothing. I got no spousal support, nothing, I only had $100 in my account and had to figure out surviving. I also have to do this in a city by myself, no family around. I was alone.
I did that, I got my credit back under control. It better then its been in awhile, not the greatest but better and I own everything in this condo. Things like owning all your furniture can make you feel proud and happy.
Cinnamon Raisin Banana Bread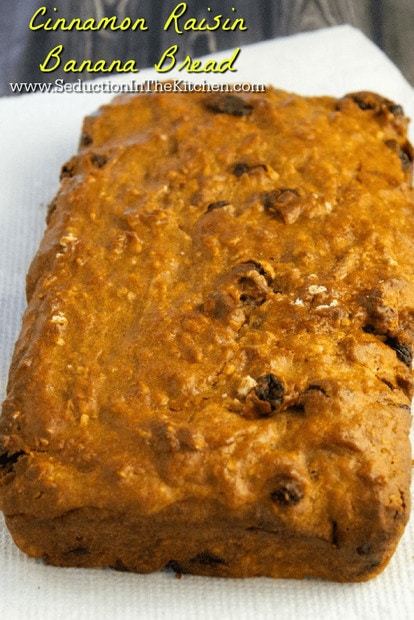 So now I am done with my life lesson. Let's move on to what you want to see, this cinnamon raisin banana bread recipe. It is an easy cinnamon raisin bread recipe.
Banana Bread With Cinnamon
The idea for this easy cinnamon raisin bread recipe came to me when I was craving banana bread. I saw a 3lb of bananas on sale for 99 cents. They were so cheap because they were perfect for baking.
The bananas were starting to turn black. I love a good banana taste in any banana bread, so these bananas was perfect for moist cinnamon banana bread.
The real secret to why this cinnamon banana bread recipe is so good is actually in the ingredients. That is one ingredient, in particular, that is pudding. Pudding mix makes this bread stay moist and gives it a good taste.
One thing I learned in any baking recipe is to not to overwork the flour. Then stir and stir a batter, you keep changing the flour composition. Which can make baked good tough and dry.
You want to mix the flour to it combined. It is ok to have some flour residue in the bowl. Trust me you will see by not over mixing the batter you will have light, fluffy, moist cinnamon banana bread.
Almost all banana bread recipes will produce two regular sized loaves. Which is a good thing, because this cinnamon banana bread recipe will disappear fast on you. I took a loaf to work and it was gone within a half a day.
Which they forced me to bring the other loaf into work. I wanted to keep it for myself. Work was raving about it so much, I had to bring the other banana bread with cinnamon in. So it is good that this banana bread recipe with cinnamon produces 2 loaves.
Print
Cinnamon Raisin Banana Bread
---
Author:

Prep Time:

:10

Cook Time:

1:00

Total Time:

-25451858.1 minute

Yield:

2 Loaves

Category:

Bread

Cuisine:

American
Description
Cinnamon Raisin Banana Bread is a combination of cinnamon raisin bread and banana bread all in one loaf. A recipe from Seduction in the Kitchen.
---
Ingredients
2/3 cup oil
3 large eggs
1 tablespoon milk
4 bananas (mashed)
2 cups flour
2 cups sugar
1 teaspoon vanilla
1 (3 1/2) ounce box vanilla instant pudding
1 teaspoon salt
1 teaspoon baking soda
2 tablespoon cinnamon
1/2 cup raisins
---
Instructions
Preheat oven to 325°F.
In a bowl, mix oil, eggs, milk and mashed bananas.
Next add the sugar, vanilla, and pudding to the banana mixture.
After the banana mixture is all mixed up, add the flour, baking soda, cinnamon, salt, and raisins.
Just mix it together till the flower is just combined.
Divide the batter into two, greased 9 x 5 x 3 inch pan and bake for 1 hour or until bread tests done.
Take them out the oven to cool, then slice them up and ENJOY!
I want to hear what YOU have to say about this recipe that is on ~
Seduction In The Kitchen
~ I try to respond to questions asap, so ask away ~ and if you've made a recipe I really love it when you come back and share your experience with all of us. Now let's get this conversation started!