Bistro Blue Cheese Stuffed Meatballs are a simple meatball recipe with a twist! Have a bistro-style meal at home.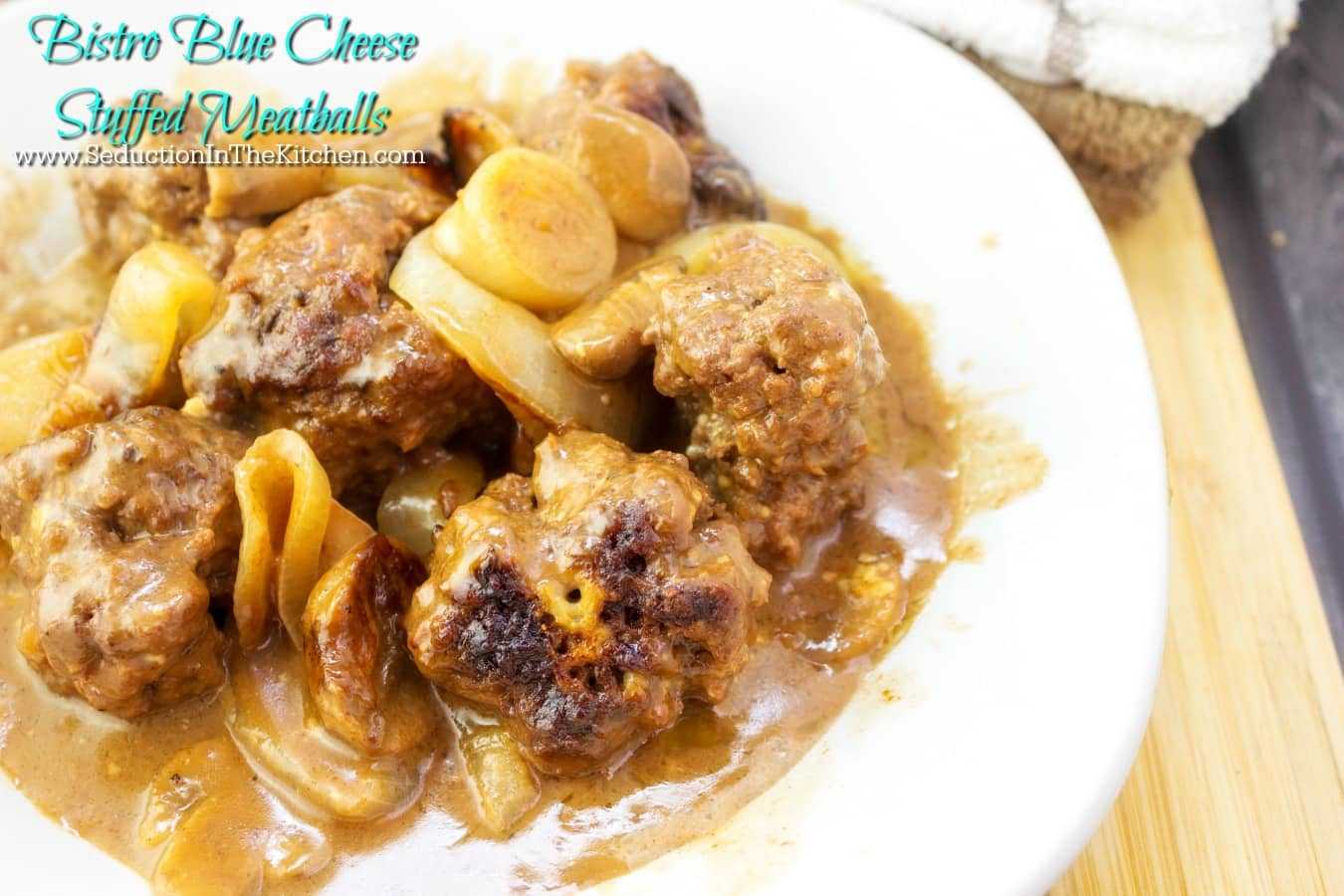 Food Blogging
Food blogging is not easy. There is so much competition out there, you need to make yourself stand out. Some do it with amazing photos, others it is with a social media presence. Myself I have done it with talking in real time with what going on in my life. There are pros and cons of doing that. It probably has hurt my growth on a whole.
I know if I want Seduction in the Kitchen to grow, I need to do changes. One is posting more, so I am going to commit to at least 3 recipe posts a week. I can not post every day. I do not want to schedule a month's worth of recipes in advance either.
I know many food bloggers do this, but you read the posts and they just sound very automatic. I don't want that. I want this blog to have a life to it. I got to figure out a good rhythm for me to do at least 3 recipe posts a week.
I got many more changes coming for Seduction in the Kitchen. I can see them in my head, but not quite sure how it is going to translate into the blog. I don't want to go too much into it now only because I'm still figuring out the best ways that these ideas will come to be.
So that is why I'm only talking about posting to social networks and how I write Seduction in the Kitchen. I am changing up my writing style. What people like is how I encourage, like change is good. My focus will be on that, encourage the readers to try something different. In other words less soap opera/ bitching, more upbeat encouraging words. So you will be seeing changes over the next few weeks for Seduction in the Kitchen.
Bistro Blue Cheese Stuffed Meatballs Recipe
I am a meatball lover. I love meatballs and making recipes with them. I know most the meatball recipes I have here on Seduction in the Kitchen have used frozen meatballs. Which they are good, but making from scratch can be so mouthwatering.
I came up with these Bistro Blue Cheese Stuffed Meatballs after going to this "bistro" type place with a friend. The meatballs were in this tangy sauce that really made the meatballs burst with flavor. The bistro just sprinkled on the blue cheese onto their meatballs.
My thought, why not put the blue cheese inside the meatballs? That way the meat can absorb the flavor of the cheese better and still compliment the sauce. The result, a good bistro meal at home.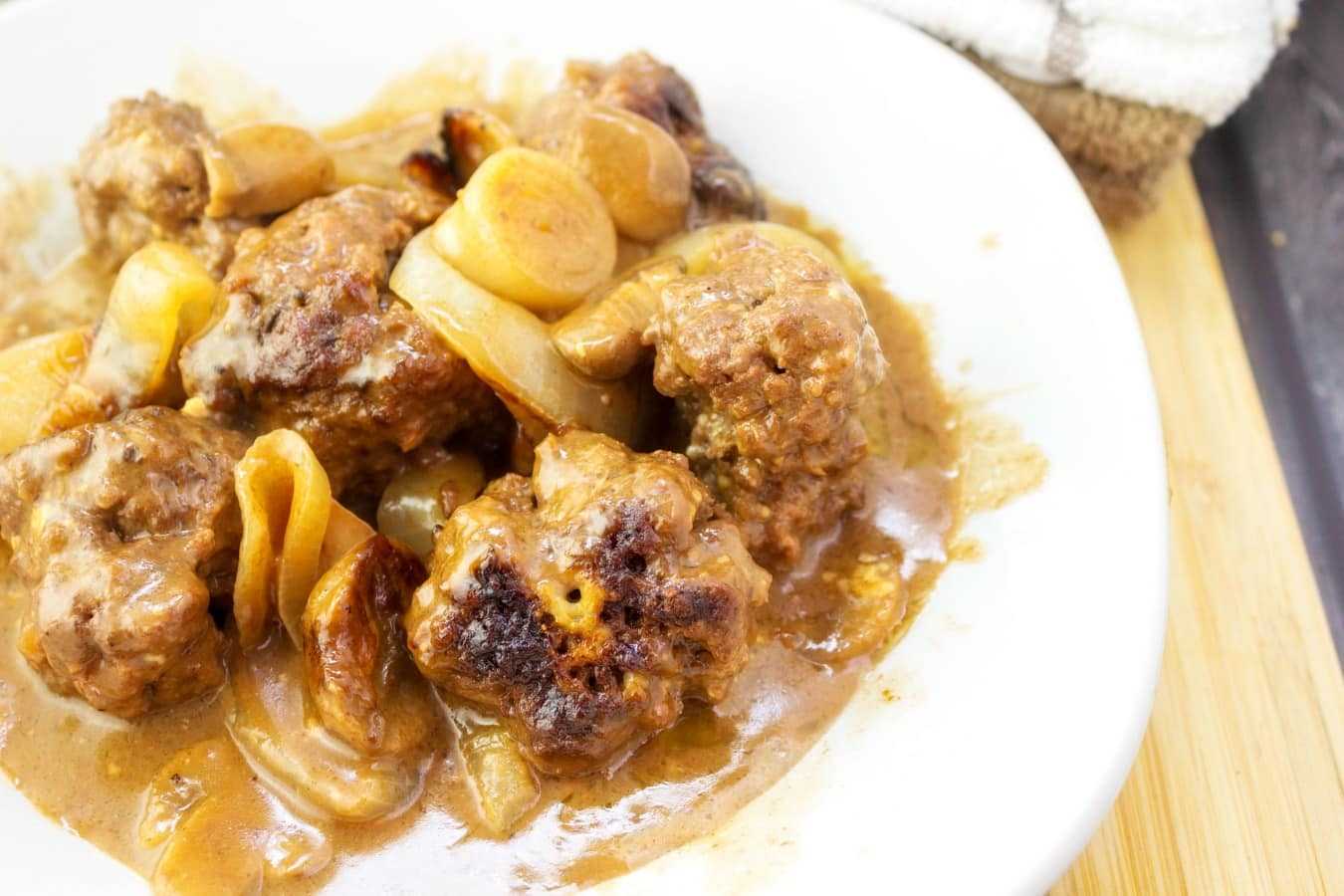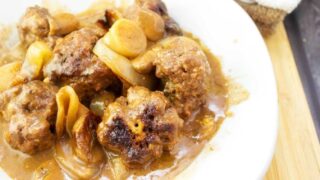 Yield:

6
Bistro Blue Cheese Stuffed Meatballs
Bistro Blue Cheese Stuffed Meatballs are a simple meatball recipe with a twist! Have a bistro style meal at home. A recipe from Seduction in the Kitchen
Ingredients
1 lb lean ground beef
1 tablespoon finely chopped onion
4 ounces blue cheese crumbled
2 cloves garlic minced
1 teaspoon Worcestershire sauce
1 cup ⁄3 dry breadcrumbs
1 teaspoon ⁄4 dried thyme
1 teaspoon ⁄4 dried rosemary
2 tablespoons chopped parsley
1 cup ⁄2 milk
1 onion sliced
4 tablespoons butter
1/4 cup sliced mushrooms
1 cup heavy cream
2 tablespoons balsamic vinegar
1 jar au jus gravy
Instructions
Add all the ingredients for the meatballs into a large mixing bowl; mix well to combine.
Form mixture into 1/2-inch balls.
Brown the meatballs in a fry pan, remove from the fry pan and set them aside.
Using the same pan that you browned the meatballs in, melt the butter.
Add the mushrooms and onions, saute them until the onions start to turn clear,
Add the heavy cream and balsamic vinegar, stir and let it cook for another 2 minutes.
Add the au jus gravy, give a good stir and remove from the heat.
In a baking dish, put a little bit of the sauce at the bottom the dish, then add the meatballs.
Pour the remaining sauce on top the meatballs.
Cover the dish with foil, and bake in a 375F oven for about 15 minutes.
Remove from the oven, serve them up and ENJOY!
Nutrition Information:
Amount Per Serving:
Calories:

521
Total Fat:

38g
Saturated Fat:

22g
Trans Fat:

1g
Cholesterol:

142mg
Sodium:

484mg
Carbohydrates:

21g
Fiber:

1g
Sugar:

7g
Protein:

24g
This post was most recently updated
I want to hear what you have to say about this recipe that is on
SEDUCTION IN THE KITCHEN!
Let's get this conversation started! What do you think of this recipe?