I am a participant in the Amazon Services LLC Associate Program, an affiliate advertising program designed to provide a means for me to earn fees to Amazon.com and affiliate sites.
[intro]Baked Rosemary And Olive Oil Sunchoke Chips are healthier than baked potato chips! This sunchokes recipe is a nutty flavored baked chip and a great taste. These sunchoke chips burst with the rosemary salt that flavors this snack. [/intro]

New Day New Changes
[dropcap custom_class="normal"]H [/dropcap]ave you ever wake up one day and think, I want to change things, I am tired of being in this rut? Or least something like that way of thinking? Well, I did.
I want to change, but I been floundering. I wasn't sure what to do. I had no idea where to start.
Finally, it came to me. I need to stop trying everything at one time. I need to first get organized.
What am I talking about? I finally have the direction on what I need to do to build Seduction in the Kitchen. I have been working on so much myself that I was all over the place.
Finally, I know what I need, organization. That is why I felt out of balance on my SEO and improvements. I actually needed a real plan on paper, and now I do. So it is a New Day, New Changes.
What is a sunchoke?
This baked sunchoke chip recipe is actually an old recipe I did back in 2015. Like many of those 2015 recipe posts, the photos of the sunchoke chips and the post itself needed TLC. So it was the time that this Baked Rosemary And Olive Oil Sunchoke Chips gets a makeover.
What is a sunchoke? Well, it is also known as a Jerusalem artichoke. It is actually a knobby root vegetable that you find at many farmer's markets across the nation.
This ginger resembling root is actually part of the sunflower. The sunchoke is wonderful in salads and also as a snack, like baked chips! It has this nutty flavor and very healthy for you.
Sunchoke Chips Are Healthy
Sunchokes may are also as Jerusalem artichoke. They actually don't have anything to do with Jerusalem or taste like an artichoke. So why Jerusalem artichoke, I have no idea. What they do remind you of is a nutty sweet tasting potato.
That is why they make great baked chips! Plus, they have great health benefits like:
Sunchokes are a great source of iron, calcium, magnesium, and potassium

Sunchokes also contain the carbohydrate inulin to keep blood and glucose levels stable
Plus this Jerusalem artichoke AKA Sunchoke can made so many ways in the culinary world:
Raw

Baked

Roasted

Fried

Mashed
Baked Rosemary And Olive Oil Sunchoke Chips
So how did I come up with doing these sunchoke chips baked? I got a box of farm market goods from a co-op and inside was sunchokes. After doing a little research on these rooty looking vegetables. I decided that a potato chip version was what I wanted to do.
I am always on a diet. So taking this brown knobby root and slicing it thin like I would a potato. I set out to create this sunchokes recipe.
These sunchoke chips are so over the top amazing. The rosemary and olive oil I use on them makes them bake up nice and crispy in the oven. The Nutty flavor of the baked sunchoke chips with the rosemary and olive oil bursts with flavor. you will love munching on these baked chips.
Plus, did I mention sunchoke chips baked are also very healthy too? These baked rosemary and olive oil sunchoke chips are addicting. Trust me on this.

Yield: 4 servings
Olive Oil and Rosemary Sunchoke Chips Recipe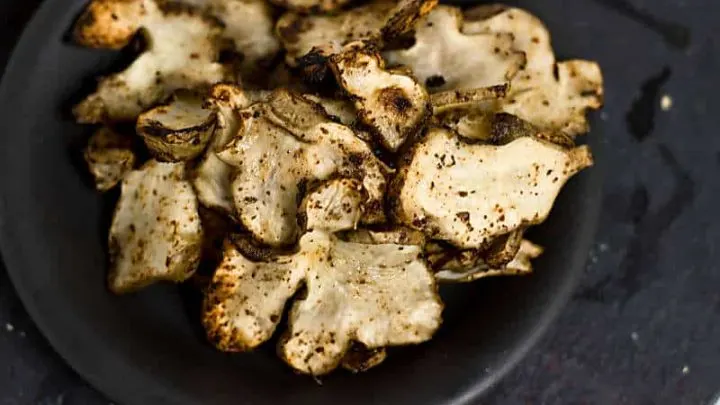 A healthier alternative to potato chips! These sweet, but nutty flavored chips have a great taste. A recipe from Seduction in the Kitchen.
Ingredients
3 sunchokes sliced thin
1 tablespoon olive oil
1 clove of garlic minced
1 teaspoon rosemary
Sea Salt
Instructions
In a bowl, combine the olive oil, garlic, and rosemary. Whisk to combine them.
Next, add the sunchoke sliced, toss them to coat them in the oil mixture.
On a parchment lined baking sheet, spread the chips out in a single layer. Sprinkle them with a little sea salt.
Bake in a pre heated oven 400F degrees for 15 minutes.
Then flip them over and bake them an additional 15 minutes.
Take out the oven, let them cool and the ENJOY!
Nutrition Information:
Amount Per Serving:
Calories:

0
Total Fat:

0g
Saturated Fat:

0g
Cholesterol:

0mg
Sodium:

0mg
Carbohydrates:

0g
Fiber:

0g
Sugar:

0g
Protein:

0g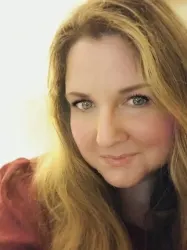 Latest posts by Deanna Samaan
(see all)