Stuffed Ricotta Meatball Bake secret to a melt in your mouth meatball is ricotta. Combine that with a center that has a tunnel of melted mozzarella cheese that is baked into a meatball casserole.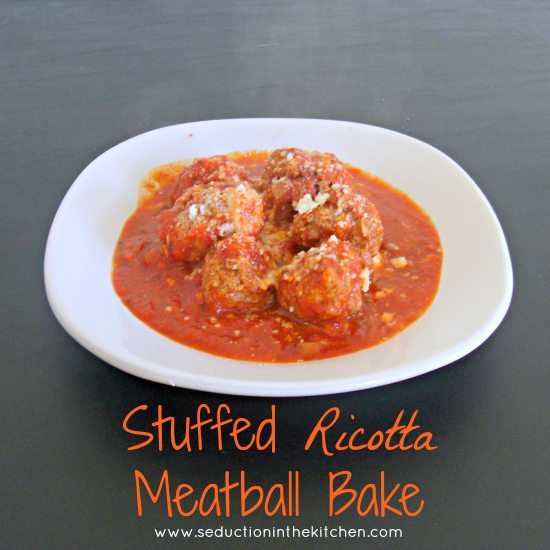 I had a, well ah-huh moment for Seduction in the Kitchen. This is my blog and it is essentially my brand. I am about to do the dining reviews around Cleveland again.
I am doing those slightly different from normal reviews, which I can't wait for you guys to see the first one when we do it and get it done. My goal is to appeal to anyone that is a foodie, not just someone looking to grab a bite to eat in Cleveland.  Now how this idea gets translated onto the blog, well, we will all see now won't we? Even I am not sure how it will get translated, but I do hope the review/recipe concept I have really does appeal to everyone.
Also, I am so critical of my photography, I know they are now 100% the best. However, when I look back at the first recipe posts I did on Seduction in the Kitchen, like: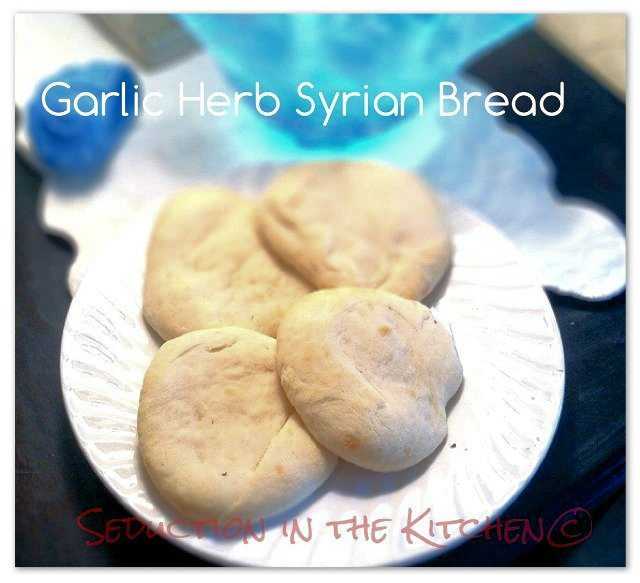 I can see how far I have come. Yes, I still have ways to go, but I am improving. Especially after I have finally found the right light in this new apartment.
I found some great backgrounds. I  also picked up a book about styling the photos better. Now it on to the next phase of food photography for me.
It a constant learning experience for both blogging and photography. Things and styles change constantly, you have to be willing to learn as you go to be a success in Food Blogging. That is what I am doing,
I am constantly wanting to improve myself. In order to do that, I have to be open to learning new things. So hopefully in a few weeks, you guys will some better recipe photos, at least that is my goal.
Stuffed Ricotta Meatball Bake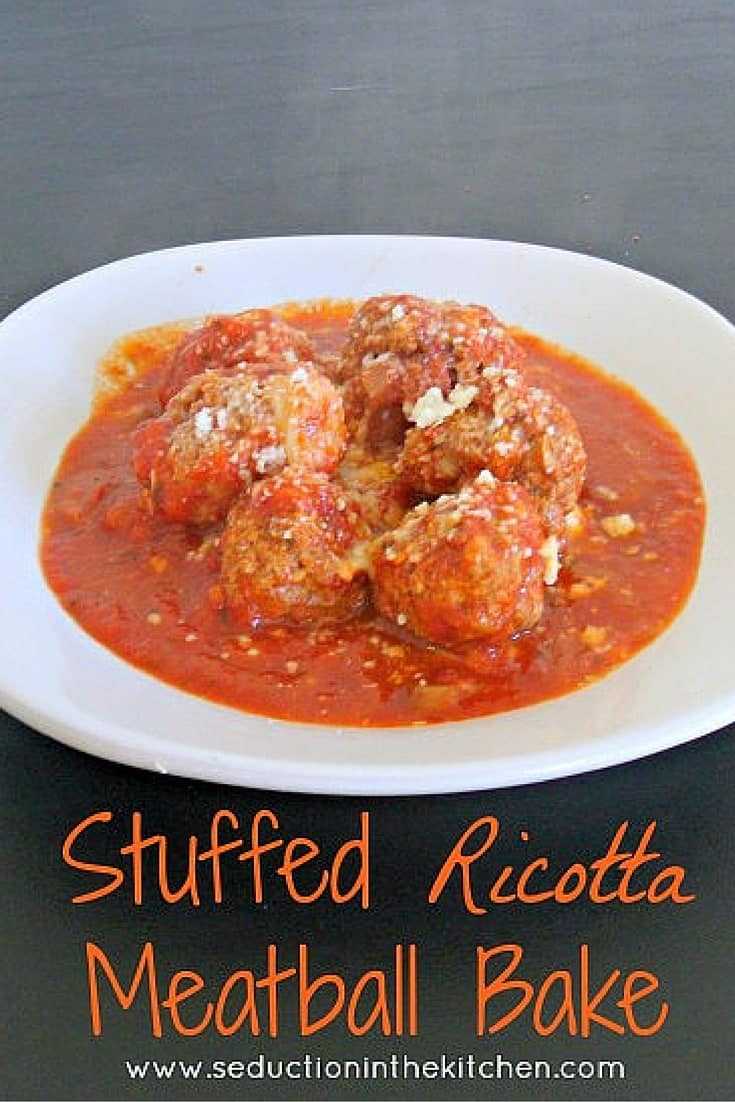 I am excited about all the new I am about to do here on Seduction in the Kitchen. I like learning and trying new things. Heck, that is what making a recipe is all about, trying something new, learning something new.
I have a few meatball recipes up on Seduction. Some the recipes are: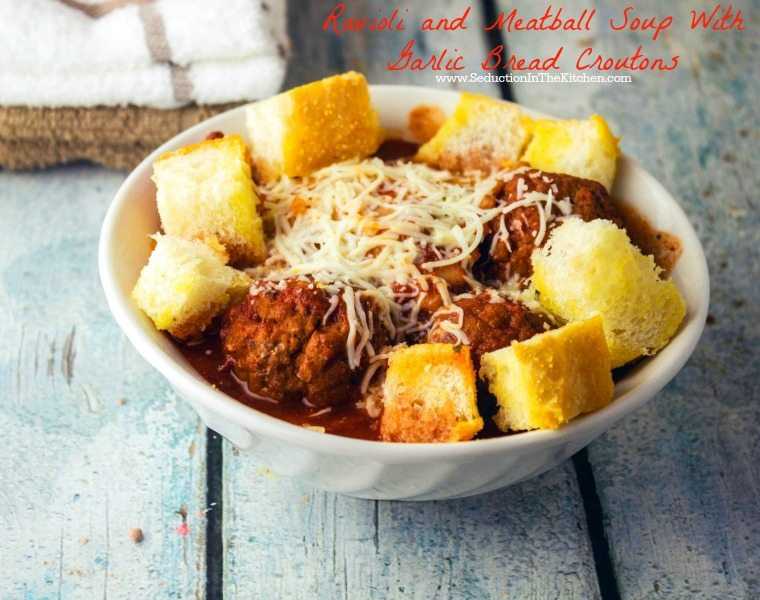 Ravioli and Meatball Soup With Garlic Bread Croutons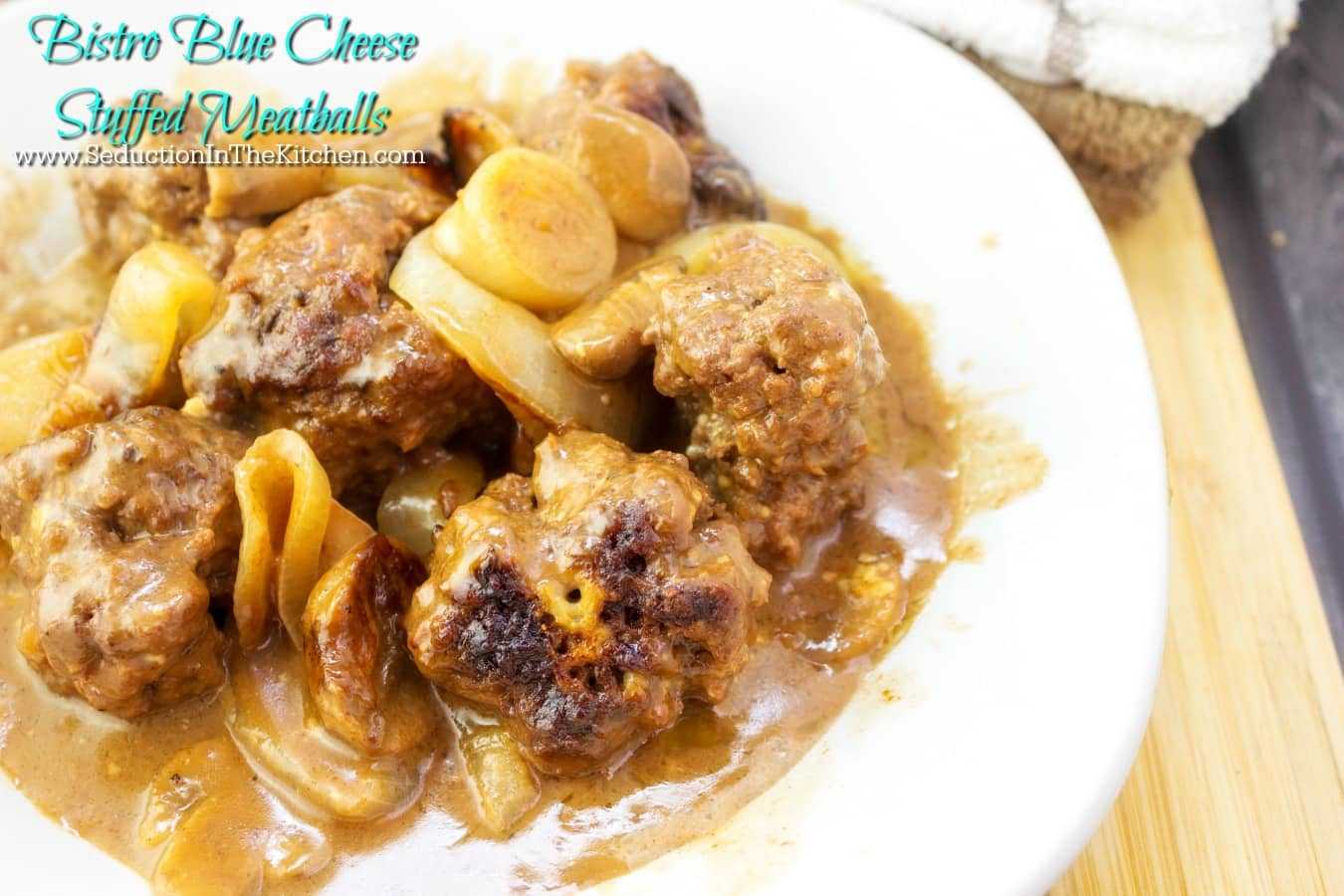 Bistro Blue Cheese Stuffed Meatballs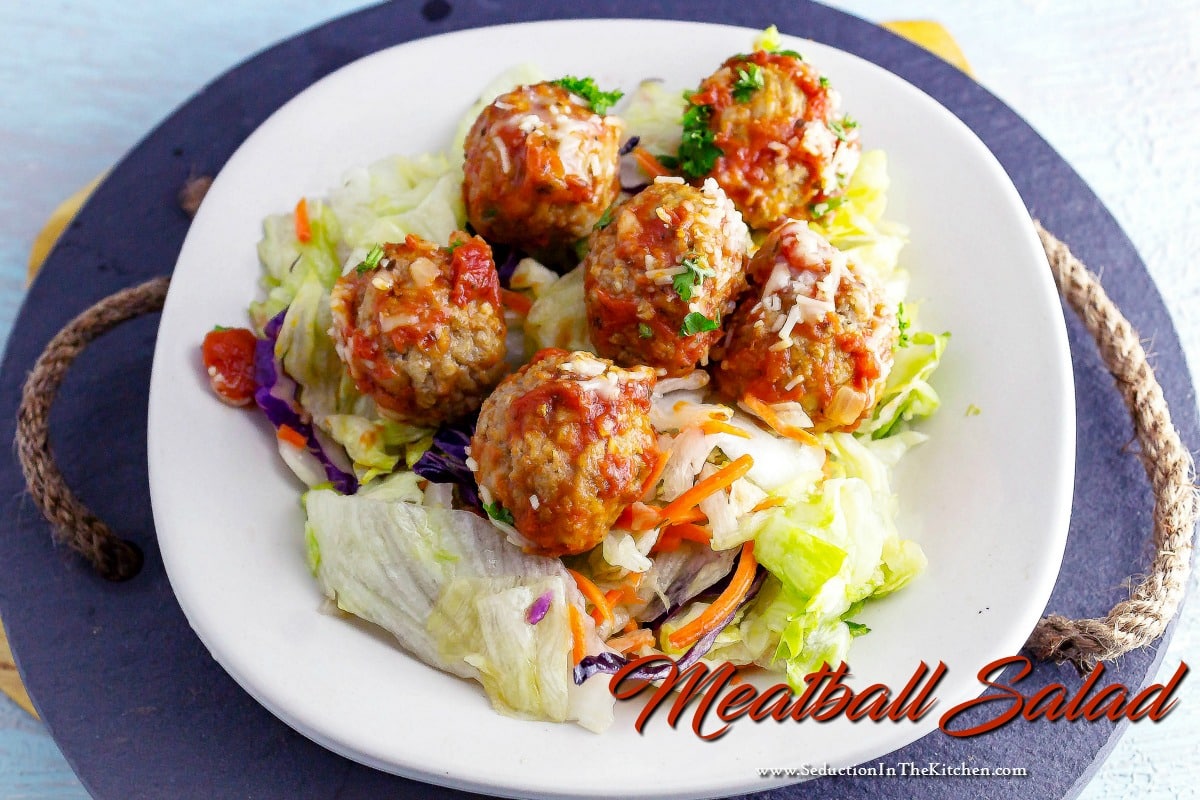 The idea for this Stuffed Ricotta Meatball Bake came from a restaurant. I have been craving the meatballs they serve there.  The only thing I can figure that makes so good is they use ricotta in the meatballs.
After quite a few attempts at trying to make something like those Stuffed Ricotta Meatballs from this eatery, I finally came up with a winner. I made them into a bake and added a Seduction in the Kitchen twist. In the center of the meatball, a tunnel of melted mozzarella cheese.
The ricotta that is in the meatballs and then the tunnel of mozzarella, oh this is meatball heaven. Trust me when you try this Stuffed Ricotta Meatball Bake, you will agree the ricotta is the secret to a great tasting meatball. Meatball lovers will sing in delight.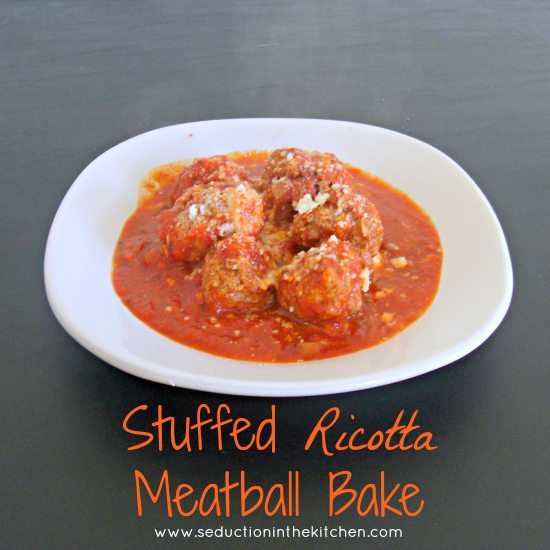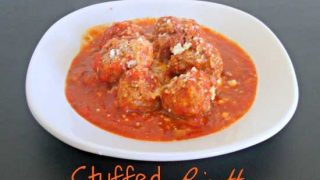 Yield:

6 servings
Stuffed Ricotta Meatball Bake
Ricotta is the secret to a melt in your mouth meatball. Combine that with a center that has a tunnel of melted mozzarella cheese That is baked into a meatball casserole.
Ingredients
32 oz pasta sauce like Prego or Ragu
1/2 lb ground pork
1/2 lb ground beef
2 cups ricotta cheese (drained)
1 egg (beaten)
1/4 cup flat leaf parsley
1 cup grated parmigiano-reggiano cheese
1 few gratings nutmeg
1 clove garlic (minced)
salt and pepper (to taste)
3-4 inch sticks of mozzarella string cheese (cut into 1/2 sections)
flour (for dusting)
olive oil (for frying)
2 cup shredded 6 Italian cheese from Sargentos
Instructions
Combine ground pork & ground beef in a bowl. Add ricotta cheese and egg. Mix thoroughly.
Stir in flat leaf parsley, Parmigiano-Reggiano, nutmeg, garlic, pepper, and salt. Sprinkle in flour. Form into 1" balls.
In the center of the meatballs, insert the 1/2 inch string cheese sections. covering it up with the meat so it doesnt show.
heat up the olive oil in a sauté pan over medium-high heat. Fry meatballs until golden brown. Remove from pan & set aside.
Pre heat the oven to 400 degrees
In a casserole pan, place a thin layer of sauce. Then add the meatballs on top of the sauce.
Finally top the meatballs with the rest the sauce. Cover with some foil and bake the meatballs for about 20 minutes.
Take off the foil and put on the cheese and continue to bake for another 10 minutes, uncovered.
Take out the oven, serve with a side of buttered ziti noodles and a tossed salad and ENJOY!
Nutrition Information:
Amount Per Serving:
Calories:

620
This post was most recently updated
I want to hear what you have to say about this recipe that is on
SEDUCTION IN THE KITCHEN!
Let's get this conversation started! What do you think of this recipe?